Monitoring Sea Turtle Nests in Florida's State Parks
It is November and another sea turtle nesting season has come to an end in Florida. Most of the nests have hatched and the adult turtles are migrating back to their feeding grounds. Some will travel thousands of miles from their nesting beaches.
Every year conservation agencies and volunteers survey 825 miles of Florida beaches looking for nesting sea turtles. The nesting data is then reported to Florida Fish and Wildlife Conservation Commission who uses this information to track population trends and response to conservation efforts, and to develop beach and sea turtle management policy.
Going on Turtle Patrol
The Florida Park Service protects 108 miles of natural beaches where sea turtle nesting regularly occurs. With the help of dedicated volunteers and interns, trained and permitted park staff conduct morning nesting surveys on 40 nesting beaches every day during nesting season, March 1 to Oct. 31.
This group of individuals call themselves the Turtle Patrol. They search the beaches for new nests by following "crawls" left in the sand as female turtles hunt for a spot to nest. Sea turtles are quite large, the biggest species reaching up to 4,000 pounds, so the tracks left behind are hard to miss. Each species has a distinct crawl pattern. Turtle patrol members are trained to read the crawls and determine what kind of turtle laid the nest.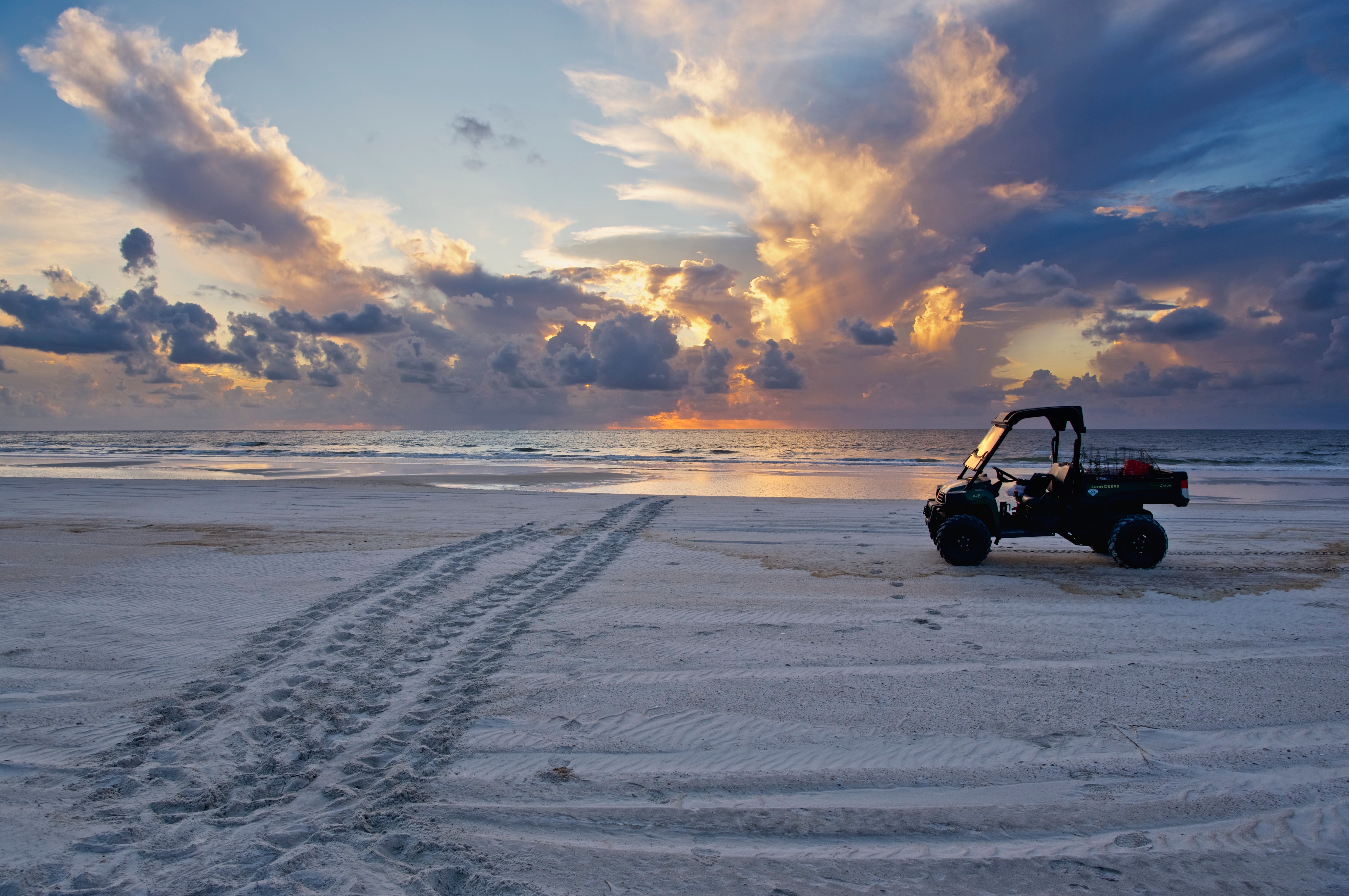 Females will swim up and down a beach just off shore looking for the perfect set of dunes in which she will make her nest. She may come up the beach multiple times before laying her eggs. The trips up the beach that do not lead to a nest are called false crawls. When she finds a spot that suites her, she begins to carefully dig her egg chamber using her back flippers like hands to scoop out the sand.
The chamber will be shaped like a vase, bigger at the bottom with a narrow opening at the top, into which she deposits her eggs. Over the course of up to an hour, she will drop between 80 and 120 ping-pong ball shaped eggs.
This is very labor intensive, and she will stop to rest many times, appearing to be in a trance until she is finished laying. Once she starts this process there is nothing that will stop her.
Once a female lays her eggs, she covers them with sand and disguises the nest by flinging sand all around. With her job complete, she heads back to the water to swim away with the waves.
Female sea turtles come to shore during the nesting season every two to three years to nest, laying between one and nine clutches each season. Once male sea turtles leave the nest as hatchlings they almost never return to shore; instead, they spend most of their lives in the open ocean.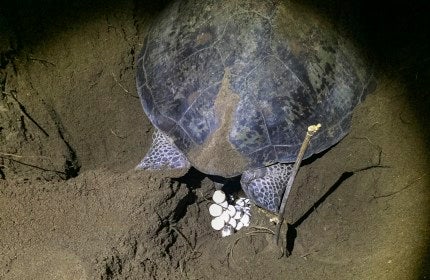 When turtle patrol members find a nest, they mark it and rope it off, so visitors walking on the beach do not disturb it. If there is concern about predation of nests by coyotes or raccoons, the surveyors will put a wire screen on top of the nest to prevent digging.
Turtle patrol members will check on each nest every day to record if it has been predated, washed over by waves or if it has hatched. At the end of the 75-day incubation period, trained excavation teams will dig down until they find the egg chamber and count the number of empty egg shells and unhatched eggs to determine if the nest was successful. If there are any stragglers that didn't make it out of the nest, they will be released on the beach and allowed to walk to the water. Injured or lethargic hatchlings are kept cool and moist and taken to a local rehabilitation center. After the nests hatch, it will be 35 years before the hatchlings, now adults, return to the same beach where they were born to lay their own eggs.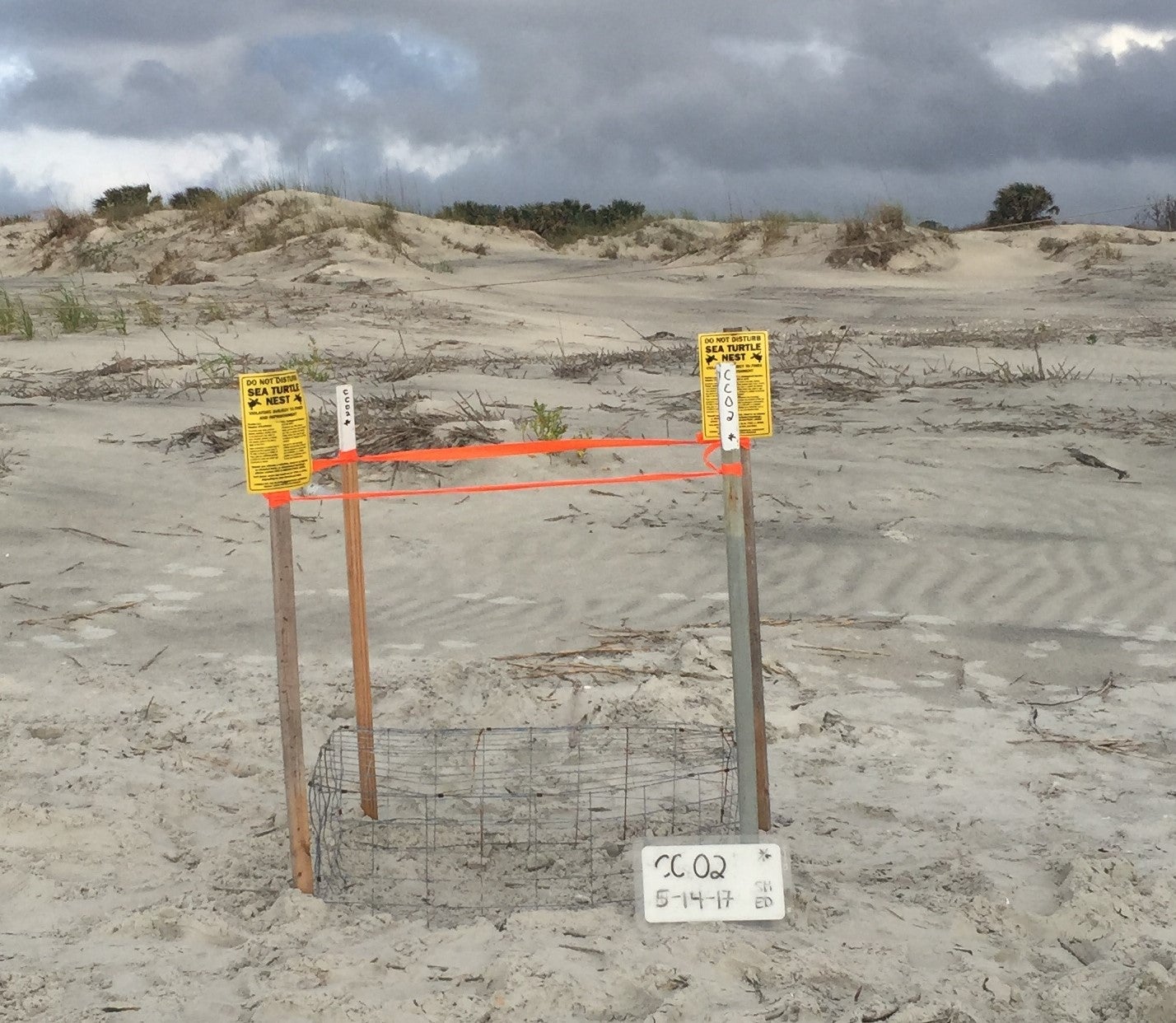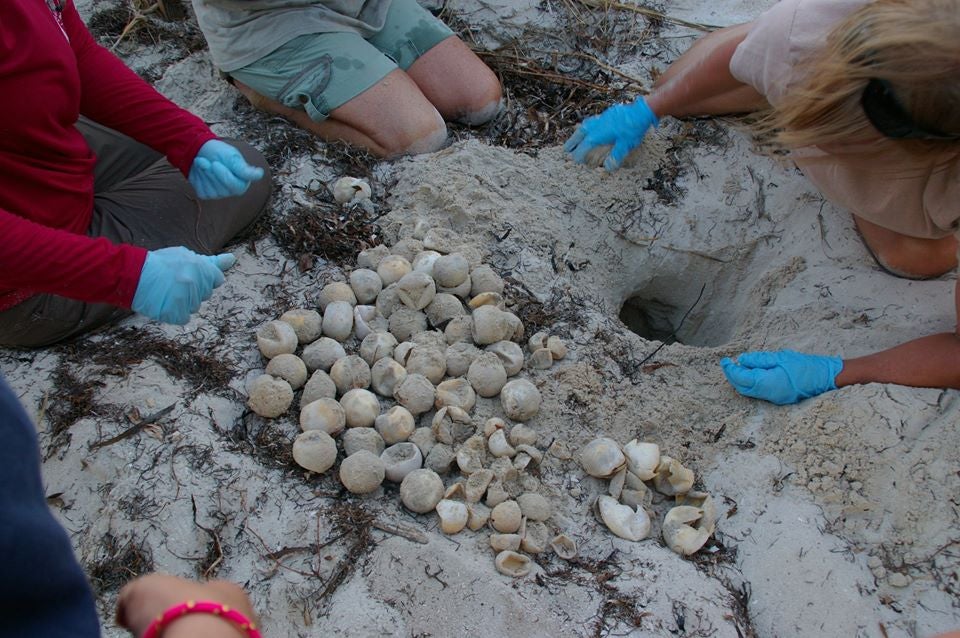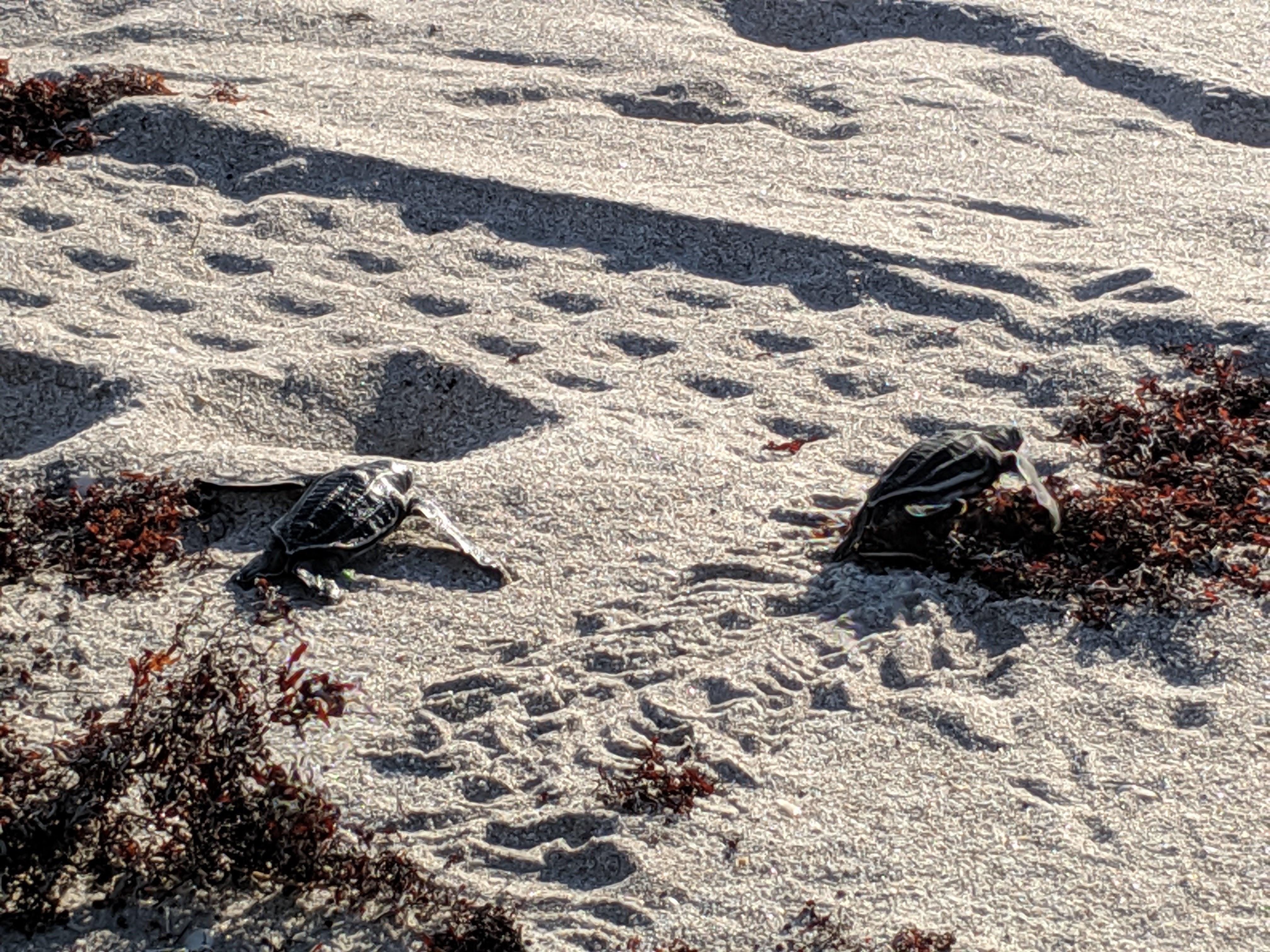 Programs that Collect Sea Turtle Data
The Florida Park Service collects sea turtle nesting data for two programs, both run by the Florida Fish and Wildlife Conservation Commission: the Statewide Nesting Beach Survey and the Index Nesting Beach Survey.
All 40 state parks with beaches participate in the statewide surveys and 13 beaches also participate in the index beach surveys, which require nest excavations.
Since staff, volunteers and interns usually work in pairs, this survey effort requires more than 25,000 hours of combing the beaches in search of the signs that a turtle has nested, or a nest has hatched and monitoring their progress throughout the season.
Using Technology to Improve Tracking Efforts
In 2017, the Bureau of Natural and Cultural Resources began working with FWC and state park staff to develop a mobile data collection form using ESRI's Survey123 application to collect, store and report sea turtle nesting data.
This application was developed to help streamline the collection of nests, nest fate and nest productivity data while minimizing the amount of administration of the data, and to bring organization to the overall data collection effort.
With the app, beach survey teams collect and submit data to a central database in real-time so it can be reviewed by a lead biologist for quality control before being submitted to FWC, all without manual transcription. Previously this process consisted of manual collection using paper datasheets and transcription into a spreadsheet for reporting.
This change maximizes park efficiency and frees up valuable time that park staff and volunteers can now spend on other important activities, such as interacting with park visitors and supporting other resource management efforts.
According to the numbers that have been reported so far for the 2019 season, this has been a great season for sea turtle nesting.
2019 Nests and False Crawls

|   | Nests | False Crawls |
| --- | --- | --- |
| Loggerhead | 4,146 | 5,241 |
| Green | 2,297 | 1,810 |
| Leatherback | 44 | 9 |
| Kemps | 3 | 0 |
| Hawksbill | 0 | 1 |
These numbers will increase once the total crawls for each park are fully calculated and the species are verified by the Florida Fish and Wildlife Conservation Commission.
In addition to the daily surveys, many state parks where sea turtle nesting occurs participate in citizen science programs, educational programs and successful internship programs like those managed by Allison Conboy at Big Talbot Island State Park in Jacksonville and Karen Rogers at Cayo Costa State Park near Gasparilla Island. Guided night turtle walks are held at John D. MacArthur Beach State Park in North Palm Beach and Sebastian Inlet State Park in Melbourne Beach.
At the 40 parks with beaches, park rangers give programs where they explain the life history of sea turtles, talk about the importance of the beach habitats and what citizens can do to help. If you are interested in learning more or becoming a volunteer, talk with a park ranger.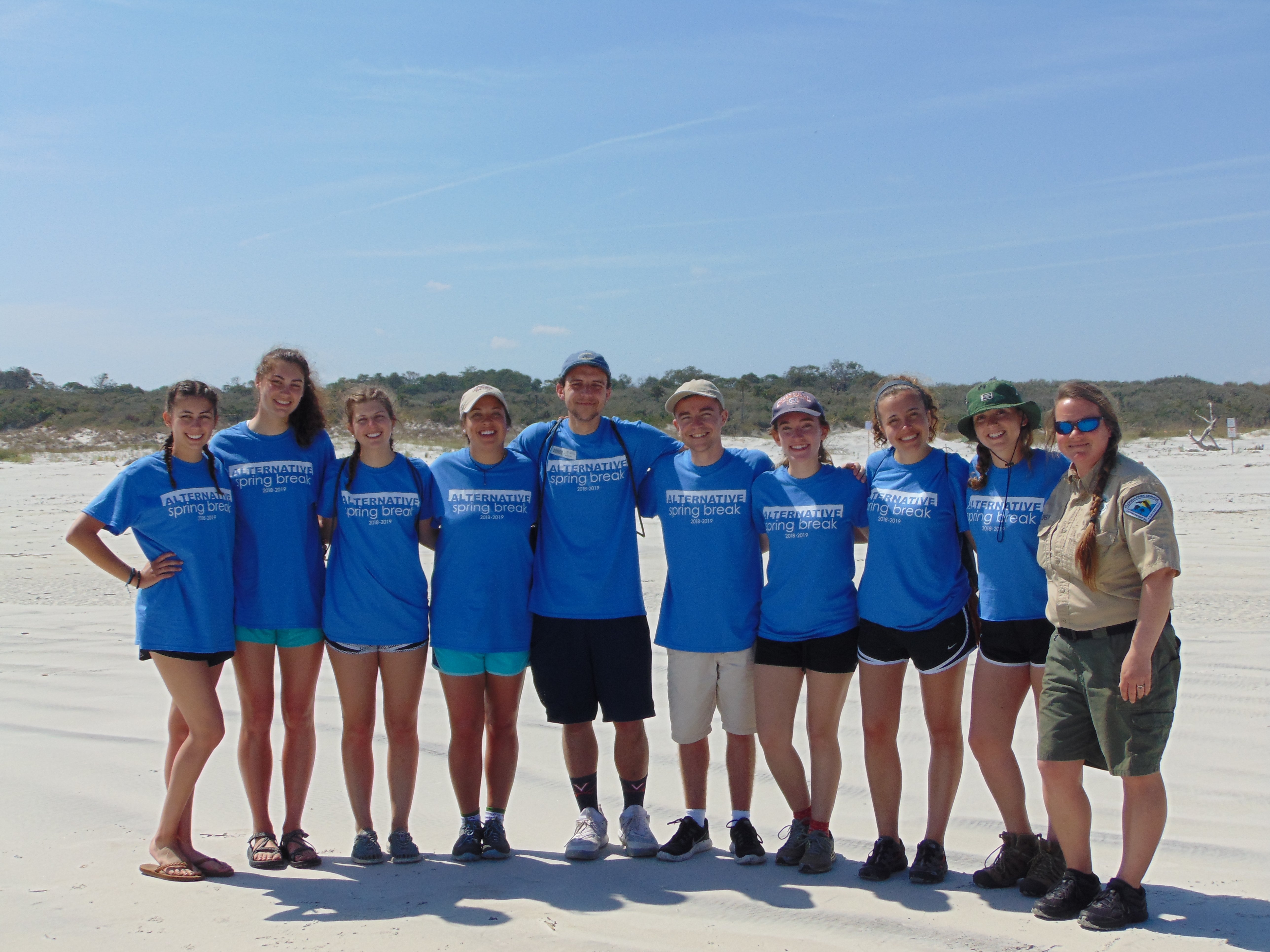 About the Author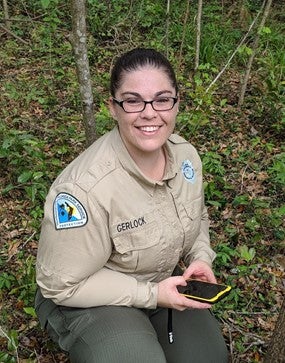 Leah Gerlock earned a bachelor's degree in Wildlife and Fisheries Science with a minor in Forest Management from the University of Tennessee-Knoxville. She earned a master's degree in Biological Science from the University of Arkansas-Fayetteville with a focus on the occupancy and distribution of marsh birds and wetland management.
After graduating, she worked for Georgia Department of Natural Resources in their sea turtle monitoring section before joining the Florida Fish and Wildlife Conservation Commission as a wildlife and fisheries biologist on the Gulf Coast.
While at FWC, she was actively engaged in prescribed fire management, natural resource restoration and imperiled species monitoring and management.
She joined the Florida Park Service's Bureau of Natural and Cultural Resources in 2017. Working in the central office, she works on a wide variety of projects throughout the state. Her focus is on assisting with the development of habitat restoration projects, statewide wildlife and habitat monitoring programs and habitat management contracts.
She is most passionate about reptiles and amphibians, especially turtles, and helping develop management strategies that will preserve these species into the future.
---
About The Biologists Tell the Story Series
In this series, we will learn a little more about our biologists, as they share stories of their work in Florida's state parks. The leadership and scientific research our biologists provide is essential for our legacy of conservation and land management. This series is an opportunity to connect these projects to the places where we ensure the health and sustainability of Florida State Parks.