Managing Florida Scrub-Jay Habitat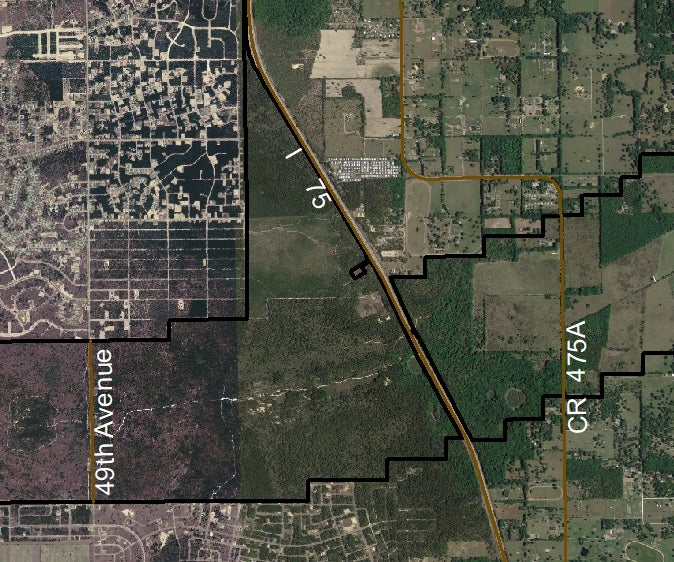 In 2001, through the Florida Forever program, the state purchased a 446-acre tract bordering Marjorie Harris Carr Cross Florida Greenway to the south, I-75 to the east and a major housing subdivision to the west.
This piece of pie-shaped land was sand pine-dominated scrub that had not been burned for a long time because of complex management concerns due to its location.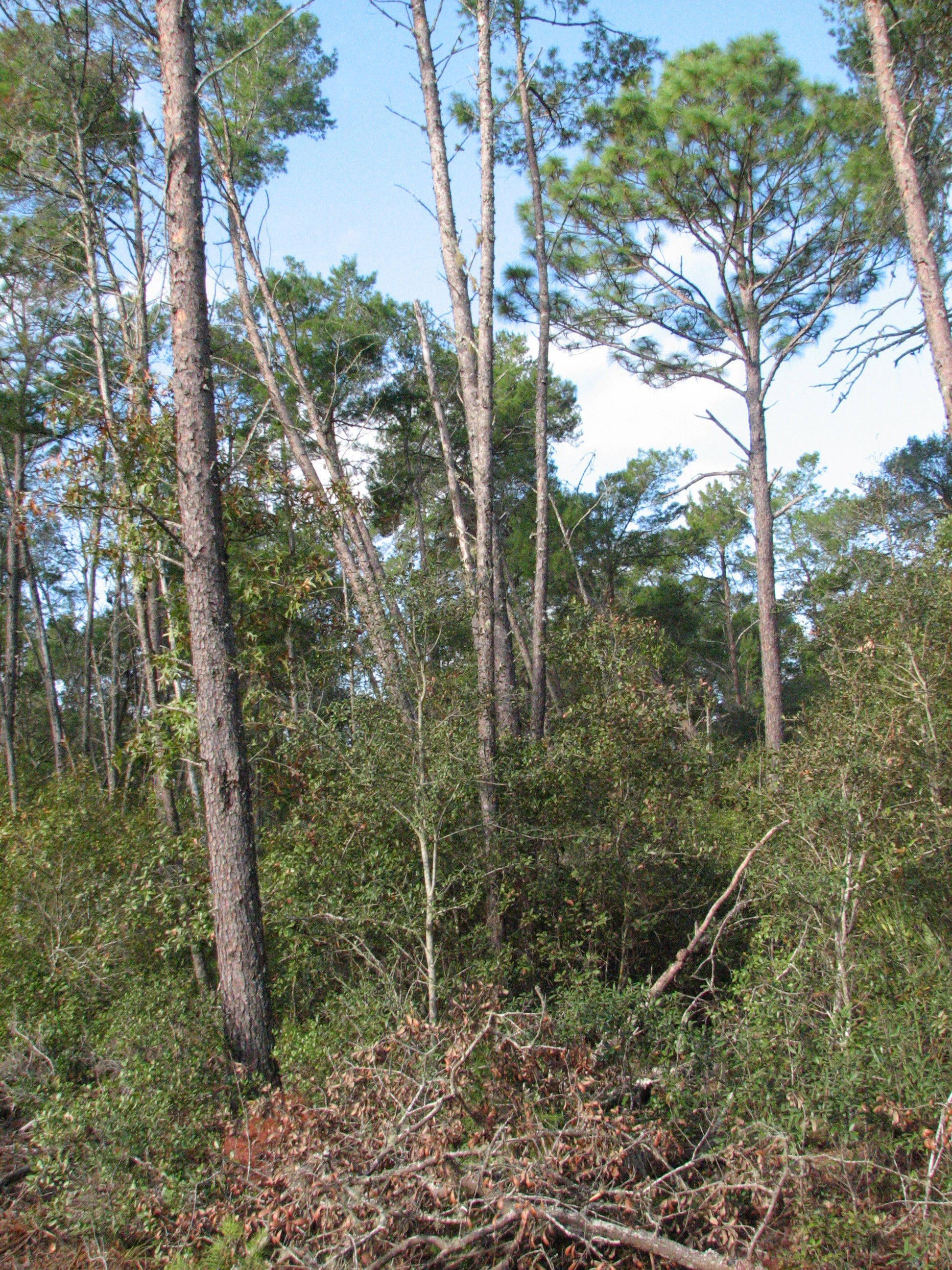 Looking back, I would never have imagined just how much time, effort and money it would take to reach success. I also could not imagine how much pure joy would come from tackling this project that initially seemed too onerous.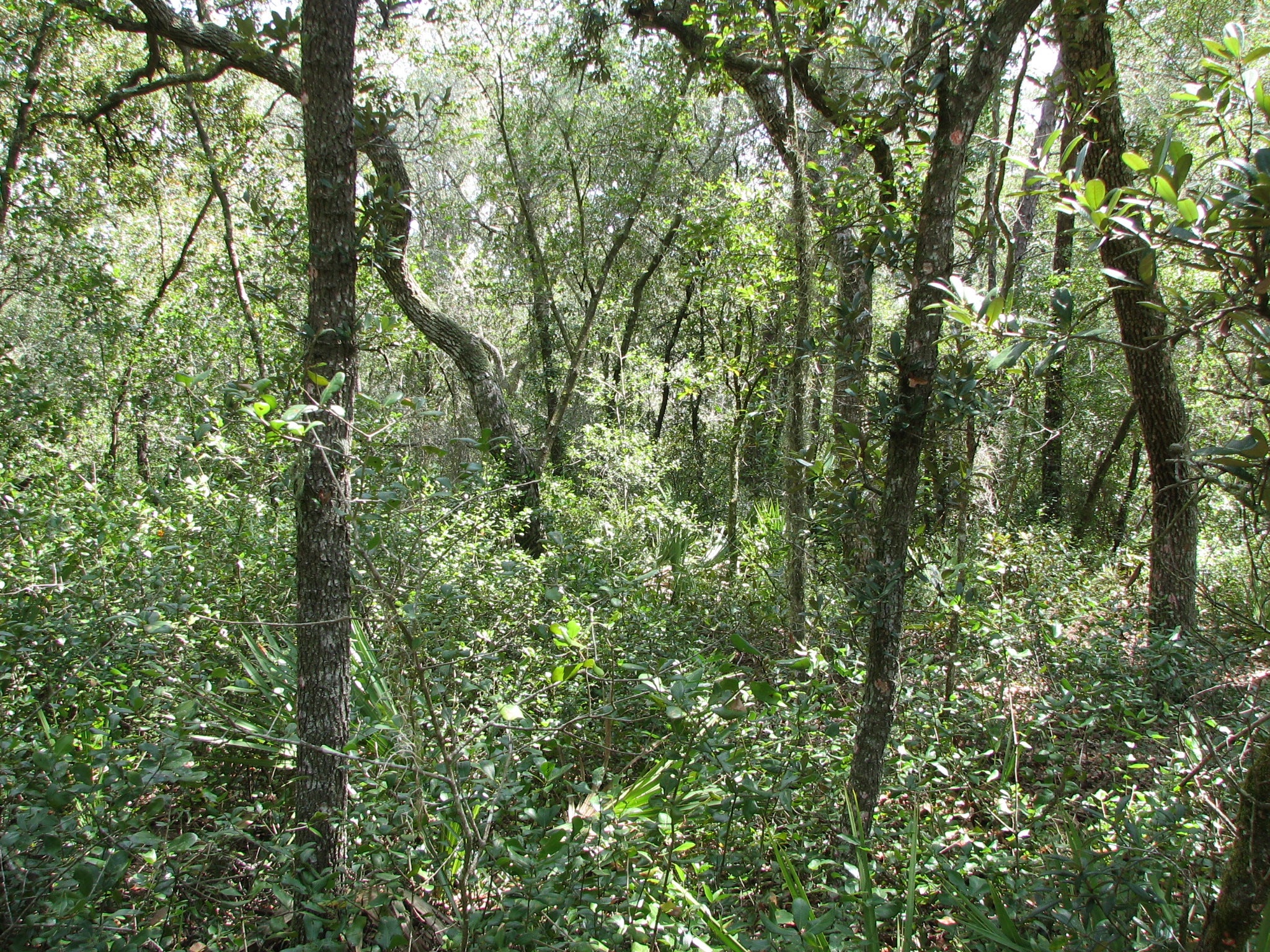 The Discovery of Florida Scrub-Jays
At the time of the purchase we were not aware that there was a possibility of Florida scrub-jays on the property or nearby. We had contracted with the Florida Natural Areas Inventory to conduct a Cross Florida Greenway-wide natural community study, and based on their findings, we began the process of scrub restoration by first removing the sand pine overstory.
In 2006, a co-worker saw Florida scrub-jays on the site in an area that was not part of the clear-cut but consisted of very dense, tall scrub oaks. I knew nothing about this bird other than the little I had learned in school and from other land managers. I reached out to Craig Faulhaber, Jimi Gragg and Karl Miller at the Florida Fish and Wildlife Conservation Commission. They conducted a preliminary survey and found about eight Florida scrub-jays.
FWC staff members did some initial banding, which involves capturing a bird, placing a uniquely numbered aluminum band around its leg and then releasing it. Banding allows an individual bird to be identified when it is recaptured or found dead.
About the Florida Scrub-Jay
Florida scrub-jays (Aphelocoma coerulescens) are endemic to Florida, meaning they live nowhere else in the world. This bird, about the size of a robin, has a vibrant blue head, wings and tail, and pale gray back and belly. Its song is a scratchy weep, a harsh scold and/or a screech. Florida scrub-jays form family groups that consist of a breeding pair and up to six non-breeding birds.
They frequently are seen hopping on the ground or in trees and shrubs looking for insects. These birds are found only in low-growing oak scrub and scrubby flatwoods with sandy soils. The Florida scrub-jay is an endangered species because of loss, fragmentation and degradation of habitat throughout Florida.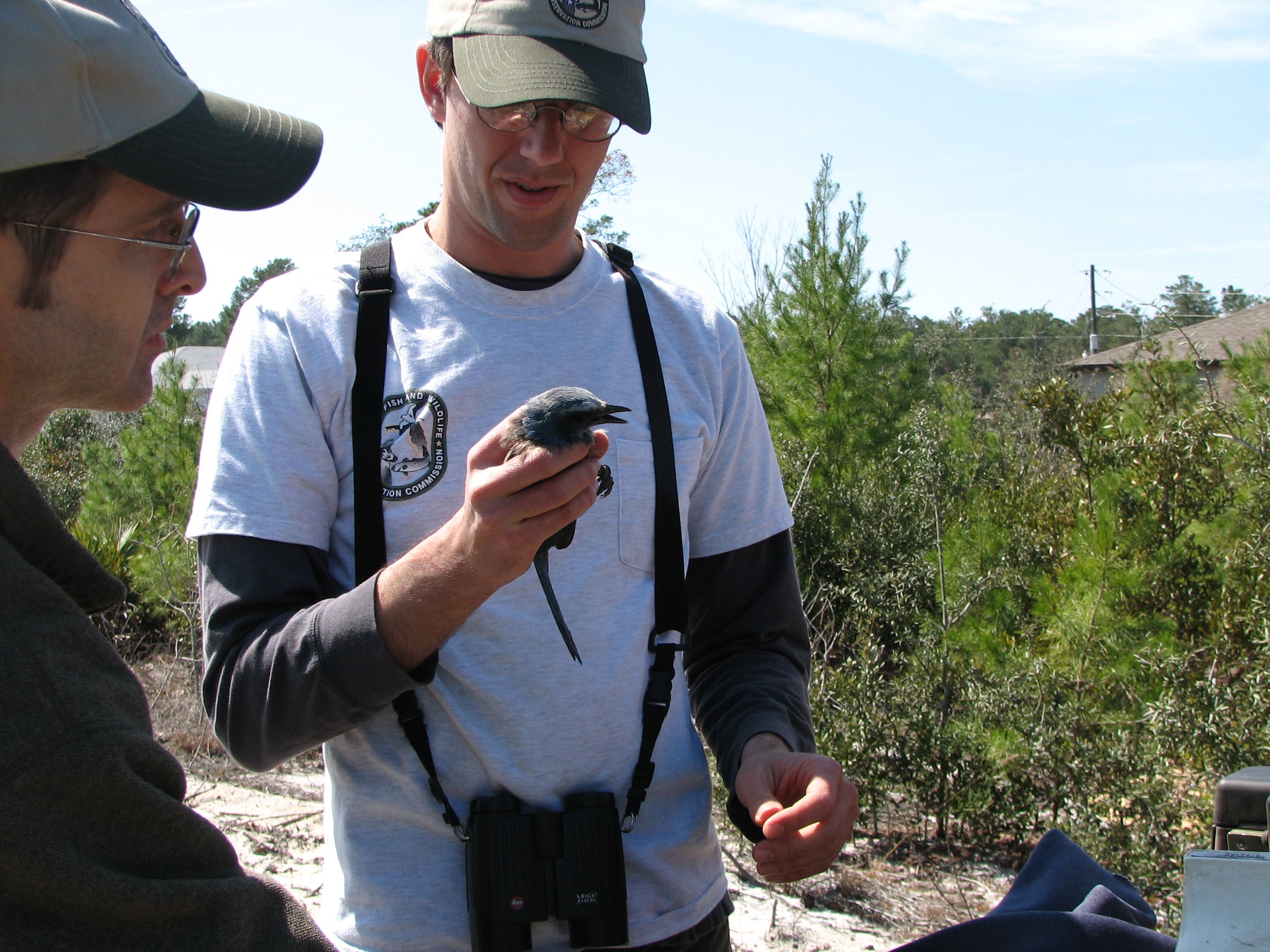 Restoring the Land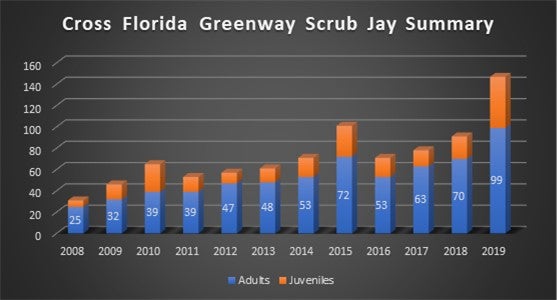 In 2008, I reached out to Cheryl Millett (then head of The Nature Conservancy, now Audubon's Jaywatch program) and we recruited volunteers to help with summer surveys as part of their citizen science Florida scrub-jay program. Every year, the number of Florida scrub-jays increased.
In 2011, we converted an additional 230 acres of the sand pine-dominated scrub to the south of the original restoration area by utilizing a combination of traditional logging and mulching. By this time, we had about 50 birds and 550 total acres of scrub.
Approximately three years later, in 2015, the Florida scrub-jay population had moved into this newer area, and the population had almost doubled. Encouraged by our success, we looked to further increase the habitat, and in that same year, we restored another 292 acres of scrub, separated from the original restoration area by a quarter-mile to the south.
Three years later, in 2018, we had three new family groups here and in 2019 one of those families successfully raised two fledglings. We now have close to 900 acres of restored scrub with an estimated 36 territories and 145 birds. 
This past summer saw a record 48 fledglings.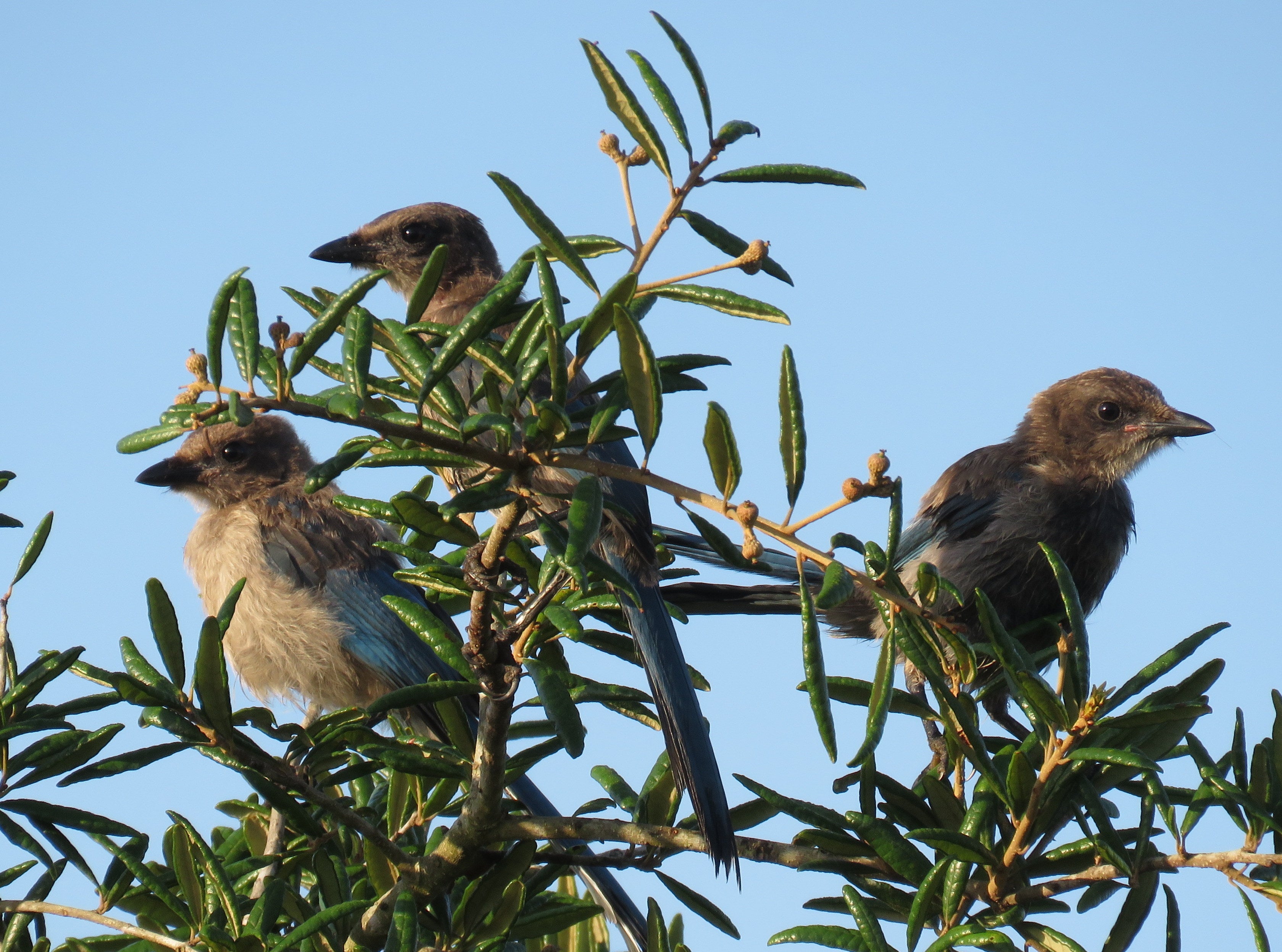 One of the complicating factors with this property, as mentioned earlier, is the location. Although prescribed fire is the best management tool for scrub, we were unable to utilize it extensively as the main method for maintaining the scrub, due to smoke concerns on I-75 and the large subdivision of homes to the west. We did manage a couple of small acreage burns that we were able to mop up completely on the same day, but I knew this wouldn't be enough to maintain the tight parameters for good scrub-jay habitat.
The rotation of prescribed fire for this fast-growing scrub is probably on an average of five years. I began experimenting with different mechanical treatments to create results as close as possible to that of prescribed fire. My goal was to reduce the density and height of oaks and create sandy areas.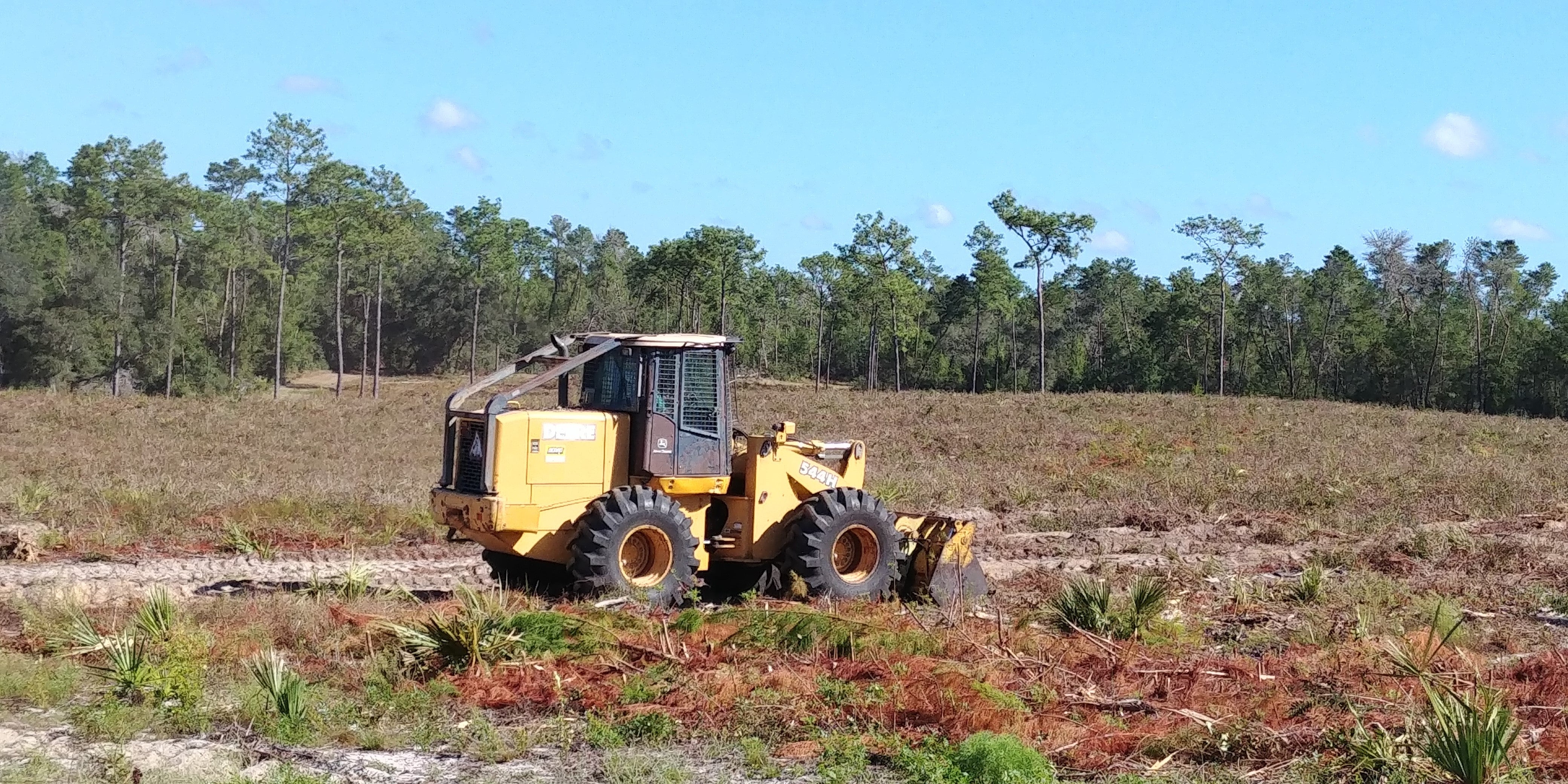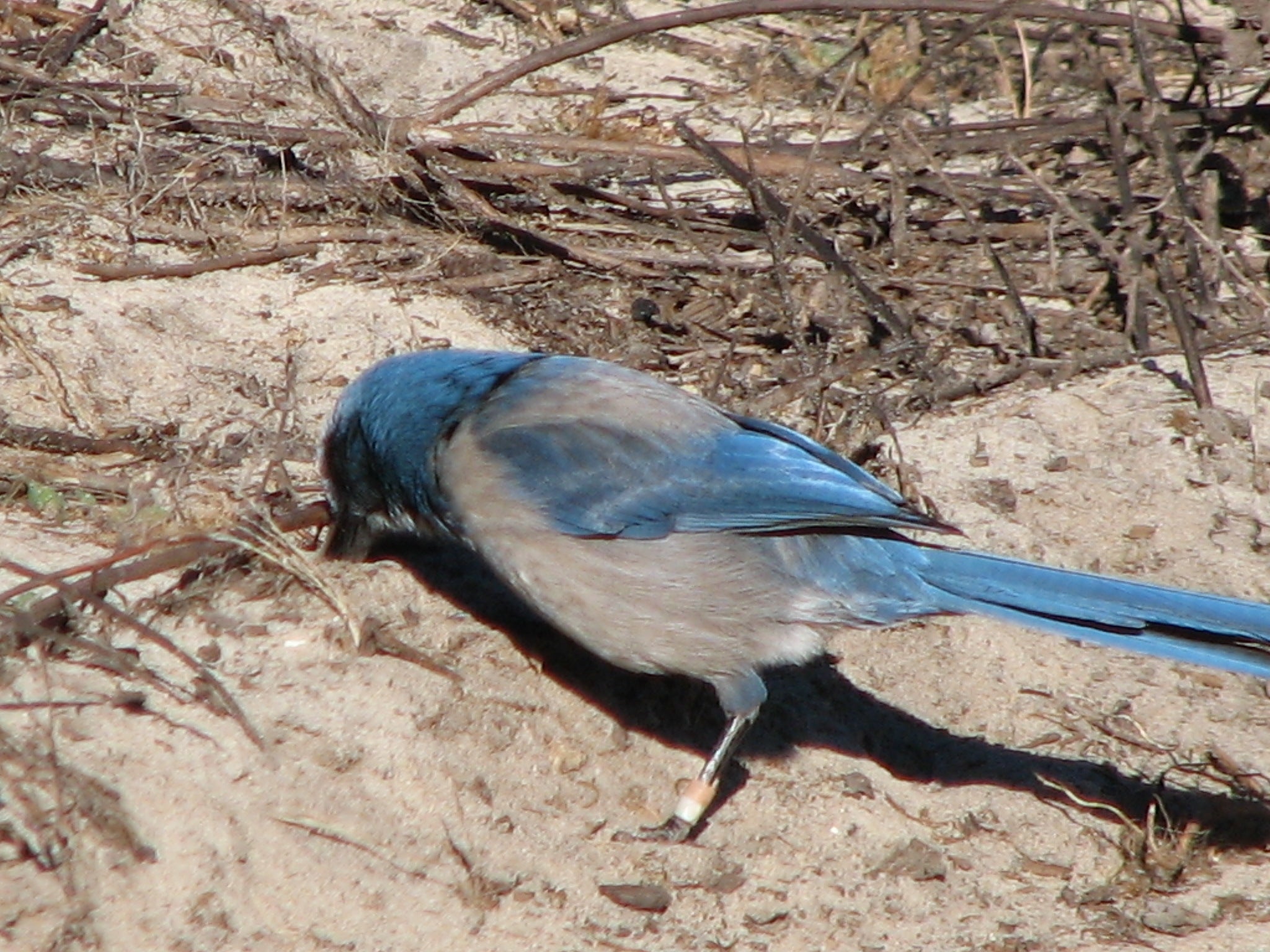 Measuring Success with a Bird Banding Program
Unsure of how to measure the success of these efforts, I decided to pursue banding the birds so that I would be able to follow Florida scrub-jay groups through time and gauge their responses to management efforts. I reached out to contractor Monica Folk who came highly recommended from other land managers that had bird banding programs.
She has been banding Florida scrub-jays on the Cross Florida Greenway for three years and we have banded over 145 birds.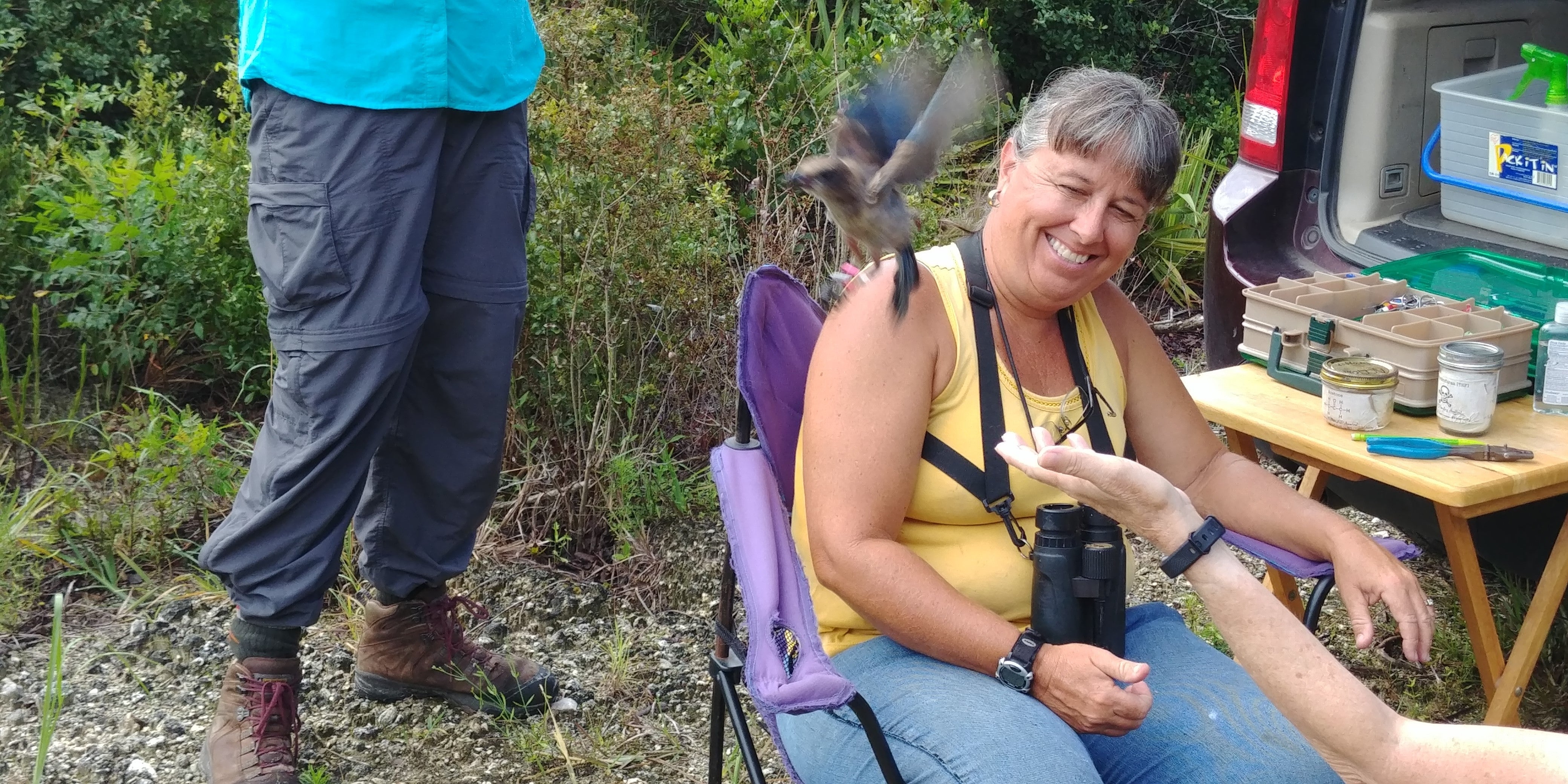 Along with Monica, I have wonderful volunteers from Audubon who have stuck with me for the past 10 years. They help with Jaywatch, trap conditioning and bird banding.
Experts from the Florida Fish and Wildlife Conservation Commission, the U.S. Fish and Wildlife Service and the Florida Forest Service have also helped.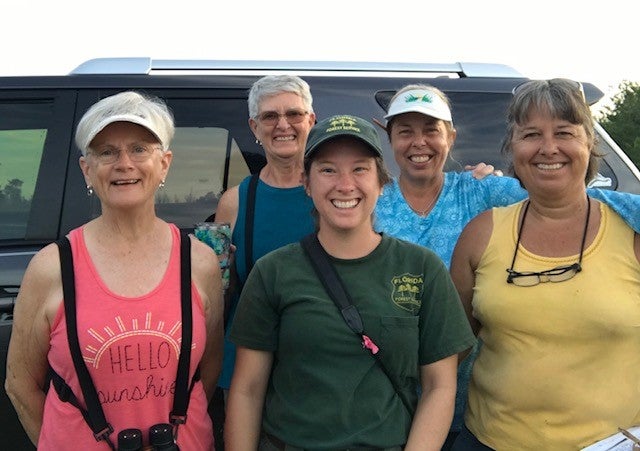 I should probably amend my title to "if you build it they will come…if they're close." My ultimate goal is to keep attracting more Florida scrub-jays to the point that we reach carrying capacity and then hopefully, we can be considered as a donor site to help other locations. A couple more successful breeding years and we'll be close!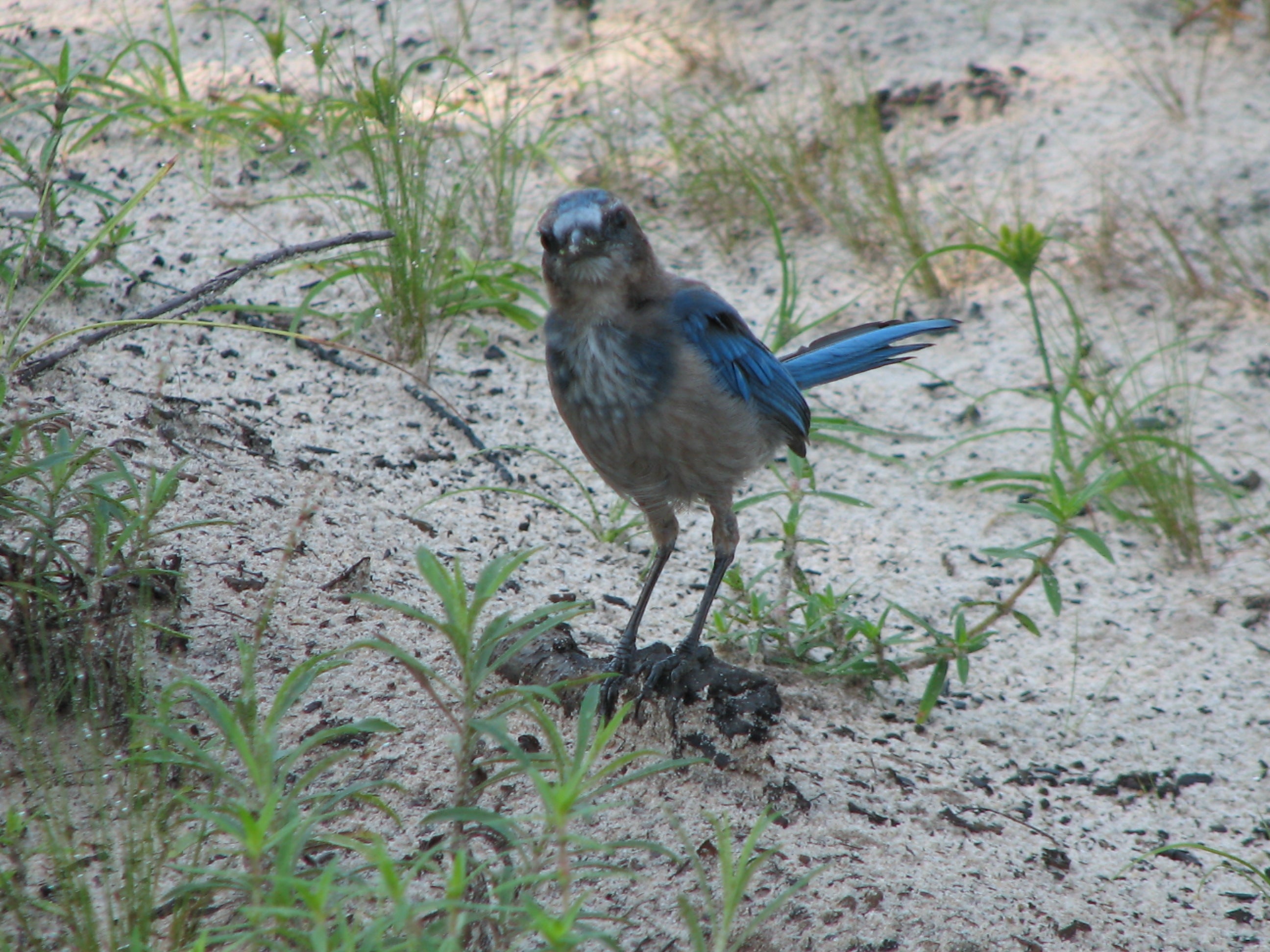 ---
About the Author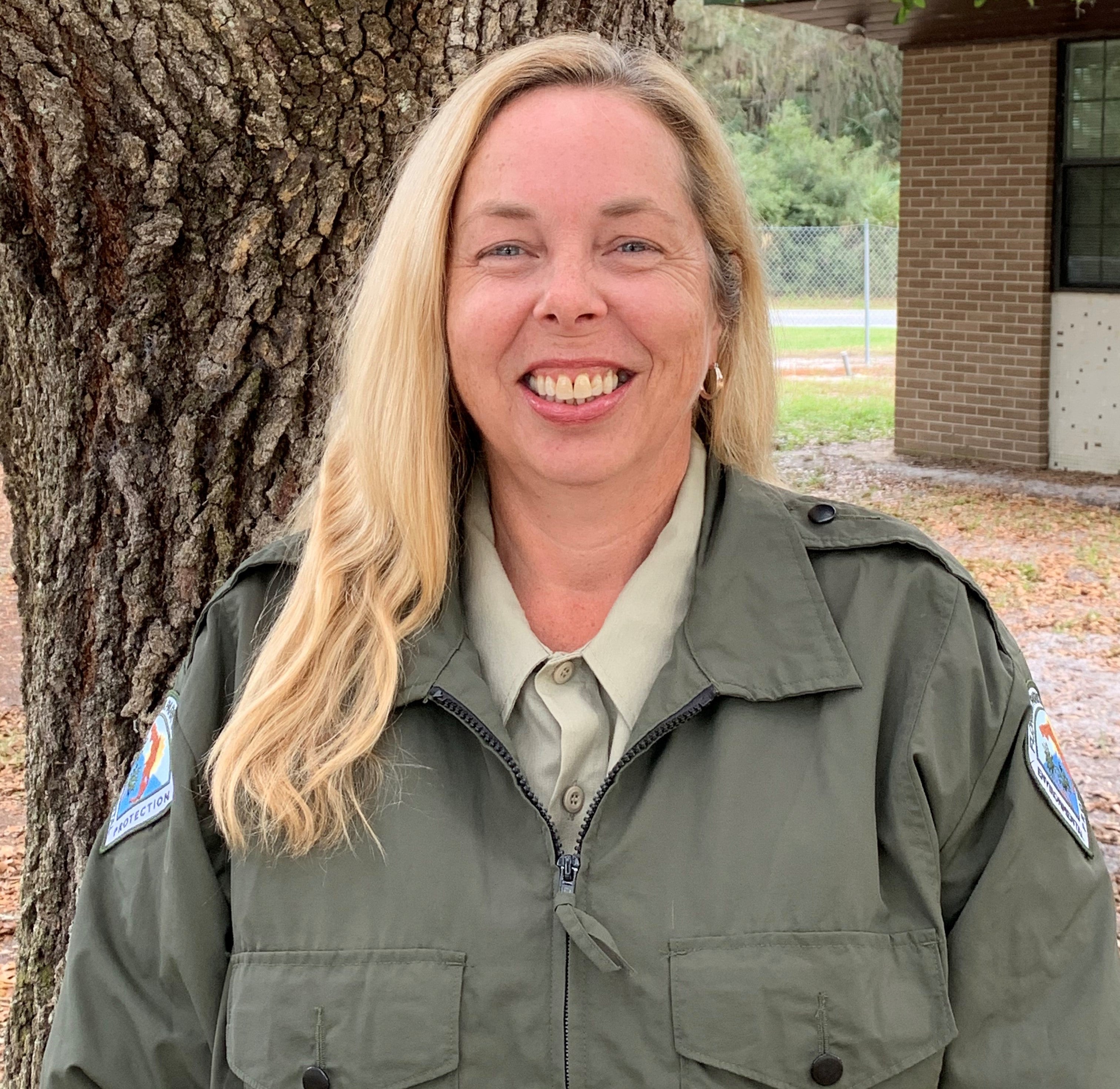 Laurie Dolan has worked on the Marjorie Harris Carr Cross Florida Greenway for 20 years. Her first position was as a Senior Forester working with the Florida Forest Service to assist with the Cross Florida Greenway's fire and timber management programs and then as a Department of Environmental Protection Environmental Specialist II.
Laurie grew up in South Florida and obtained a bachelor's degree in communications from Florida International University and a master's degree in forestry from the University of Florida. 
About The Biologists Tell the Story Series
In this series, we will learn a little more about our biologists, as they share stories of their work in Florida's state parks. The leadership and scientific research our biologists provide is essential for our legacy of conservation and land management. This series is an opportunity to connect these projects to the places where we ensure the health and sustainability of Florida State Parks.