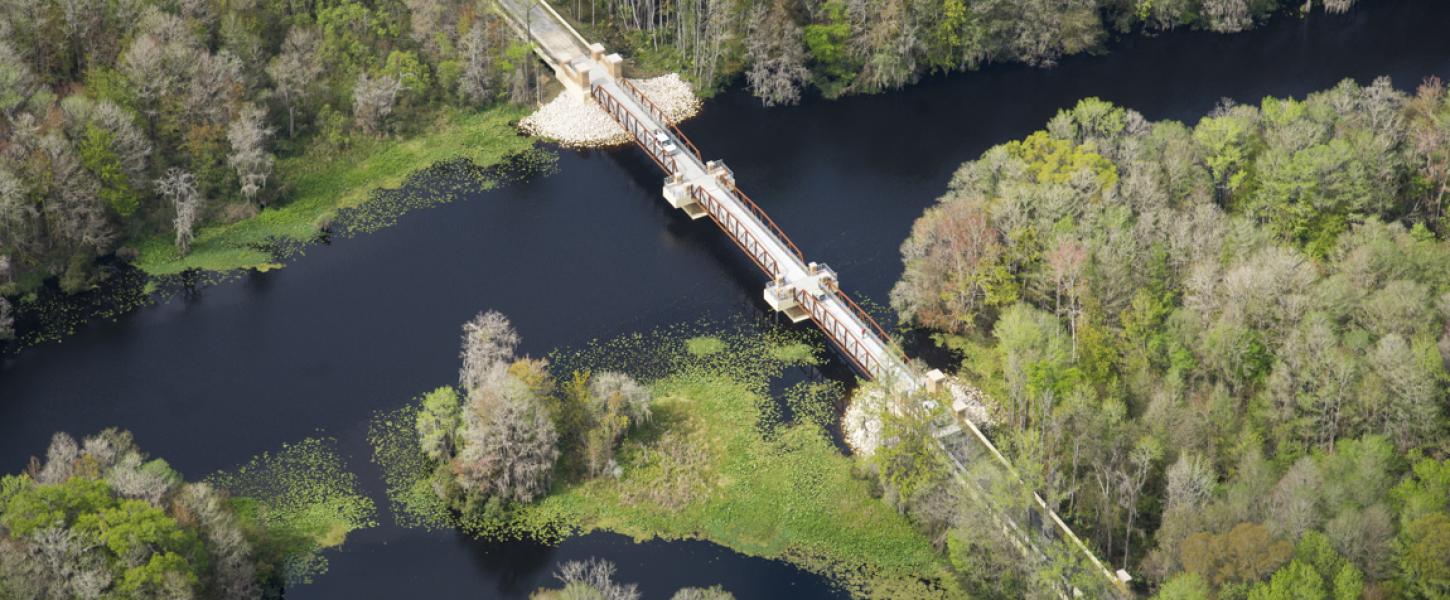 Marjorie Harris Carr Cross Florida Greenway
Spanning 110 miles from the Gulf of Mexico to the St. Johns River
Mirror Installation at CR 475 & CR 475-A Underpasses
Paved trail users and equestrians riding in the vicinity of CR 475 and CR 475-A underpasses should be aware that the Cross Florida Greenway has installed convex mirrors at CR 475 and CR 475-A to aid in seeing opposing bicycle and equestrian traffic. The mirrors are intended to improve your situational awareness at these locations. Please use them to your advantage and report any maintenance issues to 352-236-7143. 
Country Club Boulevard - Public Access Closure
The former public access to the Marjorie Harris Carr Cross Florida Greenway State Recreation and Conservation Area (CFG) at Northeast 140th Street (aka Country Club Boulevard) is closed due to its status as a private road. No public greenway access is available at that location; however, access to that area of the CFG is available approximately five miles to the south at the Gore's Landing Recreation area that is maintained and operated by Marion County Parks and Recreation.
Hours
8 a.m. until sundown, 365 days
Location
Contact Info
352-236-7143
Welcome to the Marjorie Harris Carr Cross Florida Greenway
One of the nation's largest incomplete public works projects has been transformed into the diverse Cross Florida Greenway, spanning Central Florida from the Gulf of Mexico to the St. Johns River.
The Cross Florida Greenway is unique in many ways. Occupying more than 70,000 acres of land formerly known as the Cross Florida Barge Canal, the Greenway is a 110-mile linear park that is more than a mile wide in places. It hosts more than 300 miles of trails of all types — paddling, hiking, mountain biking, equestrian and paved multi-use.
The Greenway is also a wildlife corridor and the first in Florida to have a "land bridge" across a major interstate that both trail users and wildlife utilize. Black bears use the Greenway as a major corridor, especially on the eastern end near the Ocala National Forest. The Greenway protects unspoiled segments of the Ocklawaha River and it offers campgrounds, too. All this and more are part of the Cross Florida Greenway experience!