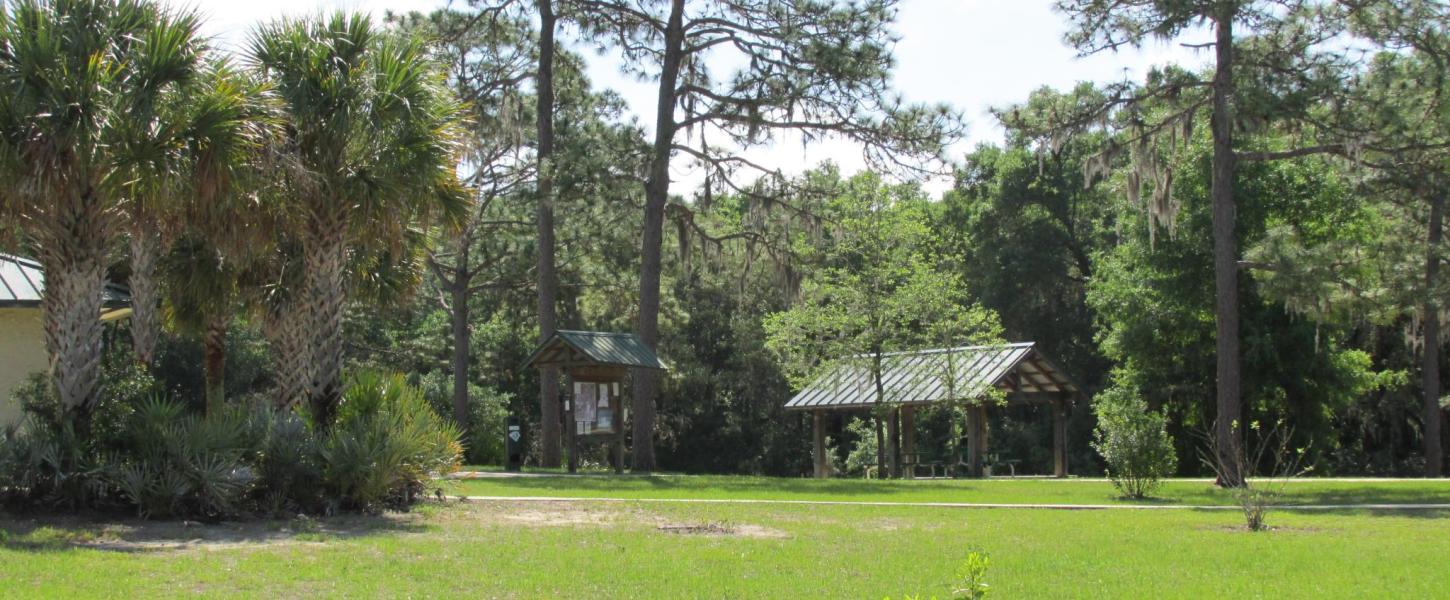 Ross Prairie Trailhead & Campground
Ecologically unique habitat to a wide range of species
Mirror Installation at CR 475 & CR 475-A Underpasses
Paved trail users and equestrians riding in the vicinity of CR 475 and CR 475-A underpasses should be aware that the Cross Florida Greenway has installed convex mirrors at CR 475 and CR 475-A to aid in seeing opposing bicycle and equestrian traffic. The mirrors are intended to improve your situational awareness at these locations. Please use them to your advantage and report any maintenance issues to 352-236-7143. 
Country Club Boulevard - Public Access Closure
The former public access to the Marjorie Harris Carr Cross Florida Greenway State Recreation and Conservation Area (CFG) at Northeast 140th Street (aka Country Club Boulevard) is closed due to its status as a private road. No public greenway access is available at that location; however, access to that area of the CFG is available approximately five miles to the south at the Gore's Landing Recreation area that is maintained and operated by Marion County Parks and Recreation.
Hours
8 a.m. until sundown, 365 days a year.
Fees
No fee required for day-use
Location
Contact Info
352-732-2606
Welcome to Ross Prairie Trailhead & Campground
This area is ecologically unique due to the adjacent placement of the high, dry sandhill community.
Located along the southern boundary of the Cross Florida Greenway along the east side of State Road 200 and adjacent to the entrance to Ross Prairie State Forest is the Ross Prairie Trailhead and Campground.
Having the sandhill and wetland prairie systems adjacent to each other helps to provide habitat to a wide range of species. The habitat changes with the seasons and water volume of the prairie; when wet, dozens of waterfowl, wading birds and more wildlife can be spotted.
The day-use trailhead facilities include an equestrian staging area, bike and hike trailheads for the natural surface mountain bike and Florida Trail hiking trails. There are restrooms with potable water and a picnic pavilion as well. The Ross Prairie Campground has 14 public-use campsites with water and 30/50 amp hookups available. An on-site campground host is available 365 days a year. Reservations can be made through Reserve America.
The trails in this area meander through beautiful oak hammocks and islands interspersed around the edge of Ross Prairie. Wildlife in this area are abundant with whitetail deer, wild turkey, bobcat, alligators in the prairie, gopher tortoises in the sandhills and numerous other species to observe. This part of the Greenway is also conveniently located within two miles of major shopping and dining opportunities just north of the County Road 484 and State Road 200 intersection.