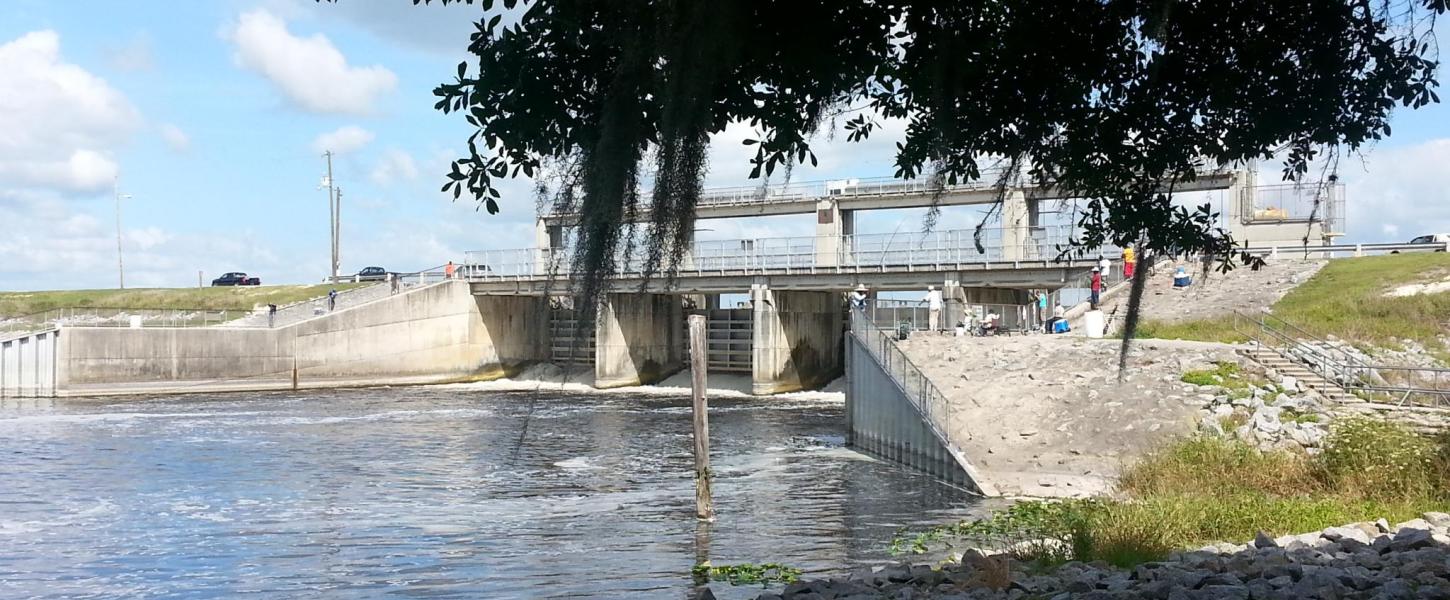 Rodman Recreation Area
Located upon the former Rodman Dam
Hours
8 a.m. until sundown, 365 days a year
Location
Contact Info
352-758-1000
Welcome to Rodman Recreation Area
The upstream reservoir side of the earthen dam, adjacent to the spillway, provides excellent bank fishing opportunities.
The reservoir side is known for its bass, bream, catfish and mullet.
The Rodman Recreation Area is comprised of the facilities and recreational opportunities surrounding and located upon the former Rodman Dam, designated by the Florida Legislature as the Kirkpatrick Dam in 1998 (named after former State Senator George Kirkpatrick, who was an ardent defender of keeping the dam and reservoir intact).
The 7,200-foot-long earthen dam has a four-gate spillway designed to discharge up to 36,000 cubic feet per second of water from the Rodman Reservoir, which is located on the upstream side of the dam and spillway. The approximately 9,500-acre reservoir has a drainage basin of almost 2,800 square miles, and its headwaters start in the Green Swamp and Lake Apopka.
The recreation area is located approximately 0.75 miles west of the Rodman Campground on Rodman Dam Road.
Freshwater fishing is the primary recreational pursuit with bank fishing opportunities on the downstream discharge side of the spillway; two accessible recreational fishing piers are located there. There is one wooden pier on the eastern side of the spillway discharge channel and an aluminum pier on the western side.
The moving water flowing through the spillway and down past the fishing piers provide excellent freshwater fishing opportunities, which include species such as bass, bream, catfish and more. There are also hardened areas along the spillway wing walls where people line up to fish.
For boat fishing or paddling enthusiasts there is a two-lane boat ramp on the lower east side of the spillway with paved parking, potable water, picnic pavilions and restrooms. These ramps access the lower Ocklawaha River below the dam. The Ocklawaha flows approximately 9 miles downstream from the dam into the St. Johns River. The Ocklawaha is the largest tributary of the St. Johns.
People also launch canoes and kayaks here or watch the numerous bird species that frequent the dam and spillway area. It is common to see anhinga, cormorant, bald eagles, osprey, and numerous types of herons and egrets foraging for an easy meal.
Traveling farther west along Rodman Dam Road will take you into the Ocala National Forest, which is managed by the federal U.S. Forest Service. The Ocala National Forest provides numerous outdoor recreational opportunities on its almost 400,000 acres, including an extensive off-road motorized trail system.