Biking at the Cross Florida Greenway
A Mecca for Biking
At Marjorie Harris Carr Cross Florida Greenway you can experience a variety of trails. There are over 80 miles of mountain bike trails and a recently added 16 miles of paved trail for road bikers to enjoy. Our trail system offers trails for all levels of experience. 
To start, visit the Santos Trailhead. This is a mountain bike mecca, where you can choose the trail experience and difficulty level you desire. Yellow trails are beginner, blue trails are intermediate, and red trails are for expert riders only. We offer a pump track and skills park at the Santos trailhead where you can test out what you will encounter on the trails.
Bicycles, including electric bicycles, may be used on designated trails within the park system, consistent with section 316.20655, F.S.
There are wooden features sprinkled throughout the trail system, gradually increasing in difficulty until you reach our most challenging area and features, the Vortex. When biking at the Vortex it is important to remember that it is a potentially dangerous area if you are not a highly skilled rider.
The Vortex is a biking area reserved for experts and you need to have the proper skills and abilities to ride there. Please ensure that your bike is properly maintained, and wear the appropriate safety gear, especially a helmet. If you're lucky, you might even catch one of our expert riders showing off their skills in the Vortex, and many love to have an audience.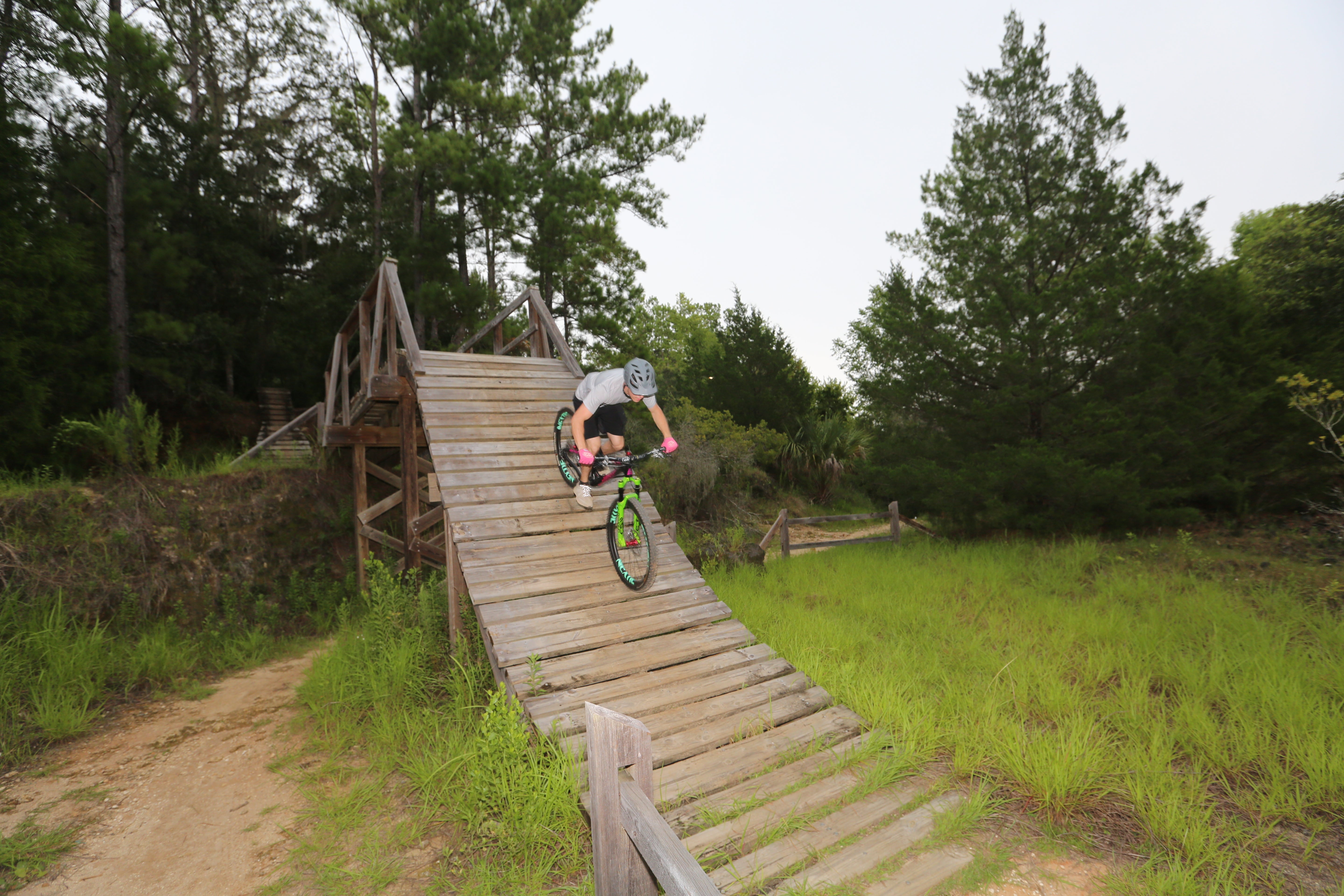 The Ocala Mountain Bike Association (OMBA) is our primary partner in establishing and maintaining the trails and technical features. OMBA loves not only recruiting new volunteers for the Cross Florida Greenway, but doing their best to create a mountain biking family. They also host the annual Santos Fat Tire Festival (FTF) at the trailhead the second weekend in March. Make sure to sign up for the festival - it sells out quickly! If you aren't lucky enough to get one of the limited overnight camping spots at Santos during the FTF, make sure to come out during the daytime activities at the Bike Vendor Village at the main trailhead and do the Epic supported ride of up to 50 miles on the Saturday of the FTF.
If you prefer a paved path, there are 16 miles of paved trail that are perfect for both the avid cyclist and those looking to take a leisurely scenic ride with family or friends. The trail runs from Santos Trailhead to State Road 200 and will navigate you through unique Florida ecosystems with opportunities for wildlife viewing. The trail crosses over I-75 on the iconic Land Bridge, which allows safe passage for wildlife, cyclists, hikers and equestrians.  
Visit the Cross Florida Greenway for an opportunity to not only ride your bike but also reconnect with nature. There are several local bike shops nearby that can provide you with rental bikes or give you advice on the best ways to enjoy all that our biking trails have to offer.
Throughout the entire park there are picnic tables and pavilions at the trailheads for a packed lunch or simply just for a rest. While riding here, take an opportunity to disconnect from the digital world and fall in love with the beautiful protected lands and trails of the Marjorie Harris Carr Cross Florida Greenway.