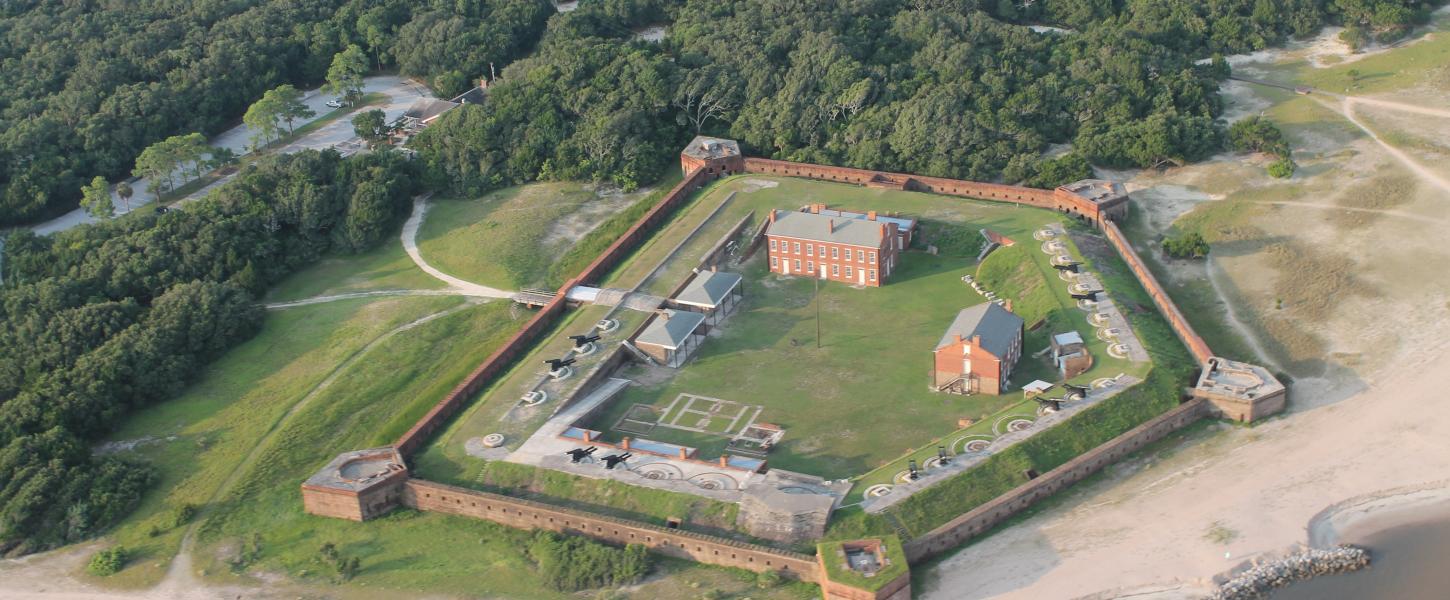 Fort Clinch State Park
History, nature and beauty meet in an experience like no other
Hours
8 a.m. to sundown, 365 days per year. Fort is open daily from 9 a.m. - 5 p.m.
Location
Contact Info
904-277-7274
Welcome to Fort Clinch State Park
History meets nature at Fort Clinch State Park. Whether you're a history buff, nature lover, or a bit of both, enjoy exploring the unique natural and historic resources of this pristine park.
Miles of beaches and canopy trails invite hikers, bikers, and swimmers to immerse themselves in Florida's natural beauty, while Fort Clinch gives visitors a glimpse into Florida's unique place in history. There's a little something for everyone in this extraordinary corner of Florida.
At over 1,400 acres, Fort Clinch State Park is situated on Florida's northernmost barrier island, Amelia Island.  The park provides exceptional recreational activities immersed among beautiful natural communities, as well as wildlife viewing, historic attractions and unparalleled living history interpretive programs.
The park's three-mile shoreline offers a wide variety of family-friendly recreational activities including swimming, fishing, sunbathing and wildlife viewing.  Shelling and shark-tooth hunting are popular activities near the jetty and along the St. Mary's Inlet.  We have 69 campsites and a large group camping facility that offers a unique overnight experience in the Real Florida!  Enjoy miles of bicycling on the historic oak-canopy drive, or for the more adventurous, hiking and biking the six-mile off-road multi-use trail. The Park offers a guided nature walk at the Willow Pond Nature Trail every Saturday at 10:30 a.m.
Visit historic Fort Clinch and step back to the year 1864, as soldiers reenact life during the Civil War. Explore the many rooms, galleries and grounds of the fort as you learn how the soldiers worked and lived each day.  Today, park staff provide living history interpretations of the life of a Union soldier, a 1st New York Volunteer Engineer, who garrisoned the fort during the Civil War.  On the first weekend of every month, the Park holds a garrison of many soldiers who demonstrate skills such as carpentry, masonry, cooking, blacksmithing, small arms demonstrations and cannon firing as well as interpreting the use of many of the buildings such as the quartermaster, infirmary and jailhouse.
Maritime hammocks, with large Spanish moss-draped live oaks, are prevalent throughout the park and provide a beautiful backdrop while exploring the park. Coastal grasslands meet these hammocks and stretch along the shore behind dunes on the Atlantic Ocean and Cumberland Sound. These unique communities provide refuge to a wide variety of wildlife including gopher tortoises, deer, raccoons, bobcats and numerous species of birds and reptiles including American alligator and painted buntings which are frequently seen at the park.
Willow Pond Trail winds around a series of freshwater ponds that offer prime habitat for alligators and turtles. Egan's Creek Marsh borders the west boundary of the park, providing a saltwater estuary for an abundance of marine life. The salt marsh offers scenic vistas and views of many species of wading birds while the beaches provide a critical foraging and nesting habitat for colonial shorebirds and sea turtles. Please respect posted areas and share the shore with our wildlife!