Celebrating Seminole Heritage
You'll be greeted at the Seminole Family Camp with a traditional Che-han-tah-mo? (how are you) and a welcome to the Ee-toh-lit-kee (Seminole Family Camp) and the Cheekee-chobee (big chickee) Performance Stage. Thank you to the Seminole Tribe of Florida for their generous contribution to construct a much larger Seminole Family Camp now located near the Craft Square.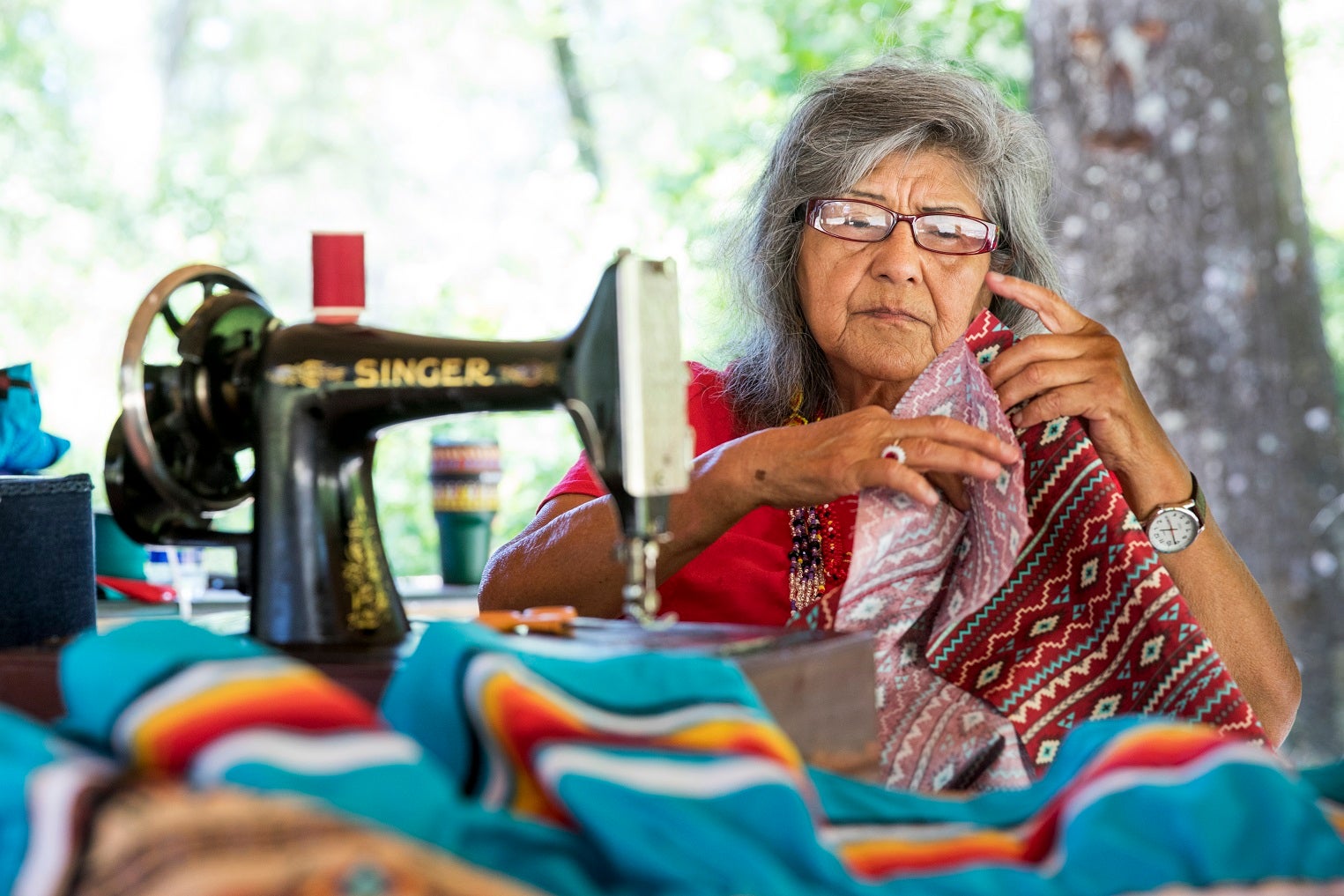 In 1771, John Stuart, an agent of the British government, was the first to use the term "Seminoles" in writing when he referred to the Creeks of East Florida as Seminoles. Soon, the name was used to indicate all of Florida's Native American people.
Today, an estimated 2,700 Seminole and Miccosukee people live in Florida. The Seminole Tribe of Florida has about 2,200 members, and the Miccosukee Tribe of Florida Indians has about 500 members. Some still build chickees and wear patchwork clothing derived from traditional styles.
At the Florida Folk Festival, you'll see wonderful examples of traditional Seminole crafts.
Patchwork Sewing
Nancy Shore will demonstrate patchwork sewing. The women artisans of the Seminole adapt textile arts to suit traditional functions and changing needs.
Patchwork is the process of sewing pieces of cloth into rows of designs joined to make garments. Seminole women use the sewing machine to evoke fire, rain or storm in traditional patterns.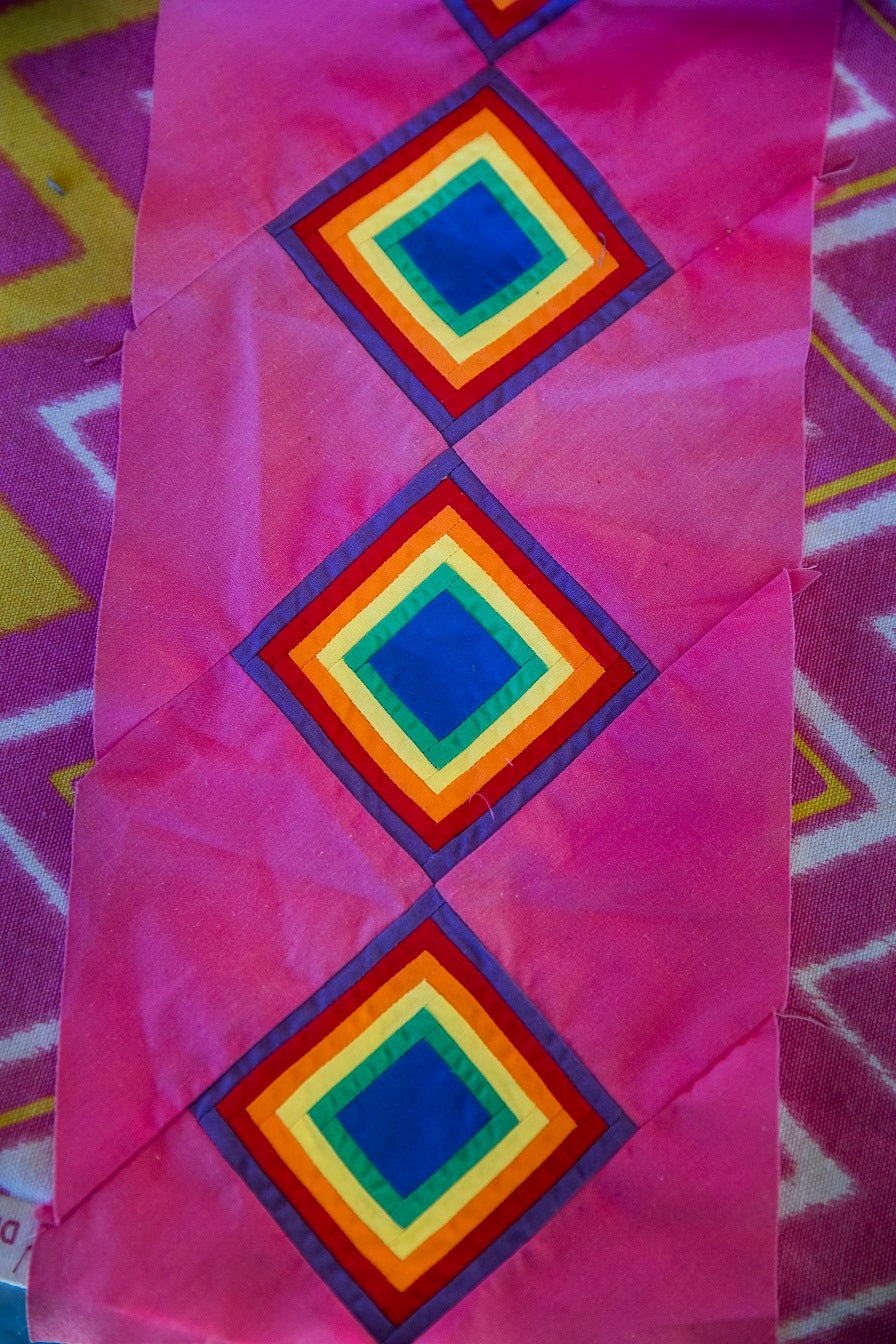 Beadwork
Contemporary Seminole beadwork necklaces, belts and sashes use nylon thread, an odd (never even) number of beads and a 10-inch loom. Onnie Osceola will explain why.
Dollmaking
Carla Cypress will demonstrate the unique Seminole doll-making tradition. The dolls are made of palmetto fibers, hand sewn to create the head and body, and dressed in traditional Seminole costumes.
Basketry
Seminole basketry as it exists today features old and new traditions, the use of native materials and the influence of other cultural groups.
Malcolm Jones will demonstrate the two distinct types of basketry: coiled and twilled. Seminoles make coiled baskets for the tourist trade from sweetgrass, which grows in open palmetto-covered fields. Artisans coil the bundles of grass and sew them together with embroidery thread. The bottom of the basket is usually made of palmetto fiber. Twilled baskets were once made of cane but are now made using split palmetto stems, a more readily available material.
Palmetto-stem baskets, now almost obsolete, are used in pounding corn to separate meal from hard kernels.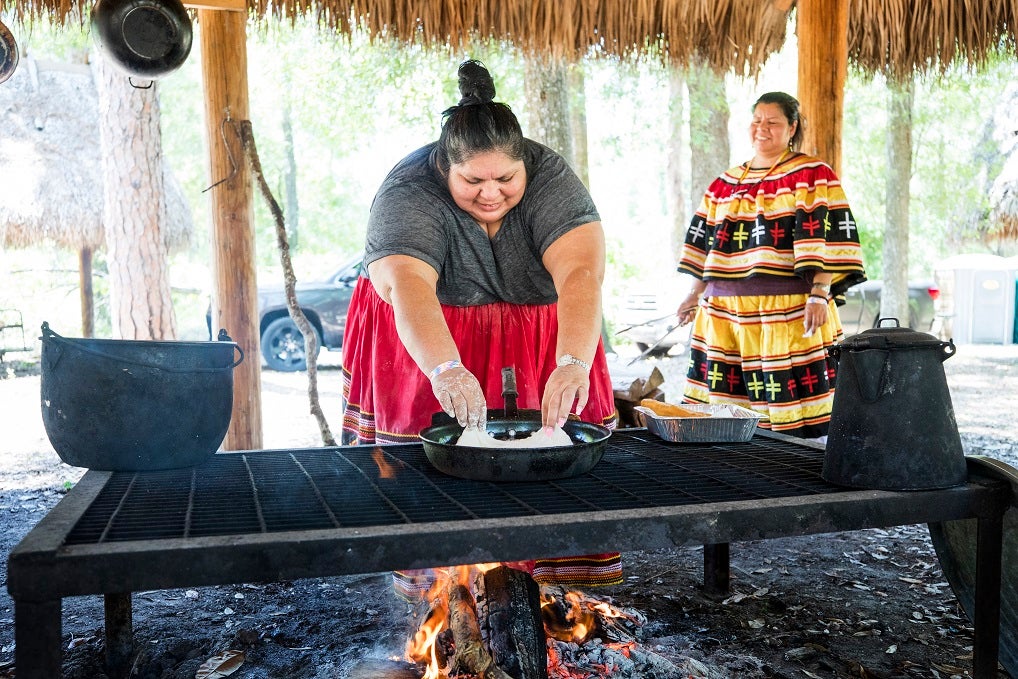 Traditional Seminole Foods
Food sources in Seminole folklore include game meat such as deer, turtle, fish and vegetables such as corn, beans, sweet potatoes and squash. Of these, corn is the most frequently used.
One product is sofkee, a cold beverage made of corn by combining hominy meal (hulled corn) with boiling water then allowing the drink to cool. In Seminole frybread, a batter mixture is fried in hot grease in a flat-bottomed pot over an open fire.
Mollie Jolly and Jennifer Billy will demonstrate Seminole cooking traditions.
Woodcarving 
Luis Venzor will demonstrate the Seminole tradition of woodcarving.