Sharing Florida's Traditional Culture
Each year the Florida Department of State's Florida Folklife Program presents the Florida Folklife Area of the Festival. 
The term folklife refers to the living traditions practiced and passed down within groups by word of mouth, imitation or observation. Folklife is a mirror that reflects community values, challenges and successes. Florida folklife is shaped by the state's tremendous diversity and growth, creating a rich cultural landscape.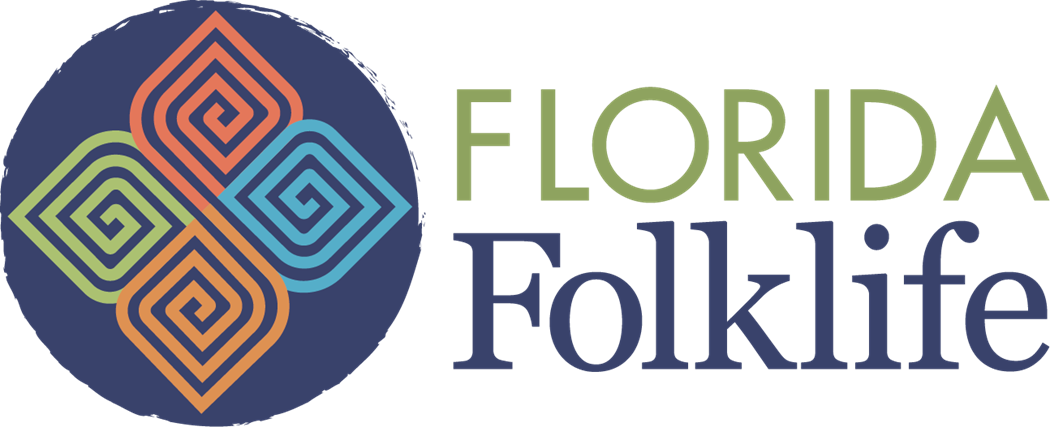 What's New at Florida Folklife?
For more than 40 years the Florida Folklife Program has documented, presented and preserved Florida's vibrant folklife and traditional culture. State folklorist Dr. Dominick Tartaglia has completed his first full year in the position, and some of the artists on the stage are from his first Florida Fieldwork Survey on Fire Traditions in the state of Florida. Apart from the fieldwork survey and last year's festival, Dom presided over the nominations of the 2023 Folk Heritage Awards (see the Heritage Awards presentation at 9:45 p.m. Saturday at the amphitheater stage); booked the musical guests at Florida's Black History Arts & Culture Festival; coordinated the 2022 Artist Residency (Myriam Eli and Joe Zeytoonian); and coordinated the 2022-23 apprenticeship program (all three teams will perform on the Folklife Stage). 
You will see Dom around the folklife area all weekend along with the doctoral students from Florida State University's "Making the Festival" class.
Fire
For the next four years at the Florida Folk Festival, the Folklife Area will be covering how the elements influence traditions in the state of Florida. Based on survey fieldwork conducted in 2022, the theme of this year's Folklife Area is Fire.
In comparison with many other regions of the country, Florida is new and constantly changing. While some can trace a long family lineage here, most Floridians have arrived within the last 50 years. In 2012, only 36% of the population was born in the state. Even Florida's Native Americans are new. The native peoples who inhabited the region at European contact were displaced by the Seminoles and Miccosukees - who did not coalesce as distinct peoples until the late 18th century. Florida in many ways is like fire: dynamic, sustaining, enticing and exciting.
The tradition bearers on the Folklife Stage come from across the state, from the Big Bend to the 305, cracker country to the gulf coast, Orlando and others. This year, the stage brings you six fire tradition bearers, three teams from the Apprenticeship Program, two Heritage Award winners and six traditional musicians returning to the stage.
Invited Artists
Tallahassee is a hotbed of Florida blacksmiths. This is in part due to the many cultural institutions that teach the art, such as the Tallahassee Museum and Mission San Luis. The other institution that promotes the infrastructure, organization and networking of blacksmiths is the Florida Artist Blacksmith Association (FABAA), which is dedicated to teaching and preserving blacksmithing in Florida.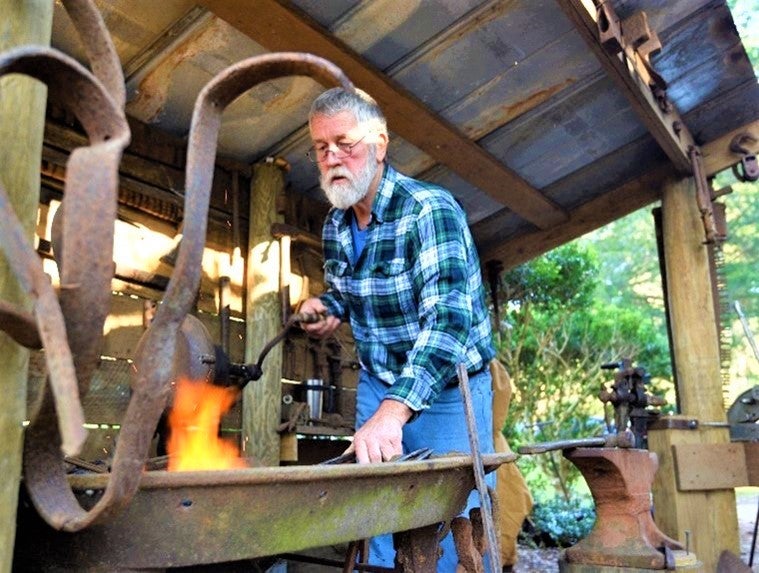 Its northwest (Tallahassee) chapter is led by veteran blacksmith John Pfund. Born in the Florida Keys, he made his way to Tallahassee when he was a welder. He discovered his love of blacksmithing and apprenticed at Mission San Luis.
John is an artist in residence in Blountsville and a mentor and teacher to numerous smiths. He prides himself on his teaching ability and you can find him teaching smithing essentials to kids and adults on most weekends.
He will be in the park's blacksmith workshop all weekend doing his trademark "Blacksmith Challenge," where he will start with iron and a heat source on Friday morning and build every tool in a blacksmith's kit by the end of the festival. During John's timeslots on the Folklife Stage, state folklorist Dom is going to walk all interested participants to John's workshop for a live demo.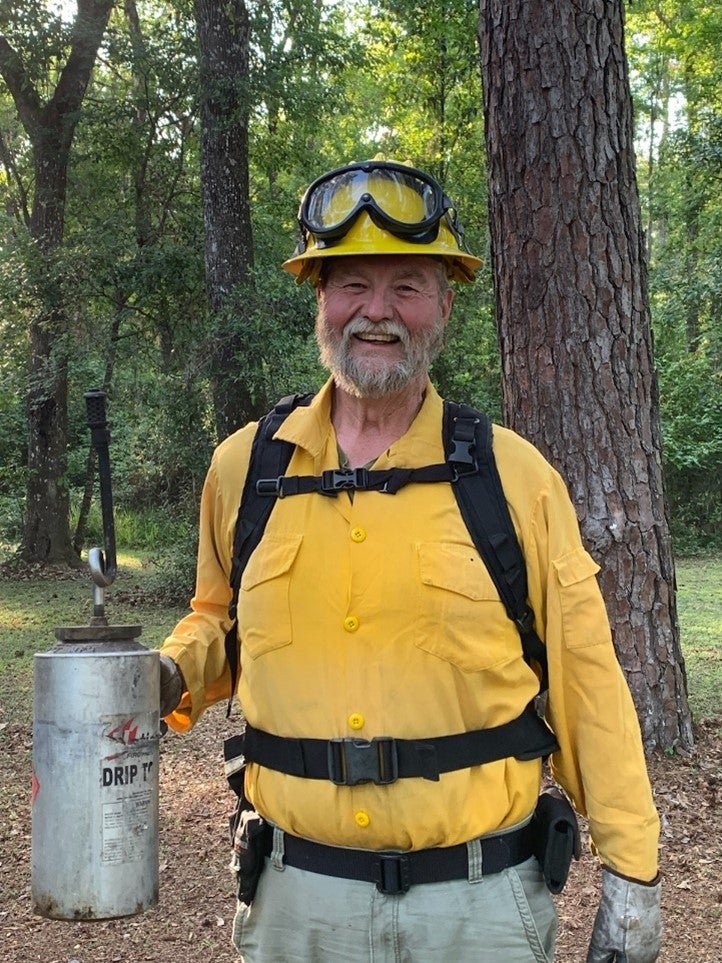 Nels Parson, a fourth-generation Floridian, has spent his 45-year career working for land management agencies that use prescribed fire in their natural resource management. He has participated in or bossed over 350 prescribed burns and participated in over 150 wildfire suppression events. He will be speaking on fire suppression and safety as occupational folklore on the Folklife Stage.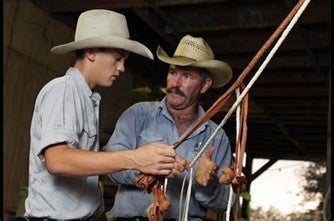 Folk Heritage Award winner Buddy Mills of Okeechobee learned the traditional skills required of a Florida cowboy from his father. Buddy is a longtime favorite of both the Florida Folk Festival and the Florida State Fair in Tampa, where you can find him at the Cracker Country Living History Museum. Stop by to see Buddy fixing a pot of swamp cabbage, the Florida cracker term for sautéed hearts of sabal palm, the state tree of Florida.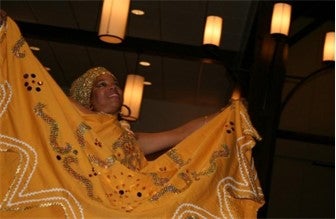 Heritage Award winning Afro-Cuban dancer Neri Torres was born in Havana, Cuba, to a musical family. Neri and her brother Ezequiel became passionate about music and dance from a young age. They were particularly influenced by Orisha music and dances of the Santería religion. In 1991, Neri arrived in the U.S. to establish a career in dance. She founded IFÉ ILÉ in 1996, a nonprofit organization dedicated to the preservation, promotion and cultivation of Afro-Cuban culture and folklore. Neri has also served as the principal dancer and choreographer for Gloria Estefan. At the Folklife Stage, she will be performing an Orisha dance related to fire, along with providing commentary on the art form on display.
2023 Folk Heritage Award winner Concepción Poou Coy Tharin is a master weaver in the traditional indigenous Guatemalan style known as pikb'l. Tharin grew up in a village in the Alta Verapaz region in the central highlands of Guatemala, speaking only the indigenous Q'eqchi' language. Now living in Tarpon Springs, Florida, she demonstrates and teaches classes in this traditional Mayan technique. She has demonstrated, lectured, exhibited, or had residencies at numerous institutions across Florida and the U.S., including the Dunedin Fine Arts Center, New College of Florida, Polk State College, the Maxwell Museum of Anthropology at the University of New Mexico, the James Museum in St. Petersburg, the Nelson Poynter Memorial Library at the University of South Florida, and the Weedon Island Cultural and Natural History Center.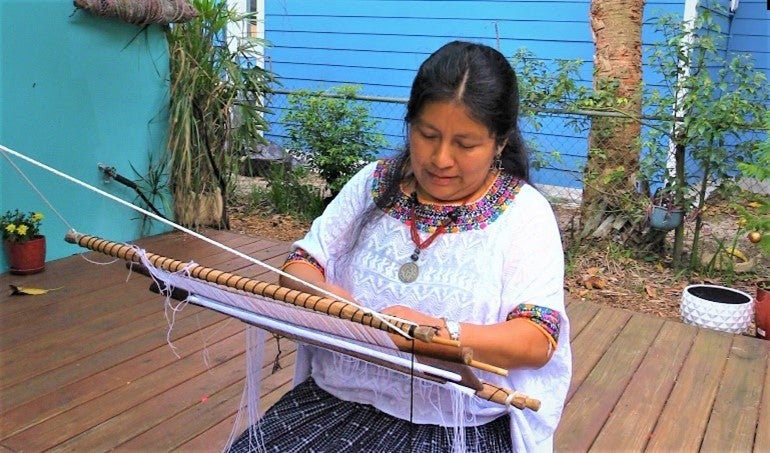 Folklife Apprenticeship Program
The Florida Folklife Apprenticeship Program supports the preservation of folklife and traditional arts through one-on-one apprenticeships. These awards fund three-, six- or eight-month periods of study between a master artist and apprentice in recognition of the value of folklife and traditional arts in Florida while enabling participants to work together to maintain and share traditional knowledge, skills and techniques. At the end of the apprenticeship term, the master artists and apprentices take to the folklife stage to demonstrate the finished product from their months of classes. This year, the folklife stage will present three apprenticeship teams.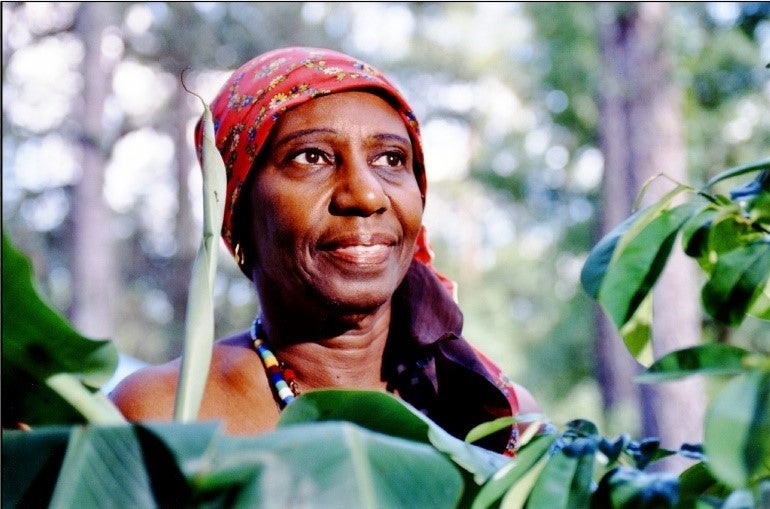 Florida Folk Heritage Award recipient and Haitian cultural advocate Liliane Louis and apprentices Marie Romaine Desir and Marie Moncy have explored the intersection of Haitian food and folk narratives over their Folklife Apprenticeship Program. Here, they showcase the product of their apprenticeship, including a cooking demonstration of traditional Haitian foods.
"Food is so much apart of our culture and our history," says Liliane. "I'm always happy cooking, especially when I have someone to share it with."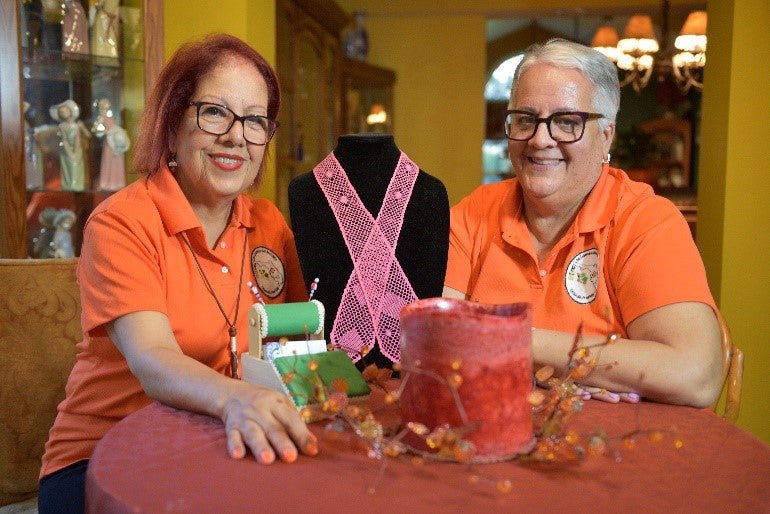 Mundillo - Spanish for "little world" - is the Puerto Rican folk art of handmade bobbin lace. The mundillo artist winds thread across wooden bobbins, crossing and twisting them until they create a pattern. Orlando residents Julia Belen Alverio and Annie Garcia have been working together for the last year in the Florida Folklife Apprenticeship Program. The two of them, along with several other members of "Damas del Mundillo Orlando" (who you will see on stage with them), practice their craft every week in Julia Belen's home workshop.
Skateboards and skate culture are intrinsically tied to the folk culture of Florida. From the tricks, the terms, and even the shape of the boards itself, Florida is essential to what we picture when we imagine skate culture. During the duration of their apprenticeship program, skateboarder Zach Moldof and quad skater (roller skater) Dorsa Vaziri have been working to improve the skate infrastructure of Orlando. The team has created and installed handmade skatepark architecture while also teaching local skaters about the intangibles of skate culture – norms, folk history, stewardship, and creative placemaking – to not just teach young people how to skate, but how to belong in the folk group called "skaters."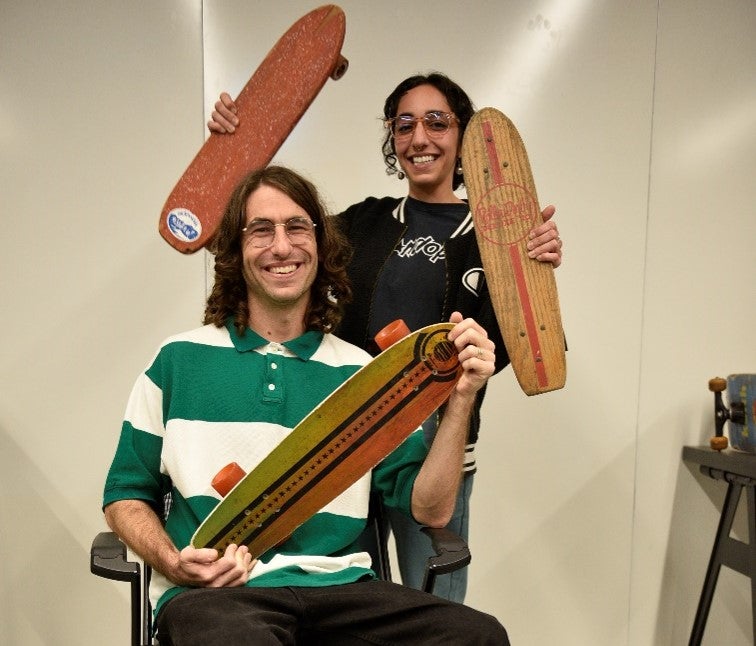 Traditional Music and Dance
2023 Folk Heritage Award winner Myriam Eli is a South Florida based dancer, percussionist and tradition bearer who practices and preserves Sephardic and Middle Eastern music and dance. She is a master of the Danse Orientale, a folk-based dance from the Middle East and North Africa characterized by circular motions of the torso and rhythmic movements of the hips. She is joined on stage by oud player Joe Zeytoonian, who won a Florida Folk Heritage Award in 2000. 
In 1985, they moved to South Florida and founded Harmonic Motion, a nonprofit arts organization focusing on cross-cultural and folkloric music and dance. In 2022, Harmonic Motion was Florida Folklife's 2022 artist-in-residence, where they played and performed at Florida State University School, School for Arts and Innovative Learning, Florida State University, and Mission San Luis. 
Born in the Dominican Republic to Cuban parents, Jose Elias is a musician and arts administrator in Miami. He played with the Grammy-nominated group Conjunto Progresso as well as the Spam Allstars before founding Cortadito alongside Julio Cesar Rodriguez Delet 2011. On the Folklife Stage, Cortadito will perform early 20th-century Cuban music in styles such as son montuno, guaracha, boleros, nengon and bolero son, and also will have Q&A time with the audience. Cortadito has amassed countless honors and awards over the years. They are also one of the featured artists in the Florida Department of State's online encyclopedia of Florida music, titled Florida Music Tours. The 2023 installment featuring Cortadito is the Latin Music Tour.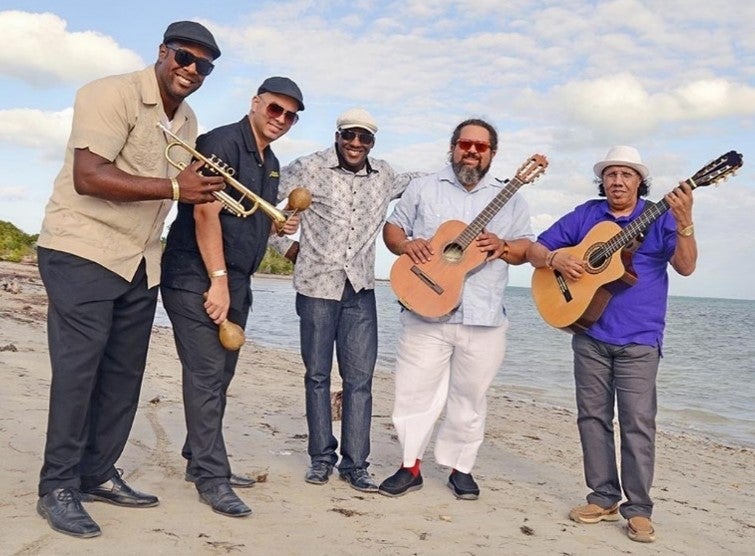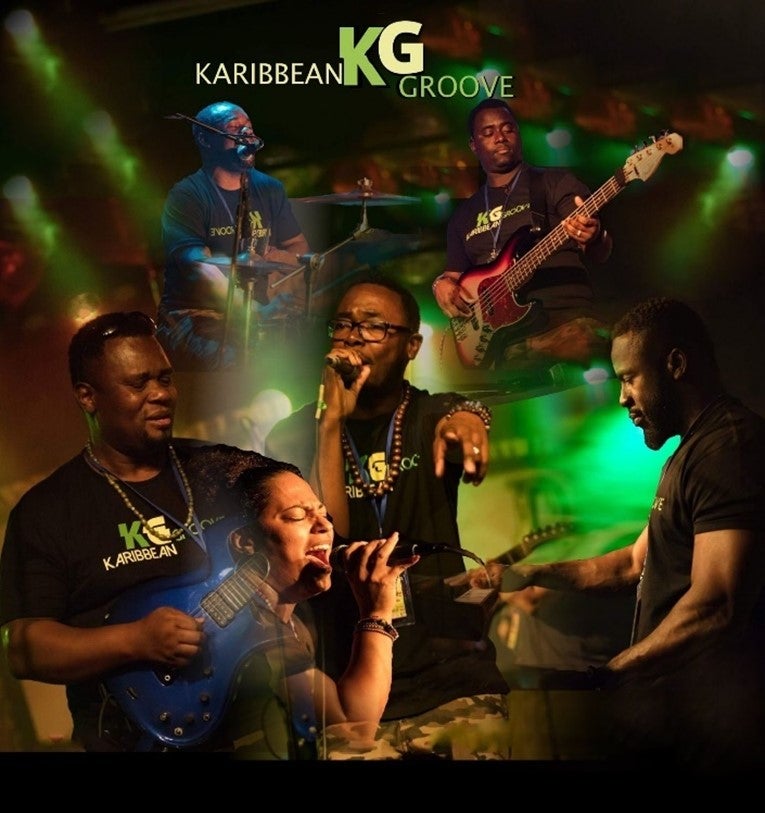 Led by Judes Albert, dance band Karibbean Groove plays a variety of Caribbean styles popular in clubs and at cultural celebrations. In addition to reggae, they play konpa, a meringue style Haitian dance music with roots in Africa, and zouke, a fast-paced carnival beat. The band members were born in Haiti but met at church in Immokalee where their families work on farms. This versatile group stays true to the Haitian tradition of socially conscious music while exploring popular genres. At the Folklife Stage, Karribean Groove will play songs and tell stories related to fire in Florida.
In the sweltering heat of a Florida summer, packed in a warm church for a Sunday service, the swell of the organ is replaced by the keening whine of the steel guitar. In Florida, this particular genre of country-inflected gospel music is called sacred steel.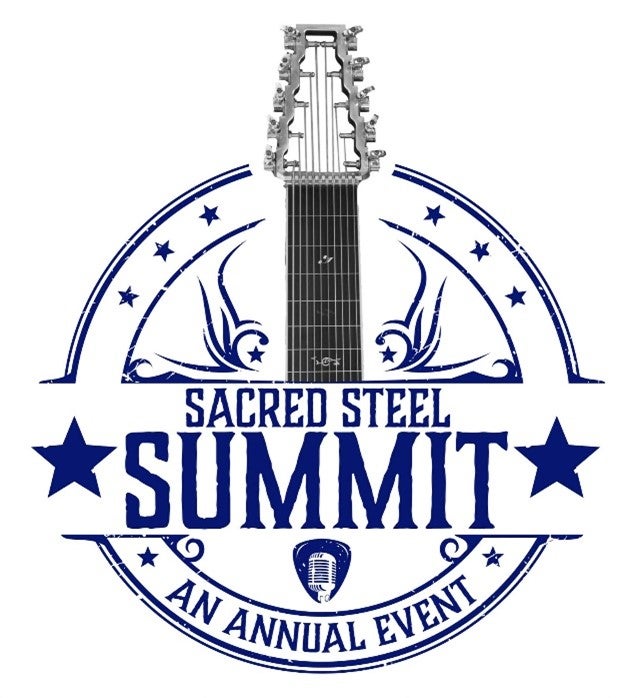 The Sacred Steel Summit occurs inside the Florida Folk Festival. At the Sacred Steel stage, you will be able to see more than 35 sacred steel musicians, including legends of the genre like Check Campbell, Lonnie Bennett, Aubrey Ghent and Ted Beard. Three players from the Sacred Steel Summit will be coming to the folklife stage. Tommy Phillips will be performing on Friday, Bryan Taylor on Saturday, and Ives Hicks will perform on Sunday.
Dr. Panayotis "Paddy" League is assistant professor of musicology at Florida State University and director of the Center for Music of the Americas. He specializes in the traditional music of the Greek islands, Ireland and northeastern Brazil and their respective diasporas. He is a 2019 Florida Folklife Program Apprenticeship Program Master Artist. You will see his students from his "Making the Festival" class around the Folklife Stage. Paddy is returning to the stage to perform traditional Greek songs about fire.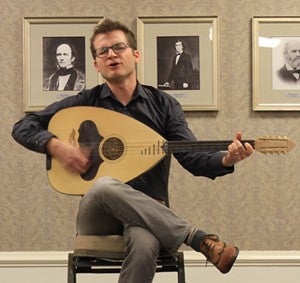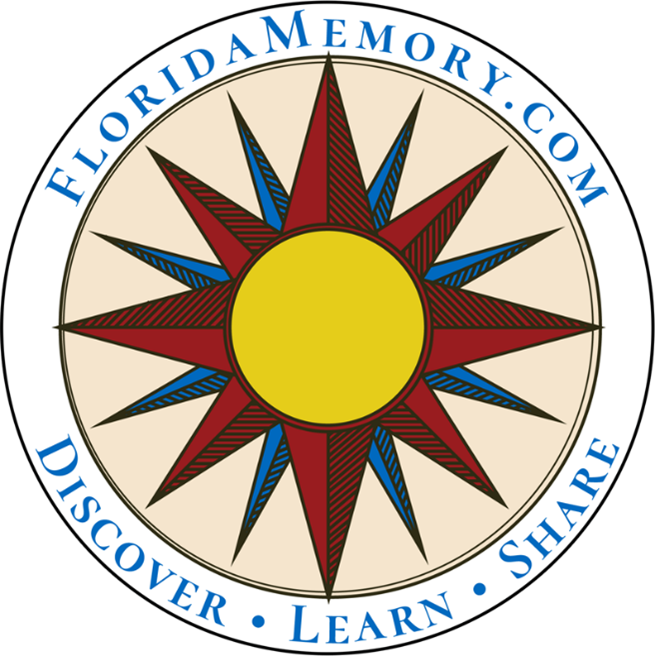 Photo archivist Adam Watson and reference archivist Jackie Attaway assist patrons with research requests at the State Archives of Florida.  In addition, they collaborate with the State Archives Florida Memory Program to select and add digitized archival collections to FloridaMemory.com. They present a sampling of Florida Folklife records — including film footage clips from previous Florida Folk Festivals, the 1978 Florida Folks Arts Conference, and Four Corners of the Earth (a documentary that resulted from the 1983-84 Seminole Video Project and was produced by the Florida Folklife Program and WFSU-TV), as well as photographs and music selections from the Florida Folklife Collection that are held by the State Archives and accessible on FloridaMemory.com.