Sharing Florida's Traditional Culture
Each year the Florida Department of State's Florida Folklife Program presents the Florida Folklife Area of the Festival. 
The Florida Folklife Program is currently planning the Folklife Area for 2022 and will announce the theme soon. 
Please take time to discover more about Florida's cultural diversity by exploring the many cultures featured in 2019.  
Culture on the Move

By Amber Dodge, Christopher Estrada, and Amanda Hardeman Griffis
The term folklife refers to the living traditions currently practiced and passed down within groups by word of mouth, imitation or observation. Folklife is a mirror that reflects community values, challenges and successes. Florida folklife is shaped by the state's diversity, creating a rich cultural landscape.  
Folklife at 40
This year, the Florida Folklife Program celebrates its 40th anniversary. Before it was established as a state park, The Florida Federation of Music Clubs managed the Florida Folk Festival. In 1975 they hired folklorist Peggy Bulger to do a traditional arts survey to inform the festival. That survey led to the establishment of the nation's sixth state folklife program and the only state Bureau of Folklife. The program was moved to Tallahassee where it is now the only folklife program in the nation based in historic preservation.
Since its establishment in July 1979, Florida Folklife has funded nearly 200 apprenticeships, awarded 134 Folk Heritage Awards, produced albums, films and radio programs, created educational resources and documented countless tradition bearers, featured annually at the Folklife Area. We celebrate this milestone by launching a new logo design that represents the three defining characteristics of Florida folklife: diversity, the evolution of culture and the interplay between Florida's environment and culture. We will explore the Folklife Program's legacy in Folklife at 40, featuring past and present staff folklorists on Sunday.
Newcomers
It is estimated that a net inflow of over 650 people move to Florida every day from a foreign country. Approximately 4 million people are foreign-born residents, or 20% of the state's population. Newcomers enter by various means, including as immigrants, resettled refugees, asylum seekers, guest workers and students.
Jacksonville is home to over 123,000 foreign-born residents. As a group, they own nearly 30,000 houses, operate over 7,400 businesses and pay approximately $986 million in local, state and federal taxes. Within the city alone, they have over $3 billion dollars of spending power to contribute to the local economy. Jacksonville newcomers, Belgere Bentana, Josephine Malay Ja Kai and Henriette Maua will share their perspectives in a narrative session Saturday on the Folklife Stage.
Oral Tradition - Material Culture - Food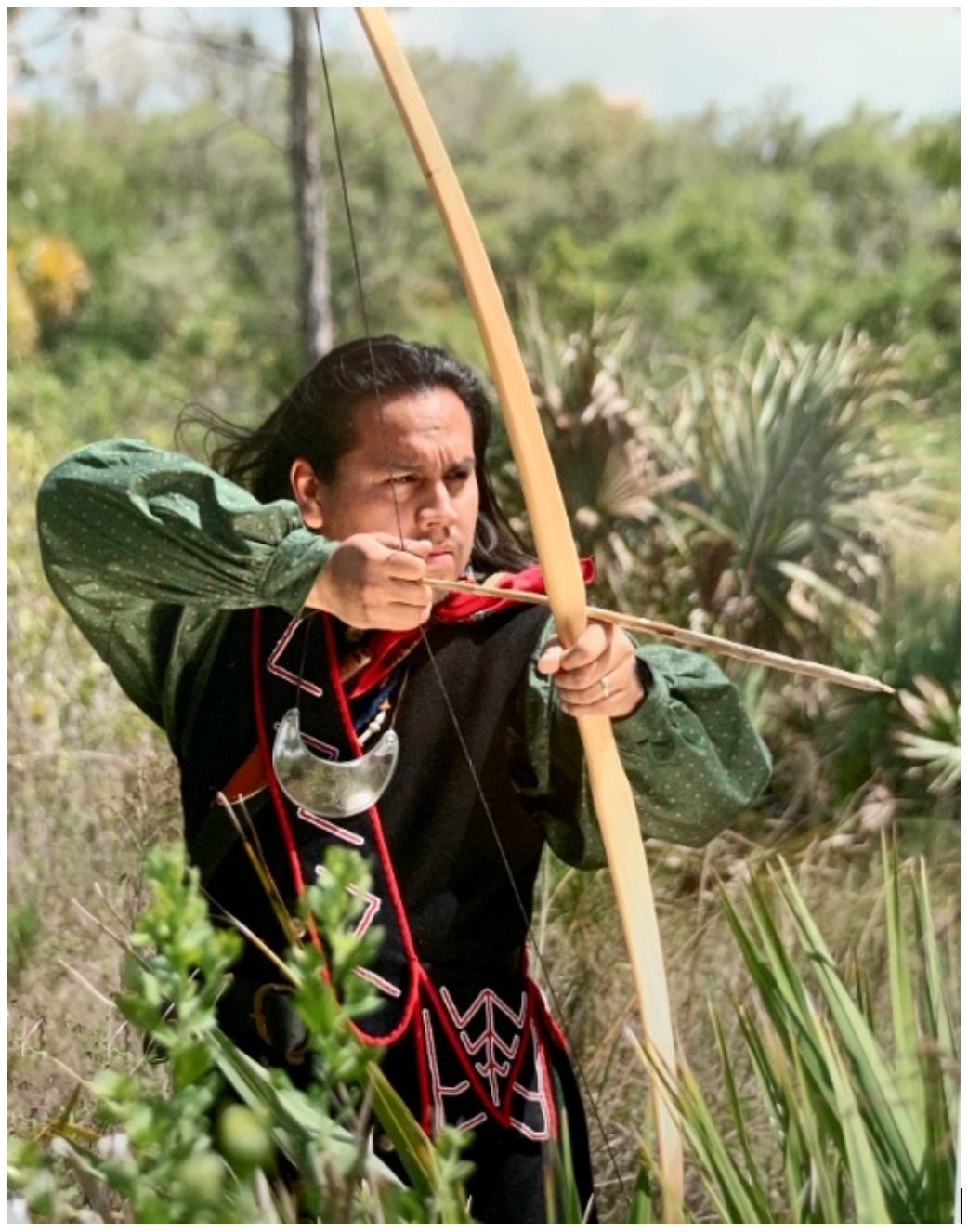 Oral tradition is the root of folklife. It is the primary means by which Seminole identity is affirmed and culture is shared. Stories have sacred and secular, social and private functions. Stories explain the creation of the world and our place in it, and are stewards of history and value systems. Seminole artist Brian Zepeda learned the stories, songs and arts of his people. According to Zepeda, "For us, the emphasis is on teaching the younger generations of tribal members. It's important to know the truth to ourselves, not so much what people think is the truth." In addition to sharing stories, he will discuss the history, function and skills used to create beaded bandolier bags.
East Indian artist Jaya Radhakrishnan has performed at the festival since the early 1980s. She returns to the Folklife Area to share rangoli, a tradition she says was "taught by grandmothers and mothers to the next generation." Rangoli are the intricate designs made of powder on the floors of Hindu temples and homes to bring good luck.
Raised in Florida with Ecuadorian roots, Surfboard designer George Robinson has been the industry's biggest proponent of sustainable, hand-made balsa surfboards. Ecuador is the world's leading producer of balsa which thrives where the tropical climate and rich equatorial soil yields 80 foot trees in only four years. As he celebrates his 50th year in the industry, George and apprentice Carsten Robinson will share balsa surfboard history and design techniques.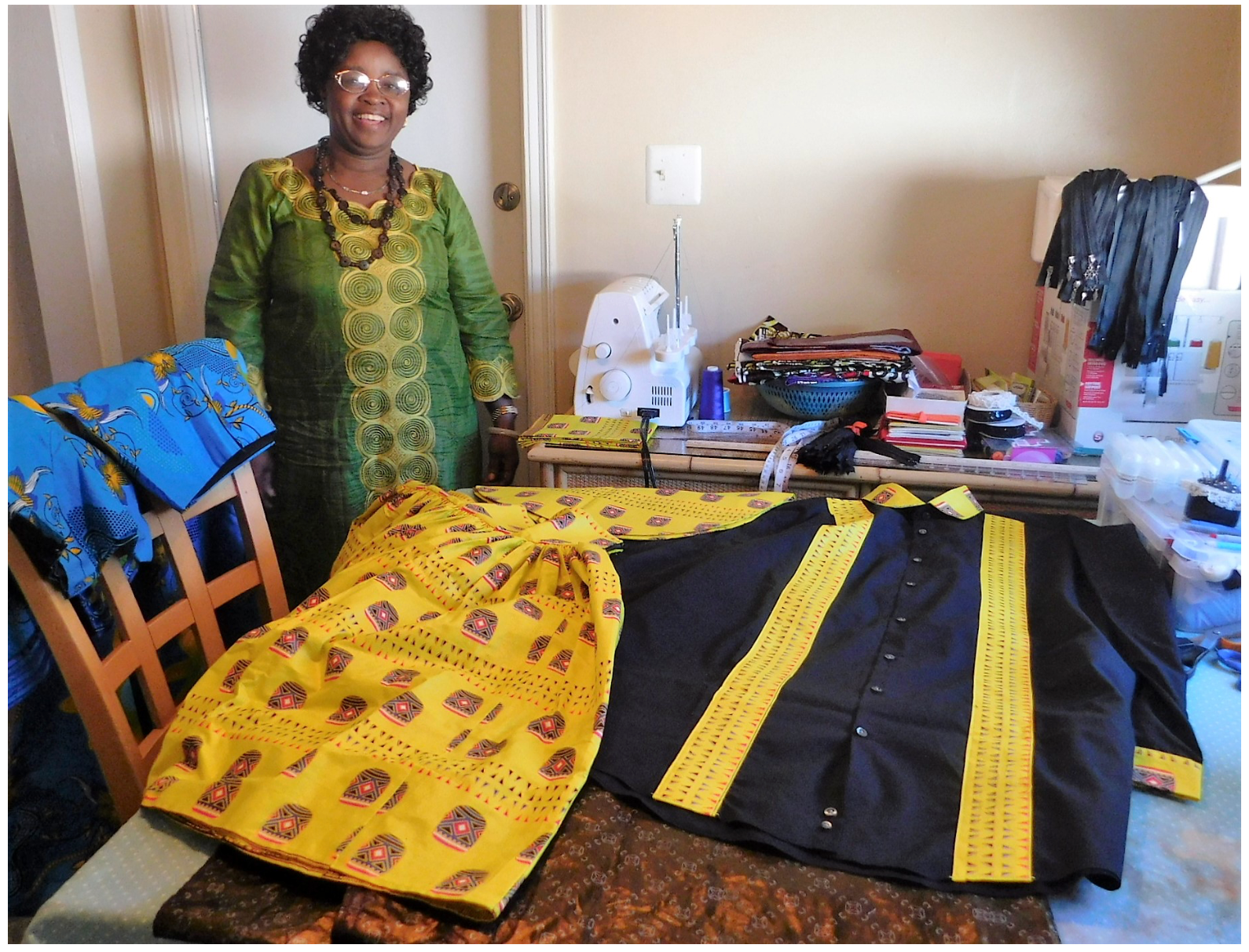 Congolese seamstress and fashion designer Henriette Maua believes that unique patterns tell others who she is and where she is from. Congolese newcomers in Jacksonville are proud to wear their traditional clothing to church and cultural celebrations.  Maua and her daughter Belgere Bentana will also share Congolese food at the Folklife Area.
Growing up in the Bahamas, DeVaughan Woodside marveled at the spectacular Junkanoo parades of downtown Nassau. Grounded in centuries-old African traditions, Junkanoo is a parade with music, dance and elaborate costumes historically practiced by enslaved people. After emancipation, Junkanoo faded in many places, but remained strong in the Bahamas where it evolved into a well-organized extravaganza for thousands of locals and tourists who watch troupes compete for prizes. Woodside recalls how he realized Junkanoo was a powerful connection to his ancestors while parading past the slave market that still stands on Nassau's Bay Street.
Folk Heritage Award recipient Michael Usina has been making cast nets for more than 60 years using the same techniques as his Minorcan ancestors who settled North Florida in 1768. He learned from his father, and has continued to share net making at events and as part of the Apprenticeship Program. Usina is also well versed in the mythologized Datil pepper. Embraced by Minorcan-Americans, this spicy pepper is found in Minorcan chowder, pilaus, hot sauce, jelly and in jars of vinegar on tables throughout St. Augustine. It is not, however, found on the island of Menorca. It is also not from China as the Latin name, Capsicum chinense, suggests. The origin of the Datil is shrouded in mystery, but according to Usina, it was in St. Augustine before the Minorcans arrived, and it resembles the Fatalii, a chili cultivated in Africa but derived from New World varieties.  
Music & Dance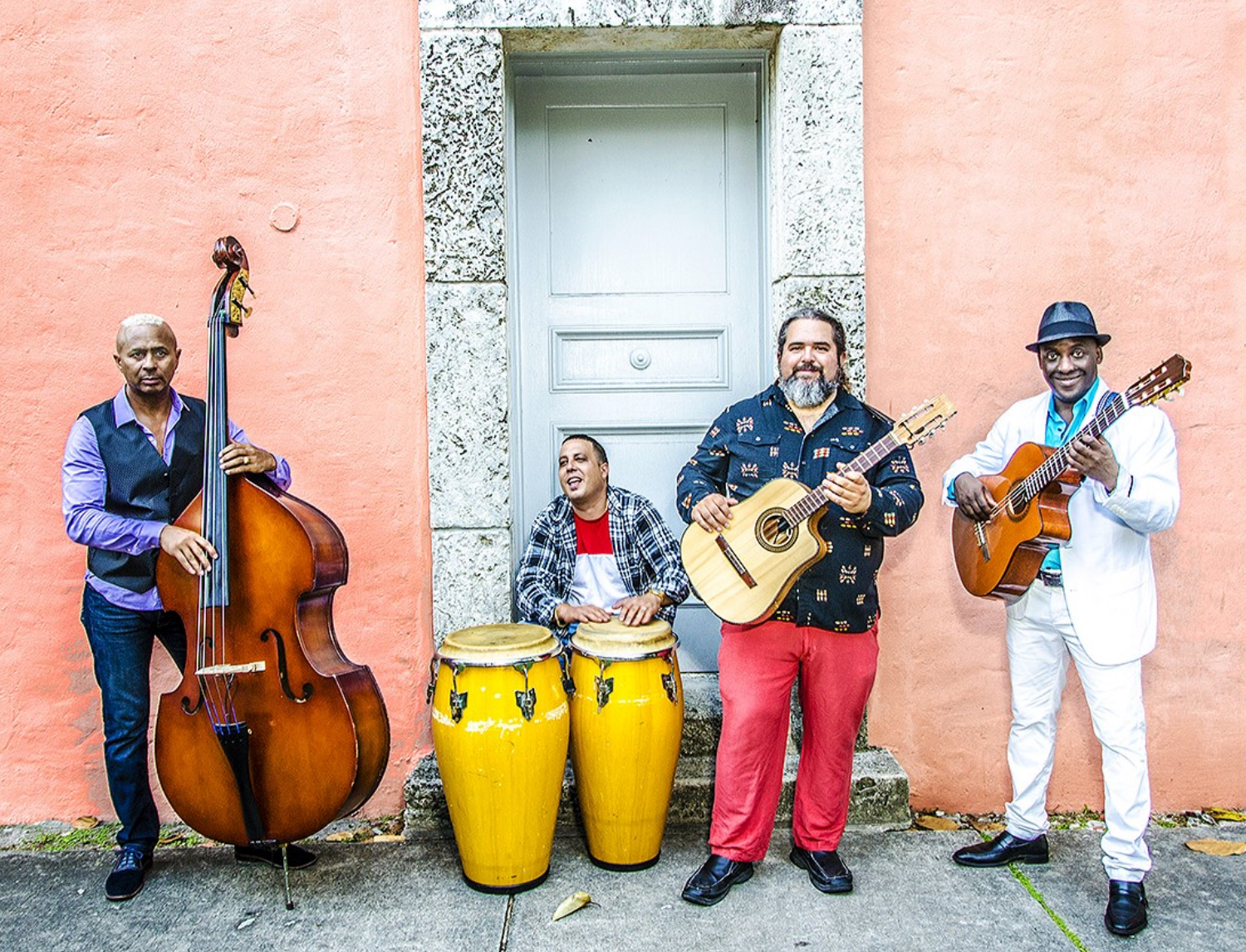 Born in the Dominican Republic to Cuban parents, Jose Elias is a musician and arts administrator in Miami. He played with the Grammy-nominated group Conjunto Progresso as well as Miami stalwarts the Spam Allstars before co-founding Cortadito. On the Amphitheater Stage, Cortadito will perform early 20th century Cuban music in the styles of son montuno, guaracha, boleros, nengon and bolero son.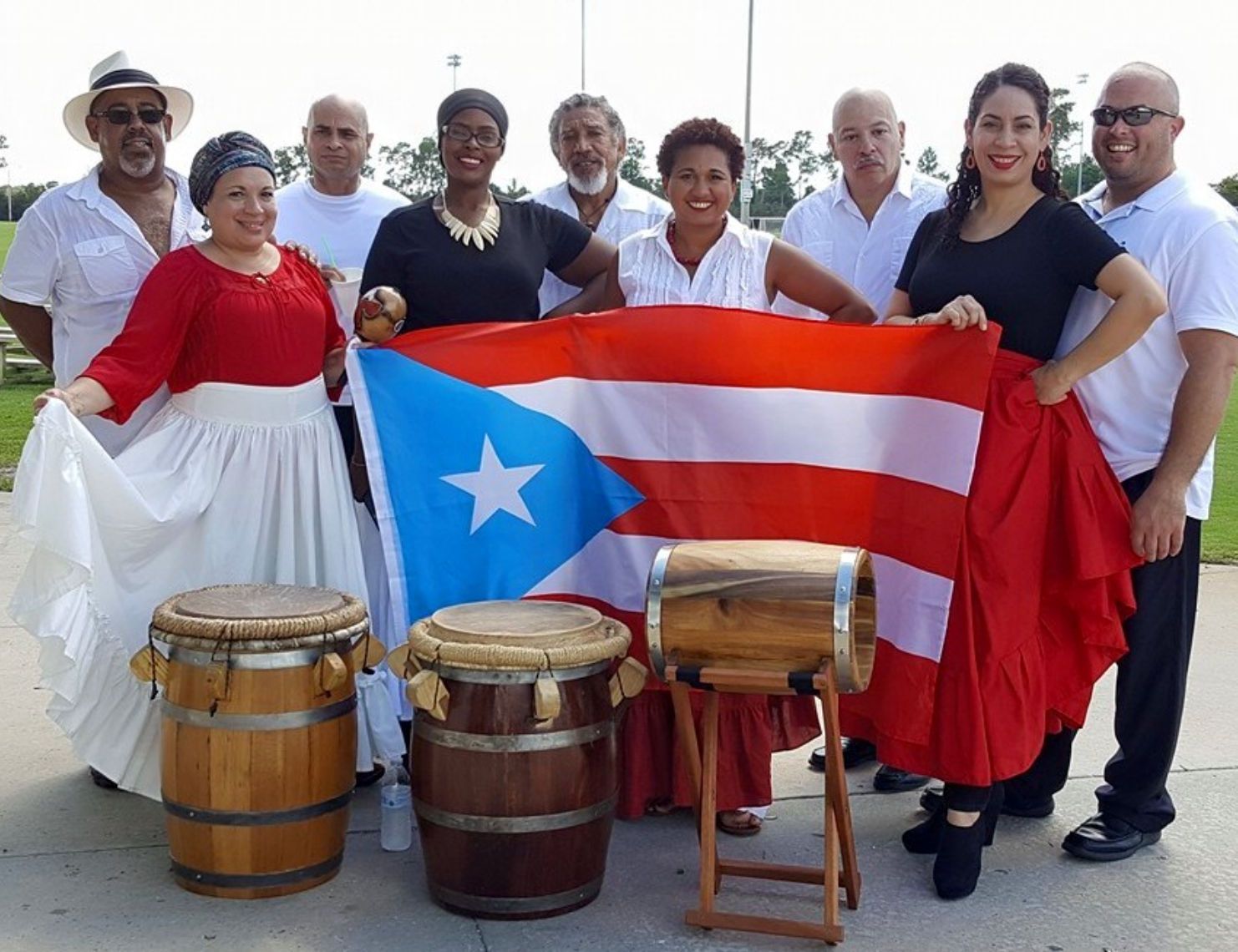 Bomba is a Puerto Rican dance derived from African influence. Angel Reyes and Johanna Alduen of Taller Balancé Bomba Afro-Borícua are maintaining bomba in Central Florida. Born in Puerto Rico and raised in New York, Reyes discovered bomba as a young man and returned to Puerto Rico to study with the patriarch of the style, Rafael Cepeda. In Florida, Reyes met Alduen, who is descended from a family well-known in the bomba tradition. Reyes and Alduen, who will perform on the Amphitheater Stage, share dance, drumming and drum-making with new generations, uniting diverse cultures through music. 
Afro-Cuban ensemble Ogundamasa includes master and apprentice duo Dany Illas and Hans Hernandez. Dany is a Babalaô, or high-priest in the Santeria religion who has mastered the sacred songs and rhythms derived from the Yoruba people of Africa. Hans was born in Miami, but has spent the last 13 years reconnecting to his heritage by studying Afro-Cuban sacred music.
African group Dôdô Awoko will showcase the culture of Côte d'Ivoire. The group features accomplished West African musicians who now call Florida home. Director Martin Zagbo performed with the National Ballet of Ivory Coast as a teenager. He now performs at Disney's Animal Kingdom and coordinates Camp Africa Florida. Dôdô Awoko will be joined by Taller Balance and Ogundamasa in a special cross-cultural drum performance on the Folklife Stage Saturday evening.
Banjo scholar Chuck Levy has traced the roots of the banjo from Africa to Appalachia. In Senegal and Gambia, he learned to play the akonting, a 3-string banjo ancestor, from Jola master musicians. His scholarly work has been featured in a variety of publications, and he co-directs the Suwannee Banjo Camp and the Stephen Foster Old-Time Music Weekend. On the Folklife Stage, he will follow the banjo's journey from Africa to minstrelsy, to the 20th century repertoire.
Karibbean Groove plays a variety of Caribbean styles popular in clubs and at cultural celebrations. In addition to reggae, they play konpa, a meringue-style Haitian dance music with roots in Africa, and zouke, a fast-paced carnival beat. The band members were born in Haiti but met in Immokalee where their families are farmworkers. This versatile group stays true to the Haitian tradition of socially conscious music while exploring popular genres.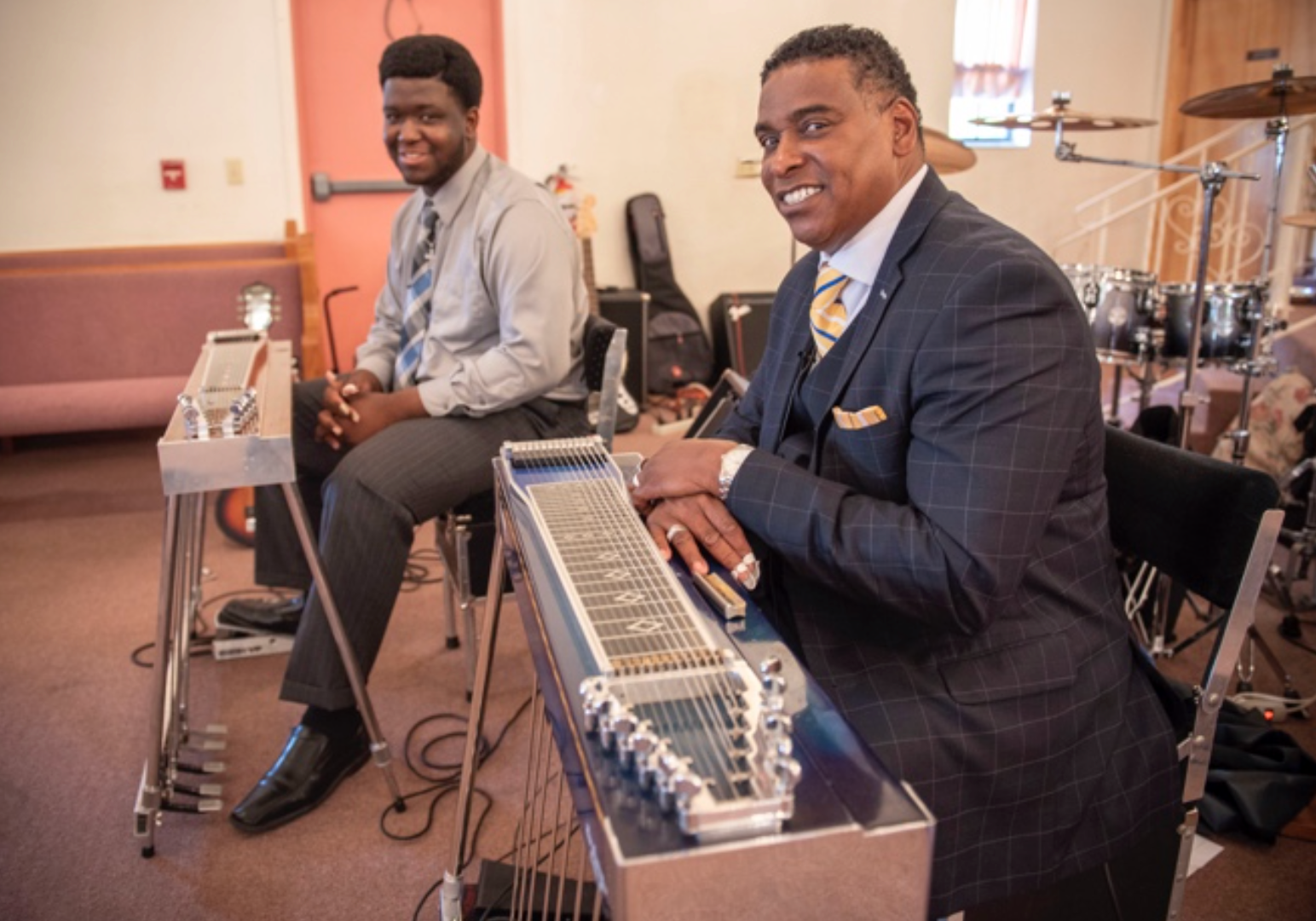 Pastor Elton Noble is a master of the gospel steel guitar tradition called "Sacred Steel" that thrives in the Keith and Jewell Dominions of the Pentecostal church nationwide. Hawaiian steel guitar came to the mainland in 1915 where it became a key element of country and western swing. Brothers Troman and Willie Eason brought the lap steel into the church in the 1930s where it was embraced for its ability to mimic the human voice. Having apprenticed with Willie's Eason's nephew Aubrey Ghent, Pastor Noble now shares the tradition with his congregation as well as talented apprentice Dominic Collins.   
The history of East Indian settlement in Trinidad dates to the British Empire's importation of indentured labor to its Caribbean colonies. Born in Port of Spain, Trinidad, to an East Indian family, Ralph Rampersad learned sacred Indian music as a young boy. Renowned touring musicians from India regularly performed in Trinidad, and Rampersad's family, who managed a sugar plantation, encouraged him to learn from these visiting artists. As he acquired mastery, he began to accompany Hindu ceremonies, from simple puja prayer offerings to more ornate rituals and holidays. Eventually receiving training as a Hindu priest, Rampersad continued to perform music in mandirs (Hindu temples) after immigrating to the United States.  He now makes his home in Cape Coral where he continues to practice his faith and its sacred music.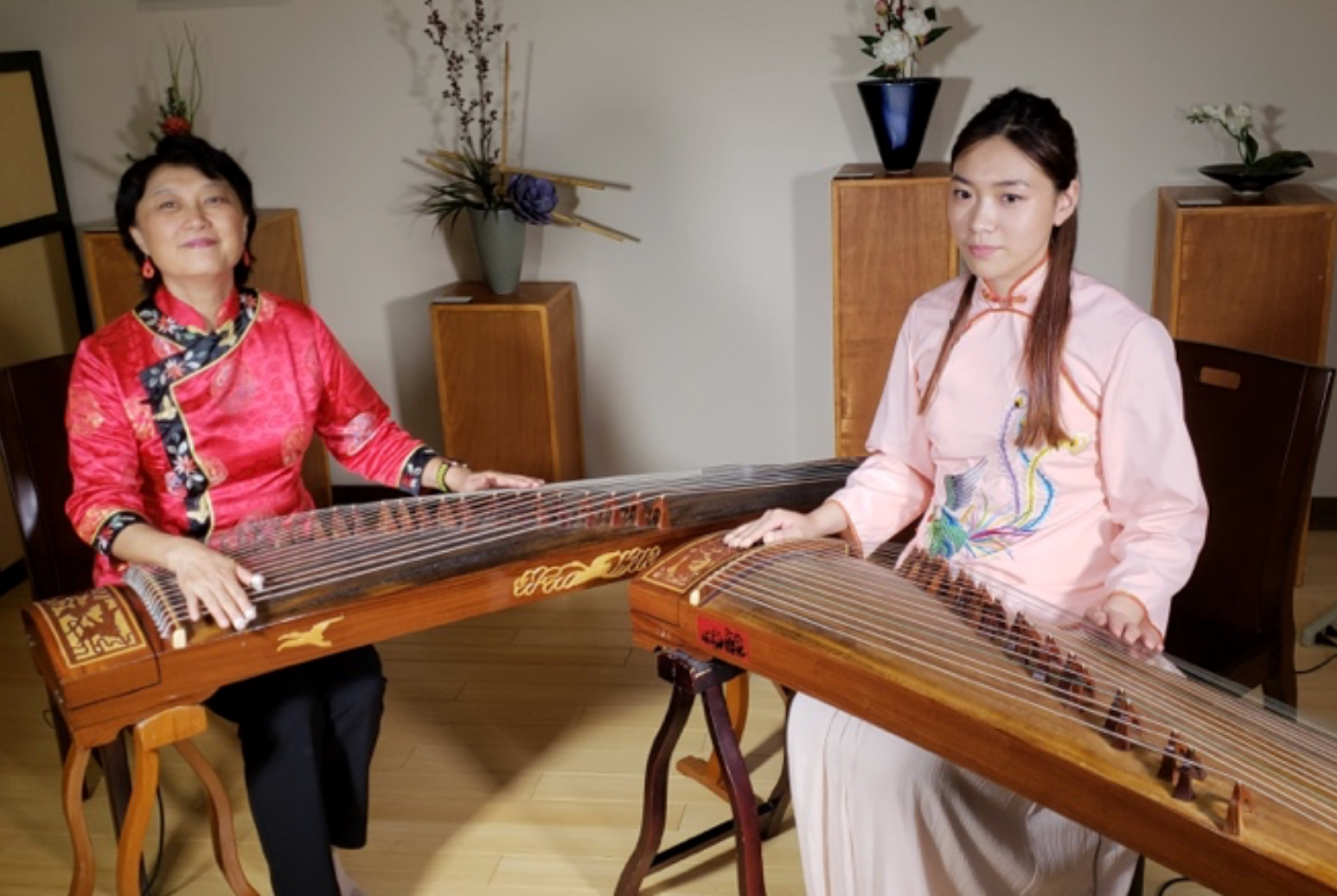 Ann Yao is a master of the zheng, or ancient Chinese zither. After graduating from the Shanghai Conservatory of Music, she moved to the United States where she performed with a Chinese music ensemble at Lincoln Center, Carnegie Hall and the Metropolitan Museum of Art. She is now a soloist at Disney's Epcot Center, and is passing the tradition on to apprentice Sandy Xia who felt disconnected from her heritage after moving from New York City's Chinese community to Orlando. According to Xia, "I hope that by participating in the apprenticeship, I will be able to learn more about my heritage and preserve a part of Chinese folk music."
Fellow Shanghai Conservatory alumna and zheng musician Haiqiong Deng has developed an international reputation as a soloist and chamber musician. She holds a master's degree from Florida State University, where she is the Director of the Chinese Music Ensemble and is pursuing a Ph.D. in Musicology. Her work explores the connection between nature and Chinese traditional arts as well as mindfulness in sound. On the Folklife Stage, Deng will show how music can cultivate oneness in modern living using the guqin as a model.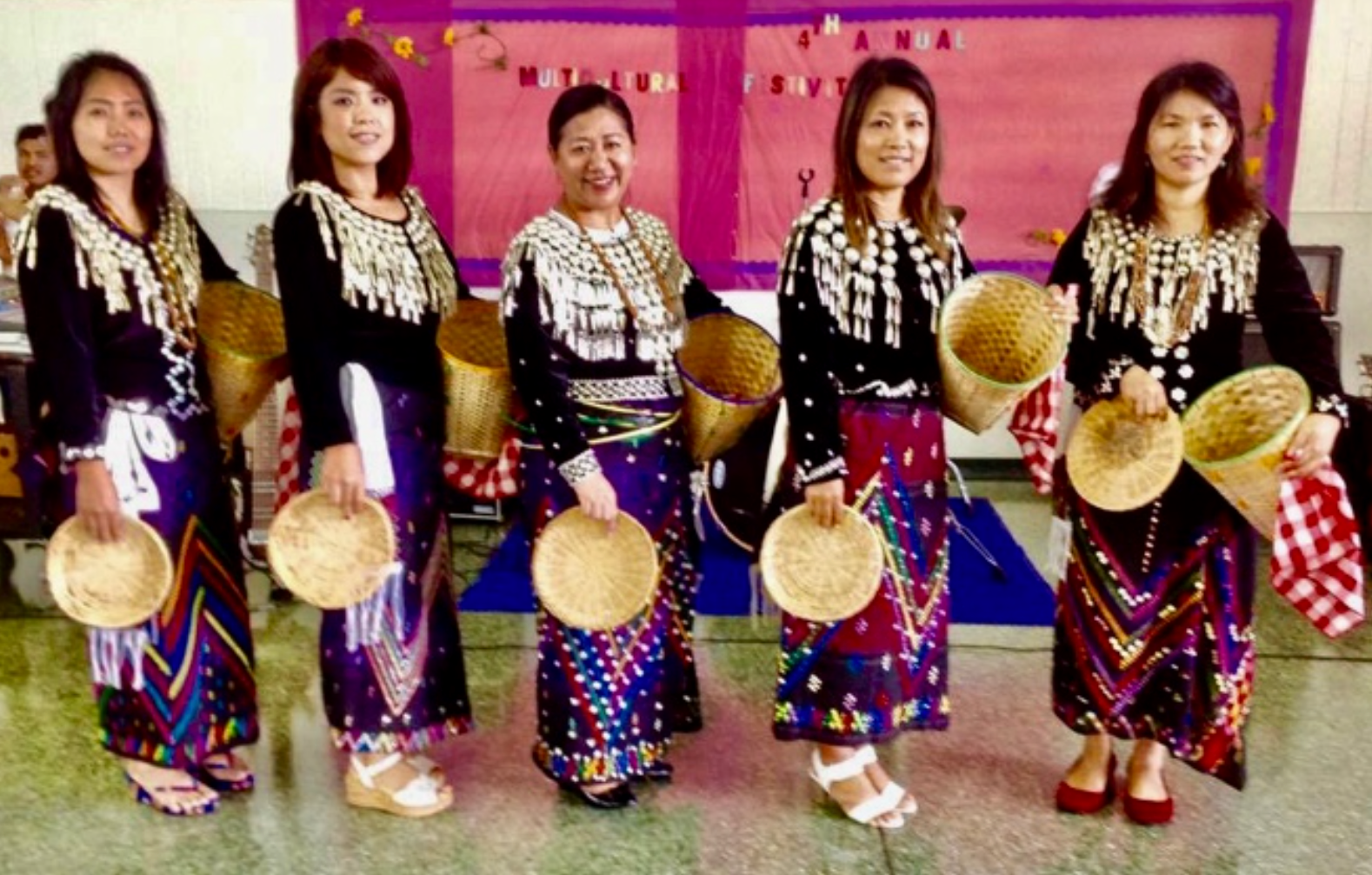 Josephine Malay Ja Kai, a member of the Kachin ethnic group from northern Myanmar (Burma), has lived in the United States since 2011. She and her sister Sarah founded the Pan Lawng Pan dance group and teach traditional dances to honor their ancestors and maintain Kachin cultural heritage in their new home. Malay Ja Kai learned to dance as a child from experienced elders at communal events. The dances reflect regional and ethnic identity as well as daily life in Kachin State, such as farming and harvesting, folk tales and myths.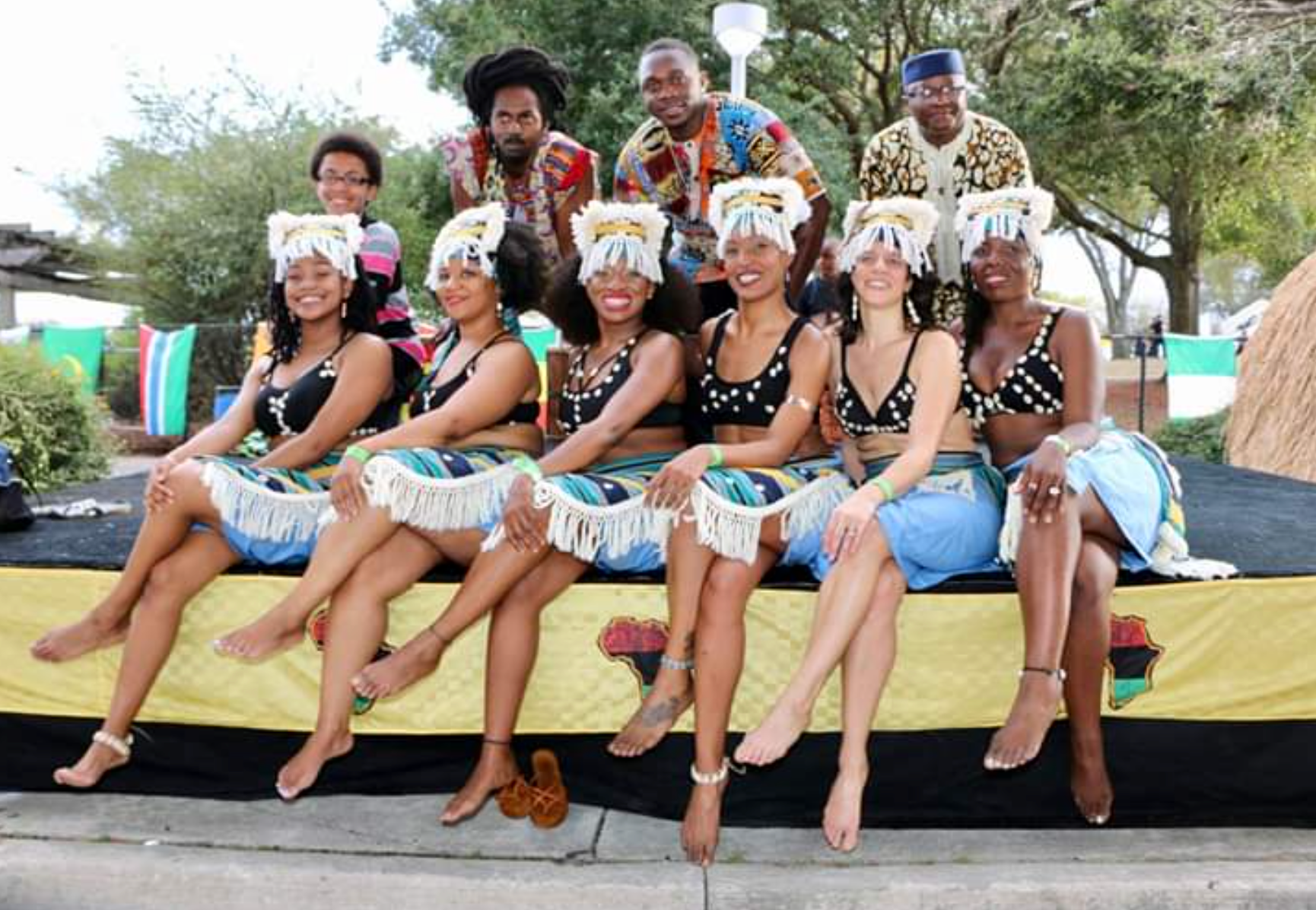 Nan Nkama Pan-African Drum and Dance Ensemble is a Jacksonville based troupe with a concentration in West African music. The group has led community classes since 2003. Founder Christa Fatoumata Sylla uses music and dance to connect to her Yoruba heritage. Working with immigrants from Africa as well as people of African descent, Nan Nkama inspires participants to connect with their ancestry and learn the origins of the music and dance.