Sharing Florida's Traditional Culture
Each year the Florida Department of State's Florida Folklife Program presents the Florida Folklife Area of the Festival. Take a look at the 2022 Folklife area essay about water and visit again in early May 2023 to learn about Florida artists and how they use FIRE.
The Elements: Water 

The term folklife refers to the living traditions currently practiced and passed down within groups by word of mouth, imitation or observation. Folklife is a mirror that reflects community values, challenges and successes. Florida folklife is shaped by the state's diversity, creating a rich cultural landscape.  
What's New at Florida Folklife?
For more than 40 years the Florida Folklife Program has documented, presented and preserved Florida's vibrant folklife and traditional culture. Now housed in the Florida Department of State's Division of Arts and Culture, the Folklife Program is happy to announce the arrival of Dr. Dominick Tartaglia, our new State Folklorist. Dom earned a Ph.D. from Indiana University in 2019 and is scholar of festivals and food ways. He previously worked as the Curator and Folklorist at the Ward Museum of Wildfowl Art at Salisbury University in Salisbury, Maryland, and is a founding member of WiseFolk Productions LLC.
Along with Dom, Summer Callahan, Grants Manager at the Division of Arts and Culture, is the new Traditional Arts Grants Manager for the State of Florida. Dom and Summer are very excited to be here, and you will see them around the folklife area all weekend, along with  doctoral students from Florida State University's "Making the Festival" class.
Water
For the next four years at the Folk Festival, the Folklife Area will be covering how the elements influence traditions in the state of Florida. Based on survey fieldwork conducted in 2019, the theme of this year's Folklife Area is Water.
Throughout history, water has played an important role in Florida, a state that boasts 1,197 miles of coastline; over 11,000 miles of rivers, streams and waterways; and Lake Okeechobee, the second largest natural lake in the contiguous United States. Water has shaped the geographic, historical and cultural landscape and influenced exploration, industry and settlement.
Examples include traditional arts and ways of knowing tied to agriculture and maritime occupations like shrimping, fishing, oystering and sponging; associated with water-based attractions like fish camps and springs; and inspired by nature and weather. As coastal communities around Florida experience increased flooding and stronger hurricanes, water and weather prove to be powerful forces that shape traditional culture in terms of migration, immigration, vernacular architecture, food ways, and issues affecting traditional diets, superstitions, weather lore and hurricane preparedness.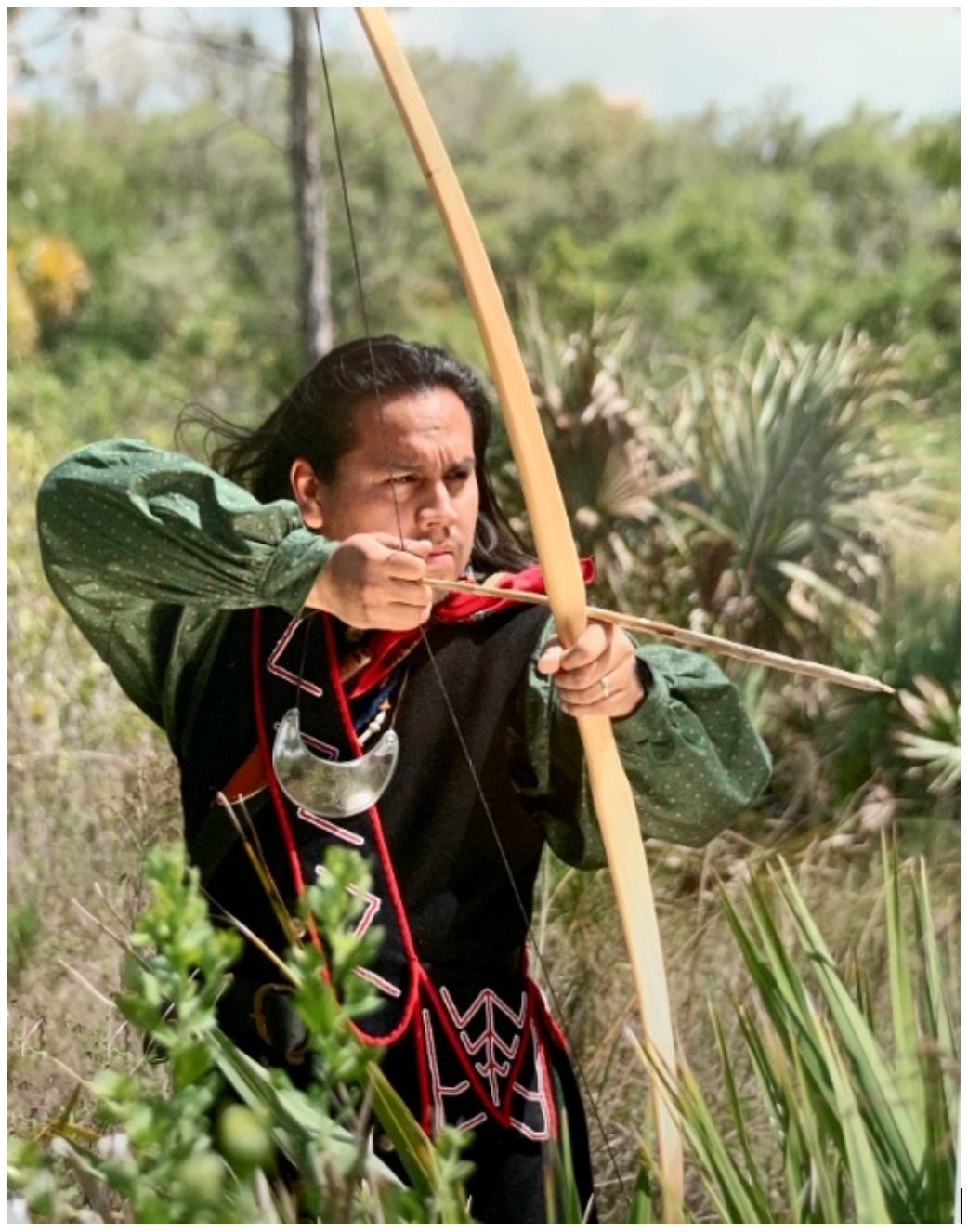 Oral Tradition - Material Culture - Food
Seminole artist Brian Zepeda grew up in a traditional village where he learned the stories, songs and arts of his people. According to Zepeda, "For us the emphasis is on teaching the younger generations of tribal members. We see books that say a lot of things about the Seminole Tribe, whether it's our ancient history or more current. For us it's important to know the truth to ourselves, not so much what people perceive or think is the truth about us."  
In addition to sharing Seminole stories that revolve around aquatic animals, he will discuss the history, function and skills used to create intricately beaded bandolier bags.
Florida produces a tempting blend of culinary styles that are a part of the folklife of the diverse peoples who have made the state their home. With hundreds of miles of coastline and many inland waterways, it is not surprising that a number of fish and seafood dishes have become associated with the state. The sponge fishermen of Tarpon Springs were often at sea for months.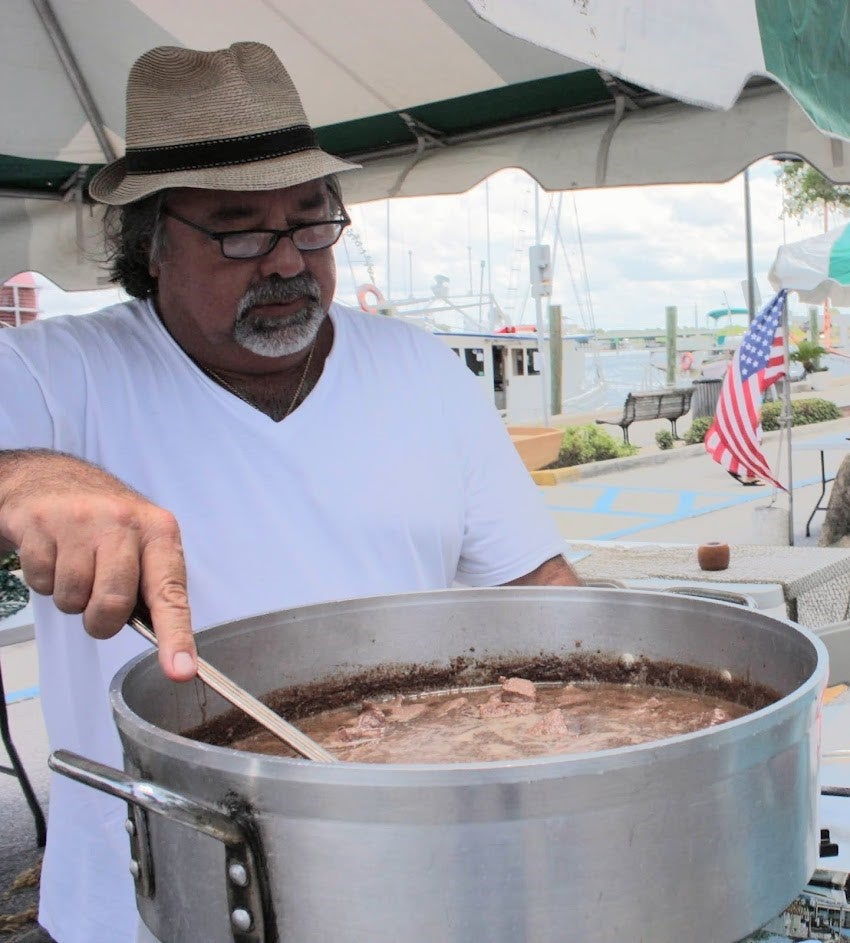 The crews ate fish often, but to break the monotony, they brought along kavourma - a preserved meat that was made into meat dishes and stews. 
The crew was responsible for preparing enough kavourma before a voyage to last the entire trip. Making it became both a social occasion for the crew and a necessary step in preparing for the long months at sea.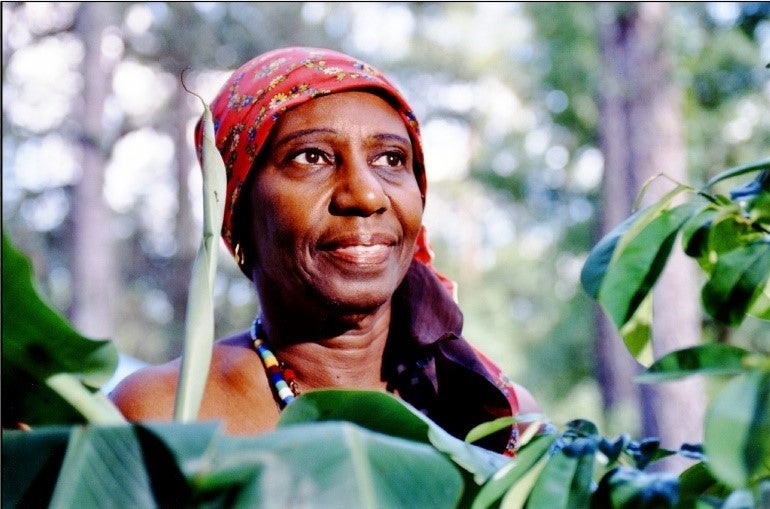 Nick Koulianos is known in Tarpon Springs as an excellent chef specializing in Greek cuisine, but during his younger years he also worked on sponge boats.  During that period he also learned how to make many dishes such as kavourma, grouper soup, octopus stifado (stew), psari plaki (baked fish with tomatoes, onion, olive oil) and bakaliaros (cod with lemon and garlic). Over the years he learned many more dishes from his mother and from other cooks, eventually co-owning two restaurants and running a catering business.
Born and raised on an island in the Gulf of Mexico between Veracruz and Tamaulipas and now residing in the Panhandle, Fernando Longoria is one of the few Veracruz-style netmakers in the state of Florida. These shrimp nets are traditionally made of silk and dried in ox's blood for three days to reinforce the fibers. Fernando is one of the last in his family to practice this tradition and wants to pass it on and introduce people to it on this side of the gulf. According to Fernando, weaving a net is both an act of survival and of generosity, as it allows the netmaker to share nature's bounty.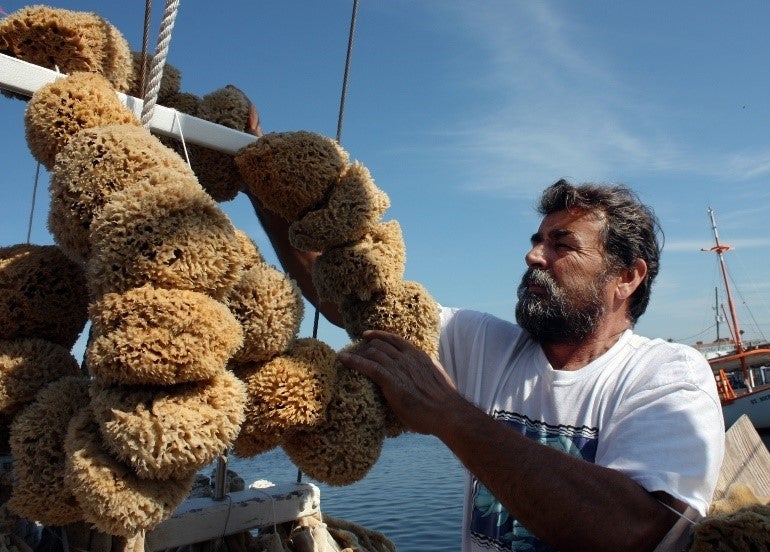 Florida Folk Heritage Award recipient and Haitian cultural advocate Liliane Louis and apprentices Joanne Hyppolite, Fabienne Josaphat and Marie Theodore Pharel have explored the intersection of Haitian food, stories and folk medicine over their Folklife Apprenticeship Program. Here, they showcase the product of their apprenticeship.
"Food is so much apart of our culture and our history," says Liliane. "I'm always happy cooking, especially when I have someone to share it with."               
The oldest of 12 children in a farm family from Evia, Greece, Taso Karistinos always loved the sea. Before he emigrated to the U.S. in the early 1970s, he was a champion spearfisherman.
Florida's coastal waters are the only U.S. habitat in which sponges grow. The two primary sponge fisheries are from the Keys to Miami, and from Tampa to Apalachicola. In 1905 Greeks from the Dodecanese and Saronic Gulf islands settled in Tarpon Springs and brought deep-water diving techniques to the sponge business. They dramatically increased the harvest and made Tarpon Springs a world center of the sponge industry. The number of sponge boats has declined, but Tarpon Springs remains a center for sponge fishing, processing and distribution.
More than 100 sponge boats once sailed from the Tarpon Springs Sponge Docks, but today Karistinos' boat is now one of only a handful. His boat, Anastasi, was built by the last traditional boatbuilder, George Saroukos, and is the last remaining Greek-style sponge boat working Florida waters. 
On his frequent trips to harvest sponges, Karistinos dives up to 10 hours daily on trips that last two to four weeks. He wears modified scuba gear that includes compressed air fed by a hose from the boat and boots in order to run along the seabed. Karistinos is the most traditional and skilled of today's Greek divers/captains. He received the Florida Folk Heritage Award in 2010. 
The Suncoast Fly Fishers is composed of about 130 active members who meet monthly to share their interest in fresh and saltwater fly fishing, fly casting, fly making and marine conservation. Activities include fishing trips and classes in fly casting and making flies. With easy access to the nearby Gulf of Mexico, many members are particularly involved with saltwater fly fishing, which originated in South Florida and the Keys in the mid-20th century.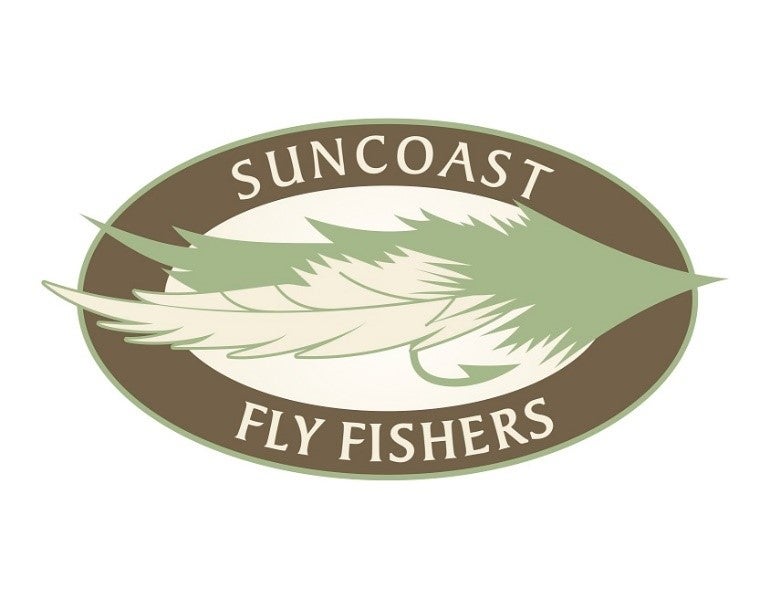 Much of the art in fly fishing, whether casting or making flies, is to convince the fish that the fly is its natural food.  Fishermen must mimic the movements of a shrimp, crab or insect when they cast, so many spend time simply observing before they begin to make flies. To create flies that look like natural food sources, they use a range of synthetic and natural materials, including feathers, deer fur, foam, thread and tiny eyes - all of which disguise the presence of a hook. Using a clamp on an upright stand and multipurpose pliers, fly fishers can skillfully create tiny freshwater flies that look like flies or beetles or larger, more colorful saltwater flies within four minutes.
The Bartram Trail Society of Florida is civic organization committed to historic and environmental education, recreation and preservation and works to promote interest in developing public access recreational trails (paddling, hiking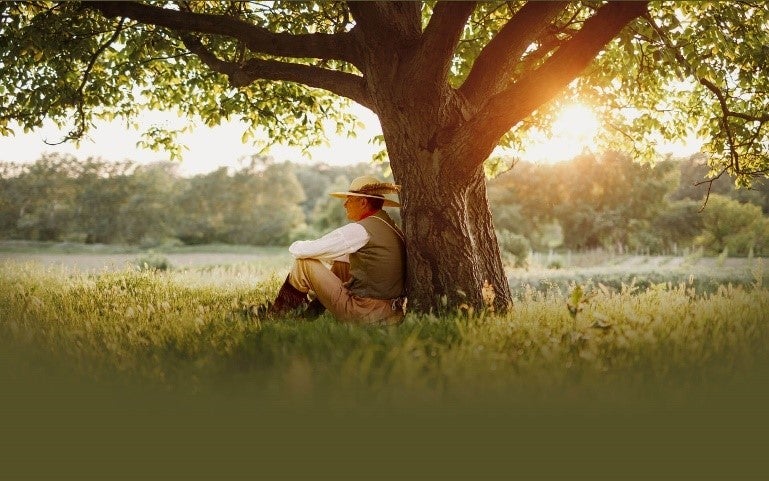 and biking) and related activities along the routes taken by John and William Bartram through Florida and to coordinate a statewide unified effort toward that end. The society works to encourage the study, preservation and interpretation of the William Bartram heritage. In addition, the society is the steward of the Bartram Trail in Putnam County National Recreation Trail in cooperation with Putnam County.
William Bartram's exploration of Florida is familiar to people throughout the world, thanks to the publication of his book, "Travels," in 1791. His vivid descriptions of his encounters with the indigenous people and nature at its best and worst, his discovery and illustrations of hitherto undocumented tropical flora and fauna, and his eloquent musings made his book a worldwide sensation.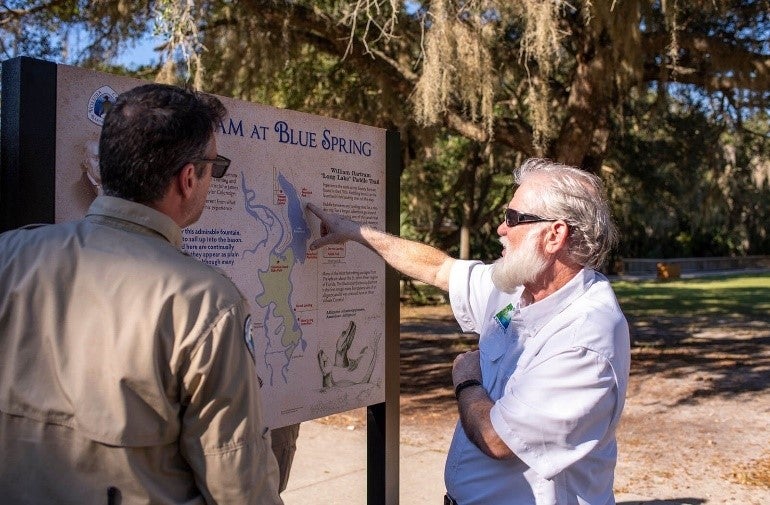 Annually, the society coordinates with the city of Palatka to organize the St. Johns River Bartram Frolic, an educational and recreational event that celebrates and commemorates William Bartram's visit to a Seminole village that was present at the site of present-day Palatka during his visit to Florida in 1774.
Music & Dance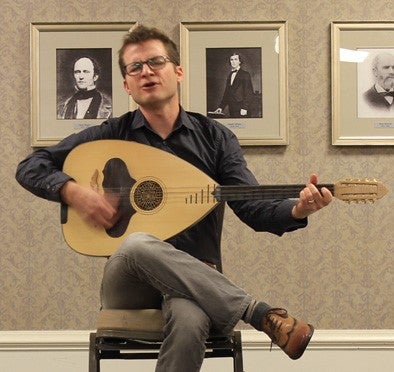 Dr. Panayotis "Paddy" League is Assistant Professor of Musicology at Florida State University and Director of the Center for Music of the Americas. He specializes in the traditional music of the Greek islands, northeastern Brazil, Ireland and their respective diasporas. He is a 2019 Florida Folklife Program Apprenticeship Program Master Artist along with his students. Violin player Nektarios Karavokiros is the son of Skevos Karavokiros, a former sponge diver and Dr. League's mentor. Rania Samartzis is a laouto (lute) player and dancer in the Tarpon Springs folk dance troupe, Levendia. Together three of them perform Greek folk music and oral poetry from the Greek island of Kalymnos.
Many of the subgenres of music from Kalymnos are intimately tied to the specific culture of the island and its transnational diaspora, particularly in Tarpon Springs. The most remarkable of these is called sfoungaradika or songs about the suffering of sponge divers, whose dangerous work was the island's economic lifeblood for centuries and who spent most of the year diving for sponges throughout the Mediterranean, and later Tarpon Springs, where all three moved.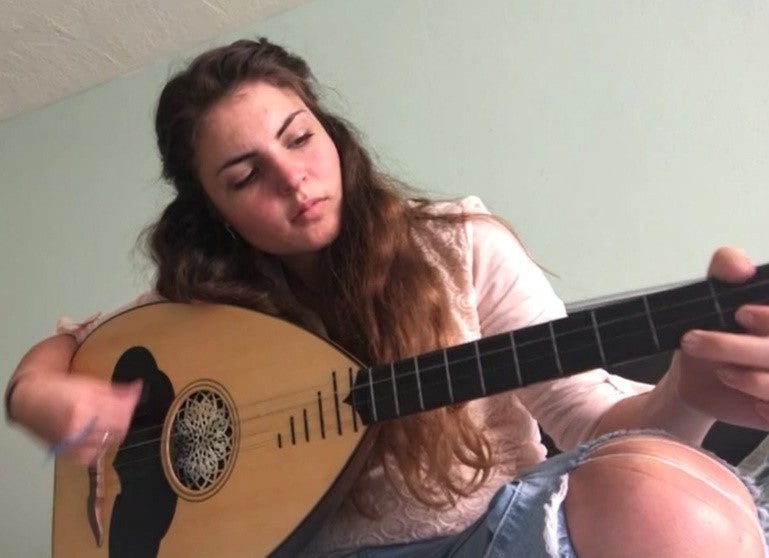 This repertoire also includes dozens of medieval ballads and epics, hundreds of songs and tunes for social dancing, and a wealth of special pieces performed at ritual events such as engagements, weddings, baptisms, saint days and other important dates on the agricultural and liturgical calendars, all of which are central to the everyday life of people living in Tarpon Springs' Greek community. Greek Tarponites' memories of life cycle events and informal celebrations alike are saturated with the sound of Kalymnian music, and a remarkably high percentage of American-born residents of the town are talented dancers and singers. This apprentice sought to train more instrumentalists proficient enough to animate festivities in Tarpon, White Springs and beyond.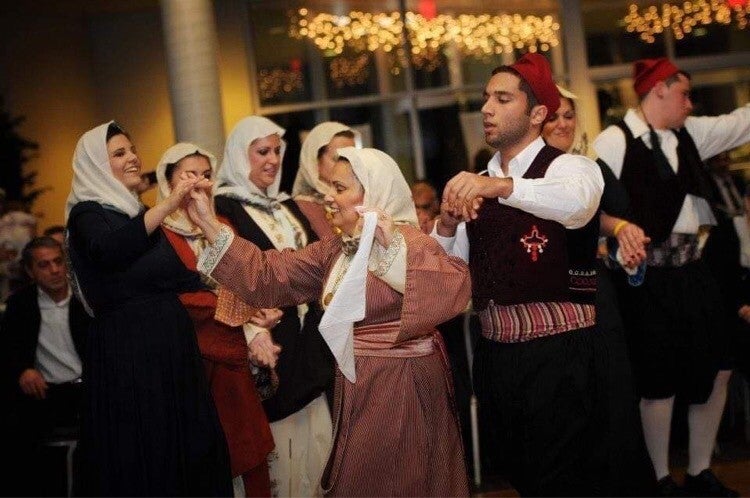 Levendia's mission is to preserve, promote and perpetuate Greek culture through the traditional dances and folk music of the Greek islands, mainland and diaspora. Founded in 1979 in Tarpon Springs by dancer, researcher and Florida Folk Heritage Award winner John Lulias, Levendia perform at festivals throughout the U.S. and Greece, and are particularly known for their expertise in the dance traditions of the island of Kalymnos, ancestral home to the majority of Tarpon Springs' Greek residents. Their performances at this year's festival focus on traditions associated with the sponge diving and seafaring culture of Kalymnos and Tarpon Springs.
Shanghai Conservatory alumna and zheng musician Haiqing Deng has developed an international reputation as a soloist and chamber musician. She holds a master's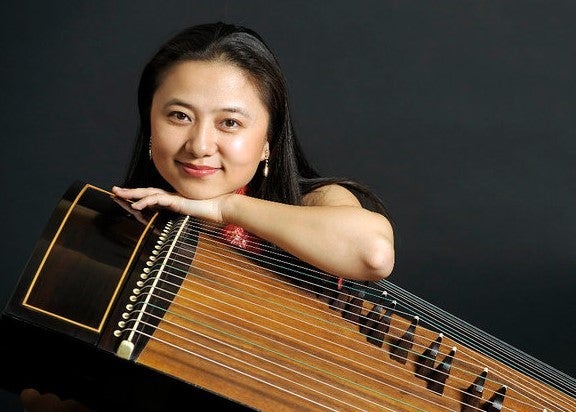 degree from Florida State University, where she is the Director of the Chinese Music Ensemble and is pursuing a Ph.D. in Musicology. Her work explores the connection between nature and Chinese traditional arts as well as mindfulness in sound. The theme and metaphor of water is prominent in the zheng repertoire, and Haiqong will explore the connections between water and Chinese traditional music on the Folklife Stage.