Florida's Finest Crafters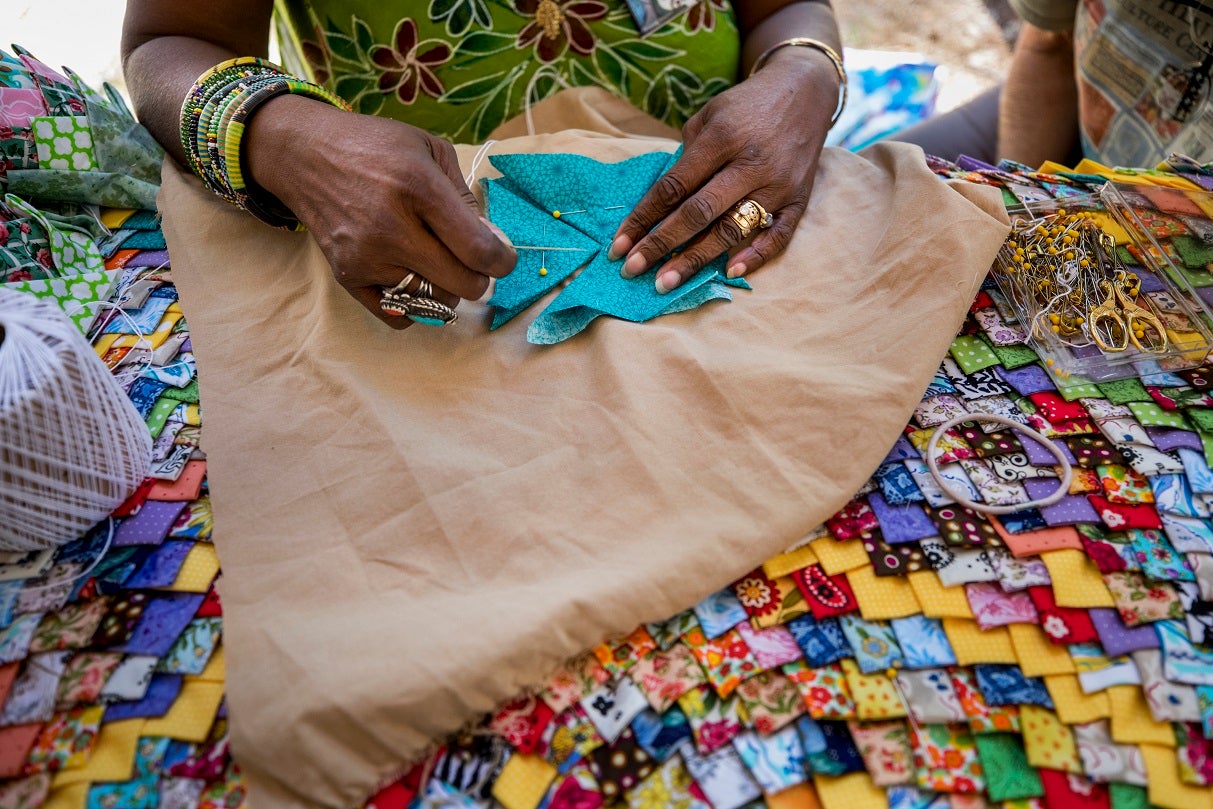 Amphitheater and Old Marble Crafts showcase the great variety of Florida's artists and natural resources. Inspired or handed down by traditional ways of the past, or styled with the designs of studio art, Florida's craftsmen pursue the creative expression of their history and culture. 
Handcrafted furniture, detailed reproductions of Native American shell carvings, rich Hungarian embroidery and handmade musical instruments are sold alongside fine jewelry, functional studio pottery, handwoven apparel and homemade jams and jellies. 
Craftsmen demonstrate their skills throughout the craft areas, so take a leisurely stroll and visit with the artists whose work helps to support the Florida Folk Festival. 
All craft vendors contribute a percentage of their sales to the Festival. When you patronize these artists, you are supporting both the creativity of Florida crafts and the continuation of the Florida Folk Festival.
We're currently planning the 2023 festival. In the meantime, take a look at the crafters from previous festivals.
Stefanis Alexandres of Stefanis Alexandres Art uses ancient techniques on fine silver with traditional filigree technique and traditional repousse relief to make one-of-a-kind sculptures.
Kathryn Basham, Medicine Song Crafts has handmade items using natural gathered and recycled materials including shells, fossils, coral, pine needles, wild grapevine and bamboo.
Matt Brabham, Brabham Pottery has functional wheel-thrown pottery with decorative clay accents.
Antonio Falla, Antonio Designs has handmade jewelry with silver and semiprecious stones.
Margie Gomez of Viajes Misioneros, Inc., has handmade wooden items.
Harriett Heywood of Earthwares has handmade aprons, purses, clothing, hats, accessories and other vintage-styled articles.
Jim Hearn of Hearn Homestead has rustic red cedar benches, signs, coat racks, musical instrument stands and holders.
Patricia Lynne Hutchins of Suwannee Songs Designs has necklaces, bracelets and earrings made of natural stone and inspired by the natural environment of the Suwannee River Valley. These items are created by the traditional skill of hand-knotting on silk, forging and soldering metals (particularly copper) and hand working wire to set stones, along with other handcrafting techniques
Eric Larson, Winter Park Soap has handmade organic skin care products, soaps, lotions and lip balms.
Gloria Lee, EM Lee Gallery has original paintings, matted prints, masks, t-shirts and notecards of the country living scenes and waterways of Ernest M. Lee's paintings.
Ruthanne Mason, Mary & Mom, apprentice of longtime festival tie-dye artist Mark Wright, has tie-dye arts, including t-shirts, dresses, socks, shoelaces and hats – located in the Florida Remembered Area
Ethel McDonald, Marie's Home Canning has, jellies, pickles and relishes.
Milan Mixson of Stinky Lewis Soap sells all natural, cold-process, high-quality soap.
Greg Nason, Earthwares has scroll saw woodwork of pictures, earrings, boxes and other scrolled items made on a foot-powered antique scroll saw; folk instruments made from cigar boxes, tins and other found objects.
Wanda & Vidal Pedrosa of ArteBorikua Artesanias (Borikua Handcraft) have handcrafted miniatures and musical instruments made out of gourds and paintings.
Ben Rogers of Tinker's Forge has ornamental blacksmith items such as braided rods, fireplace items, children's toys, courting candle holders, camping implements, forged snakes from a rasp, fire tripods, oyster shuckers, plant hangers, handmade tools and barbeque tools. He's located in the Florida Remembered Area, where you can find him demonstrating his skills.
Robin Sapp of Peace of Glass has stained glass panels, suncatchers and pendants influenced by Florida nature.
Marvin Sawyer of Early Country Furniture has 1800s-era primitive and country hand-crafted reproductions of household furniture and crafts, including wooden totes, benches, wooden foot stools, jelly cabinets, coat racks, organizers, chimney cabinets and wooden firewood boxes.
Linda Schenavar of Sculptured Originals makes handmade magnetic, beaded jewelry and sculpted jewelry using semi-precious stone beads and Magnetite beads, crystals and metallic beads. She also demonstrates the use of various tools and beads.
Kortney Stewart of Thomas Honey has raw honey, craft honey blends and beeswax.
Lita Swindle and Eva Claytor, Claytor & Swindle demonstrate spinning and the making of rag rugs using a rigid heddle loom. They offer demonstrations and sales of rag rugs, cloth and fiber items.
Melinda Swindle of Minna's has weavings, homemade sewing items, microwave potholder bowls, Christmas stockings, cork necklaces and crocheted items.
Jude Thegenus of Gallery Jakmel, Papaloko and Loray Mistik has t-shirts, paintings and CDs.
George Tortorelli of Medicine Wind Music has handmade bamboo flutes, whistle and birds calls made from homegrown Florida bamboo and original flute music recordings.
Florida Remembered
Experience Old Florida's history, traditions and folkways at Florida Remembered, which is dedicated to the robust spirit of Floridians and those from around the globe who have built the foundation of the Florida we know and love. 
Meet characters from Florida's past. See traditional crafts, tools and skills faithfully reproduced by experts. Visit an authentic cracker cow camp. Through workshops, demonstrations and characterizations, tradition-bearers and interpreters will share their expertise as you explore Florida's unique history.
Don't miss the folks who make history come to life at Florida Remembered. Participants in previous festivals include:
John Anderson portrays historic figure Frederick Douglas. 
Mark Carpenter demonstrates cracker cow camp living.
Mary Fears portrays an African-American seamstress and quilter.
Ethan Forbes demonstrates shingle making and log hewing.
Mary and Ruthanne Mason display and sell tie-dye creations.
Angie and Maria Minno demonstrate open-fire cooking and fiber arts.
Azell Nail demonstrates cracker cow camp living.
Kevin Patton portrays a soldier in the Second Seminole War.
Gabby Paxton demonstrates cracker cow camp living.
Allan Ritchie discusses soap-making.
Ben Rogers demonstrates the art of blacksmithing.
Robert Steele displays cracker horse culture.
Nancy Traver demonstrates the use of indigo dye.
Willy the Losen coordinates First Skills Florida traditional skill-bearers.
Robert Wilson discusses fur trapping and trading.