Florida's Favorite Menus
Florida's cooks have created unique flavors using the ingredients at hand and the traditions their families brought when they first came to the state. At the Florida Folk Festival, there's everything from homemade beef jerky to Caribbean-influenced dishes of chicken pilau, hoppin' john, black-eyed peas, and okra and tomatoes. More recent immigrant communities have brought their culinary tastes for warm curries and fragrant rices from Trinidad, and light pastries and seasoned lamb from Greece. Florida's coastal waters offer fresh crab, shrimp and oysters, and its farmers raise fresh strawberries, melons and citrus.
During the Folk Festival you can enjoy collard greens and cornbread or a fine plate of fried chicken from the churches cooking at the Old Marble Stage food shelter.
At the Amphitheater food court, there's everything from barbecue and gumbo to lime fizzes and vegetarian fare. From breakfast until the midnight snack, there's plenty of good food at the Florida Folk Festival.
We're busily preparing for the 2022 festival. Listed below is just a sampling of the types of foods available at previous festivals.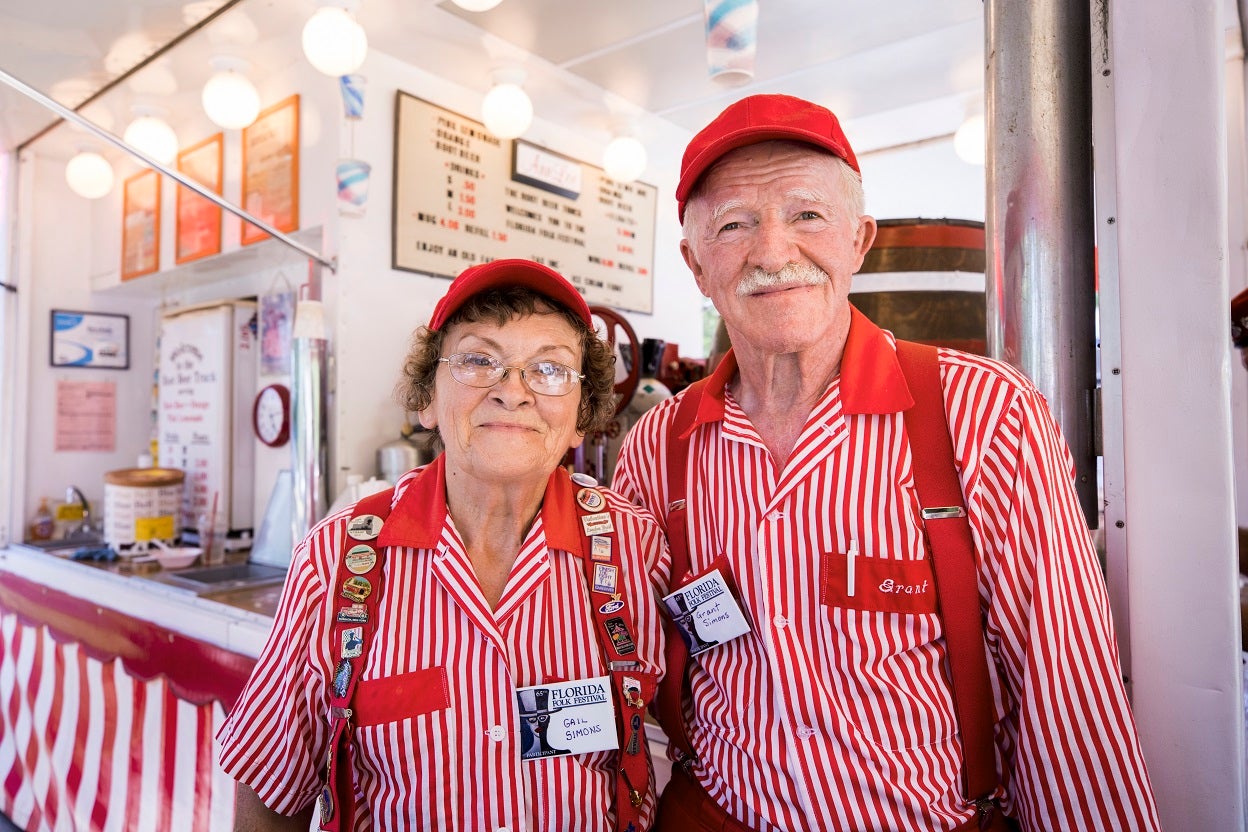 Old Marble Stage Foods
Beulah Baptist Church: chicken and dumplings dinner, chicken pilau dinner, vegetable plate, green beans, collard greens, squash, pickled beets, cornbread, hoppin' john, tea, lemonade, water.
New Bethel AME Church: breakfast plate, sausage sandwich, BBQ rib dinners, burgers, hot dogs, BBQ chicken sandwich, BBQ rib sandwich, BBQ chicken dinner, pulled pork dinner, fish dinner, fish sandwich, potato salad, coleslaw, baked beans, chips, dill pickles, coffee, tea juice, water, sodas.
Sisters Welcome Baptist Church: build a bowl breakfast, flap jacks, omelets, beef tips & gravy, stewed brown chicken and gravy, Pegasus fish (baked or fried), drunken turkey wings, smothered pork chops, lima beans & rice, macaroni & cheese, southern red beans, okra & tomatoes, homemade dressing, mixed vegetables, green beans, pies, cobbler, banana pudding, brownies, cookies, beverages.
Sweet Home Baptist Church: fried chicken dinner, vegetable plate, shrimp creole with rice, side items - chicken, greens, okra, potatoes, squash, peas, carrots, beets, tomatoes, rice; rice krispie treats, brownies, cornbread, boiled peanuts, frozen cup, sassafras tea, lemonade, tea, water.
Amphitheater Stage Foods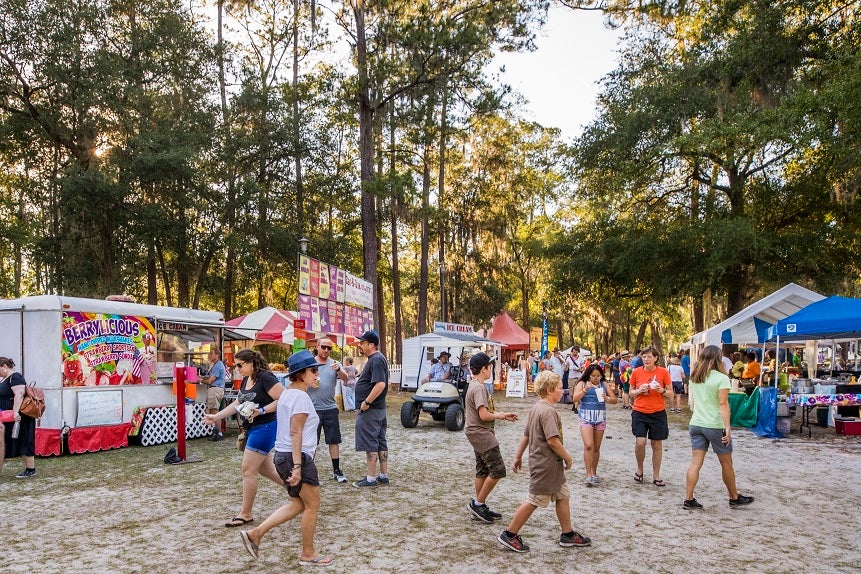 Accuisine: vegetarian meal, garlic cassava, salted cod fish stew, oven roasted jerk chicken, curried goat, curried chicken, island teas
AnnLee Concessions: root beer floats, lemonade, orange drink, floats, bottled water
Berrylicious: strawberry shortcake, strawberry cheesecake, brownie sundae, chocolate dipped strawberries on a stick, chocolate dipped banana with strawberry, strawberry milkshakes, strawberry sundaes, strawberry ice cream cones, strawberry tea, strawberry lemonade
Chubby Wubby's: vegan carrot dog, vegan falafel dog, all beef ¼ pound hot dogs with unique toppings, venison dog, alligator sausage, smoked boar sausage, chili cheese fries, boiled peanuts, sodas, tea, hot & iced cocoa
Corny Cook: grilled corn on the cob, grilled corn patties with cheese, corn bread, hand pressed lemonade, fresh brewed tea and specialty teas
Coffee Shack/Guillery's Shaved Ice: shaved ice, coffee, expresso, latte, cappuccino, hot chocolate, chai tea, coffee shakes, iced coffee, frozen chocolate, iced coffee drinks, muffins
Granny's Seafood Shack: Fish, shrimp, conch, clams, scallops, french fries, onion rings, cole slaw, hush puppies, soda & water
Greek Flame Food: lamb or chicken gyro on pita, kebobs, Greek salad, veggie platter, sampler platter, soft drinks, lemonade
Mother Kombucha: organic komucha, switchel, homebrewing kits & cultures, MK T-shirts and growler bags
Off the Griddle: breakfast sandwich, breakfast burrito, Thai noodle bowl, , hand cut red potato fries, hand cut sweet potato fries, crispy fried brussel sprouts, corn nuggets, falafel wrap, chicken wrap, chicken/tofu quesadilla, blackened fish tacos, BBQ bacon burger, farm raised smoked sausage, orange juice, lemonade, smoothies, veggie/fruit juices, soda, water
Old Fashion Ice Cream: ice cream bowls, waffle cones, IBC root beer floats, fruit cobblers with ice cream, IBC root beer, water
Southern Cravin's:  hamburgers, cheeseburgers, shrimp & clam basket with fries, wings & fries, steak or chicken philly, hot dog, slaw dog, BLT, shrimp po-boy, gator tail po-boy, fried okra, fried dill pickles, cheese sticks, tater tots, onion rings, iced tea
Southern Sweet Tea Company: sweet tea, lemonade, water – located at the Heritage and Dance Stage
Sunshine Café & Catering, Inc.: breakfast burrito, breakfast plates, biscuits & gravy, turkey legs, BBQ pork, BBQ beef, BBQ chicken, chicken on a stick, gator on a stick, black angus burgers, corn dogs, sausage sub, sides (grilled veggies, black eyed peas, collards), Texas toast sandwich, bagel sandwich, iced tea, sodas, water
Sweet Treats: funnel cakes, elephant ears, shakes, sundaes, banana splits, malts, fried Oreos, fried Twinkies, cotton candy, chocolate covered key lime pie, chocolate covered banana, ice cream cones and cups, drinks and lemonade
Viajes Misioneros: codfish fritters, chicken empanadas, beef empanadas, pizza empanadas, fried pork, tostones, gatorade, water, sodas
Wolverine Concessions: catfish dinner, catfish basket, frog legs dinner, frog legs basket, bourbon chicken, chicken tenders, veggie & bourbon chicken wraps, philly cheese steak, grilled cheese, French fries, ribbon fries, sides (veggies, red beans & rice, corn on the cob), soda, bottled water, iced tea