Florida's Favorite Menus
Florida's cooks have created unique flavors using the ingredients at hand and the traditions their families brought when they first came to the state. At the Florida Folk Festival, there's everything from homemade beef jerky to Caribbean influenced dishes of chicken pilau, hoppin' john, black-eyed peas, and okra and tomatoes. More recent immigrant communities have brought their culinary tastes for warm curries and fragrant rices from Trinidad, and light pastries and seasoned lamb from Greece. Florida's coastal waters offer fresh crab, shrimp and oysters, and its farmers raise fresh strawberries, melons and citrus.
During the Folk Festival you can enjoy collard greens and cornbread or a fine plate of fried chicken from the churches cooking at the Old Marble Stage food shelter. At the Amphitheater food court, there's everything from barbecue and gumbo to lime fizzes and vegetarian fare. From breakfast until the midnight snack, there's plenty of good food at the Florida Folk Festival. 
We're currently planning the 2023 festival. In the meantime, take a look at the menus of previous festival food vendors.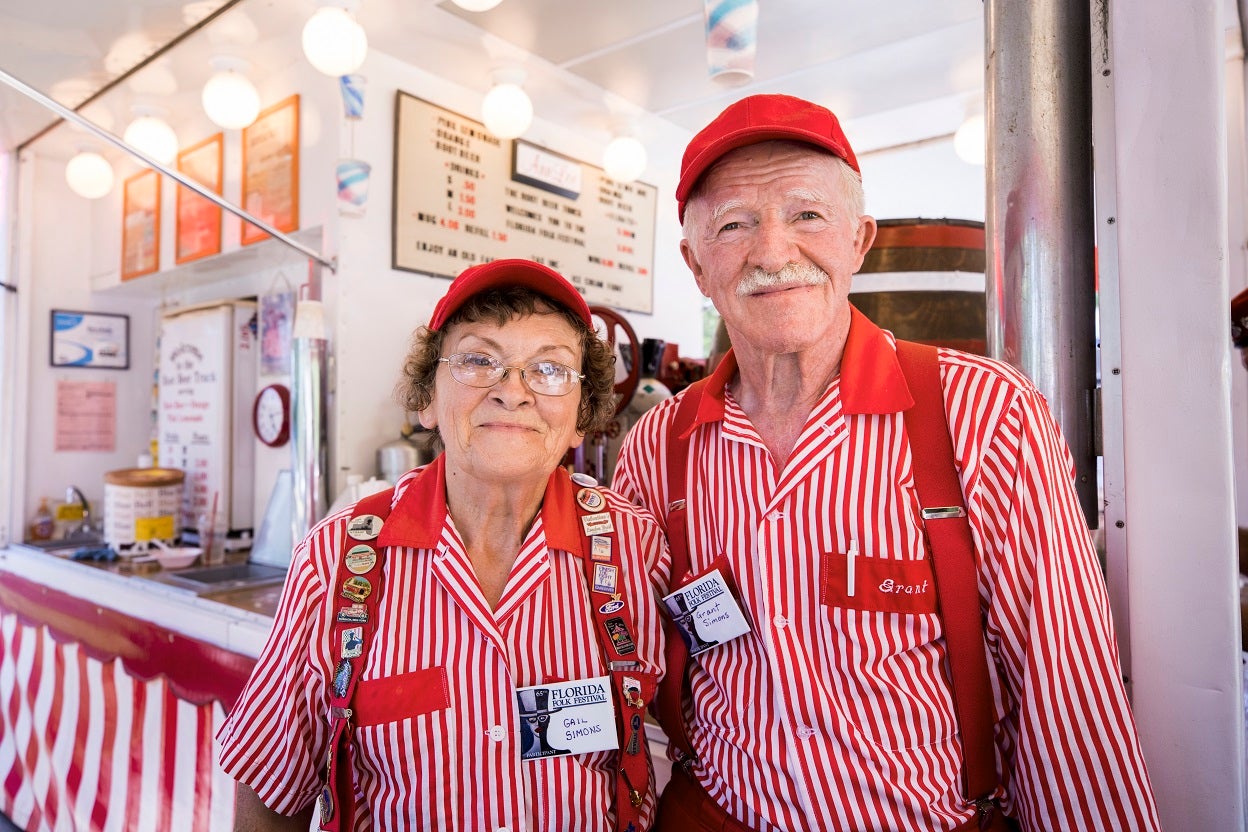 Old Marble Stage Foods
The Community Revival Center: smoked mullet, fried fish dinner, vegetable plate, slaw dog, hot dog, fries, baked beans, collard greens, hoppin' John, mixed vegetables, coleslaw, sweet potato pies. Breakfast menus – grits, sausage, eggs, toast, biscuit and sausage gravy, coffee, orange juice, home brewed tea, homemade lemonade, water and soda.
Viajes Misioneros: codfish fritters, chicken empanadas, beef empanadas, pizza empanadas, Gatorade, water, sodas.
Amphitheater Stage Foods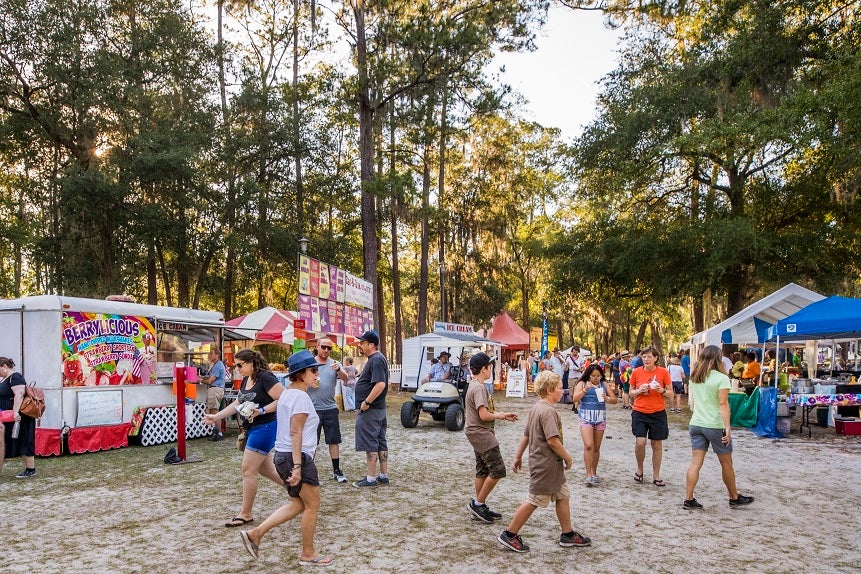 AnnLee Concessions: root beer floats, lemonade, orange drink, floats, bottled water.
Coffee Shack/Guillery's Shaved Ice: shaved ice, coffee, expresso, latte, cappuccino, hot chocolate, chai tea, coffee shakes, Danish.
Greek Flame Food: lamb or chicken gyro, Greek salad, Greek sampler platter, lemonade.
Josie's Latin Fusion: chicken and yellow rice bowl, arepas, Cuban sandwiches, Dominican flour empanadas platter, Colombian corn empanadas platter. Gluten-free and vegan options available.
Moody Mocha: plant-based baked goods including gourmet stuffed cookies, gourmet brownies, macaroons, gluten-free cookies and brownies.
Old Fashion Ice Cream: homemade ice cream bowls, waffle cones, IBC root beer floats, fruit cobblers with ice cream, IBC root beer, water.
Phils Grille: burritos, pitas, salads, fry baskets, rice bowls, pork, chicken, lamb gyros, bison, artichoke spinach melt, falafel, fries, lemonade, tea, water, sodas.
Pugh Concessions: fresh squeezed lemonade, smoothies, pineapple smoothies.
Southern Cravin's:  hamburgers, cheeseburgers, flame burgers, chicken Philly, shrimp poor boy, chicken sandwich, country fried steak sandwich, fried or blackened shrimp with fries, boneless wings with fries, traditional wings with fries, onion rings, fried okra, tater tots, fries, corn nuggets, fried pickles, tea, soft drinks, Gatorade.
Sunshine Café & Catering Inc.: turkey legs, barbecue pork, barbecue beef brisket, barbecue chicken on a stick, black angus burgers, hot dogs, black-eyed peas, collards, mac and cheese, brown rice, mixed veggies, nachos, corn dogs, water, soda, lemonade and tea.
Sweet Treats: funnel cakes, elephant ears, fried Oreos, fried Snickers, beignets, cotton candy, cold drinks.
Wolverine Concessions: catfish basket, bourbon chicken and rice, frog legs, chicken tenders and fries, Philly cheesesteak and fries, grilled cheese sandwich, bourbon chicken wrap, fresh veggies, beans and rice, chicken in a waffle cone, quesadilla, soda and water, tea and lemonade.