Florida's Favorite Menus
Florida's cooks have created unique flavors using the ingredients at hand and the traditions their families brought when they first came to the state. At the Florida Folk Festival, there's everything from homemade beef jerky to Caribbean influenced dishes of chicken pilau, hoppin' john, black-eyed peas, and okra and tomatoes. More recent immigrant communities have brought their culinary tastes for warm curries and fragrant rices from Trinidad, and light pastries and seasoned lamb from Greece. Florida's coastal waters offer fresh crab, shrimp and oysters, and its farmers raise fresh strawberries, melons, and citrus.
During the Folk Festival you can enjoy collard greens and cornbread or a fine plate of fried chicken from the churches cooking at the Old Marble Stage food shelter. At the Amphitheater food court, there's everything from barbecue and gumbo to lime fizzes and vegetarian fare. From breakfast until the midnight snack, there's plenty of good food at the Florida Folk Festival. 
We are working to find some of the best and most unique Florida food vendors for the 2024 festival. In the meantime, take a look at some of the wonderful menus we've had at past festivals.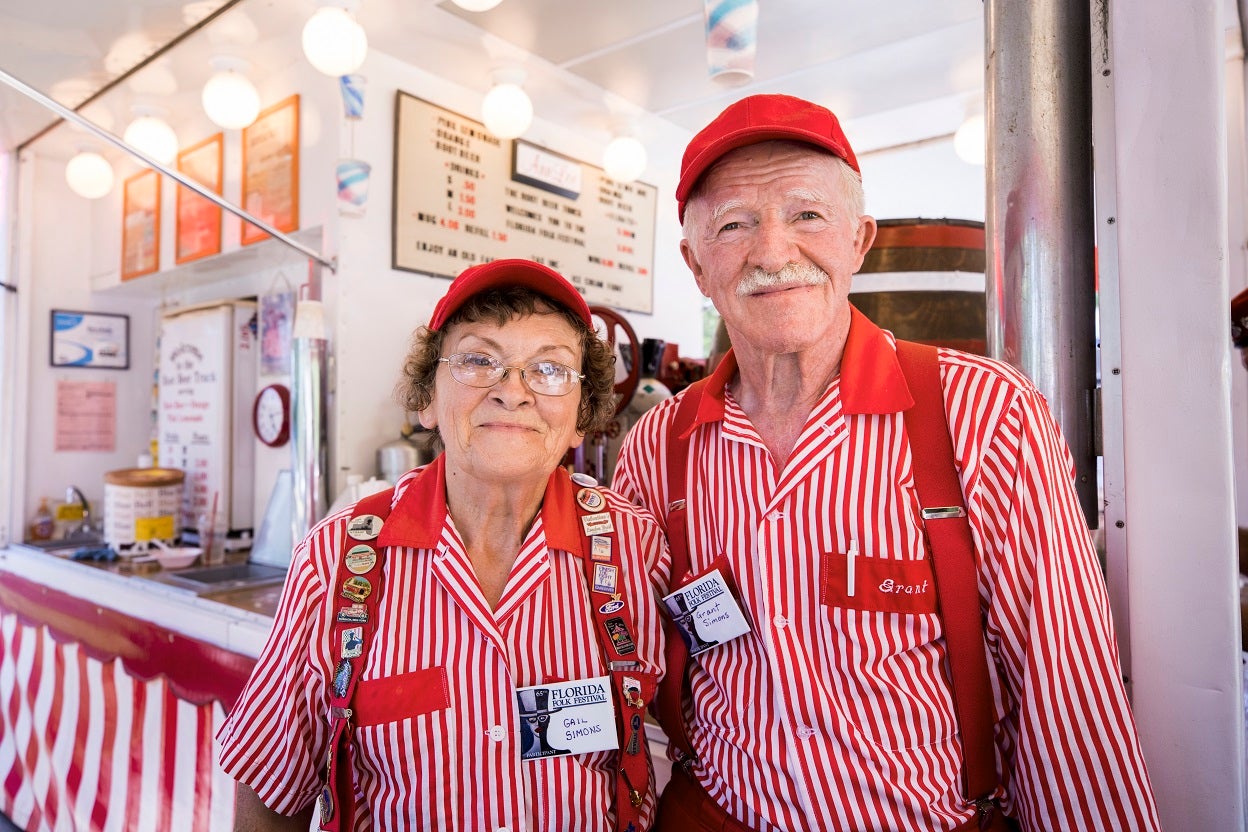 Old Marble Stage Foods
The Community Revival Center: smoked mullet, fried fish dinner, vegetable plate, slaw dog, hot dog, chicken wings, tater tots, fries, baked beans, collard greens, hoppin' John, mixed vegetables, coleslaw, crab salad, sweet potato pies, pecan pie. Breakfast menu – grits, sausage, eggs, toast, biscuit and sausage gravy, coffee, orange juice, home brewed tea, homemade lemonade, water, and soda.
Viajes Misioneros: codfish fritters, chicken skewers empanadas, beef empanadas, pizza empanadas, gatorade, water, sodas.
Sacred Steel Summit: Water, Soft Drinks, Gatorade, and a variety of snacks
Smokin Like A '57 Chevy BBQ and Catering: Ribs, pulled pork, chicken, baked beans, potato salad, cole slaw, a variety of desserts, and bottled drinks.
Amphitheater Stage Foods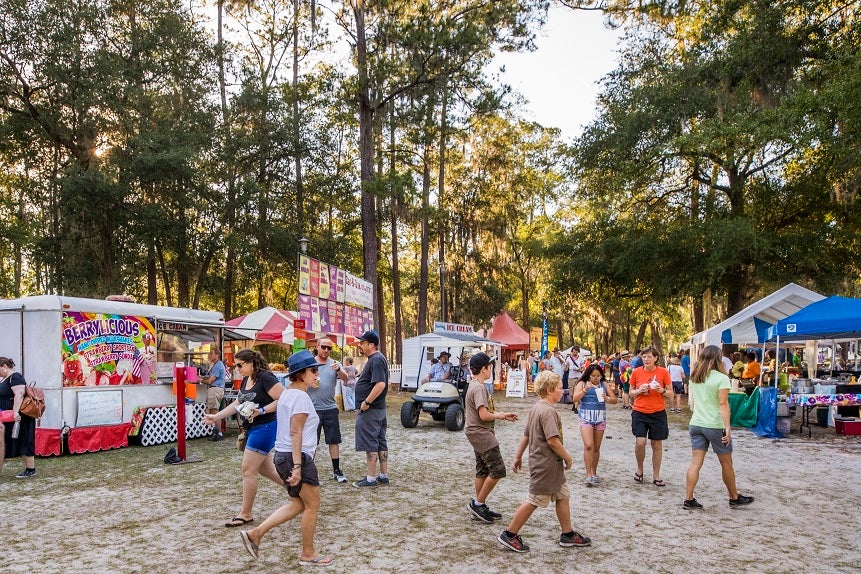 AnnLee Concessions: root beer floats, lemonade, orange drink, floats, bottled water.
Coffee Shack/Guillery's Shaved Ice: shaved ice, coffee, espresso, cappuccino, hot chocolate, chai tea, frozen chocolate, Danish.
Greek Flame Food: Food lamb or chicken gyro, Greek salad, Greek sampler platter, falafel platter, gyro fries, lemonade, sodas.
Josie's Latin Fusion: chicken and yellow rice bowl, arepas, Cuban sandwiches, Dominican flour empanadas platter, Colombian corn empanadas platter, rumba dog, cheese quesadilla combo, yucca fritters with beef, churros filled with Bavarian Cream or Dulce de Leche. Gluten-free and vegan options available.
Old Fashion Ice Cream: homemade ice cream bowls, waffle cones, IBC root beer floats, fruit cobblers with ice cream, IBC root beer, water.
Phils Grille: falafel, fries, grilled chicken Shawarma, smoked wild boar, shaved lamb, spinach artichoke dip, stuffed grape leaves, salad, hummus, rice pilaf with cranberries, salads, lemonade, tea, water, sodas
Pugh Concessions: fresh squeezed lemonade, strawberry and pineapple smoothies, soda, coffee, sweet and unsweet tea, gatorade.
Sadie's Dawg House and Other Stuff: hoagie roll menu: these ain't your momma's hot dogs, beef hot dogs: plain or bacon wrapped, smoked sausage, slaw dawgs, chili dawgs, Ruben dawg, andouille sausage with Cajun mac-n-cheese, Philly Sloppy dawg, Frito pie, Cajun dawg, shrimp roll; Breakfast: egg, cheese, and bacon or sausage or capicola served on soft taco or hoagie roll or bagel; country sausage, egg, capicola, cole slaw, and Sadie's special sauce; homemade biscuits and gravy
Southern Cravin's: With fries menu: assorted po'boy, chicken Philly, fried chicken sandwich, fish sandwich, BLT, buffalo chicken, fried or blackened shrimp, oysters, clam strips, catfish, fries, cheese fries, sweet fries, tater tots, fried okra, onion rings, cheese sticks, fried pickles, corn nuggets, veggie bowl, gator tail bites, dirty fries, tea, soft drinks, gatorade.
Sunshine Café & Catering Inc: barbecue pork, barbecue beef brisket, barbecue chicken on a stick, black angus burgers, Cajun jambalaya black-eyed peas, collards, Italian sausage, fresh grilled vegetables, french fries, breakfast bagel sandwiches, Texas toast sandwiches, water, soda.
Sweet Treats: funnel cakes, elephant ears, fried Oreos, fried Snickers, fried Twinkees, beignets, cotton candy, chocolate covered key lime pie, chocolate covered bananas, strawberry shortcake, malts, milk shakes, water, soda.
Wolverine Concessions: catfish basket, bourbon chicken and rice, frog legs, chicken tenders and fries, Philly cheesesteak and fries, grilled cheese sandwich, bourbon chicken wrap, fresh veggies, beans and rice, soda and water, tea and lemonade.