A Weekend of Entertainment, participation and exhibits
Along the banks of the historic Suwannee River in White Springs, Florida, folk artists have gathered to celebrate Florida's land, people, and diverse cultural heritage. Since its humble beginning in 1953, the Florida Folk Festival has not only grown to become Florida's most prestigious affair, but also named "Florida's Best Cultural Event." The festival has recently been recognized by the Southeast Tourism Society as a "Top 20 Event" in the southeastern United States.
Get ready for a fun and entertaining weekend for the entire family! Our feature performers are listed below with the evening of their amphitheater performance. Many will be performing or teaching workshops some other time throughout the weekend along with our special guest artists. You can even dance with Papaloko & Loray Mistik Saturday evening on the Heritage and Dance Stage; and don't miss the Techno Contra dances with Eye of the Monkey on Friday and Saturday Evenings. Check out our full schedule of events for specific times and stages.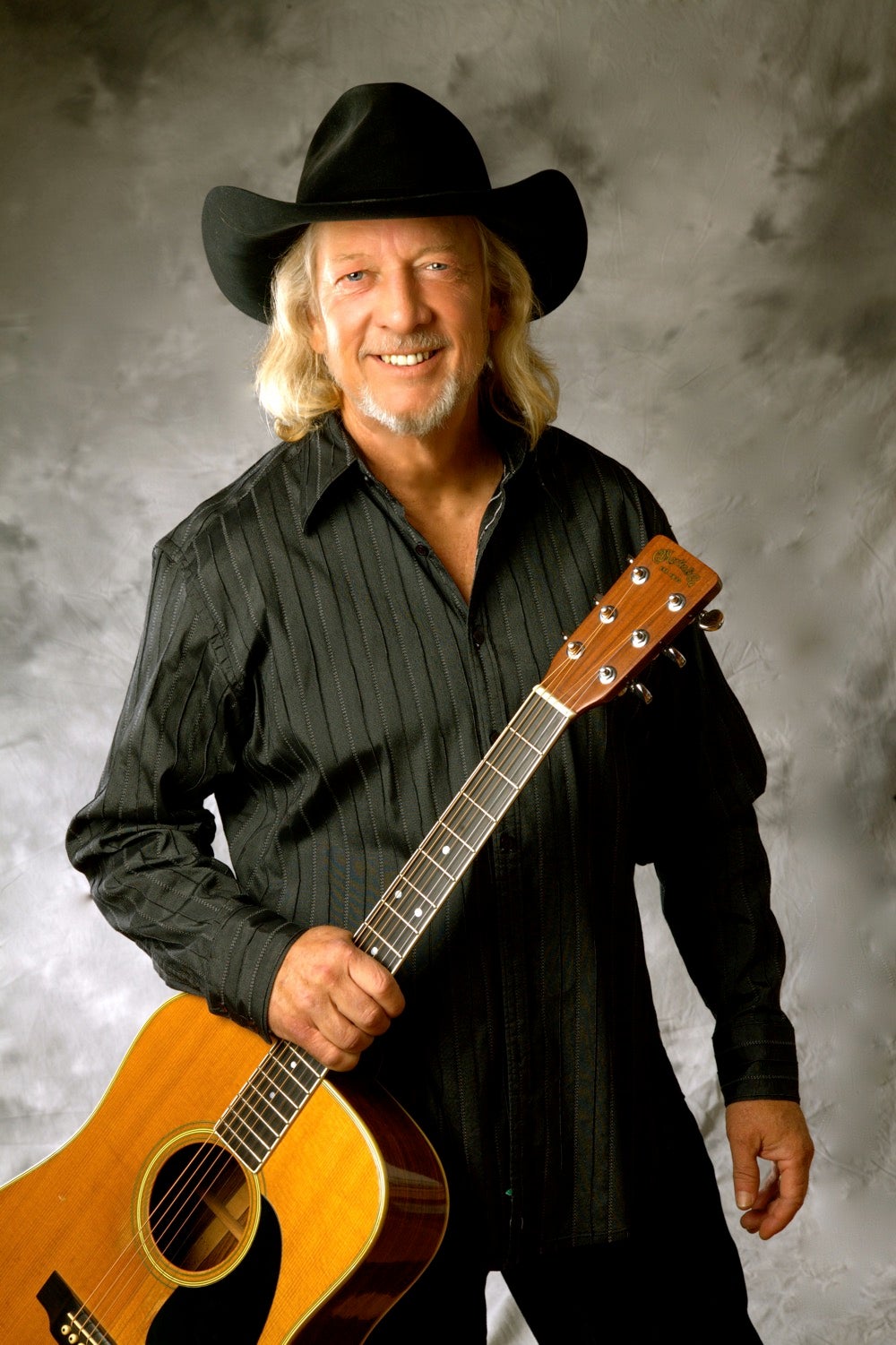 John Anderson (Saturday Evening)
To put it simply, John Anderson is one of the greatest country music singers to ever step up to the microphone, possessing one of the most instantly recognizable vocal instruments in the history of the genre.
Raised in Apopka, Fla., Anderson was exposed to both rock and traditional country growing up. Anderson resisted the call of rock 'n roll, electing rather to pursue his country music dreams. It was the traditional country ballads that lured him in. "I loved those type of ballads," Anderson says, "to the point I didn't want to get away from it. Anderson moved to Nashville in 1972, working construction by day (including as a roofer at the Grand Ole Opry House) and playing the honky-tonks at night. He signed to Warner Bros. in 1977, notching his first major hit in 1980 with Billy Jo Shaver's "I'm Just an Old Chunk of Coal (But I'm Gonna Be a Diamond Someday)."
Anderson plowed through the ebbs and flows of country music (and the country music business) throughout the '80s, and in the early 1990s engineered one of the greatest "come-back" runs (he never really left) in the history of the genre. Seminole Wind, released on BNA, produced hit singles in "Straight Tequila Night," "When It Comes To You," "Money in the Bank," and the stirring title cut.
Anderson was inducted to the Nashville Songwriters Hall of Fame on Oct. 5, 2014. In a Country Music Hall of Fame-worthy career that has produced 23 albums, more than 60 singles (20 reaching the Top 10), Anderson's motivations have shifted fully from commercial aspirations to unimpeded artistic integrity. "At this point, it's just for me and the fans," he says.
An unrepentant road dog, Anderson's touring career has never wavered, as he and his crack band play to packed houses filled with "the most loyal fans anybody ever had; and I do indeed appreciate them supporting our music for all these years," he says. "Their love of the music has only gotten better."
In short, though the creative fires still burn, John Anderson is a satisfied man, confident in his art.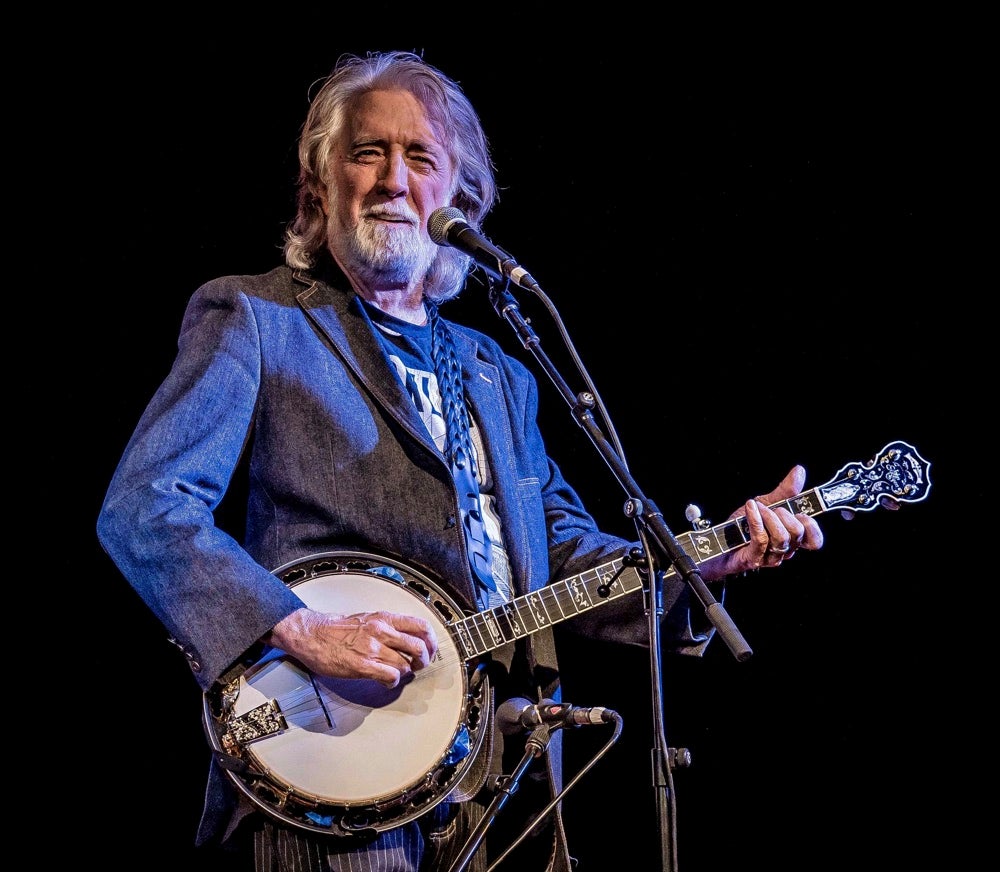 John McEuen & The String Wizards present: Will The Circle Be Unbroken (Friday Evening)
Multi-instrumentalist McEuen, one of the founding members of the Nitty Gritty Dirt Band has introduced his music and creative talents through various formats and forums throughout his signature career. He's produced television specials, live concerts and music videos; scored music for indie films; he's made special guest appearances on multiple studio recordings, and he is a syndicated radio show host and book author.     In September of 2017, Florida resident McEuen was inducted into the American Banjo Museum Hall of Fame. 
The music he performs is a reflection of early inspirations from his native Southern California (Lightning Hopkins, Earl Scruggs, The Carter Family and The Dillards). He notably pays homage to his influences (Don Reno, Doc Watson, Merle Travis, Earl Scruggs, Ligntnin' Hopkins and Bill Monroe) in each and every performance with an added touch of personalized eclectic tunings.
McEuen's countless jams include street performers to Phish, Earl Scruggs, Levon Helm… and even on Sesame Street with a herd of goats and a cow! Arguably, McEuen's most important legacy may be his initiating what Rolling Stone called "The most important record to come out of Nashville" and what the 2004 ZAGAT survey called "the most important record in country music" - Will the Circle Be Unbroken...
McEuen has assembled a unique cast for a special night to share the music and memories of the landmark Will the Circle Be Unbroken platinum album and the Nitty Gritty Dirt Band's incredible career. Joining John McEuen are the incredible String Wizards consisting of Les Thompson, an original NGDB founding member, John Cable, a NGDG member and John's music partner for 25 years, Matt Cartsonis.
When the Nitty Gritty Dirt Band recorded Will the Circle Be Unbroken, initiated by founding member John McEuen, the icons of Bluegrass, Country and West coast country rock convened: Roy Acuff, Doc Watson, Merle Travis, Jimmy Martin, Earl Scruggs, Vassar Clements and Maybelle Carter. Six hot August 1971 days leading to a magic time when three generations came together to produce the benchmark record relevant to this day. Still an Amazon top 20, Will the Circle Be Unbroken is in the Grammy Hall of Fame. The Library of Congress inducted the multi-platinum 'Circle' as one of the most important American recordings.
The evening's journey leads to music from McEuens new highly praised record Made In Brooklyn (Cheskey Records/Sept. 2016), recently named by the Independent Music Awards as the Best Americana Album of the Year. Closing with encores of music from the new album, you'll experience the entire span of John McEuens 50 years in music and are taken back to some of the best year of your lives…Mr. Bojangles, Some of Shelly's Blues, Keep on the Sunny Side, Will the Circle Be Unbroken, Dance Little Jean, Long Hard Road, Earl's Breakdown, Wreck on the Hiway, Cannonball Rag.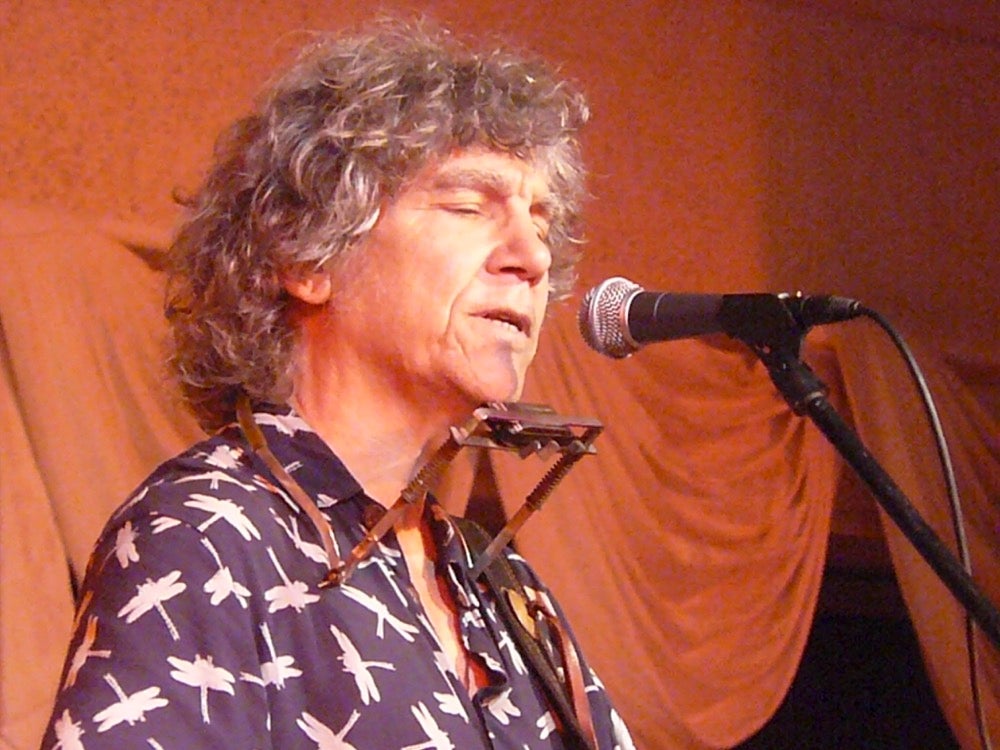 Rod MacDonald (Friday Evening)
Rod MacDonald was born in Southington, Connecticut. He began his musical education as a slide trombonist at 11, switching to guitar in his mid-teens as he learned the popular 1960s folk songs. In 1972, while at Officer's Training School in Newport, RI, he began working as a solo singer-guitarist at a waterfront bar, The Black Pearl, on a nightly basis. A tenor with a clear voice and wide range, MacDonald is often cited for both his musicality and the content of his songs about political and social events. The Press of Atlantic City said of him, "Rod MacDonald is a brilliant folk singer and composer. His melodic songs possess words that go straight into your heart and soul." 
MacDonald has released 12 solo recordings on several record labels in the US, 8 in Europe on the Swiss label Brambus, and 21 songs with Smithsonian Folkways (through the Fast Folk Musical Magazine), and appears as lead singer of Big Brass Bed, a Palm Beach County rock and roll band, on 3 CDs of Bob Dylan songs and originals. As with many independent artists, his recordings are often sold directly at concerts, and at online sites. His current label is Blue Flute Music.
MacDonald has appeared on stage with fellow artists, including Pete Seeger, Peter Yarrow, Odetta, Tom Paxton, the Violent Femmes, Suzanne Vega, Shawn Colvin, Dave Van Ronk, Emmylou Harris, Richie Havens, Ani DiFranco, Tom Chapin, Jack Hardy and David Massengill. He has performed at festivals in Philadelphia, Winnipeg, Florida, South Florida, Riverhawk, Boston, Kerrville, Greenwich Village, Falcon Ridge, New Bedford Summerfest, Port Fairy (Australia) and Trowbridge (UK), and on the radio program Mountain Stage. He was reportedly the first American singer to tour the newly independent Czech Republic in 1991, and has made 40 tours in Europe since 1985, nearly all of them with NYC bassist Mark Dann.
He remains active, touring most often in Florida, Germany, Switzerland, Italy, the Pacific Northwest, New York and New England.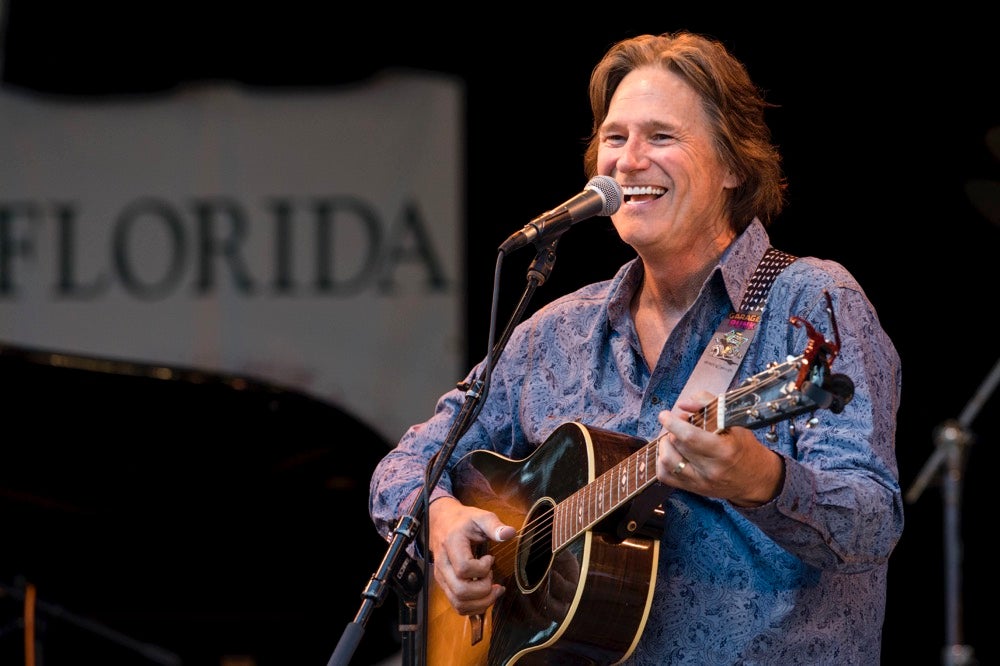 Billy Dean (Sunday Evening)
Festival favorite, Billy Dean, a native of Quincy, Florida, is known by his peers as the "James Taylor of country music." By the age of 10, he was playing in his dad's country band. He was raised appreciating the value of music, and has had many musical influences.
After attending college on a basketball scholarship, Billy moved to Nashville in 1983 and by 1990 had recorded his first Top 5 Hit "Only Here for A Little While." Since then, Billy has transcended genres with his unique repertoire earning numerous awards, including: The Academy of Country Music's Song of the Year for "Somewhere in My Broken Heart", ACM New Male Vocalist of The Year, BMI Pop Awards, BMI Song Awards, BMI Million Air Plays Award, Country Music Television Rising Star Award, NSAI Song of The Year, and a Grammy for a "Country Tribute: Amazing Grace." In 2017, Billy was inducted into the Florida Artist Hall of Fame, the highest honor bestowed by the state.
Billy's appeal reaches beyond the music world. He has appeared on numerous television shows as well as made-for TV movies, including: Blue Valley Songbird, A Face to Kill For, Lois & Clark, One Life to Live, Diagnosis Murder, Good Morning America, The Tonight Show, The Montel Show, and many others. He is currently on tour across the US.
After thirteen albums and eleven Top 10 singles spanning over a period of eighteen years, Billy founded the publishing company BDMG (Billy Dean Music Group). Billy continues to make contributions to the country music world by building brands with music and empowering children as a spokesperson for Averitt Cares for Kids, and Sunkist's Take a Stand Program.
His latest album "Billy Dean Live" was released in 2017. It features personal anecdotes and an array of his most beloved songs. Billy's illustrious career has been recognized with a proclamation from the State of Tennessee House of Representatives.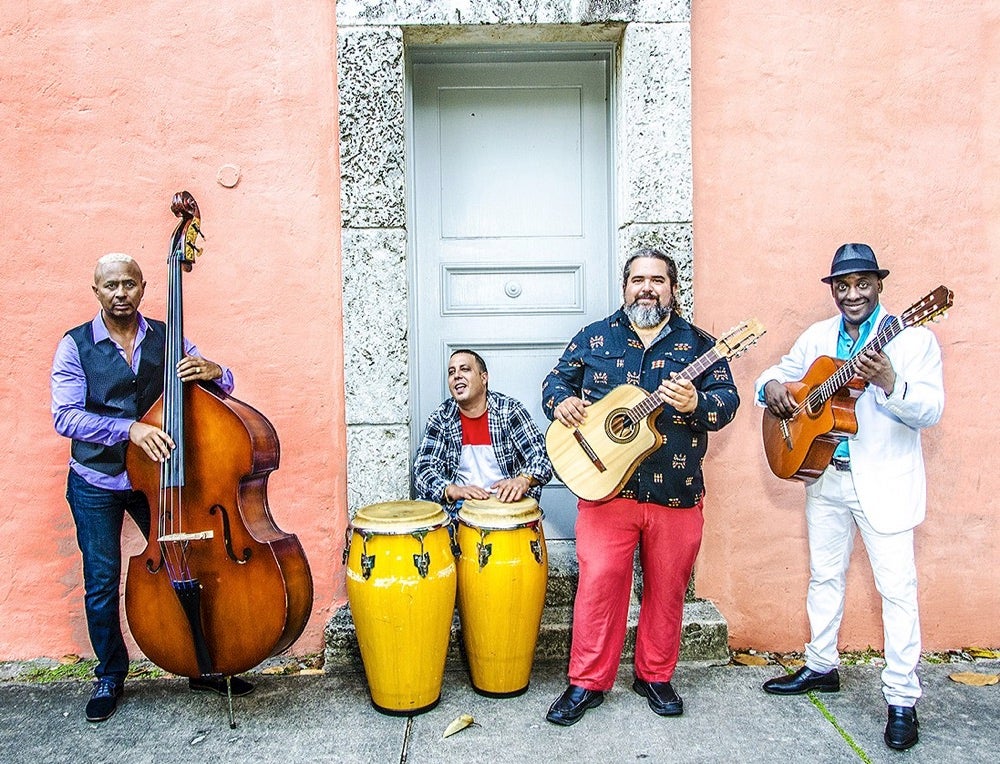 Cortadito (Friday Evening)
Born in the Dominican Republic to Cuban parents, Jose Elias is a musician and arts administrator in Miami. He played with the Grammy-nominated group Conjunto Progresso as well as Miami stalwarts the Spam Allstars before co-founding Cortadito. On the Amphitheater Stage, Cortadito will perform early 20th century Cuban music in the styles of son montuno, guaracha, boleros, nengon and bolero son.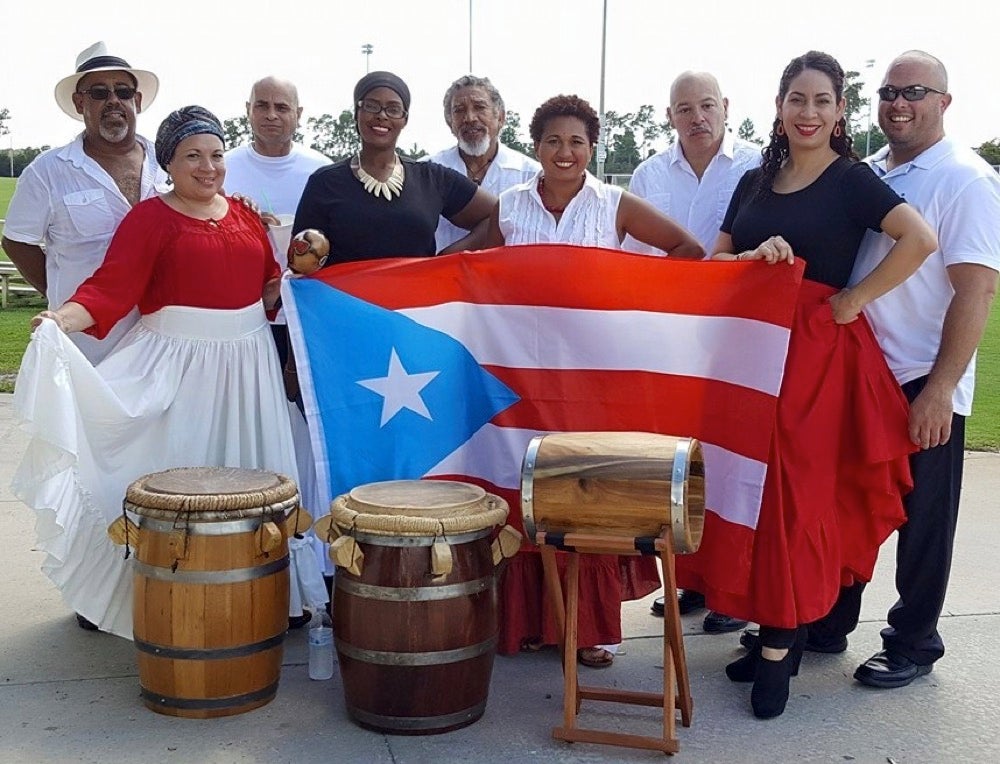 Taller Balancé Bomba Afro-Borícua (Saturday Evening)
Bomba is a Puerto Rican dance derived from African influence. Angel Reyes and Johanna Alduen of Taller Balancé Bomba Afro-Borícua are maintaining bomba in Central Florida. Born in Puerto Rico and raised in New York, Reyes discovered bomba as a young man and returned to Puerto Rico to study with the patriarch of the style, Rafael Cepeda. In Florida, Reyes met Alduen, who is descended from a family well-known in the bomba tradition. Reyes and Alduen, who will perform on the Amphitheater Stage, share dance, drumming and drum-making with new generations, uniting diverse cultures through music.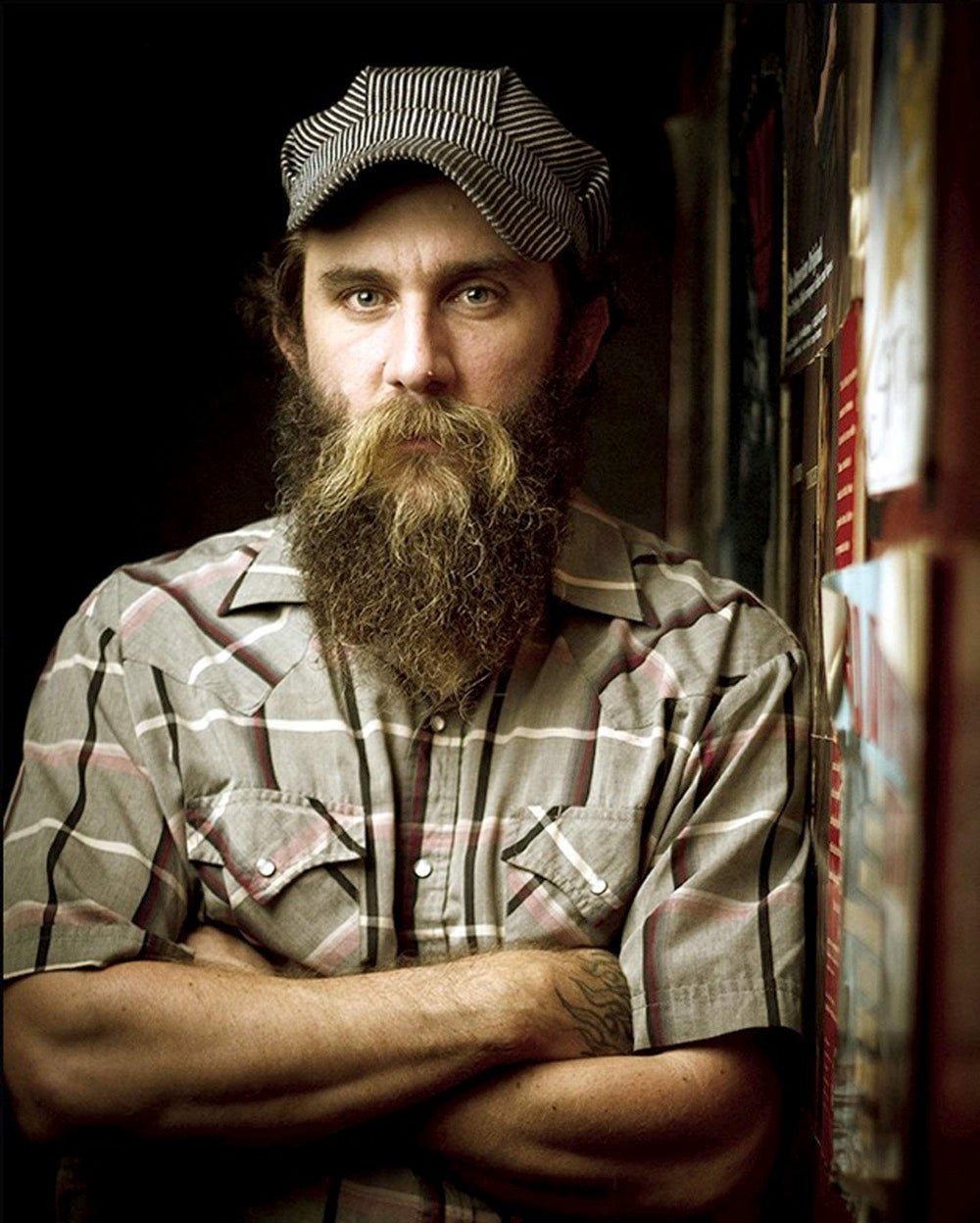 Ben Prestage (Saturday Evening)
Ben Prestage has music in his blood. His great-grandmother was a professional musician who toured the American vaudeville circuit opening shows for Al Jolson. His grandmother was a Boogie-Woogie pianist.
For years, Folk Festival fans have flocked to the stages where Ben Prestage appears. Growing up in a swampy area of rural central Florida, Ben has created his own signature sound, "Deep South Swamp Music," by melding Juke Joint Blues, Delta Blues, and blazing Piedmont Blues, with award-winning finger-style guitar and soaring steel-guitar work. After a stint as a busker on historic Beale Street in Memphis, Ben emerged as one the nation's top one-man-bands and earned acclaimed accolades including: the Lyon/Pitchford Award for "Best Diddley Bow Player" and "Most Unique Performer" at the Songwriters' Showcase of America. He also finished 4th, 3rd, and 2nd place at the International Blues Challenge. Ben is one of the only artists to be nominated for both a Blues Music Award and an Independent Music Award. These accomplishments and uniquely powerful live performances have earned Ben invitations to perform at prominent blues, jazz, and folk festivals across North America, Europe, North Africa, and the Middle East.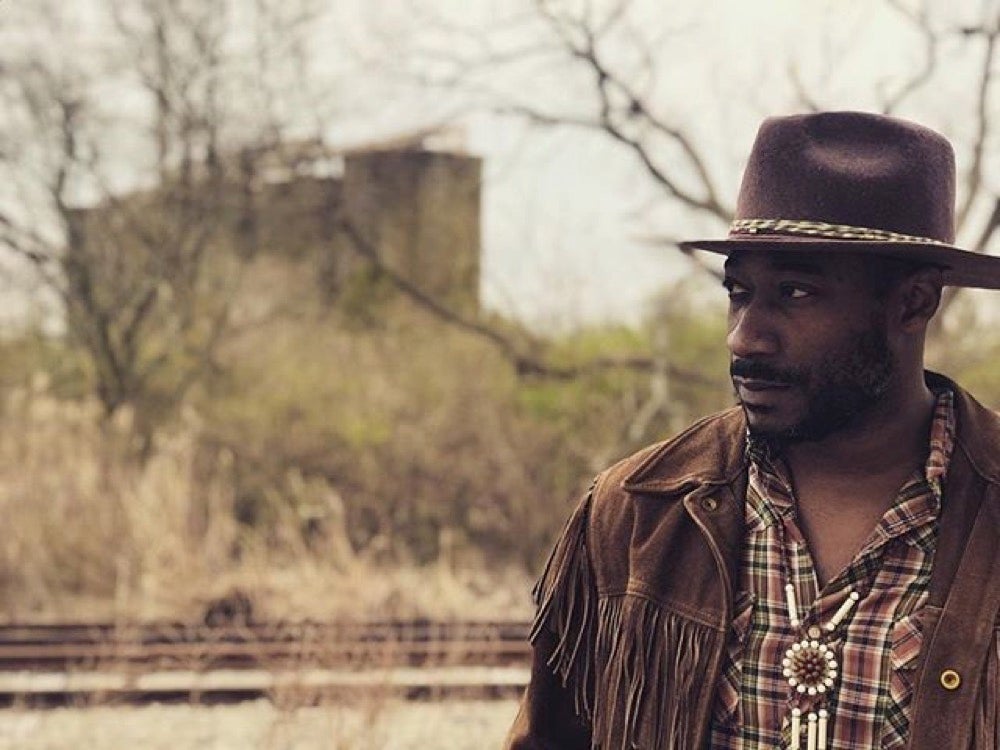 Toney Rocks (Friday Evening)
"Listening to Toney Rocks is like driving down a long desert highway" exclaimed a fan in Las Vegas. The singer-songwriter and loop artist brings a fresh unique presence to Alternative Folk/Americana music. Currently touring the U.S. in support of his latest album, DRIFTING, the Toney Rocks sound is an Americana mixture of country, blues and rock with engaging songwriting diving deep into unapologetic truth.
In a beachside chat with Northwest Florida Daily News, Toney said, "My lyrics can be heavy at times, but I don't want them to be burdensome. I want people to enjoy letting me take them on an emotional journey through the stories I sing. I want them to either find themselves in the songs or have an empathetic connection with people in the stories. Then think, 'I have to see him again and tell everyone about him.' " 
When not performing solo, he's supported by The Trio of Rejects, featuring pedal steel guitar, drum set and ethnic percussion. The Las Vegas Weekly named Toney Rocks as one of the top 10 Las Vegas Acts to Watch in 2017.  His latest releases are featured on popular national/international music blogs and radio shows. Ray Sang from UK blog Industry ME says, "I was sold as soon as I heard the husky tones of Toney's voice". Toney Rocks has shared the stage with folk music legend, David Bromberg, as well as supported artists such as Jazz/Blues icon Robben Ford.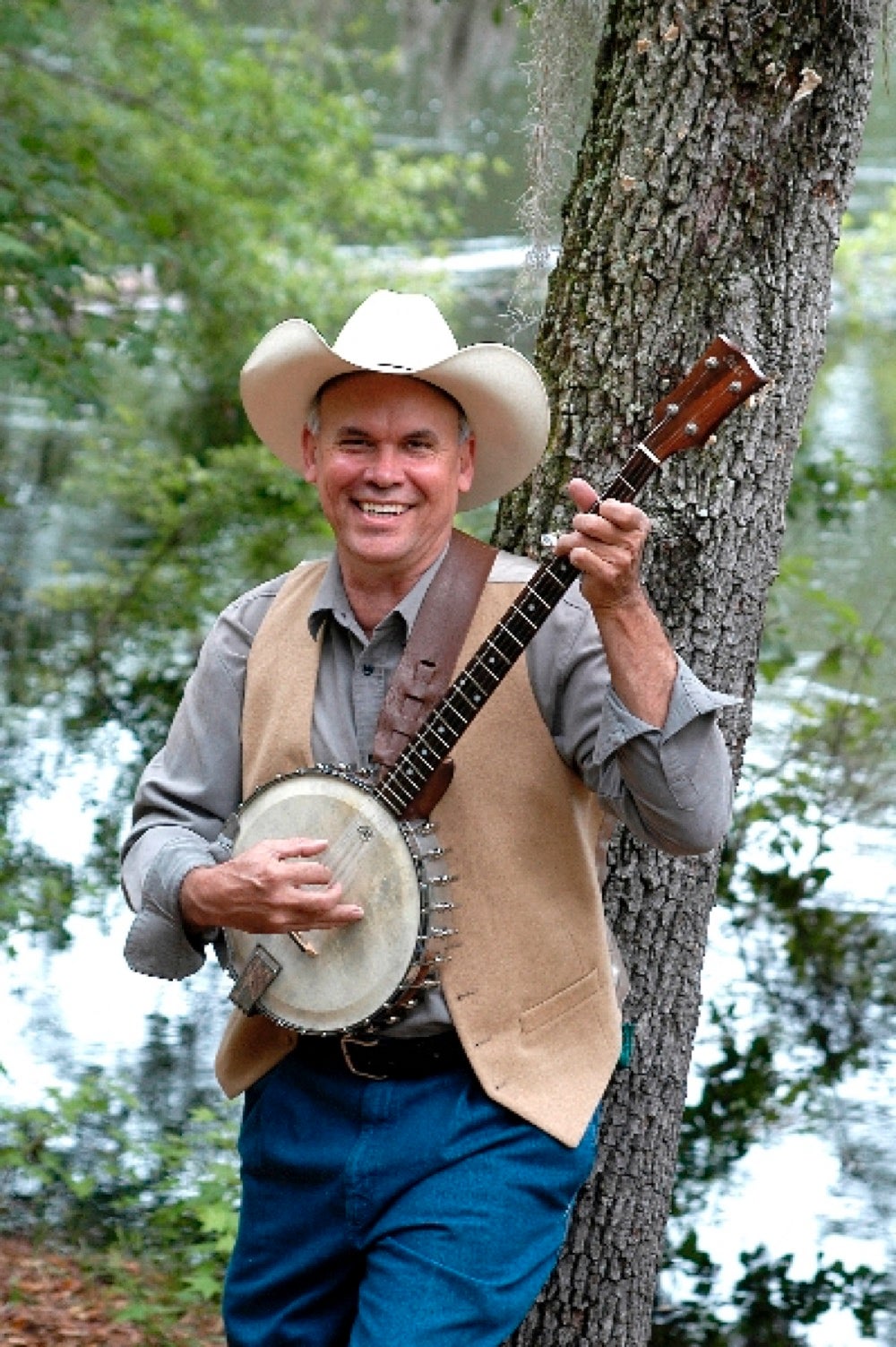 Tom Shed (Sunday Evening)
Tom Shed, songwriter and performer, is unique, challenging, and inspiring. He brings history, humor, and the human condition to audiences around the world in exciting and entertaining concerts.
Tom's songs bring audiences history's real events, humor, and examine life and the human condition. His music spans a diverse spectrum of topics: the great hurricane of 1928, the great fire of Jacksonville, a politician's demise in pre-civil rights America in 1953, being lost in a swamp, the unforgiving nature of the Wild, alien abduction, experiencing unique southern hospitality, motorhome mayhem on Florida's highways, learning to appreciate your grandmother, a celebration of single mothers, the many faces of fear, dreaming of lost opportunities, love at first sight, a questionnaire for marriage, and PTSD.
Tom also writes and performs sound tracks for films and television including Marjorie Kinnan Rawlings, Ringside Miami, and the award-winning Archie Carr, A Naturalist in Florida. He produces albums for fellow musicians, most notably, "Walk Proud My Son" for the late, Florida folk icon and Native American, Don Grooms.
With songs on the 2014 and 2016 Grammy Ballot, Tom Shed has established himself as a respected songwriter and performer. Performing on guitar and banjo throughout the U.S., UK, Europe, Canada, the Caribbean, New Zealand and Australia for many years, Tom shares his unique perspective of life, love and the world around us.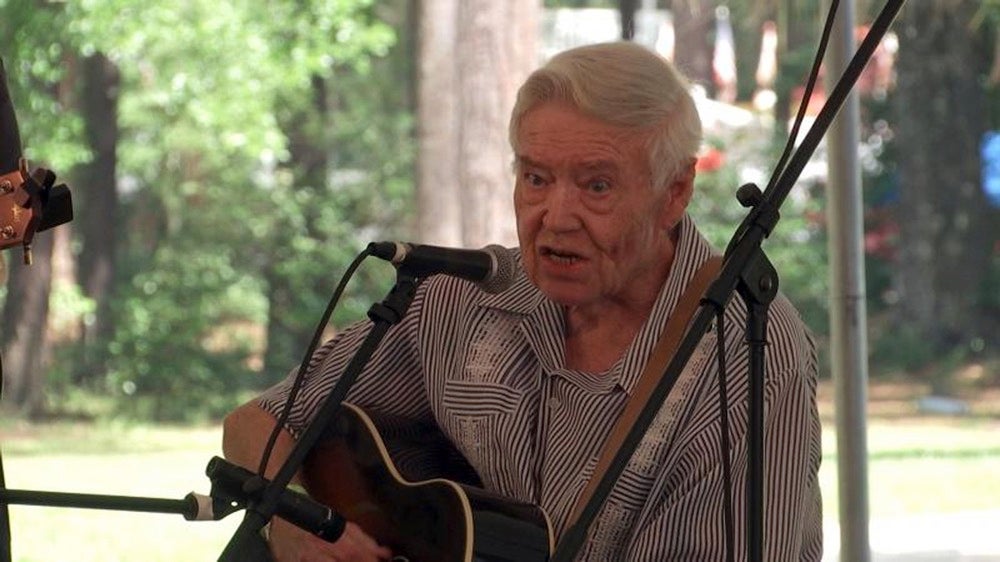 Frank Thomas (Sunday Evening)
Born and raised in rustic Clay County, Florida songwriter Frank Thomas has native Florida lineage dating back to the late 18th century. Few other songwriters can claim such a strong Florida heritage and sharing his love of Florida is the inspirational thread woven throughout his music and storytelling. He has been given many titles including the Dean of Florida Folk (for the many song-writing assignments he has given over the years), The Grand Old Man of Florida Folk, and is considered one of the most prolific songwriters in Florida.
In the 1960s, Thomas toured nationally with several well-known bluegrass groups, Ann settled into the "Cracker Palace," a Florida style home down Rattlesnake Hammock Road on the ridge just outside of Lake Wales. From there, Frank and Ann Thomas became the most well-known duo in Florida music. Ann's big daddy thumping bass, deep rooted harmony singing and humorous jabs at her husband helped make them one of Florida's most popular acts. Frank and Ann Thomas traveled Florida, performing their unique music at schools, festivals, music and folk clubs, on television, and on concert stages. During the 80s, they produced and hosted the first Florida folk music radio show, weekly, on Tampa's WMNF. Their video "Florida History in Song," won the Florida Historical Societies coveted Golden Quill Award. Other awards received include the prestigious Florida Folk Heritage Award, The Inaugural Jillian Prescott History Award and The Stetson Kennedy Foundation Fellow -Man & Mother Earth Award. Frank was recently honored and inducted into the Florida Artist Hall of Fame -- Florida's most prestigious recognition!
Since Ann's death in 2004, Frank has continued his art as the patriarch of Florida folk music and is still a prolific songwriter: his catalogue numbers more than 500 songs -- all about Florida! A portion of them can be found on his nine albums, including Cracker Nights, Florida Stories, Bingo, Spanish Gold, and Just another Day in the Life of a Florida Cracker. For many years, Frank has hosted the River Gazebo stage at the Florida Folk Festival, where he personally welcomes and presents the state's best singer/ songwriters, reviews their work, gives out songwriting assignments and lots of praise.
While his accomplishments are certainly legendary, humble Frank Thomas will describe himself in one of his favorite cracker phrases: "I ain't nothin' extry."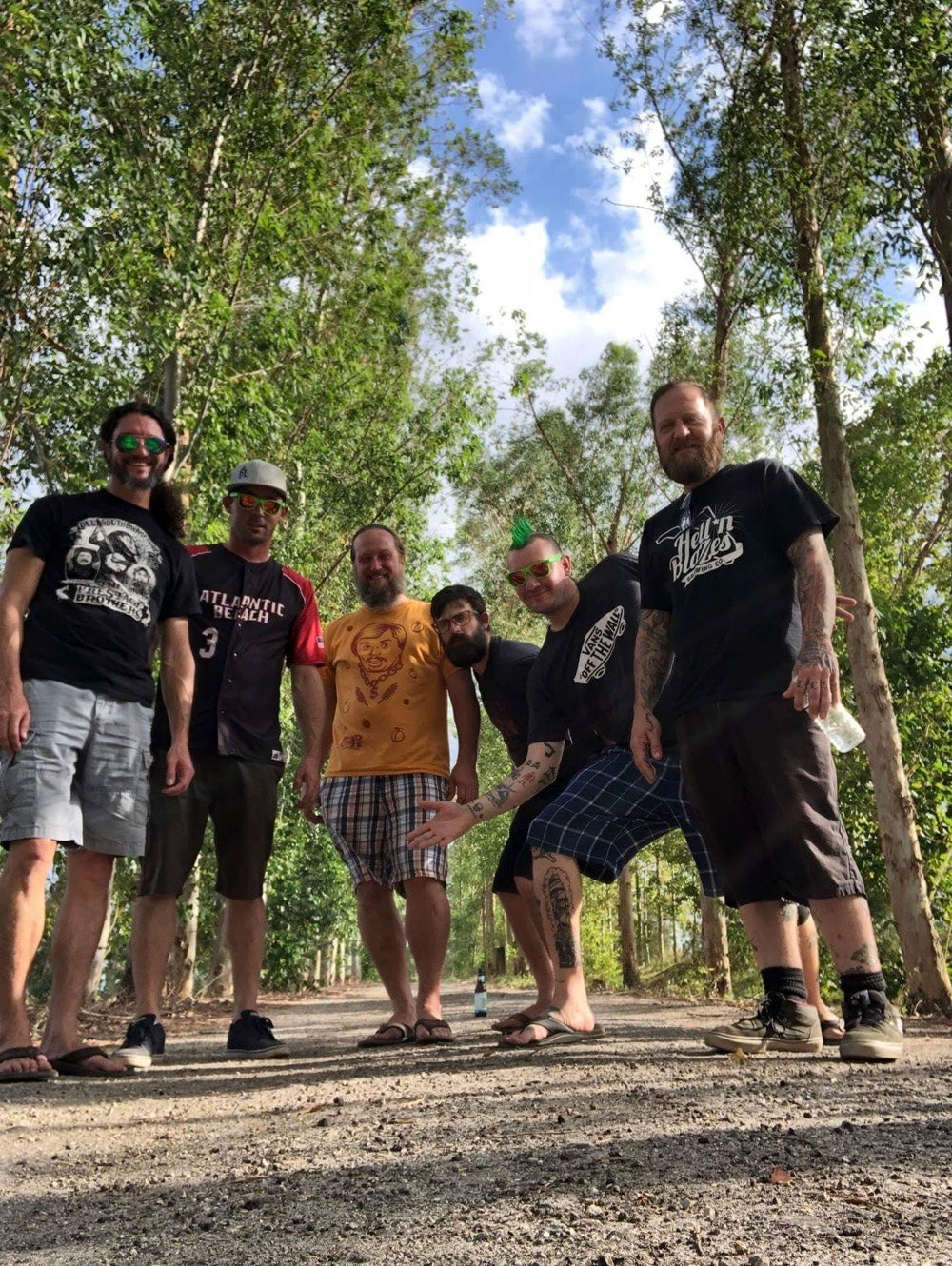 The Firewater Tent Revival (Friday Evening)
Expect the unexpected!  Described as a "whiskey snortin', happy-go-lucky, good-time band," the Firewater Tent Revival is a psychedelic bluegrass band from Jacksonville, FL that will make you want to dance.
Formed in 2010 and originally called The Hopeless, Dave Smith and Jon Deering formed the band simply to be able to keep playing music together. Soon after, new members joined the band and it had several featured guest artists.
The group recorded their first EP Sinkin Boat in February 2015. Two months later, in April, they played their way into the hearts of the Jacksonville public, winning third place in the popular crowd funding festival One Spark as voted for by the people.
These Florida-natives' latest EP "Playin' The Fields" has over 14,000 copies in circulation and has become a regular spin on Orlando's 104.1 Real Radio "Sunday Morning Coming Down". Readers voted them 2018's "Best Original Band" in Folio Weekly Magazine, Jacksonville's most widely printed arts and entertainment publication. The publication proclaimed, "The Firewater Tent Revival Burns it up with primo bluegrass and a hot party vibe" and describes them as being "on a subliminal mission to return the music to its original function as pure entertainment." 
"When it isn't fun to do any more it's over," is the perspective the band maintains.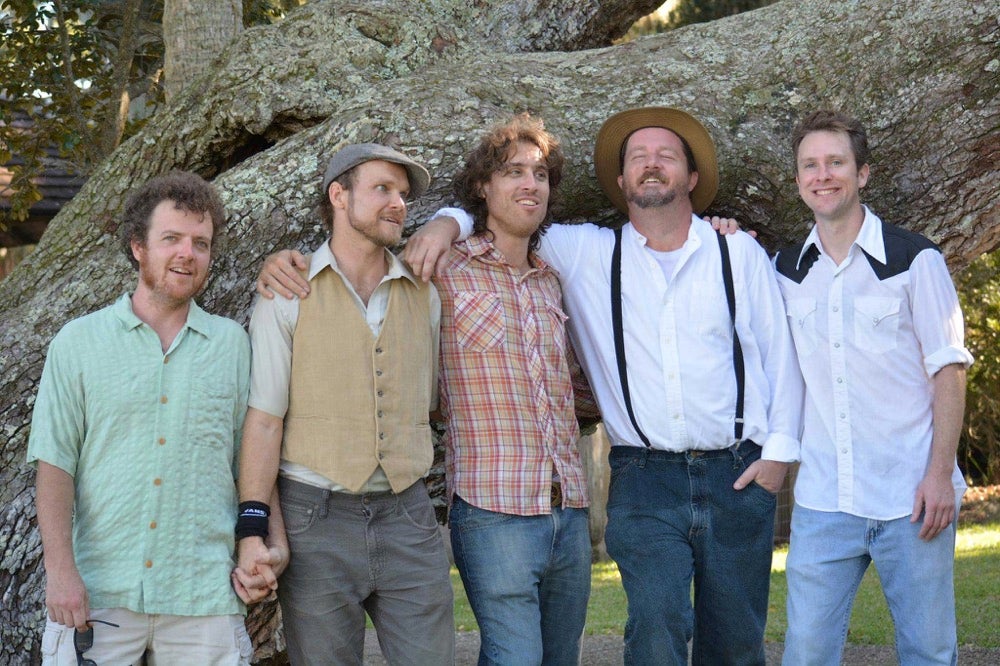 Wild Shiners (Saturday Evening)
Wild Shiners has been called face-melting Americana and stands by that. Never ones to shy away from a groove, the boys in the band play high energy bluegrass-inspired rock and roll. With banjo, fiddle, flat-pick guitar, upright bass, and drums, Wild Shiners' original sound has been fertilized by southern roots music like country blues, jazz, southern soul, bluegrass, and outlaw country. Wild Shiners' self-titled EP has garnered radio play on GrowRadio out of Gainesville, and WFCF Flagler College Radio in St. Augustine. Always serving the song and serving the listeners, Wild Shiners has maintained a steady schedule of playing bars, listening rooms, and festivals throughout the state.
Meet the boys in the band: Andrew Cook is Gainesville, Florida's in-demand fiddler, and his clear fiddle style is instantly recognizable. Trained classically, but also an award-winning old-time and bluegrass fiddler, Andrew brings a depth of tradition and progressive ideas to each song, and he's a great harmony singer to boot. Tom Grant, a Gainesvillian, is known on the festival circuit campgrounds and stages for his original, melodic banjo style – a key element of Wild Shiners' sound. His songwriting is just as strong and unique. A founding member of Wild Shiners, Tom is a powerhouse musician all around. Brian Turk hails from Gainesville where he lives and plays in several local bands, because on bass, Brian is every band's dream. His understated upright playing is in the pocket and as solid as they come. Brian's been with Wild Shiners since its inception and has kept the band and the music grounded. T'ai Welch of Saint Augustine, FL is that rare drummer who can hold the deepest groove, ground the rhythm section accompaniment on the squirreliest melodic arrangements, and sing harmonies all the while. T'ai has contributed original songs to the Shiners setlist and is as musically proficient as they come. His acute attention to the moment brings him into every song, every time.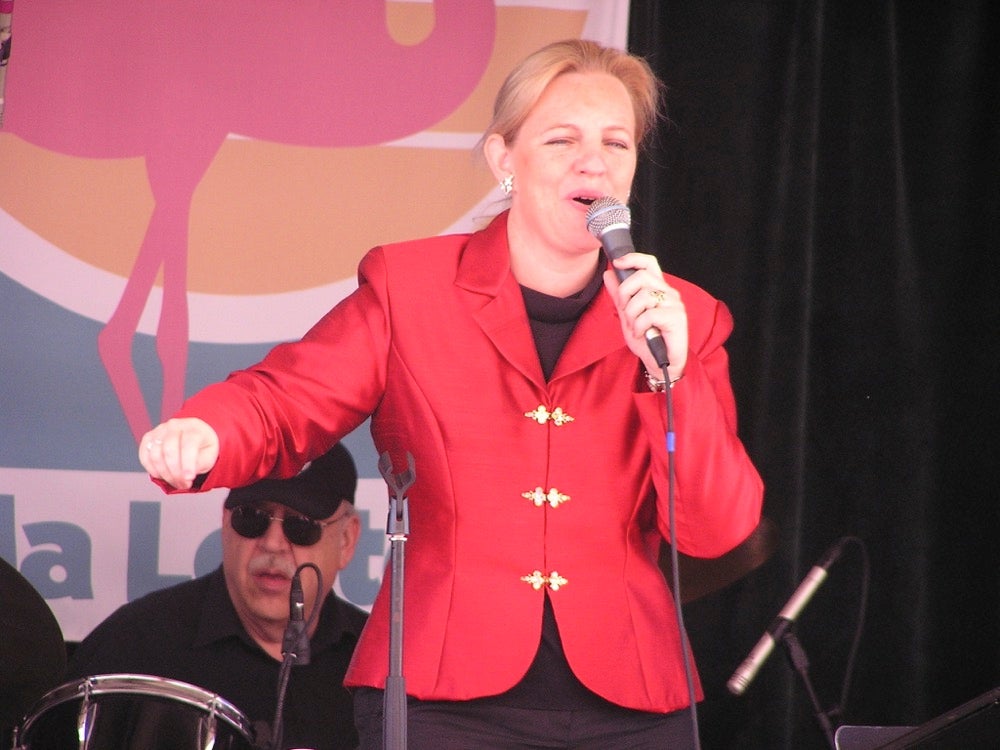 Mindy Simmons and Friends (Saturday Evening)
Songstress-diva Mindy Simmons is a cherished member of the Florida Folk Festival family. She has participated annually for over 20 years. This year Mindy is joined by her friends: Lisa Bohn on ukulele/vocals, Ellen Bukstel on vocals, Mark Goldberg on bass/vocals, and Ed Kinder on keyboard/mandolin,
Mindy energizes audiences with her delightful interaction and broad emotional performances. She engages us with her witty banter between songs, while the songs themselves often show a healthy dose of humor. Mindy is just what the laugh doctor ordered. "Think Carol Burnett meets Peggy Lee, and you've got Mindy." Combining quick wit and charm with a voice that moves flawlessly from satin smooth to gutsy, she creates memorable performances that feel like an evening with your best friend.
A seasoned professional, Mindy has toured nationwide since 1980. Her repertoire is a soulful combination of the originals and standards that shaped her career. She's sold thousands of CDs to a growing loyal fan base. Headquartered in Sarasota, Florida, Mindy performs at major folk festivals throughout the state. The South Florida Folk Festival, The Will McLean Festival, and The Gamble Rogers Festival have hosted her lively folk, blues and jazz performances. Mindy has shared concert stages with Loudin Wainwright III, Cliff Eberhardt, Cosy Sheridan, Asleep at The Wheel, Vance Gilbert, and John Hammond Jr., to name only a few.
Seeing Mindy Simmons perform is fun!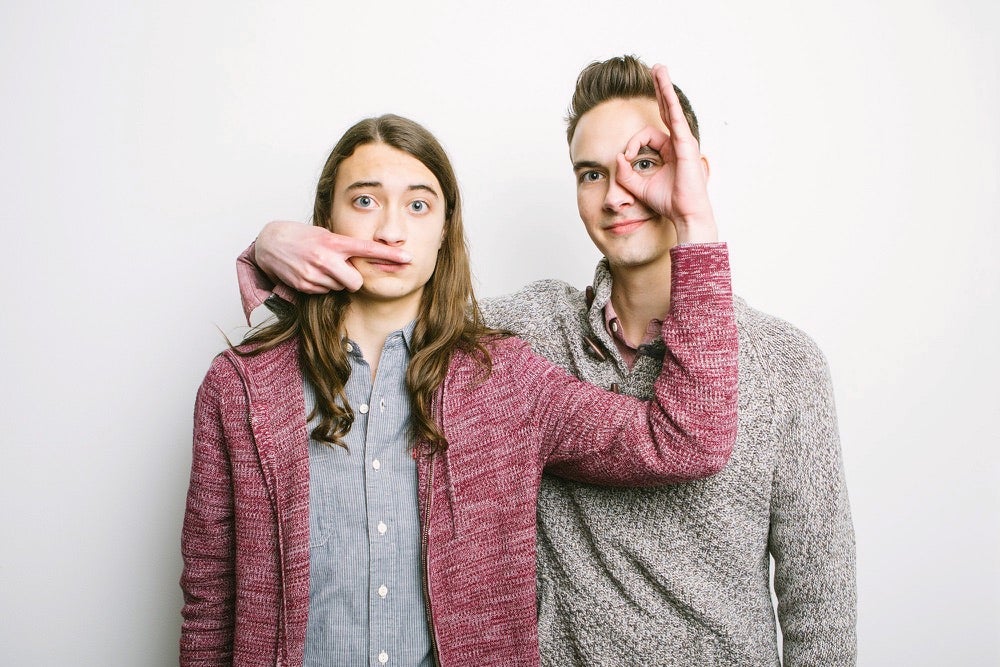 Brother Brother (Sunday Evening)
Singer-songwriters Bradley and Brett Anderson, known as Brother Brother, create new generation Americana folk. The energy of this sibling duo brings light to today's roots music revival. The boys have original harmonies like a breath of fresh air and songs ranging from "foot-stompers to tear-jerkers". Their lightning fast finger-picking is featured on both acoustic and electric guitars and banjos with some mandolin and creative percussion thrown in for good measure!
The brothers' generational grass roots are in Florida where they grew up on a homestead near the Myakka River. Literally raised in a barn, the Andersons were schooled at home and learned off-grid life as they farmed and made music with family and friends.  The boys' musical career sprouted from Gospel and Bluegrass in the church down the road and farmers markets then grew into their own alt folk rock style as they were welcomed by Florida music festivals and events around their home state.
The next season of Brother Brother's career began when they were invited to perform at the Jim Stafford Theater in Branson, Missouri. Bradley and Brett started making music with their father and they continue to grow and yet remain grounded by advice from music greats they've had the privilege of meeting. Along with mentorship by Jim Stafford they've learned from treasured moments with folk music father Frank Thomas, original "pickers and grinners" Roy Clark and Buck Trent, country music legend Mickey Gilley and John McEuen of the Nitty Gritty Dirt Band. Brother Brother recently toured from the mid-west to Nashville, Birmingham and throughout Florida before returning for another season of performances in Branson. The brothers are currently creating a third recording project, preceded by their namesake album, Brother Brother and first EP/CD as The Anderson Brothers. No matter where the journey takes them, Bradley and Brett always look forward to making music with their Florida folk!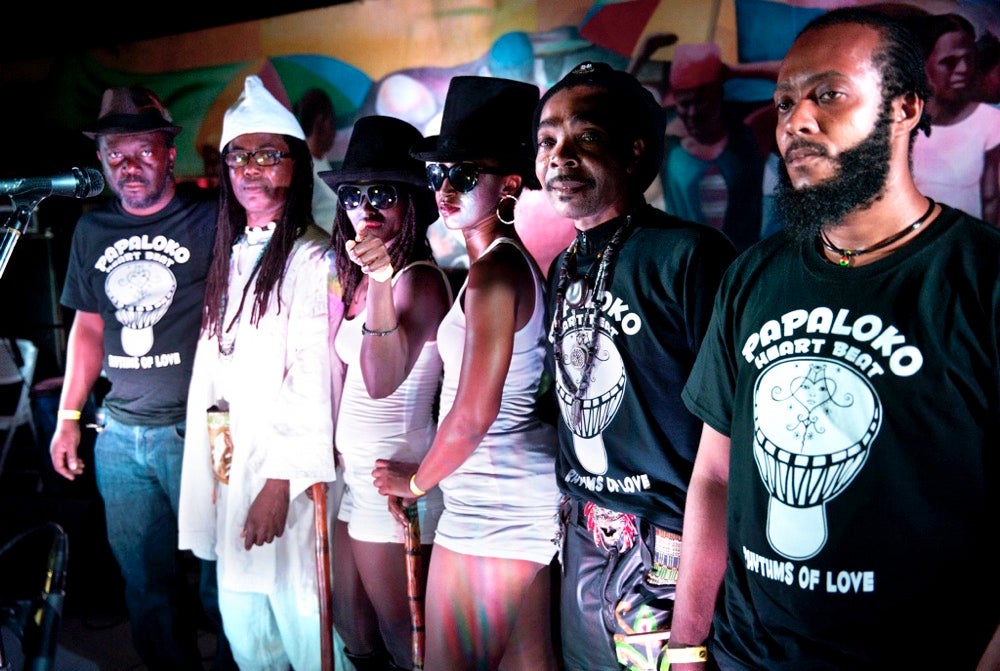 Papaloko & Loray Mistik (Saturday Evening Dance)
"Mystic Thunder", this is the meaning of Loray Mistik, an exciting group which emanates from the hills and villages of the mysterious, ancient land of Haiti. Their music brings forward the truth of their traditions with rhythms played out on the drums like the sound of the mystic thunder of the Gods.
Vodou speaks to the heart of Haitian people, putting forth a message of social conscience and spiritual strength. It also typifies the music of the Lwa (the Spirits or Orishas) of Africa, with many songs bringing prayers to the 101 Vodou Nations that look over mankind and protect us all. In slavery days, Haiti became a melting pot of African tribes. With the new arrivals many tribal religions blended with a new rhythm created by Don Petwo, a Vodou priest, who combined the attributes of the spirit of Metal, Iron and Justice, Ogun, with Congo rhythms creating Petwo music. Rhythms of the already present Arawak and Taino Indians blended with immigrant African rhythms and the sound of Rara was born. As the popular folk music rooted in Vodou, Rara brought news to the people of the villages and towns and is also played in weddings, funerals, and all social events.
The leader of Loray Mistik, Jude Thegenus, better known as Papaloko, is an artist, whose work is born through trance, the act of falling into a deep meditative state and then being possessed by a spirit whose purpose is to paint strokes of life onto canvas. At about age six, Jude began to study sculpture and ceramics at the Art Institute of Saint Jean Bosco and later completed his education at Lycee Antenor Firmin. Papaloko's work can be found internationally in galleries, private homes, cafés, restaurants and nightclubs. He is currently putting the final touches on an eighteen-year project at Mango's Tropical Café on Ocean Drive in South Beach, where he was commissioned to design a tropical atmosphere within the realms of his extreme creative talent.
Loray Mistik performs true Vodou music. Traditional instruments like the kleroon, graj, fe iron, conch shell, cha cha, jon, hand bass, and the drums unify with the eclectic sounds of the guitar, bass and saxophone to create what they call "Vodou pop". Jude believes that many come to their performances for the spiritual aspect of the music. When Loray Mistik performs it is a much for themselves as is it for the audience. They feel the music first, they never just put on a show.
Special Guest Artists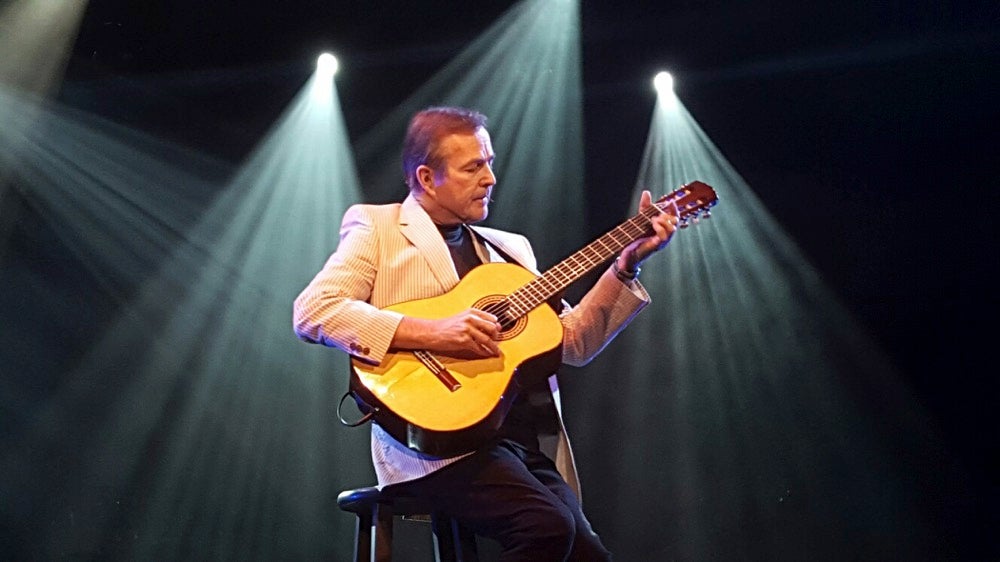 Jim Stafford (Sunday Evening)
Winter Haven native; Jim Stafford is a comedian, singer, songwriter, and entertainer extraordinaire. He wrote and recorded his first chart making song, "The Swamp Witch", produced by his boyhood friend Kent LaVoie a.k.a Lobo in 1974. He followed with a gold single, "Spiders and Snakes", which stayed on the American pop charts for 26 weeks. The hits just kept coming and included "My Girl Bill", "Wildwood Weed", and the wonderfully satirical "Cow Patti", written for the Clint Eastwood movie, Any Which Way You Can, in which Jim appeared.
For over 20 years the Jim Stafford show is always named a favorite by audiences and critics alike. The singer, songwriter, comic genius, and entertainer extraordinaire is self-taught on guitar, fiddle, piano, banjo, organ, harmonica and the human brain--he might bring any of them into play at any moment. 417 Magazine, the Springfield News Leader and the Branson Entertainment Awards have voted Jim Best Entertainer, Best Personality and Best Comedy Show. Mayflower Tours has named Jim's Show as one of their top ten suppliers in North America. Jim wrote many of the songs for which he is famous and has brought his inimitable style to several movie soundtracks. He received a gold record for his work in the Disney movie The Fox and The Hound and writes for many other popular artists.
Jim launched his television career with The Jim Stafford Show on ABC in 1975. His numerous television appearances included music specials, variety shows, and talk shows. He co-hosted the popular prime-time show Those Amazing Animals with Burgess Meredith and Pricilla Presley. Jim also hosted 56 episodes of Nashville on the Road and made 26 appearances on the Tonight Show. In 1987 & 1988, Jim was a regular performer and head writer/producer for the Emmy-nominated Smothers Brothers Comedy Hour.
Jim's first love has always been live performance. During his show Jim combines hysterical comedy with masterful performances on the classical guitar as well as with heart-warming stories of the human spirit. Critically acclaimed as the "Victor Borge of the Guitar", Jim creates hilarious antics from everyday life taking laughter to a new art form.  He'll share his secrets for creating stage presence.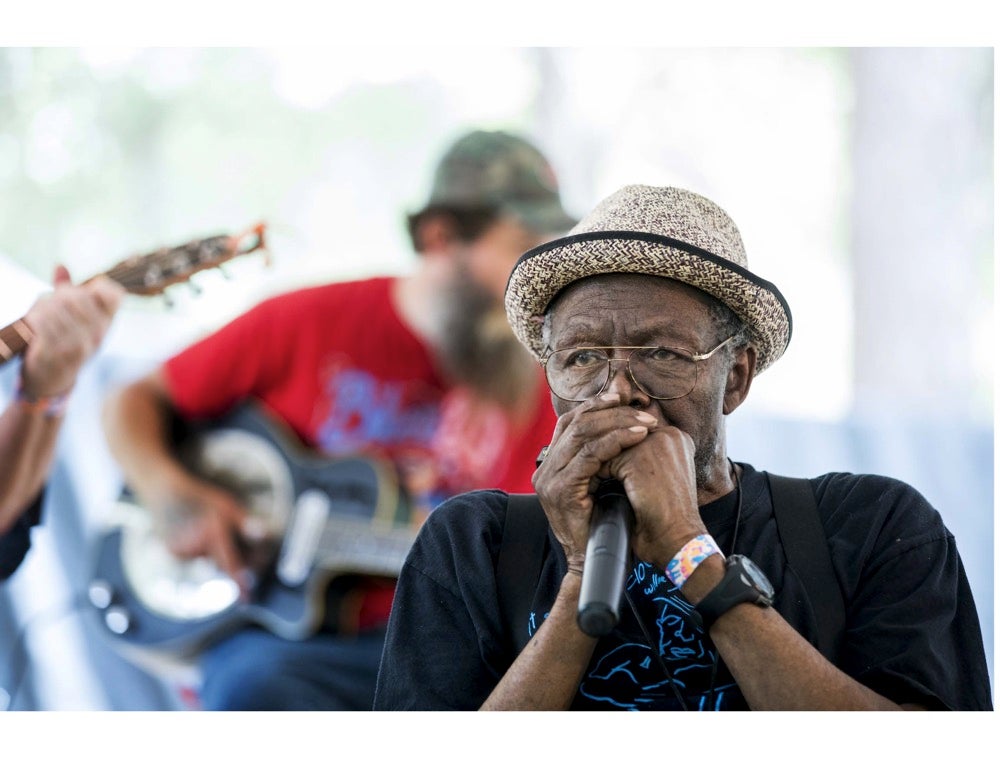 Willie Green Blues Band (Saturday Afternoon – Old Marble Stage)
Legendary bluesman Willie "Real Deal" Green, will enthrall Festival fans with his melodic-howling harmonica, his twangy-rhythmic guitar, and soulful blues-driven vocals.
Green has opened for well-known blues musicians including Robert Cray and Eric Clapton, shared the stage with the late "Honeyboy" Edwards, and collaborated with Southern rock group J.J. Grey and Mofro. Green has released three albums including Cross Creek Blues featuring J.J. Grey and has performed for thousands at concerts and music festivals including the Florida Folk Festival, Magnolia Fest, Springing the Blues, and the International Blues Challenge in Memphis, Tennessee.
Willie Green was born in the mid-1930s to a family of sharecroppers and migrant laborers in Pine Level, Alabama, outside of Montgomery. He quit school to help support his family and traveled from farm to farm throughout the southeast and as far north as Maine, harvesting peanuts, fruits, and vegetables. As a teenager, Willie would sneak out at night, hitchhiking or hopping a freight train to town to hear the old blues masters. Those youthful excursions eventually prompted him to learn to play the harmonica and guitar.
In the 1960s, he settled in South Florida, worked a series of manual labor jobs, and performed on the side at Florida clubs like the Blue Chip, the Down Beat and the Diamond Club. Green moved to Ocala in the 1980s, where he fell on hard times, and began playing for tips at The Yearling Restaurant in Cross Creek. It was there that Green was discovered, and then booked to open for Grammy-winning blues musician, John Hammond.
He continues to play at The Yearling Restaurant and has advanced the local appreciation of the blues as an Artist in Residence at schools. In 2010, Willie Green received the Stetson Kennedy Foundation's Fellow Man and Mother Earth Award.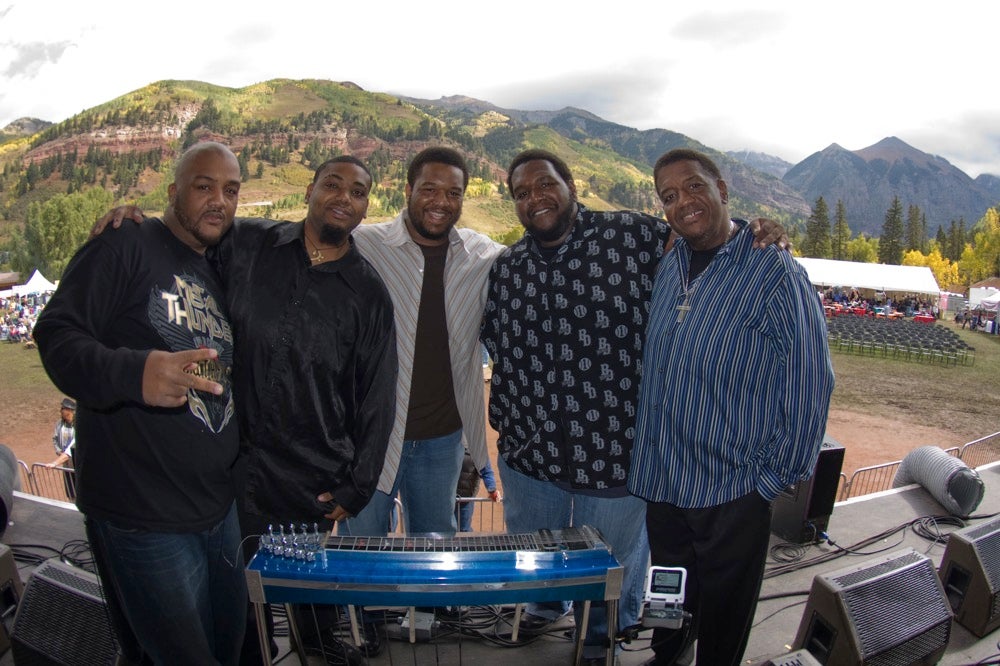 The Lee Boys (Saturday Afternoon – Paw Paw Stage)
The Lee Boys are one of America's finest African-American sacred steel ensembles. This family group consists of three brothers, Alvin Lee (guitar), Derrick Lee and Keith Lee (vocals) along with their three nephews, Roosevelt Collier (pedal steel guitar), Alvin Cordy Jr. (7-string bass) and Earl Walker (drums). Each member began making music at the ages of 7 and 8 in the House of God church they attended in Perrine, FL. Born and raised in Miami, each of The Lee Boys grew up in the church where their father and grandfather, Rev. Robert E. Lee, was the pastor and a steel player himself.
"Sacred steel" is a type of music described as an inspired, unique form of Gospel music with a hard-driving, blues-based beat. The musical genre is rooted in Gospel, but infused with rhythm and blues, jazz, rock, funk, hip-hop, country and ideas from other nations. Influenced by the Hawaiian steel guitar fad of the 1930's, brothers Willie and Troman Eason brought the electric lap steel guitar into the worship services of the House of God church in Jacksonville, FL. The Pentecostal congregation embraced the soulful sound, and over time this unique sound became the hallmark of the church. The Lee Boys are part of the fourth generation of musicians in this faith.
When The Lee Boys bring their joyous spiritual sound to the stage, audiences instantly recognize that this is not "sitting and listening" music: dancing, shouting out, and having fun are considered essential parts of their tradition. Founder and bandleader Alvin Lee explains, "the inspiration and feeling that comes along with our music is the reason that people feel good. It is like the new music on the block and it's just getting ready to explode!" It's mostly original material, with a few standards and hymns the group "blueses up a little."  In 2008-09 alone they performed for more than 250,000 music fans at festivals throughout the United States. In the process, their unique sound has attracted musical artists such as Bob Weir of the Grateful Dead, The Allman Brothers Band, The Black Crowes, Los Lobos, Gov't Mule, Umphrey's McGee, Ivan Neville's Dumpstaphunk and The Travelin' McCourys- all of whom have played with the Lee Boys and/or invited them to tour with them.
They've performed throughout the United States, Canada and Europe and will continue influencing audiences worldwide with their "sacred steel". Their tour calendar includes over 100 major festival performances, including headline stops at the New Orleans Jazz and Heritage Festival, Memphis in May, Bonnaroo, Austin City Limits, MerleFest, DelFest, Wanee and All Good Festival. In December 2008, the band debuted on national television with a rousing performance on NBC's Late Night with Conan O'Brien that had the host jumping out of his chair and raving about the band.
The Lee Boys have been in the studio with The Travelin' McCourys have completed a joint album entitled "Meetin' In The Middle" which illustrates their amazing bluegrass/sacred steel festival shows and adds to their growing discography.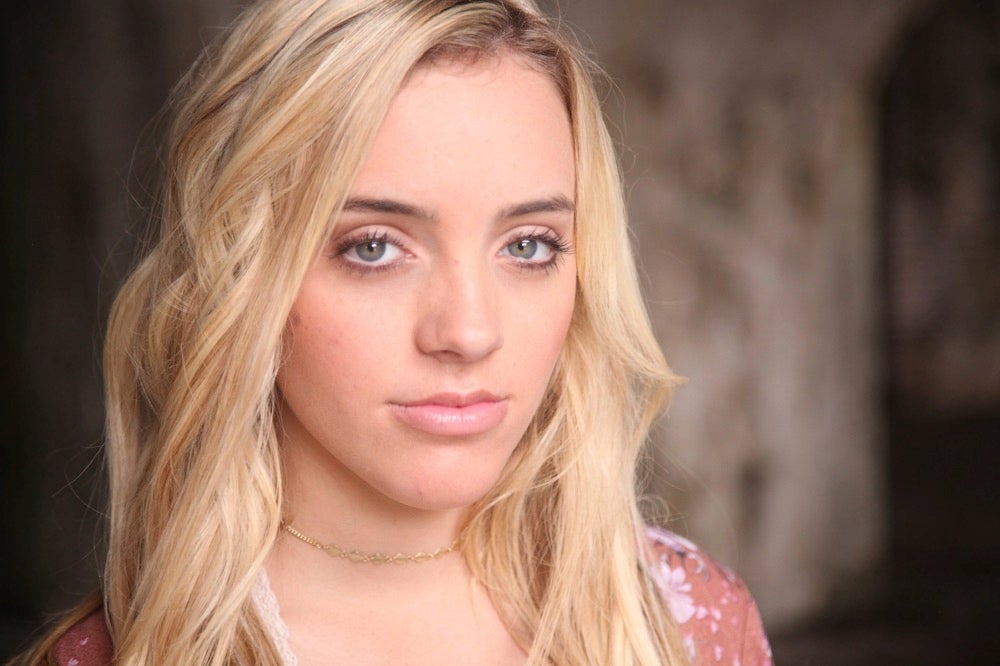 Chloe Channell (Sunday Afternoon – Heritage and Dance Stage)
Chloe Nichole Channell, the youngest of 3 children and the only girl, was born December 27, 2001 in Pensacola, Florida to Jeff and Kim Channell. It became apparent Chloe was going to be a great vocalist when she started singing as soon as she could form words. Chloe Channell started singing professionally at the age of six after surviving a near fatal accident. At the age of 4 Chloe fell out of a golf cart, fracturing her skull, with threats of permanent brain damage. Chloe recovered and started singing with an ability beyond her years. When she was seven, she was discovered by Mr. Sandy, a steel player in North Florida who gave her a job at the Chumuckla Farmer's Opry appearing on weekends. At the age of eight, Chloe went into Coleman Studios in Navarre, Florida, with a native Nashville band, to record her first self-titled CD.
At the age of 11, Chloe was a semi-finalist on America's got talent.
In the fall of 2013, Chloe was cast in the Toy Shoppe, a Kenny Rogers Musical, starring with Billy Dean in Branson, MO. Recently, Chloe fulfilled one of her life long dreams of performing for the Grand Ole Opry with Billy Dean at the Ryman Auditorium. Just in time for Chloe's 16th birthday, December 27, 2017, the Billy Dean Music Group announced the release of Chloe's debut EP "WALLS". "Walls," a collection of 5 of her original songs is just the beginning of her body of work. Chloe has performed in over 300 shows across the Southeast, opening for such stars as: Tracy Bird, Rodney Adkins, Little Big Town, Craig Morgan, Ronnie McDowell, Gene Watson, John Conlee, and the "Queen of Bluegrass" Rhonda Vincent. Chloe Channell is a fireball with a great personality and a driving passion to perform, and she credits all that she has to God who blessed her with an insatiable personality and incredible voice.