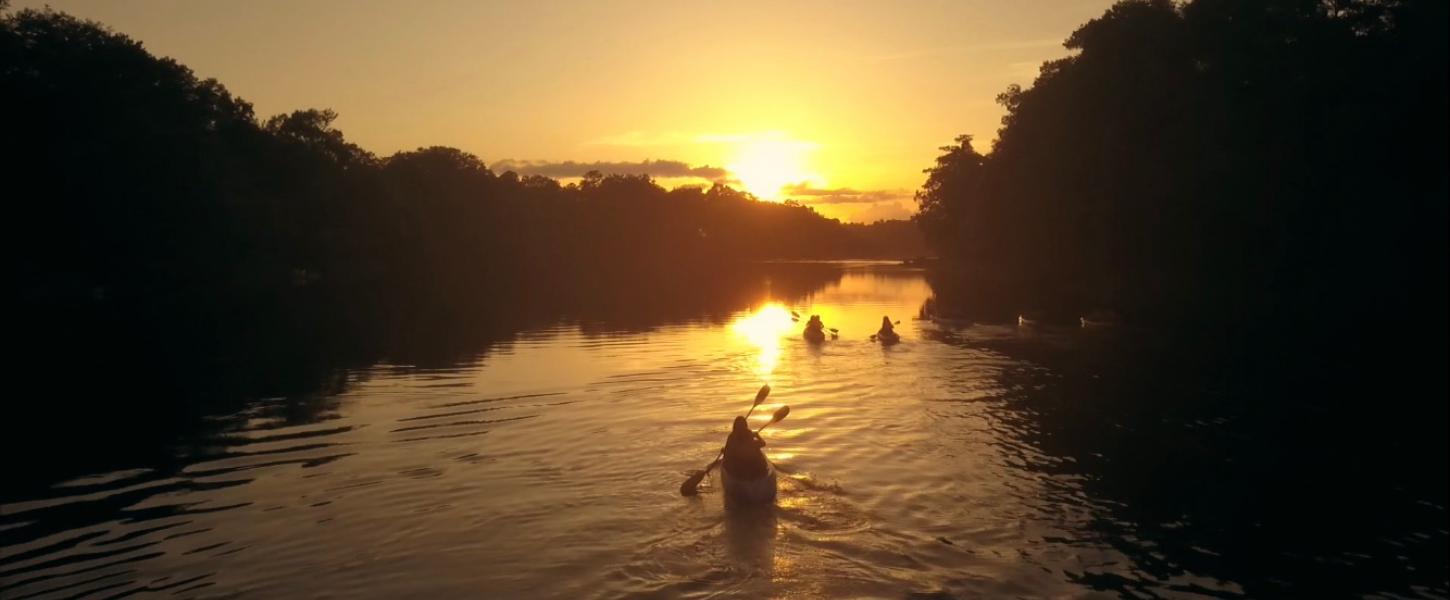 Suwannee River Wilderness State Trail
chain of public and private campsites make traveling the picturesque Suwannee River an enjoyable excursion
River Camp Landings
All the river camps are open and operational. If you arrive at Holton Creek or Dowling Park camps, please be aware that the landing docks have been compromised so you need to pay attention to the caution taped areas. Fencing has been removed, and landing areas are flagged off to make your arrival easier. We will have these facilities repaired and available to visitors as soon as possible.
Hours
Open 365 days a year for day-time use and overnight camping.  Check for flood conditions prior to your visit.
Location
Contact Info
800-868-9914
Welcome to Suwannee River Wilderness State Trail
The Suwannee River Wilderness Trail is a partnership of locations along the river to provide amenities to trail users, these locations have been designated as river camps, hubs and parks. 
To begin planning your Suwannee River Wilderness Trail Adventure, please read about the locations along the way below as well as a very thorough paddling guide available online.  Also take a look at an excellent map which charts boat ramp locations and mileage along the river or a similar interactive boat ramp map, and contact one of the local outfitters to make gear or transportation arrangements.  Once your plans are set, be sure to contact each overnight location for reservations and prepare a float plan to leave with someone on land.
River Camps
Five river camps, including Woods Ferry, Holton Creek, Dowling Park, Peacock Slough and Adams Tract, are nestled into the river banks to provide comfortable overnight accommodations.  Each one is approximately 10 miles from established parks and campgrounds on the river.  Each camp features five screened sleeping platforms.  Each platform sleeps up to 8 people, has a ceiling fan and an electrical outlet, hammock hooks for at least 3 hammocks, and a small seat and table.  Just outside, each platform has a spigot with potable water, a fire ring and a picnic table.  In addition to the five screened sleeping platforms, each river camp also has primitive campsites, hot showers, restrooms, grills and picnic tables and a picnic pavilion.  There is no charge to stay at River Camps and they are popular so we encourage you to reserve your spot to guarantee space for your group.  When reserving multiple platforms for your group, please figure on eight people per platform so that our camps can provide accommodations for as many river travelers as possible. 
Please review the River Camp rules before making reservations.  To make reservations, call 1-800-868-9914.
River camps are only accessible from the river or in some cases, hiking trails.  No vehicles are allowed.  Outfitters can work with visitors to deliver gear, coolers and food to the river camps.  Ask your outfitter for specific services.
Hubs
Hubs are towns or parks from which visitors can explore the river and its surrounding areas by canoe or boat, bicycle, horse automobile or on foot.  A wide range of goods and services are provided to meet visitors' needs.  Visitors can enjoy special events, shopping and other activities.  For visitors traveling down the river, hubs can be great starting and ending points or an opportunity to restock supplies.
Stephen Foster Folk Culture Center State Park
The mighty Suwannee River starts small as it flows from the Okeefenokee Swamp in southern Georgia at Stephen C Foster State Park.  This remote park is a primary entrance to the legendary Okefenokee Swamp—one of Georgia's seven natural wonders. Spanish moss-laced trees reflect off the black swamp waters, while cypress knees rise upward from the glass-like surface. Here, paddlers and photographers will enjoy breathtaking scenery and abundant wildlife.  Adventurous paddlers may start their journey here.  Some portaging may be necessary to cross the shoals above White Springs.
White Springs, located along the upper Suwannee River is a popular starting point for paddlers on the Suwanee River Wilderness Trail.  Here, the river is narrow and flows through towering pines and stately cypress that line steep riverbanks and high bluffs.  Limestone cliffs and outcroppings, and white sandbars make the upper Suwannee an ideal setting for picnics and leisurely canoe or kayak outings.
Antique and art shops, Bed & Breakfasts and restaurants entice visitors to stay a while in White Springs. Stop by local outfitters to customize a paddling trip, a half-day paddling trip or an overnight adventure, including a trip to Big Shoals, Florida's only Class III white water rapids.
While in White Springs, visit Stephen Foster Folk Culture Center State Park, with museums highlighting the musical career of the artist who made the Suwannee River famous. Stephen Foster's campground, vacation cabins and canoe launch make it an ideal base camp for exploring the area.
Spirit of the Suwannee Music Park
The Spirit of the Suwannee Music Park is famous for its music concerts and festivals.  This private park also offers RV, tent and primitive camping and cabins.  Visitors enjoy the restaurant and country store.  A full service stable and horse camping are available. 
Suwannee River State Park at Ellaville
Suwannee River State Park is a perfect place for spending time on the Suwannee River.  Just inside the park you'll find a high bluff that overlooks the spot where the Withlacoochee River joins the Suwannee on its way to the Gulf of Mexico. Fishing, hiking and picnicking are favorite activities in this park.  Stay in one of five beautiful cabins or camp in the full facility campground.
Advent Christian Village at Dowling Park
At Dowling Park, visitors find the Advent Christian Village, a retirement community on 1,000 acres on the historic Suwannee River. Visitors can shop at the grocery store or visit the cafe.  Medical facilities are available. Birdwatching, hiking and fishing are popular. 
Lafayette Blue Springs State Park near Mayo
Swimming and snorkeling in the spring is refreshing on a hot summer's day.  River fishing is popular. Ten walk-up campsites and a primitive group camp are provided with water and electric on a first-come, first-served basis. Five vacation cabins are also available for rent with advanced reservations through Reserve America.  A portable restroom facility is available in the campground and a restroom facility with a cold-water, outdoor shower is available in the spring area. This park is accessible by boat from the Suwannee River and by car from County Road 292.
The river widens along the lower Suwannee near Branford. Sandy banks become lower and slope gently toward the river.  Located in the heart of Florida's spring and river country, Branford is 20 minutes from High Springs, Live Oak and Mayo-towns along the "Antique Trail." Branford features many businesses including motels, convenience stores, restaurants and many others.  This is a great town for refreshing supplies or setting up base camp. Ivey Memorial Park provides a parking lot and boat ramp at the river's edge in the heart of town.
The town of Fanning Springs on US 19 in Gilchrist County, offers restaurants, motels and the popular Fanning Springs State Park, where visitors can take a swim in the crystal clear waters of the spring. Vacation cabins are available for lodging. For more information, visit the Fanning Springs Chamber of Commerce.
A fishcamp/motel in Suwannee provides quick access to both saltwater and freshwater fishing. Campgrounds and motels are available in nearby Chiefland, Cross City and Old Town.  Suwannee is an excellent base camp for anglers and seafood lovers. Anglers can cast for largemouth bass in the river or in freshwater creeks.  The Suwannee and its tributaries are home to the Suwannnee Bass, which is smaller than a largemouth bass and has a distinctive feature: red eyes.  Redfish and speckled trout are found in grass beds at the mouth of the river. Grouper, spanish mackerel and other saltwater catches are a short boat ride to the Gulf of Mexico.
Local restaurants serve fresh seafood-both saltwater and freshwater-a double delight. The Lower Suwannee runs deep and wide.  Houseboats make fine vessels for cruising the lower 70 miles of the Suwannee River Wilderness Trail and visitors can rent one from Miller's Marina (training included) for several days. Learn more about the town of Suwannee from the Suwannee Chamber of Commerce.
Parks
In addition to the river camps and hubs, a number of state, county, city and private locations are also located along the river for your enjoyment.  If you plan to camp at any of these locations, please contact each park directly for their reservation procedures.