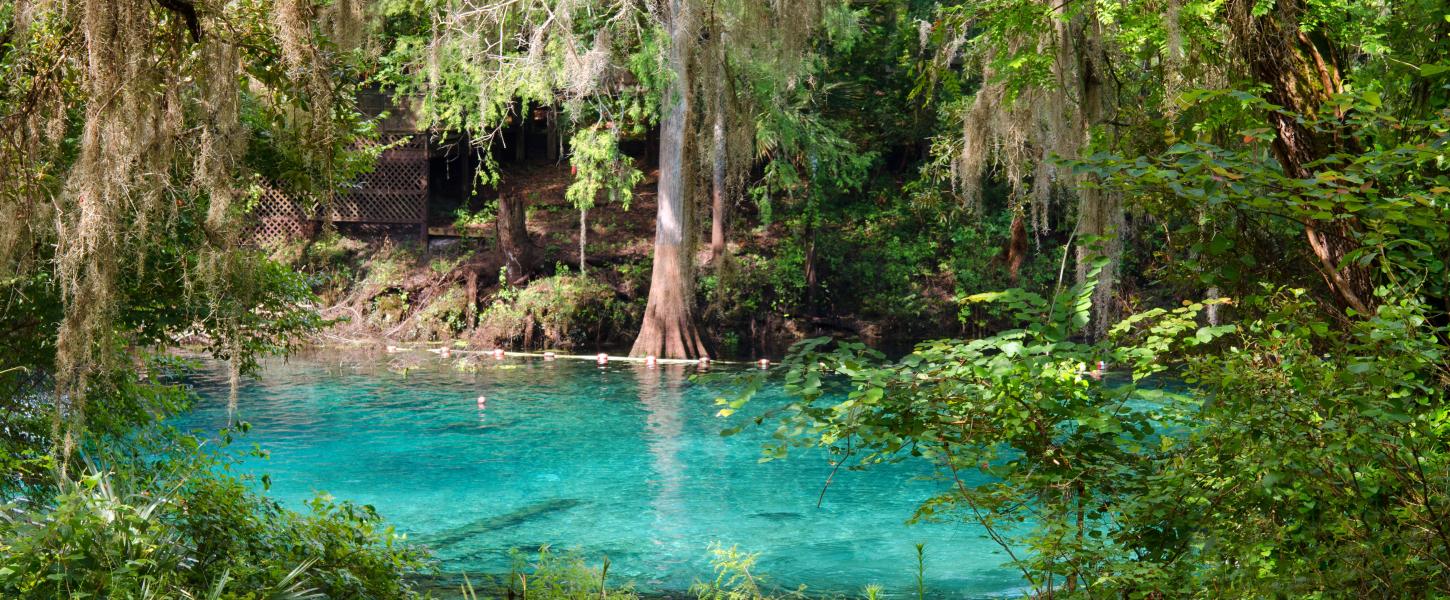 Fanning Springs State Park
Enjoy stunning blue-green spring waters under ancient oaks on the historic Suwannee River
Hours
8 a.m. until sundown, 365 days a year
Location
Contact Info
352-463-3420
Welcome to Fanning Springs State Park
Located along the meandering Suwannee River, Fanning Springs is an inviting source of cool, clear, crisp water that has attracted people for thousands of years.

Fanning Springs produces 65 million gallons of water daily, making it a second-magnitude spring. Historically, Fanning Spring was a first-magnitude springs as recently as the 1990s. The springs offer the perfect 72 degree water to cool down on hot Florida days and an abundance of underwater wildlife to view. Musk turtles, bass, mullet, freshwater flounder, bowfin (and manatees during the colder days) inhabit the springs and river.
Visitors can enjoy grilling and picnicking under majestic live oaks or a friendly game of volleyball on the white sand court. A playgraound provided diversion where young guests can swing and play. A boardwalk allows visitors to step back in time to old Florida with a stroll through a breathtaking cypress swamp with cypress knees standing six feet tall. This boardwalk ends with an overlook and view of the Suwannee River. During the summer, visitors can sometimes see massive sturgeons jumping.
White-tailed deer, gray squirrels, red-shouldered hawks, pileated woodpeckers and barred owls are some of the animals that may be seen around the park. An overlook at the park allows visitors to view the spring in its entirety and provides a spectacular view of the boil.
Visitors can enter the park by boat from the Suwannee River or by vehicle from U.S. Highway 19.
We offer an ADA chairlift for anyone who needs assistance into the spring. Contact the ranger station at 352-463-3420 for information.