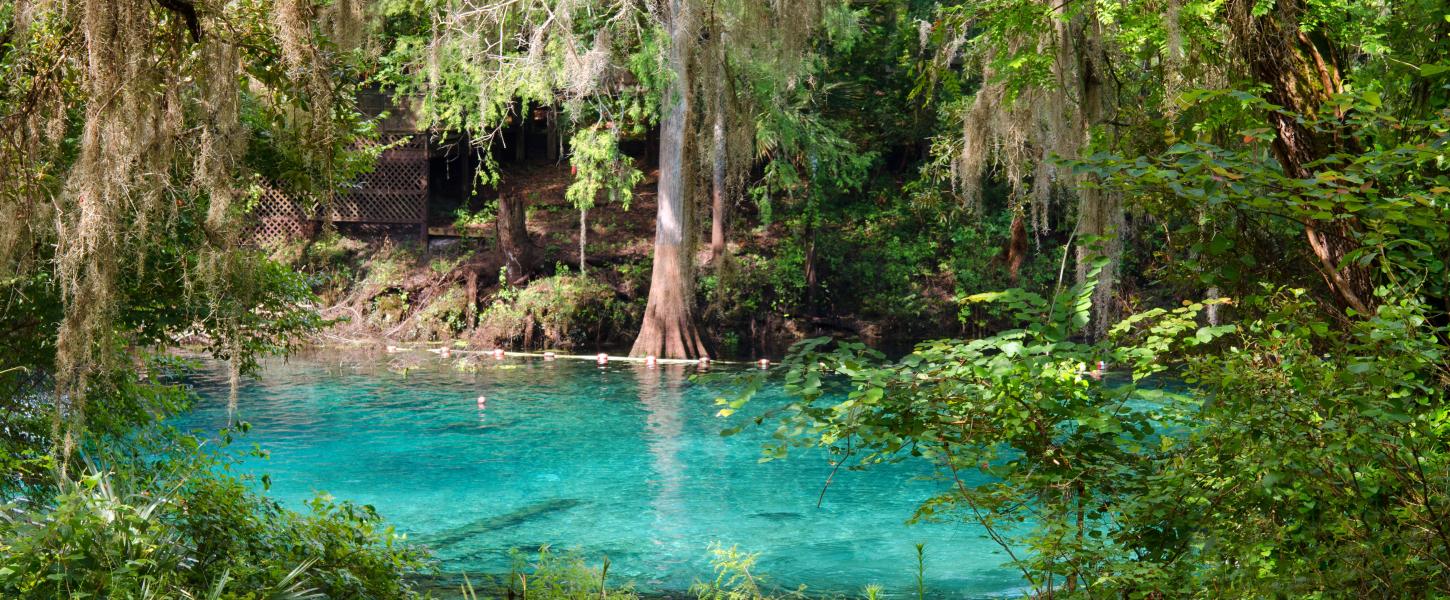 Fanning Springs State Park
Enjoy stunning blue-green spring waters under ancient oaks on the historic Suwanee River
Swimming and Diving Closure
The spring is currently closed to swimming and diving due to high water conditions causing safe entry into the spring a concern. The park is open and all other amenities are still available to visitors. For daily conditions of the spring please contact the ranger station at 352-463-3420.
CAMPERS: Do not bring your firewood into the park
To protect our forests, please do not bring your own firewood into the park. The Emerald Ash Borer infestation is spread by moving infested wood to a non-infested area. Wood is available at the park for a suggested donation of $7. For information, please call the park at 352-463-3420.
Hours
8 a.m. until sundown, 365 days a year
Location
Contact Info
352-463-3420
Welcome to Fanning Springs State Park
Located along the meandering Suwannee River, Fanning Spring in an inviting source of cool, clear crisp water that has attracted people for thousands of years.
Fanning Springs now produces around 65 million gallons of water daily, making it a second magnitude spring. Historically, Fanning Spring was a first-magnitude springs as recently as the 1990s. The springs not only offer the perfect 72 degrees water to cool down on hot Florida days, it also offers an abundance of underwater wildlife to view such as musk turtles, bass, mullet, freshwater flounder, bowfin and manatees during the colder days, just to name a few.
Visitors can enjoy grilling and picnicking under the majestic live oaks, kids can swing and run around at the playground and friends and family can have a friendly game of volleyball on the white sand volleyball court. We have a boardwalk that allows you to step back in time to old Florida as you stroll through a breathtaking cypress swamp with cypress knees standing 6 feet tall. This boardwalk ends with an overlook allowing you to see the Suwannee River and all it has to offer, including massive sturgeons jumping during the summer months. White-tailed deer, gray squirrels, red-shouldered hawks, pileated woodpeckers and barred owls are some of the animals that may be seen around the park. An overlook at the park will allows you to see the spring in its entirety and has a spectacular view of the boil.
Visitors can enter the park by boat from the Suwannee River or by vehicle from US HWY 19.
We offer an ADA chairlift for anyone who needs assistance into the spring, contact the ranger station at (352) 463-3420 for more information.