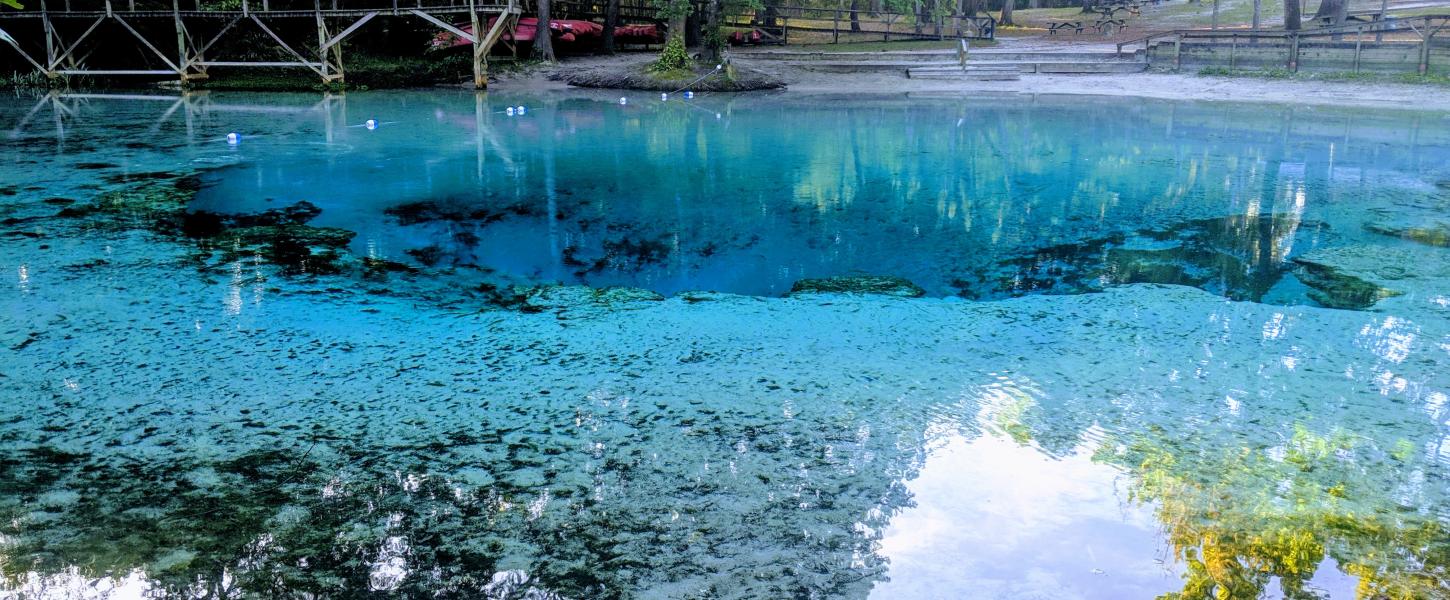 Ruth B. Kirby Gilchrist Blue Springs State Park
Pristine waters and family fun await
Know Before You Go
Effective Sept. 10: Ruth B. Kirby Gilchrist Blue Springs State Park will be accepting cash only through the convenient honor box system pay station. Please take one blue envelope. Put your cash inside: $6 for two to eight people in a vehicle; $4 single-occupant vehicle; children under 6 admitted free. Place blue envelope with cash in green pay-station box. Remove mirror tag from blue envelope and hang in your vehicle.
Pardon Our Dust
As the newest Florida State Park, we are planning for amenity improvements such as the entrance road, campground and bath house. RV campers, please be advised there is currently no dump station. Tent campers staying on sites with power require a 30-amp adapter to utilize household plugs. Be advised that during heavy rains the current park drive can be difficult to navigate. Thank you for your patience.
Hours
8 a.m. to sundown, 365 days a year
Location
Contact Info
386-454-1369
Welcome to Ruth B. Kirby Gilchrist Blue Springs State Park
Gilchrist Blue Springs is the newest addition to Florida State Parks.

The park contains a collection of natural springs, including a large second-magnitude spring that produces an average of 44 million gallons of water per day. This spring, known as Gilchrist Blue, has outstanding water clarity and discharges water through a shallow spring run about one-quarter mile to the Santa Fe River.
The other named springs on-site are Little Blue Spring, Naked Spring, Kiefer Spring and Johnson Spring, which provide scenic vistas and photographic opportunities.
The most significant ecological habitats include the spring run stream and floodplain communities. The main spring run is renowned for a diversity of wildlife species, including turtles, fish and invertebrates. Redbreast and spotted sunfish, largemouth bass, bluegill and channel catfish can be observed in waters with unparalleled visibility. 
Paddling, snorkeling and swimming are all popular at the park. Pavilions are available, and a concession stand provides food and beverage service plus paddling equipment rentals. Other popular activities include camping, hiking, nature study and picnicking. 
Gilchrist Blue Springs State Park is located in Gilchrist County about five miles to the west of High Springs off Northwest 182nd Avenue (County Road 340) in the north-central part of the state along the Santa Fe River.
The park is located 25 miles south of Lake City and 20 miles to the northwest of Gainesville.