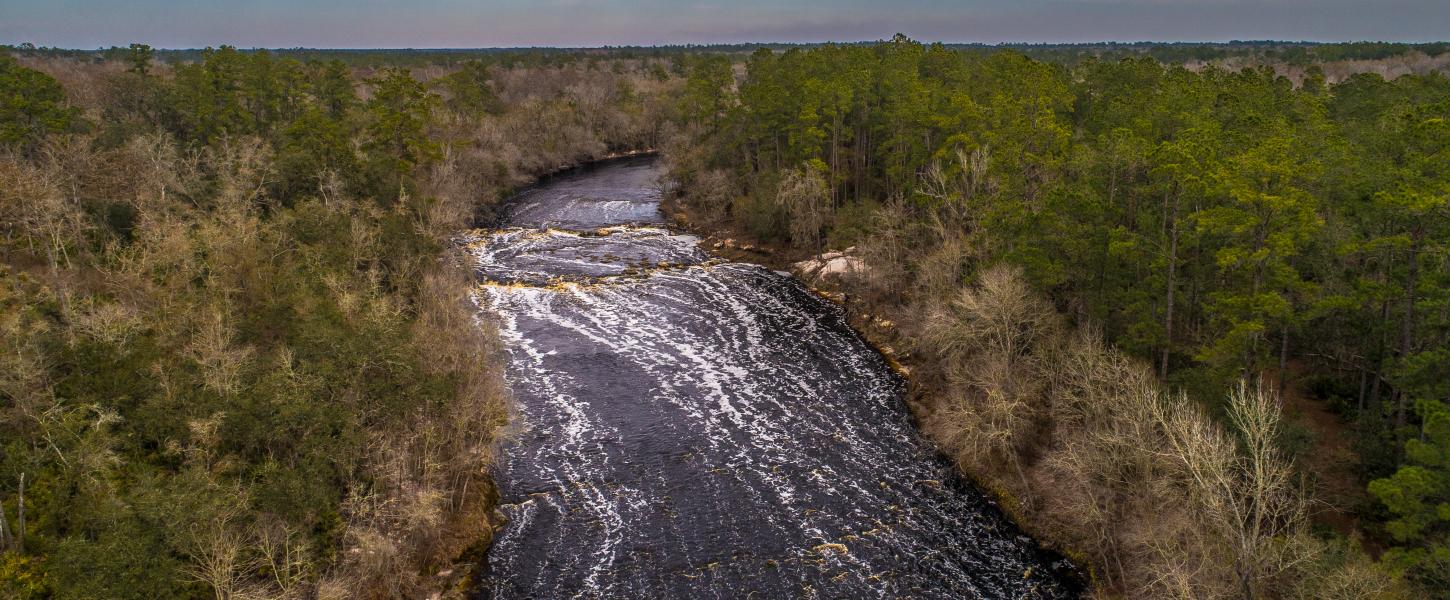 Big Shoals State Park
adventurous trails and rolling hills lead to the largest whitewater rapids in Florida
Road 1 Closed
Road 1 is closed due to flooding. Visitors should use County Road 135 and SE 94th Street to access both Little and Big Shoals Entrances. 
Hours
8 a.m. until sundown, 365 days a year.
Fees
$4 per vehicle; $2 pedestrians, bicyclists, extra passengers. Please use the honor box to pay fees. Correct change is required.
Location
Little Shoals Entrance: 11330 S.E. County Road 135, or Big Shoals Entrance: 18738 S.E. 94th St.
White Springs FL 32096
Get directions
Contact Info
386-397-4331
Welcome to Big Shoals State Park
Big Shoals State Park features the largest whitewater rapids in Florida.
Limestone bluffs towering 80 feet above the banks of the Suwannee River afford outstanding vistas not found anywhere else in Florida. When the water level on the Suwannee is between 59 and 61 feet above mean sea level, the Big Shoals rapids earn a Class III Whitewater classification. 
Only experienced canoe and kayakers should attempt to navigate the shoals. Paddling the shoals is not recommended. There is an area available for portaging around the shoals. 
To view the Big Shoals rapids, park at the Big Shoals parking area and hike one mile on the Big Shoals hiking trail (Yellow Blaze trail). There is no vehicle access to either the Big Shoals or Little Shoals rapids.
The best way to access Little Shoals rapids is to enter the park through the Little Shoals entrance, drive down Road 1 and turn right on Road 6. Drive to the end of Road 6 where you will park your vehicle and hike approximately 0.5 miles down the Mossy Ravine trail (Blue Blaze trail) until you see the sign for Little Shoals.
Over 28 miles of wooded trails provide opportunities for hiking, biking, horseback riding and wildlife viewing.
The Woodpecker Trail, a 3.4-mile-long multipurpose paved trail, connects the Little Shoals and Big Shoals entrances to the park. The river offers excellent opportunities for freshwater fishing. A picnic pavilion that seats up to 40 people is available at the Little Shoals entrance.
Please be aware that limited hunting is permitted during select seasons inside the neighboring Big Shoals Wildlife Management Area. Some of the park's roads and trails traverse through the Wildlife Management Area. Hunting is strictly prohibited within state park boundaries. Hunting regulations and area maps can be found by visiting Florida Fish and Wildlife Conservation Commission.
Big Shoals is located near other awe-inspiring state parks: Stephen Foster Folk Culture Center State Park, Olustee Battlefield Historic State Park, Suwannee River State Park, Suwannee River Wilderness Trail, Madison Blue Springs State Park, Lafayette Blue Springs State Park, Ichetucknee Springs State Park and O'Leno River State Park, just to name just a few!