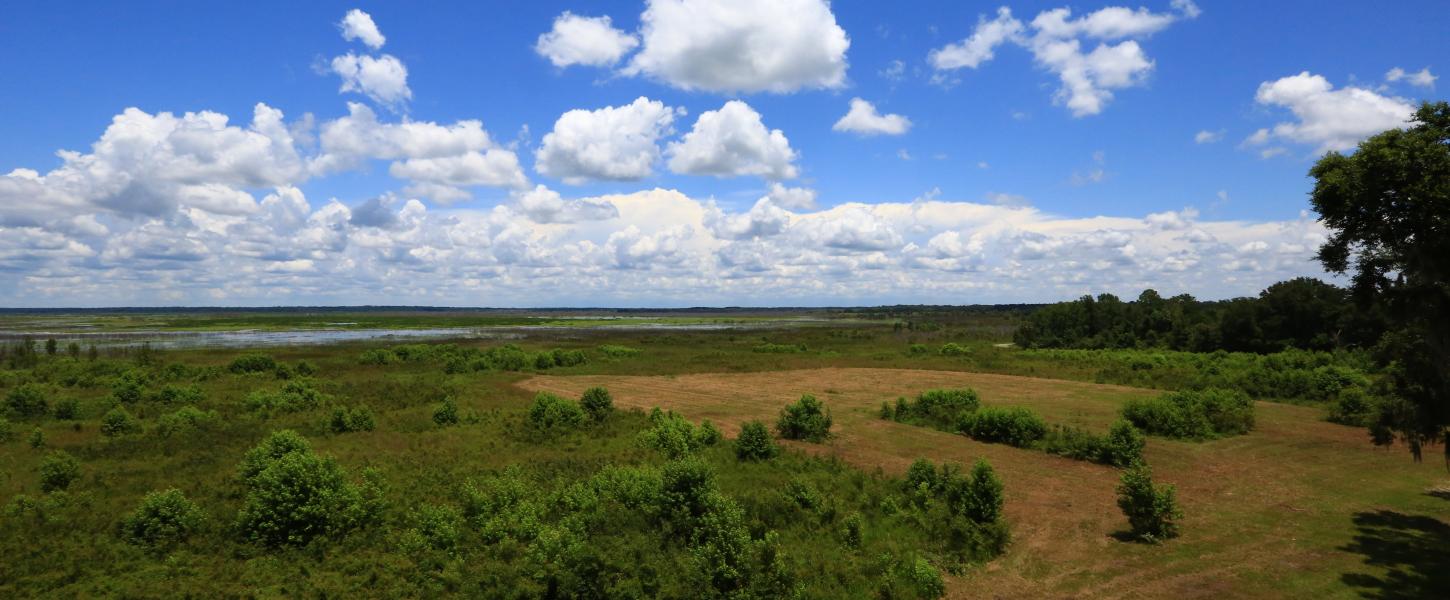 Paynes Prairie Preserve State Park
Herds of wild horses and bison, thousands of birds and a fisherman's paradise
Campground Closure
The campground is currently closed for facility upgrades.  We estimate reopening by Thanksgiving weekend. 
Partial Trail Closures
La Chua Trail, Bolen Bluff Trail and Cones Dike Trail are partially closed due to high water levels.  The La Chua Trail is open from the parking area to the end of the boardwalk. 
Hours
8 a.m. until sundown, 365 days a year
Location
Contact Info
352-466-3397
Welcome to Paynes Prairie Preserve State Park
Horses and bison roam the prairie, not just out west, but in surprisingly diverse Payne's Prairie Preserve south of Gainesville.
This National Natural Landmark boasts more than 20 unique habitats for its herds of wild bison and horses, as well as nearly 300 species birds and scores of alligators. Majestic Lake Wauberg is a fisherman's paradise, and eight trails coursing the prairie provide ample space to hike, bike, ride, and explore this unexpected Florida gem.
Paynes Prairie is biologically, geologically and historically unique. This park became Florida´s first state preserve in 1971 and is now designated as a National Natural Landmark. Noted artist and naturalist William Bartram called it the great Alachua Savannah when he wrote about his visit to the prairie in 1774.
More than 20 distinct biological communities provide a rich array of habitats for wildlife and livestock, including alligators, bison, horses and nearly 300 species of birds. Exhibits and an audio-visual program at the visitor center explain the area´s natural and cultural history. A 50-foot-high observation tower near the visitor center provides a panoramic view of the preserve.
Eight trails provide opportunities for hiking, horseback riding, and bicycling, including the 16 mile long, paved Gainesville-Hawthorne State Trail. There is a fishing pier on Lake Wauberg, and a boat ramp provides access for canoes and boats with electric motors in Lake Wauberg.  Gasoline powered boats are not allowed. Full-facility campsites are available for overnight visitors.