Operation Recreation Geotour
Operation Recreation GeoTour, hosted by Geocaching.com, stretches from Pensacola to Key West and includes 71 Florida state parks and trails. Visit 20 caches and win the official Operation Recreation Geocoin. 
Operation Recreation Kids GeoTour
The Florida Park Service is proud to announce the launch of the Operation Recreation Kids GeoTour, specially designed for children. Look inside Operation Recreation GeoTour geocaches for one of six possible nature cards. Every cache has one of six species. Record the name of the Florida State Park where you first find each of the six species on the official tracking sheet. Find all six species and win the ORGT Kids GeoTour Geocoin!
Geocaching in Florida State Parks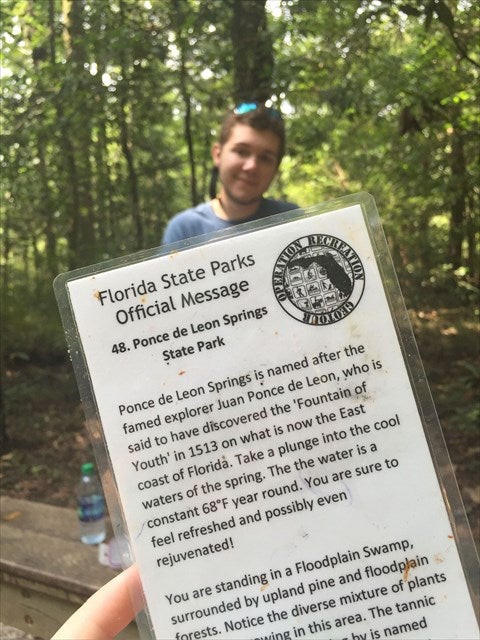 Geocaching is an outdoor game using hand-held global positioning systems (GPS) devices. It's an inexpensive, interactive high-tech treasure hunt that's a great way to learn geography.
Participants use location coordinates to find caches. Some caches are easy to find while others are more difficult. The biggest reward is the thrill of the search and the discovery of a place where you have never been.
Geocaching should have minimal impact to the environment and conscientious land use ethics should be followed.
Florida's state parks are full of opportunities to get outside and explore. And exploration is even more fun these days with the advent of geocaching enabling modern day adventurers to use hand-held global positioning systems to "treasure hunt" without digging or disturbing sensitive natural and cultural resources. Our state parks play host to some of the most scenic locations for caches in the nation.
Find out more about geocaching in Florida state parks and be sure to search for caches in our state parks whenever you visit Geocaching.com.
How to Find a Cache
Finding a cache is a fun challenge with the correct equipment.
Sign up for free at Geocaching.com. Enter the ZIP code for the state park where you are interested in searching. Select "Go." The website will help you find the caches and will provide clues for the search.
Select one or more caches to find.
Go paperless if your GPS unit allows you to send the coordinates directly to your unit.
Head to the state park. An entry fee is usually required for entrance to a state park. Enter the coordinates of the cache in your GPS unit and use the clues provided to search for the cache.
Each cache usually contains a logbook, pencil and inexpensive trinkets. When you find it, be sure to sign the logbook. If you remove something from the cache, replace it with something of equal value.
Put the cache back exactly where you found it.
Share your experience with the geocaching community on Geocaching.com.
How to Hide a Cache
After you become good at finding caches, you may want to hide one in your favorite spot to see if others can find it. Geocachers are obligated to practice the sport in an honorable and non-destructive manner.
Find a place to hide your cache that will take a bit of time for another geocacher to find. Select a spot with a great view or an unusual location. Avoid archaeological or historical sites. Those areas are sensitive.
If you are planning to hide a cache in a Florida State Park, contact the park manager and ask permission for the location you are considering. Describe the location, how you intend to hide it (digging is not allowed) and provide a description of the cache container. The park manager will consider the site attributes and give verbal permission for you to hide the cache in the location. Archaeological, ecological and historical areas are typically off-limits. Also consider factors such as frequent flooding, fire frequency, animal habitat, etc., before requesting permission.
Prepare your cache. The container should be waterproof, and put the items in water-tight baggies in case of a leak. Include a small logbook and a pen or pencil. Some people include a note to welcome the cache finder - it's helpful if someone finds it accidentally while others include goodies such as a disposable camera, inexpensive toy, coins or a deck of cards. Mark the outside of the cache so that someone who doesn't play can figure out what it is. Most people mark the container with Geocaching.com, the name of the cache and basic contact information.
After you have verbal permission from the state park manager, you can place your cache. When you reach the location, note the exact coordinates from your GPS unit. Once you have your waypoint, write it in permanent marker on the container and the log book, and make sure you have a copy to bring back with you. Write a few notes in the log book if you like, and seal it in a water-tight baggie before placing it in the container. Hide the container. Trail blazing is not allowed.
Report the cache by filling out the online form at Geocaching.com.
Maintain the cache. You'll need to return often to ensure that your cache is in good shape. Once people have visited the cache, be sure that other visitors are not disrupting the landscape. If you have concerns, move it or remove it.
GC Codes
Vocabulary
Helpful Websites
Find general information for state parks on each state park's activities page or locate possible geocaches at the following websites: