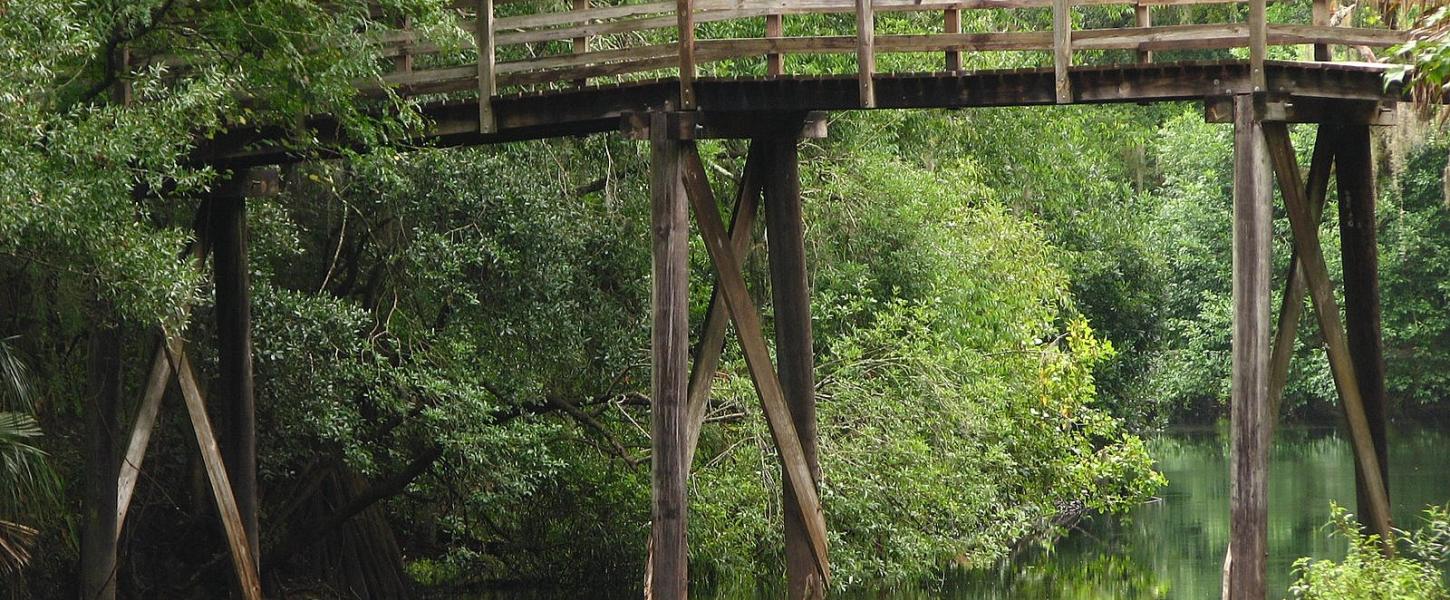 Hillsborough River State Park
Class II rapids just a few minutes from downtown Tampa
Public Notice
FINAL PUBLIC NOTICE
The Federal Emergency Management Agency (FEMA) has received the subgrant application for the FL Department of Environmental Protection park repairs due to Hurricane Irma (DR-4337-FL PW 04979). Pursuant to Executive Order 11988 and 44 CFR Part 9.12, final notice is hereby given of FEMA's intent to provide funding for this project under the Public Assistance (PA) Program.
An initial disaster-wide Public Notice was published October 6, 2017 for Hurricane Irma. Comments and other information received were fully evaluated by FEMA along with evaluation of social, economic, environmental, and safety considerations. This notice serves as a project-specific final notice for FEMA's funding action located within the floodplain.
Funding for the proposed project will be conditional upon compliance with all applicable federal, tribal, state, and local laws, regulations, floodplain standards, permit requirements and conditions. This action complies with the National Flood Insurance Program (NFIP) requirements.
Responsible Entity:                        FEMA Public Assistance (PA) Program
Applicant:                                           FL Department of Environmental Protection
Project Title(s):                               PA-04-FL-4337-PW-04979; 44556 – District 4
Location of Proposed Work:       Hillsborough River State Park Restroom, GPS Coordinates: 28.14741, -82.23624
Cedar Landing, GPS Coordinates: 28.14557, -82.23978
Floodplain:                                         The project is located in Zone AE Floodway per Hillsborough County FIRM Panel # 12101C0465F dated 09/26/2014.
Proposed Work and Purpose:    The FL Department of Environmental Protection's Collier Seminole State Park sustained multiple damages as a result of Hurricane Irma. To restore the facilities to their pre-disaster function, the applicant replaced the roof, ceiling, and siding of the restroom. Additionally, the applicant replaced gypsum wallboard, baseboard and performed mold remediation at Cedar Landing.
Project Alternatives:                      The no-action alternative was considered. This alternative is not feasible as the area could incur further damages. With the no action alternative, continued negative impacts on residents and the community may be experienced as the restored facilities are integral for the recreational use of the park. Alternate locations were not considered as relocation of the facilities would be impracticable.
Comments:                                         This will serve as the final public notice regarding the above-described action funded by the FEMA PA program. Interested persons may submit comments, questions, or request a map of this specific project by writing to the Federal Emergency Management Agency, Region 4, 3003 Chamblee-Tucker Road, Atlanta, Georgia 30341, or by emailing FEMA-R4EHP@fema.dhs.gov. Comments should be sent in writing with the subject line FL-4337-PW-04979, FDEP at the above address within 15 days of the date of this notice.
Stationary Bridge Closure
The stationary bridge is closed for repairs. Please check back for status updates.
Tours of Fort Foster are offered every Thursday at 10:30 a.m. Tickets may be purchased at the ranger station and are $2 per person. The tour will begin promptly, and guests are welcome to explore the fort after the tour has concluded until 1 p.m. 
Hours
8 a.m. until sundown, 365 days a year.
Location
Contact Info
813-987-6771 or 941-256-6689
Welcome to Hillsborough River State Park
Just minutes from downtown Tampa, this diverse park offers a refuge from city life with its seven miles of nature trails and ample places to cool off in the water.
Except for occasional reenactments, the cannon and guns are now silent at Fort Foster. No longer do Seminole Indians have to fight to keep a foothold in Florida, and soldiers no longer guard a strategic river crossing. The reconstructed fort and its surroundings are now part of Hillsborough River State Park.
Besides a living history lesson, visitors can kayak or canoe class II river rapids, rare in Florida, hike seven miles of nature trails and swim in an ADA accessible swimming pool.
Tucked away, only a short distance from the bustling city of Tampa, camping is a popular activity at Hillsborough River State Park.