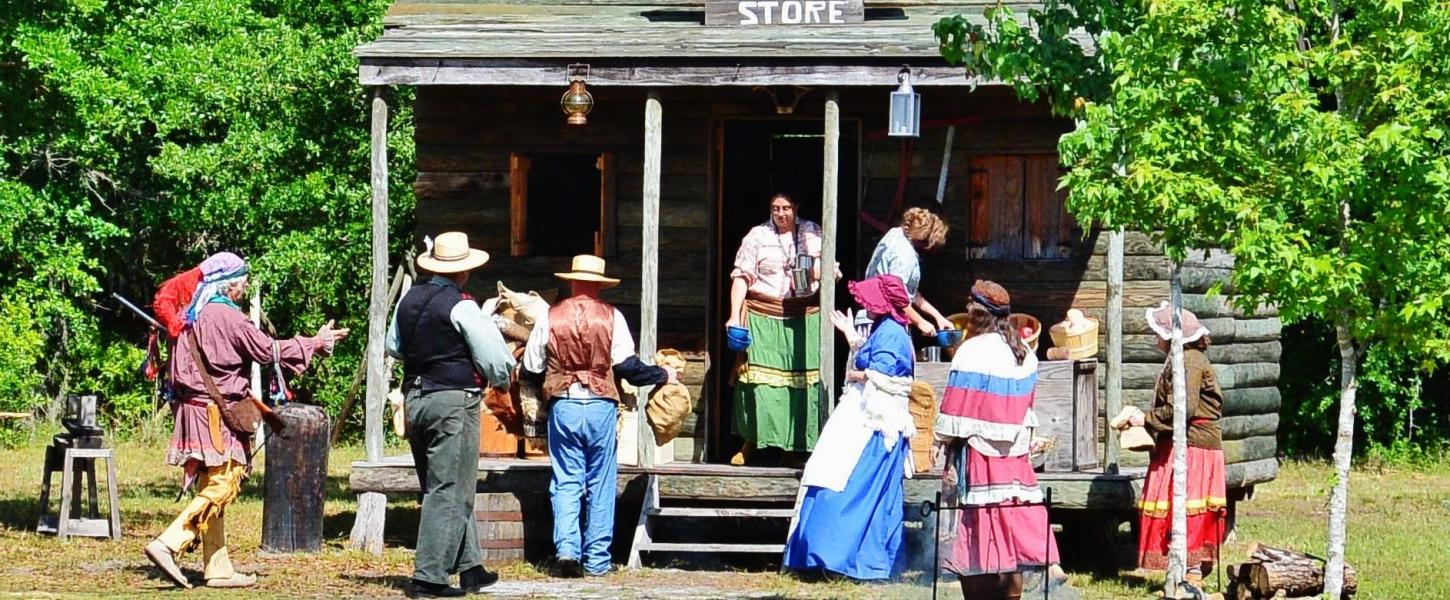 Paynes Creek Historic State Park
The history of an 1840s outpost in remote but beautiful Florida is preserved and shared
Public Notice
FINAL PUBLIC NOTICE
The Federal Emergency Management Agency (FEMA) has received the subgrant application for the FL Department of Environmental Protection park repairs due to Hurricane Irma (DR-4337-FL PW 04979). Pursuant to Executive Order 11988 and 44 CFR Part 9.12, final notice is hereby given of FEMA's intent to provide funding for this project under the Public Assistance (PA) Program.
An initial disaster-wide Public Notice was published October 6, 2017 for Hurricane Irma. Comments and other information received were fully evaluated by FEMA along with evaluation of social, economic, environmental, and safety considerations. This notice serves as a project-specific final notice for FEMA's funding action located within the floodplain.
Funding for the proposed project will be conditional upon compliance with all applicable federal, tribal, state, and local laws, regulations, floodplain standards, permit requirements and conditions. This action complies with the National Flood Insurance Program (NFIP) requirements.
Responsible Entity:                        FEMA Public Assistance (PA) Program
Applicant:                                           FL Department of Environmental Protection
Project Title(s):                               PA-04-FL-4337-PW-04979; 44556 – District 4
Location of Proposed Work:       Paynes Creek Historic State Park Restroom, GPS: 27.619393, -81.808135.
Floodplain:                             The project is located in a Zone AE Floodway, per Hardee County FIRM Panel # 12049C0181D dated 11/06/13.
Proposed Work and Purpose:    The FL Department of Environmental Protection's Paynes Creek Historic State Park sustained roof damage to their restroom as a result of Hurricane Irma. To restore the facility to its pre-disaster function, the park removed and replaced an asphalt shingle roof. No mitigation has been included in this project.
Project Alternatives:                      The no-action alternative was considered. This alternative is not feasible as the area could incur further damages. With the no action alternative, continued negative impacts on residents and the community may be experienced as the restored bathroom provides restrooms for park patrons. Alternate locations were not considered as it would not be financially feasible to relocate the restroom at this time.
Comments:                                         This will serve as the final public notice regarding the above-described action funded by the FEMA PA program. Interested persons may submit comments, questions, or request a map of this specific project by writing to the Federal Emergency Management Agency, Region 4, 3003 Chamblee-Tucker Road, Atlanta, Georgia 30341, or by emailing FEMA-R4EHP@fema.dhs.gov. Comments should be sent in writing with the subject line FL-4337-PW-04979, FDEP at the above address within 15 days of the date of this notice.
Hours
8 a.m. to sunset, 365 days a year
Location
Contact Info
863-375-4717
Welcome to Paynes Creek Historic State Park
During the 1840s, tensions between the settlers and Seminole Indians prompted authorities to establish a trading post in Florida´s interior, away from settlements.
Built in early 1849, the post was attacked and destroyed by renegade Indians that summer. In late 1849 Fort Chokonikla was built nearby as the first outpost in a chain of forts established to control the Seminoles. The Seminoles never attacked the fort, but the Army was nearly defeated by mosquitoes.
Today, nature enthusiasts and hikers can enjoy walking along trails through the park's natural areas. Paynes Creek and the adjoining Peace River provide opportunities for canoeing, kayaking and fishing. A museum at the visitor center depicts the lives of Florida's Seminole Indians and pioneers during the 19th century. The visitor center is open 9 a.m. - 5 p.m., Thursday through Monday.