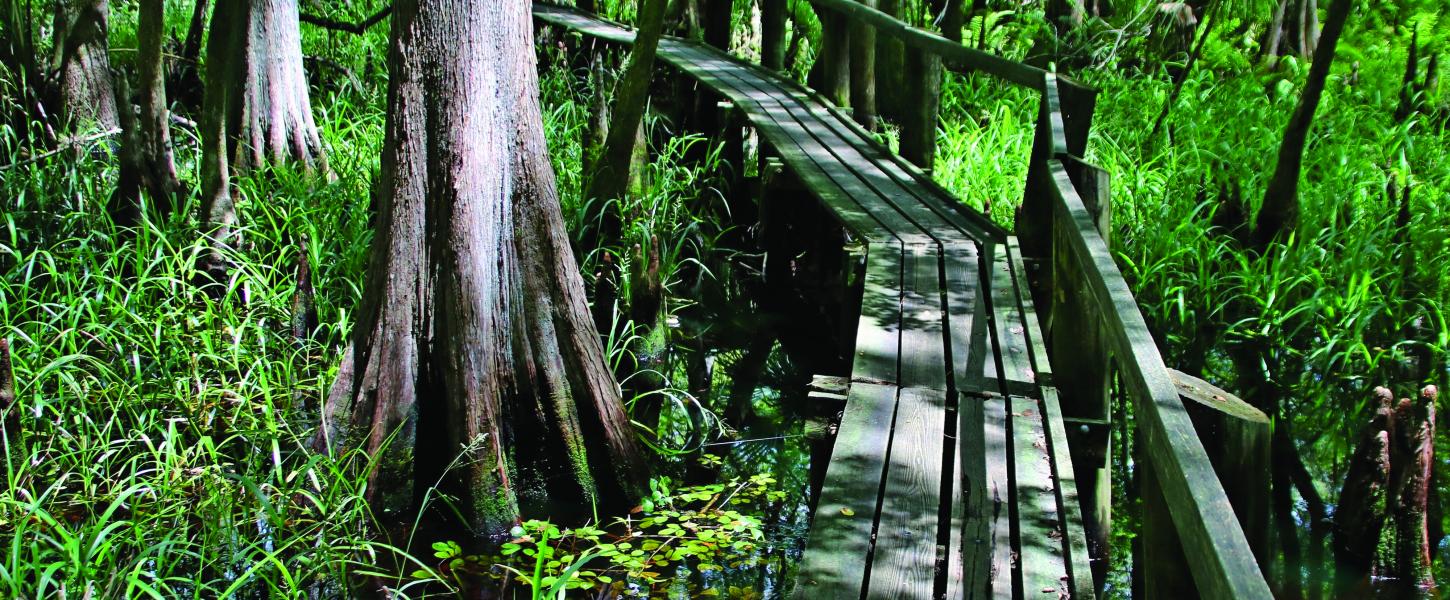 Highlands Hammock State Park
Meet 1,000 year-old trees, endangered species and a beautifully delicate ecosystem
Summer Tram Tour Unavailable
Park tram tours are suspended for the remainder of the summer due to road and culvert damage from heavy summer rains.  Tram tours will resume in the fall.  For updated information, please check the website and/or call the Hammock Inn at 863-402-0061.
Hours
8 a.m. until sunset, 365 days a year
Location
Contact Info
863-386-6094
Welcome to Highlands Hammock State Park
Supporting a beautiful yet delicate ecosystem, central Florida's Highlands Hammock possesses one of the state's most unique and richly divergent collection of plant and animal life.
Home to 1,000-year-old oaks, old growth hammock, and the endangered Florida panther, the park is best explored on foot across nine trails or via a three-mile bike loop. A tram is also available for those that prefer to sit back and leisurely take in the parks natural wonders.
The park is known for its beautiful old-growth hammock and thousand year old oaks.  Ferns and air plants are abundant.  Black bear and the Florida panther tread softly through the hammock and may be glimpsed occasionally.  An elevated boardwalk with an historic catwalk traverses cypress swamp, and visitors may observe alligators, birds and other wildlife. 
Many visitors enjoy bicycling the scenic three mile loop drive or hiking the park's nine nature trails. Picnicking, bird-watching, and ranger-guided tours of the park are other popular activities.  The tram tour, which is fully accessible, allows visitors the unique opportunity to view birds, alligators, turtles, deer and other wildlife relatively close-up, in areas of the park that are restricted to public access.  
Catch-and-release fishing and picnicking are available at the nearby Seven Lakes management unit.  Highlands Hammock provides a full-facility campground, as well as a youth / group tent campground.  A recreation hall is available for rental, as are several picnic pavilions.