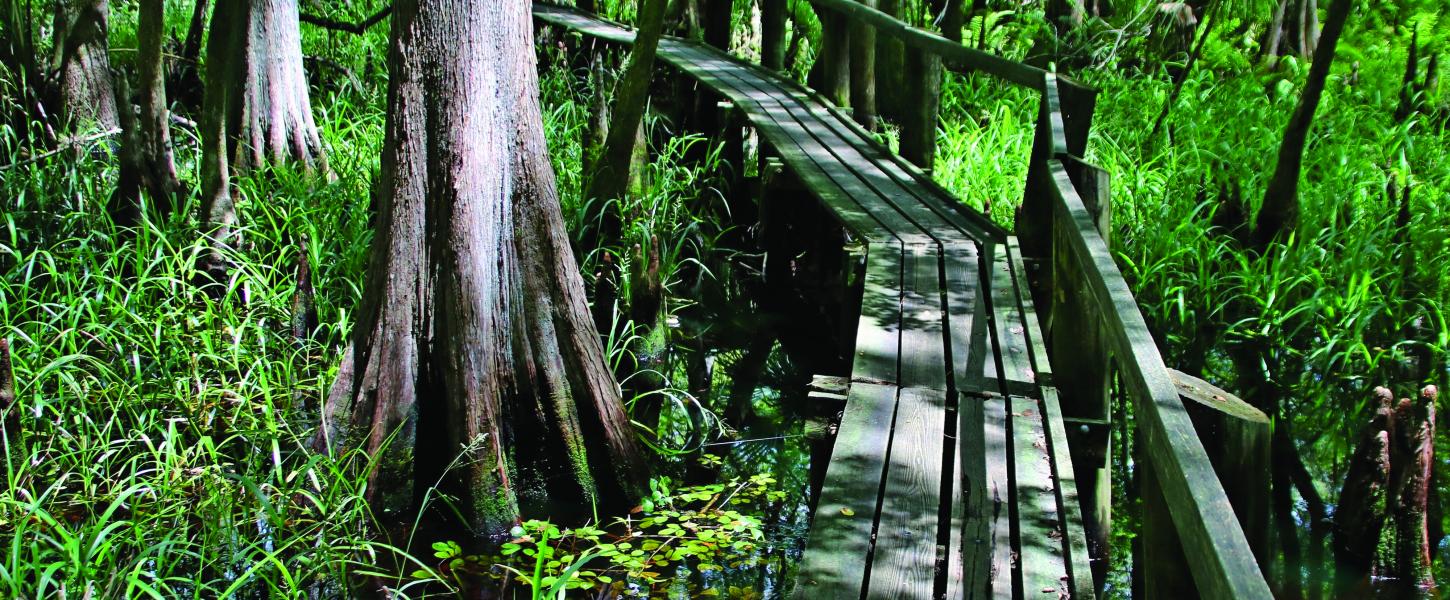 Highlands Hammock State Park
Take a journey back in time to an ancient hammock, and discover endangered species and beautifully delicate ecosystems
CCC Museum Summer Hours
Effective May 6: The Civilian Conservation Corps Museum will be open on Fridays, Saturdays and Sundays from 11 a.m. to 3 p.m. until daily operation is resumed in the fall. 
Cypress Swamp Catwalk Closure
Effective March 31: The Cypress Swamp Trail historic catwalk is closed for repairs and will remain closed until further notice. The boardwalk at the front of the trailhead is open to allow visitors to walk to the open, scenic vista. There is no access beyond this point.  
ATVs and UTVs Prohibited
The use of ATVs and UTVs is prohibited at Highlands Hammock State Park, including Seven Lakes, the East Property and the South Property, per Chapter 62D-2.014, Florida Administrative Code.  
Drones Prohibited
The use of drones is prohibited at Highlands Hammock State Park and all Florida State Parks, per Chapter 62D-2.014, Florida Administrative Code. 
Hours
8 a.m. until sunset, 365 days a year
Location
Contact Info
863-386-6094
Welcome to Highlands Hammock State Park
Supporting a beautiful yet delicate ecosystem, central Florida's Highlands Hammock possesses a unique and richly divergent collection of plant and animal life.
Highlands Hammock - with more rare and endemic species than any other Florida State Park - is a place where wilderness and history are preserved. Visitors can walk the trails where the Florida panther and black bear quietly pass beneath the ancient, towering oaks of a magnificent hydric hammock. Deer, alligators and a variety of birds frequent the park.
With its beautiful old-growth hammock and variety of habitats and wildlife species, this is ...the Real Florida at its best.
To see these natural wonders, hike any of our nine trails, including an elevated boardwalk through a cypress swamp. Make sure to travel our 3-mile bike loop, or take the tram for those who prefer to sit back and leisurely take it all in.  
At the Civilian Conservation Corps Museum, visitors can experience the Great Depression and learn about the lives of the young men who built Florida's eight CCC parks. The park has a significant number of New Deal era structures and is listed on the National Register of Historic Places.