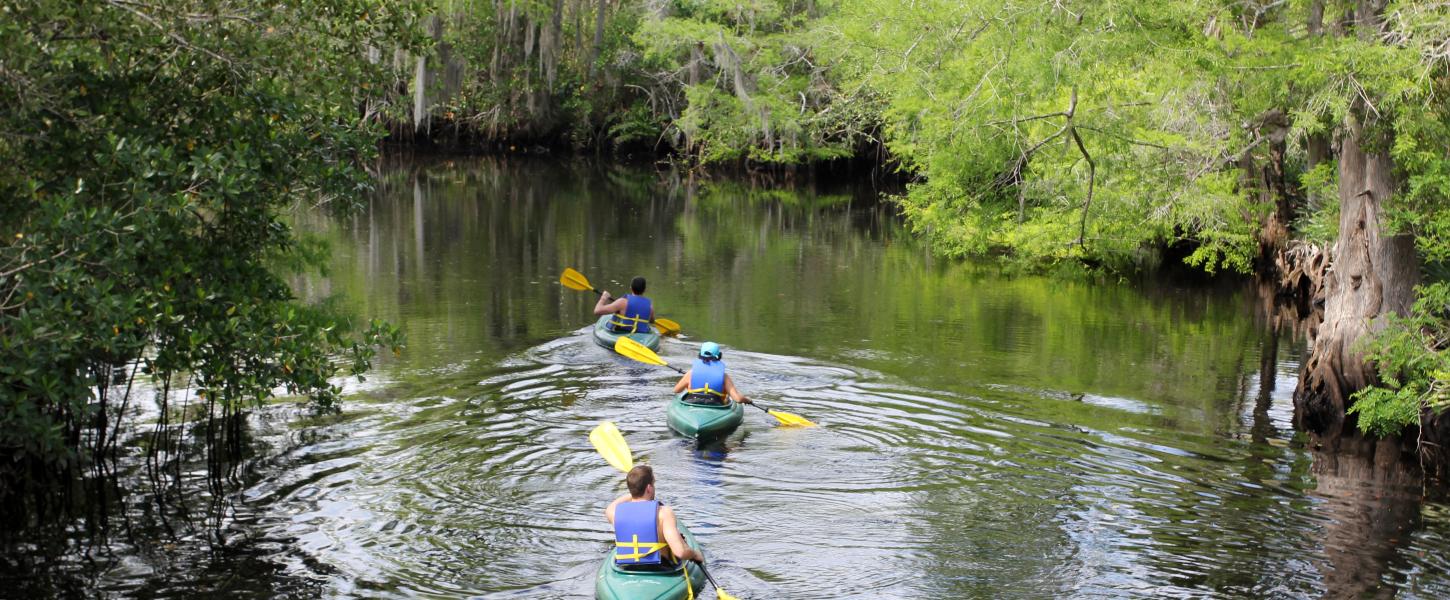 Jonathan Dickinson State Park
Explore the majestic Loxahatchee River, diverse ecosystems and exciting history
Area Closures Due to Flooding
Oct. 21, 2020: Due to recent heavy rains, Jonathan Dickinson State Park continues to experience localized flooding in the river campground and low-lying sections of park hiking trails. This includes the multi-use paved trail. Call the Ranger Station for details at 772-546-2771.
Mountain Bike Trails
The Camp Murphy mountain bike trails are currently open; detours and bypasses have been set up on Middle Ridge, Big Burn and Hare to avoid flooding. Walden, Root Loop and Bunker Hill remain closed. Thank you for your patience as we continue to monitor for trail safety. Contact the ranger station for details at 772-546-2771.
Shuttle for Loxahatchee River Paddle Out of Service
There is currently no shuttle running from Jonathan Dickinson State Park to Riverbend Park. Anyone wanting to paddle the upper reaches of the river must arrange their own shuttle transportation or make their paddle round-trip.
Hours
8 a.m. until sundown, 365 days a year
Location
Contact Info
772-546-2771
Welcome to Jonathan Dickinson State Park
Sixteen distinct natural communities create the mosaic that is Jonathan Dickinson, the largest state park in Southeast Florida.



Rare environments such as coastal sand hills, upland lakes and scrub forests as well as the pristine Loxahatchee River make this park a unique spot to explore on land or by water.
Historical interests include a secret World War II training camp, the story of the shipwrecked Quaker merchant who is the park's namesake, and Trapper Nelson, the legendary Wild Man of the Loxahatchee.
Ranger-guided tours of Trapper Nelson's 1930s pioneer homestead are available year-round. Visitors can enjoy paved and off-road biking, equestrian and hiking trails. Boating, canoeing and kayaking along the river are also great ways to enjoy the park. Anglers can fish along the riverbank or from a boat.
The nature and history of the park comes to life through exhibits and displays in the Elsa Kimbell Environmental Education and Research Center. Programs for kids or the whole family are also offered here.
Sign up for the park's e-newsletter to learn more about programs and events.