Know Before You Go
Kitching Creek Nature Trail - Overlook: The overlook on the Kitching Creek Nature Trail is closed until further notice. The nature trail remains open.
Park Concession: The concession will be closed Tuesday, November 7, for maintenance. This includes rentals, boat tours and concession. Please contact the park's concession for more information, 561-746-1466.
Trapper Nelson's Interpretive Site: Open daily from 9:30 am - 4:30 pm. The site is accessible only by water and may be tide dependent. Pontoon boat tours from the park's concession to the interpretive site are offered daily and are tide dependent, with the exception of Thursday, November 23, only 9:00 and 11:00 am tours will be available. Eco tours are offered at low tide when Trappers is inaccessible. Please contact the park's concession for more information, 561-746-1466.
Shuttle for Loxahatchee River Paddle Out of Service: There is currently no shuttle running from Jonathan Dickinson State Park to Riverbend Park. Anyone wanting to paddle the upper reaches of the river must arrange their own shuttle transportation or make their paddle round-trip.
Guided Horseback Riding and Wagon Rides: Guided horseback tours and wagon rides will not be offered until further notice. For more information, please contact the park's concession at 561-746-1466.
The 10,500-acre park is named for Jonathan Dickinson, a Quaker merchant whose vessel shipwrecked nearby in 1696.
During World War II, the land the park now occupies was home to Camp Murphy, a top-secret radar training school with over 6,600 men. The land became a state park in 1950.
Far upriver is the Trapper Nelson Interpretive Site, the restored homestead of a man who came to this area in the 1930s and lived off the land, trapping and selling furs. He became famous as the 'Wildman of the Loxahatchee,' opening his 'Trapper's Jungle Gardens and Wildlife Zoo' to the public.
Camp Murphy Entrance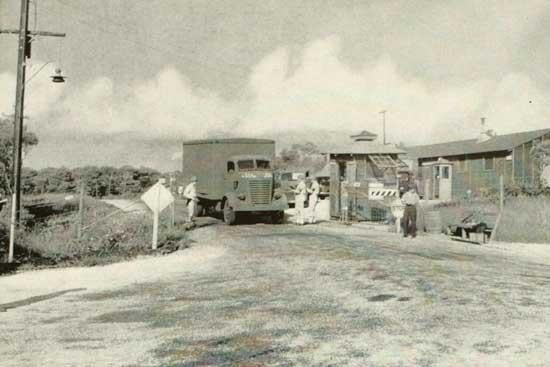 During World War II, Camp Murphy, a top-secret radar training school, occupied the land that is now Jonathan Dickinson State Park. More than 1,000 buildings quickly sprang up from the scrub and more than 6,000 personnel were stationed at the camp, which had its own power plants, sewer system, church and theater.
Very few locals had any real information about what was going on, only that a secret Army base had been constructed. Land had been quickly and summarily purchased or condemned and taken from landowners.
After only two years of operation, in November 1944, Camp Murphy was deactivated and the whole operation was shut down.
Early Birdwatchers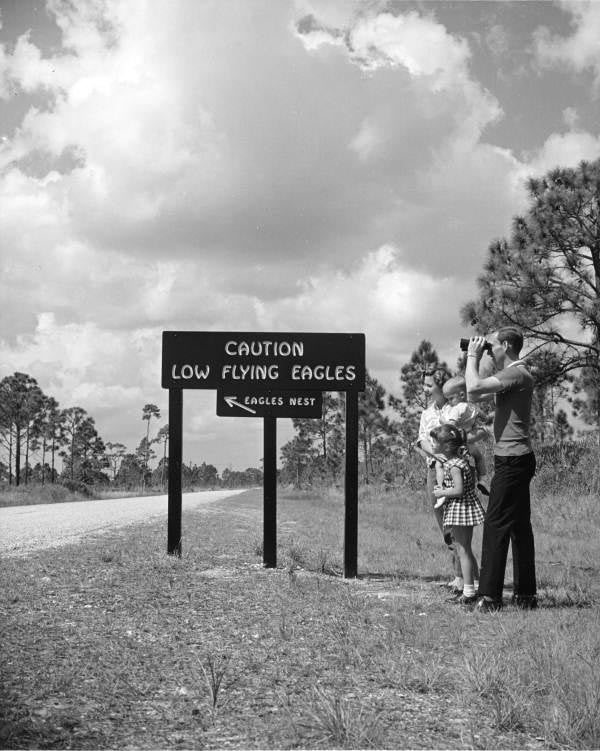 This photo shows a family, probably in the early or mid-1970s, posing as birdwatchers in front of a large interpretive sign.
Today, the location of the nests of bald eagles within the park is a closely held secret to keep disturbance of these animals to a minimum and to comply with Federal regulations.
In the 1970s, natural features would often be widely advertised. The large Low Flying Eagles sign was surely less of a traffic warning than an attempt to call attention to the park's resident population of the rare birds.
Old Pine Grove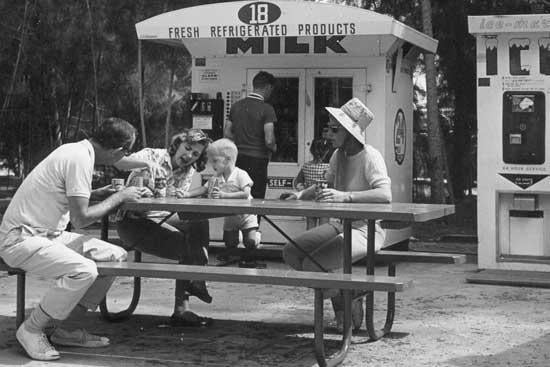 Pine Grove Campground at Jonathan Dickinson State Park has a long and storied history. Originally the site of the hospital complex of World War II's Camp Murphy, the area was extensively planted with non-native Australian Pine trees, which had grown to impressive heights and made for a very popular and shady campground.
A confusing array of dirt roads led to 90 campsites, each with water and electric service. At one time there were even more sites, south of the main camp area and stretching north near Hobe Mountain and up to the old shop area. The park's concession store was located there until around 1978 and at one time, there was even a mini-golf course.
Today the campground hosts 90 updated campsites with water, electric and sewer connections as well as 4 bath houses with washers and dryers, a pavilion and playground. The shade of the Australian pines was lost after the 2004 hurricane season and has been replaced with native plant species.
Trapper Nelson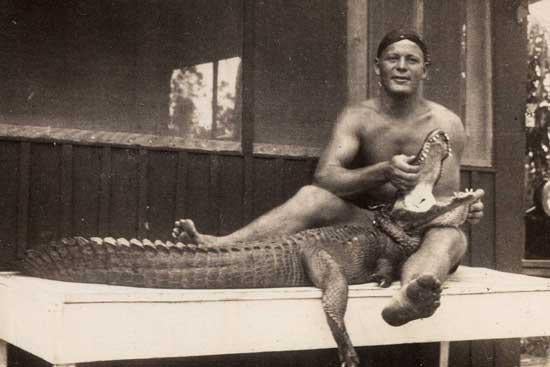 Trapper Nelson spent many years making his living as an animal trapper and fur trader, living a self-sufficient life with no electricity or city water.
Trapper Nelson, the famous 'Wildman of the Loxahatchee,' slowly converted his homestead into a tourist attraction after World War II.
Visitors from around the world came to see the legendary Trapper, clad only in his customary shorts and pith helmet, as he handled venomous snakes and wrestled alligators. Folks could buy souvenirs, rent rowboats or stay overnight in one of Trapper's cabins.
He spent the majority of his profits buying land at tax sales, amassing roughly 1,000 acres of the Loxahatchee riverfront and sparing much of it from development.
Before his mysterious death, he had begun negotiations with the Florida Park Service trying to see his beloved camp preserved once he was gone.
In his later years, Trapper became paranoid and reclusive, convinced that he was very sick and that people were out to get him.
In 1968, he was found by one of his few remaining friends lying under one of his open shelters, killed by a blast from his own shotgun. He was 59 years old.