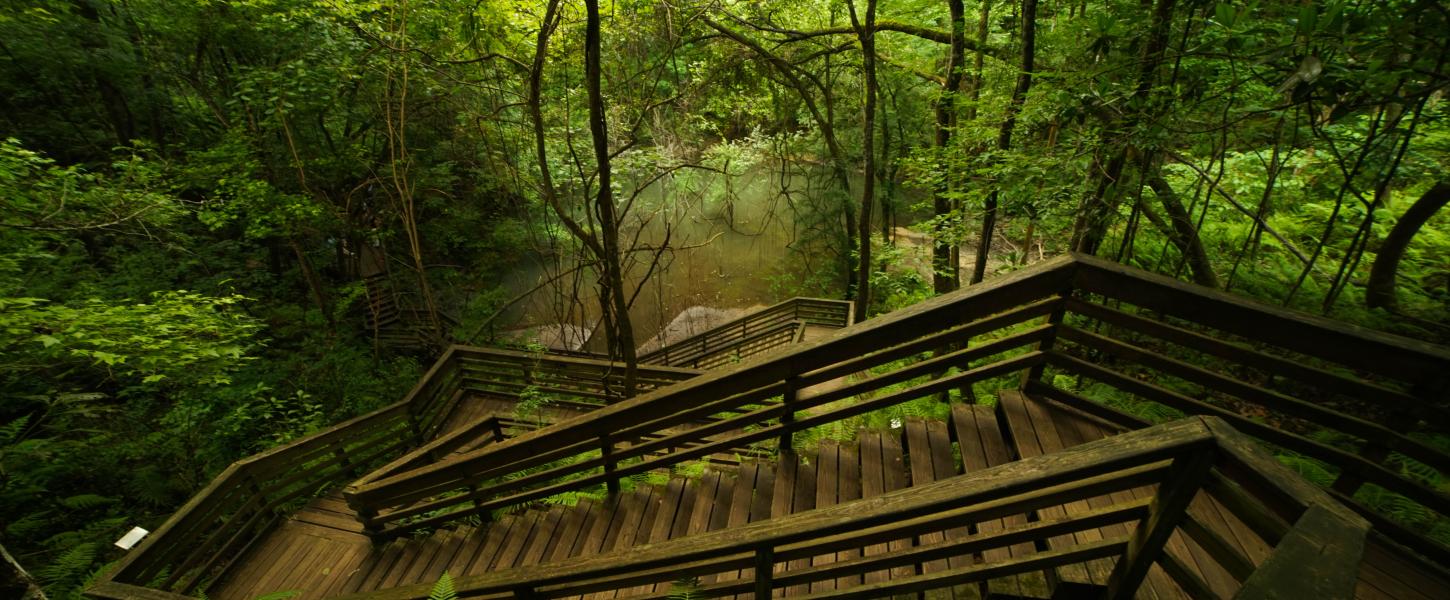 Devil's Millhopper Geological State Park
Discover an unexpected rainforest within this remarkable geological wonderland
Sinkhole Boardwalk Closed
The sinkhole boardwalk is closed due to damages from Hurricane Irma. Construction of the new boardwalk is well underway. 2/3 of the old boardwalk has already been removed, and the new boardwalk material is following closely behind. The new boardwalk completion date is still on schedule to open this summer. During construction, access to our nature trail is limited - it is no longer a loop and is now an out and back trail. Views into the sinkhole are still provided. We apologize for any inconvenience.
Hours
9 a.m. to 5 p.m. Wednesday through Sunday.  The park is closed Monday and Tuesday.
Fees
$4 per vehicle, up to 8 visitors.  Pedestrians and bikes are $2.
Location
Contact Info
352-955-2008
Welcome to Devil's Millhopper Geological State Park
This National Natural Landmark has attracted curious visitors since the 1880's.
In the midst of north Florida's sandy terrain and pine forests, a bowl-shaped cavity 120 feet deep leads down to a miniature rain forest. Small streams trickle down the steep slopes of the limestone sinkhole, disappearing through crevices in the ground. Lush vegetation thrives in the shade of the walls even in dry summers. 
Researchers have learned a great deal about Florida's natural history by studying fossil shark teeth, marine shells and the fossilized remains of extinct land animals found in the sink. Visitors can enjoy picnicking and learn more about this sinkhole through interpretive displays.