Staff Spotlight - Scott Spaulding
Congratulations Scott Spaulding
One of Park Manager Scott Spaulding's favorite things is watching the grass grow. Every sprouting blade of native grass contributes to the legacy of the Florida Park Service's commitment to protect, restore and maintain Florida's natural resources.
Scott is the most recent recipient of the Jim Stevenson Resource Manager of the Year Award. This award, given by Governor Rick Scott and the Florida Cabinet, honors the lifetime achievement of a superior public land manager. It celebrates that person's dedication to helping the original Florida flourish.
"When you get to do what you love to do each day, that in of itself is rewarding, so this [award] is like icing on the cake," said Scott.
Throughout Scott's 32 years with Florida Park Service (FPS), he has made a huge impact on state parks, working at nine different parks and working as the park manager for five different parks.
"Scott's tireless work restoring and protecting land for three decades will leave a legacy of environmental stewardship in Florida," said DEP Secretary Noah Valenstein.
Scott is an integral part of the FPS burn team that helps treat land with prescribed fire to rejuvenate the resource and reduce the risk of wildfires.  While park manager at Lake Louisa State Park, Scott and his team treated over 2,000 acres of invasive exotic plants. Nonnative invasive animal and plant species push out native species, take over habitats and use resources, such as food supply and nutrients.
At Lake Louisa, Scott and his staff were able to restore portions of the park to its original environment, particularly the ground cover. By removing invasive species, especially nonnative grass, and restoring the land, native flora are able to thrive. Scott created partnerships with community organizations such as the Bok Tower Gardens and Florida Native Plant Society, to plant and cultivate imperiled native plant species.
"Scott knows what he is doing. He puts park before self," says Assistant Florida State Parks Director Parks Small.
Being part of the FPS has always been a part of Scott's plans. When he was a child and would visit the parks, he knew that was where he was meant to be. He got his first job at Wekiwa Springs State Park while still in college.
"This is a way of life. The park becomes you," said Scott. Scott notes that this is a family affair. Many wedding anniversaries and holidays have seen him, his wife and family helping in the park, be it cleaning a cabin or helping guide a visitor or group.
His reward, like many rangers, managers and staff, is sharing the joy of these places and experiences that make Florida so special. He takes his role of protector and storyteller seriously.
"Our goal is every visitor has a memorable experience, one they want to have again, and one they want to share with a friend," says Scott. "Together we tell the story of the Real Florida℠ and help preserve it for generations to come."
The Florida Park Service would also like to recognize our other nominees for the Jim Stevenson Resource Manger Award:
Scott Spaulding Award Gallery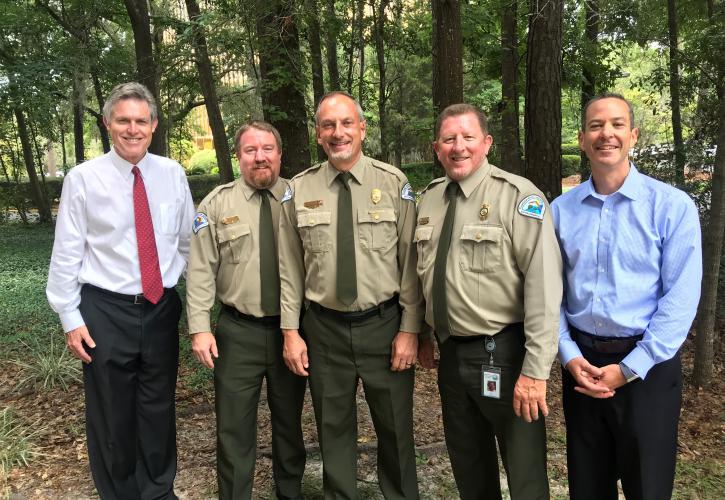 Scott Spaulding with FPS Leadership: Eric Draper, Parks Small, Scott Spaulding, Chuck Hatcher, Bryan Bradner
Close
Information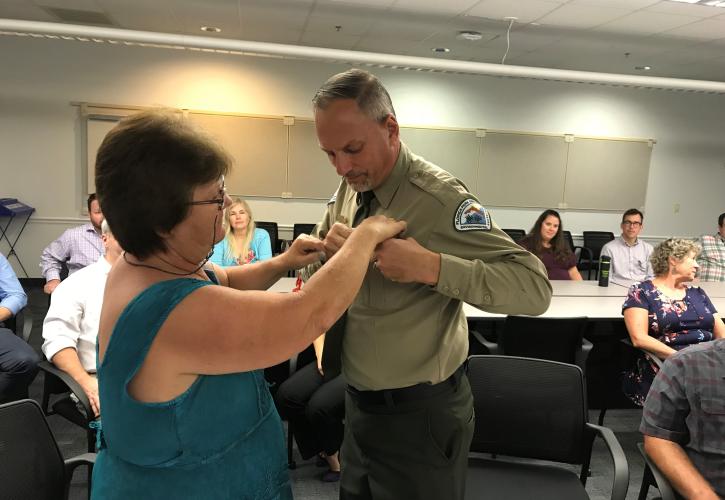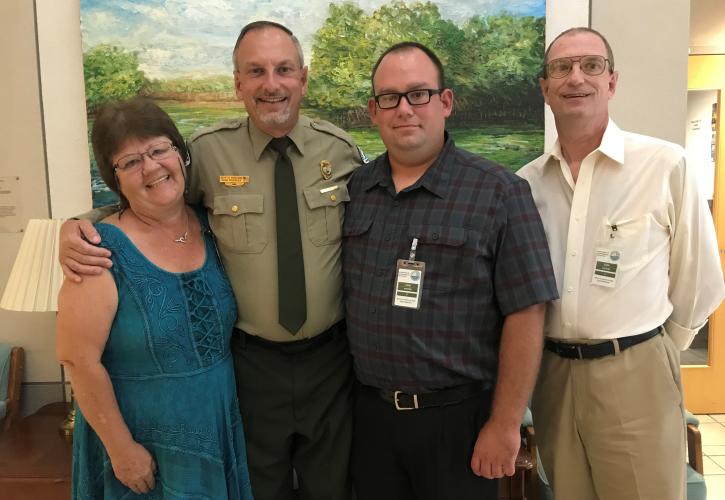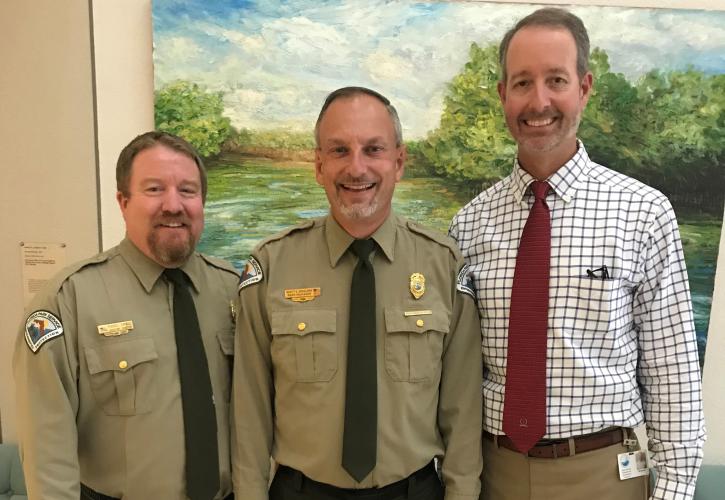 Scott Spaulding with Parks Small and Wes Howell
Close
Information