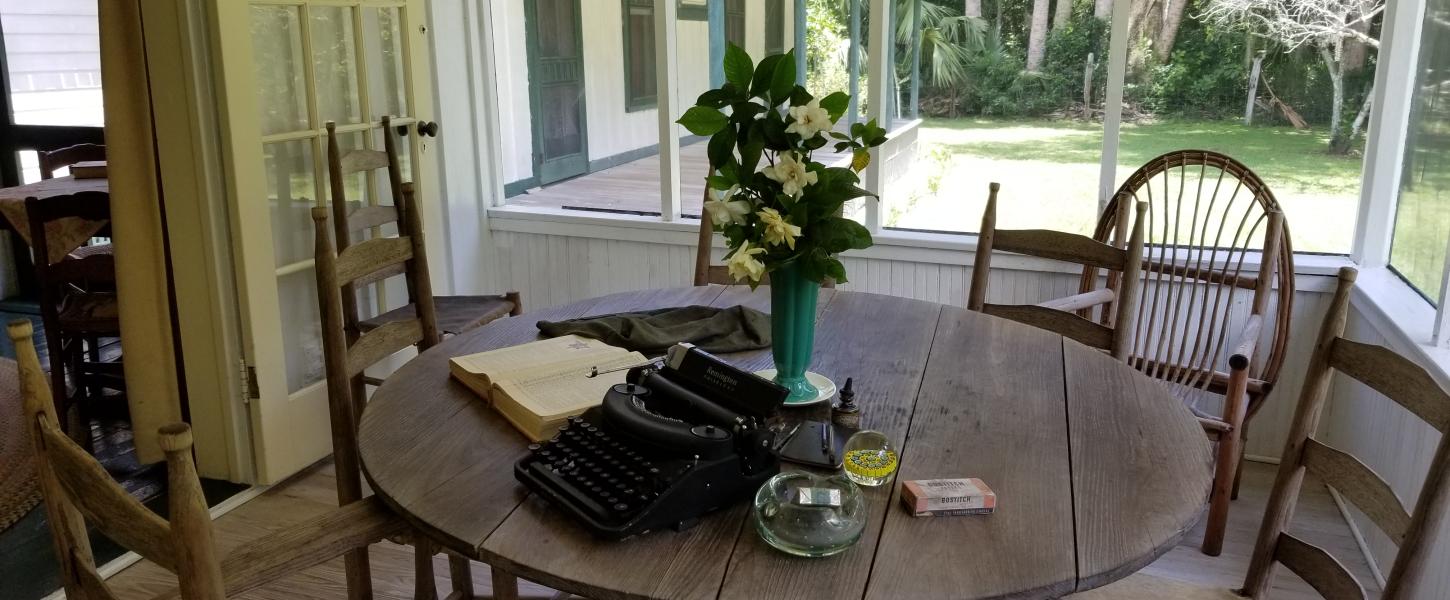 Marjorie Kinnan Rawlings Historic State Park
This authentic Florida Cracker homestead inspired a Pulitzer Prize winning author
Access Inside Historic Farmhouse Suspended
Although the park has re-opened, the historic farmhouse remains closed to visitors until further notice in order to maintain social distancing protocol and prevent the need for daily disinfecting, which could have an adverse effect on the collection. The park remains open seven days a week from 9 a.m. until 5 p.m. and visitors can look in through the screen doors and windows, getting a good look at almost every room in the house. Benches have been placed around the house with brochures of full color drawings of each room along with descriptions. Staff are available and happy to answer questions and assist with outside tours.
Hours
Park: 9 a.m. to 5 p.m.
*See below tour times for access to house interior
Location
Contact Info
352-466-3672
Welcome to Marjorie Kinnan Rawlings Historic State Park
Visitors to this old Florida homestead can walk back in time to 1930s farm life where Marjorie Kinnan Rawlings lived and worked in the tiny community of Cross Creek.

Her cracker style home and farm, where she wrote her Pulitzer prize-winning novel The Yearling and other wonderful works of fiction, has been restored and is preserved as it was when she lived here. The park is open every day and visitors may tour the house with a ranger in period costume from October through July on Thursday, Friday, Saturday and Sunday at 10 and 11 a.m. and at 1, 2, 3 and 4 p.m. Picnic facilities, a boat ramp to Orange Lake and a playground are located in the adjacent county park.
Before you come, you might enjoy picking up a copy of one of Marjorie Rawlings books and use her words to travel back to frontier Florida – and then come see us at the park and explore her farmyard, grove, seasonal garden and trails. Her book about her life here, Cross Creek, will take you directly back to life on this land and in this community.
Explore the farm, take a trail into the wooded area or join us on a guided tour of the home. We are an important part of your history. Marjorie Rawlings was honored as a First Floridian by Governor Charlie Crist in March 2009. The U.S. Postal Service released a commemorative stamp in 2008 honoring Rawlings and the literary arts.
In 2007, the Marjorie Kinnan Rawlings house and farm yard was designated as a National Historic Landmark, our nation's highest historic recognition.
We've mentioned our geo-cache in several places and included a warning about the sprinklers. This has both amused and sometimes confused our geo-seeking visitors.  Yes, we have a hidden box in the farmyard area that is fun to find. Check out the Geo-seeking page before you come so you too can find our geo-cache. We are proud to have been visited and liked by many!