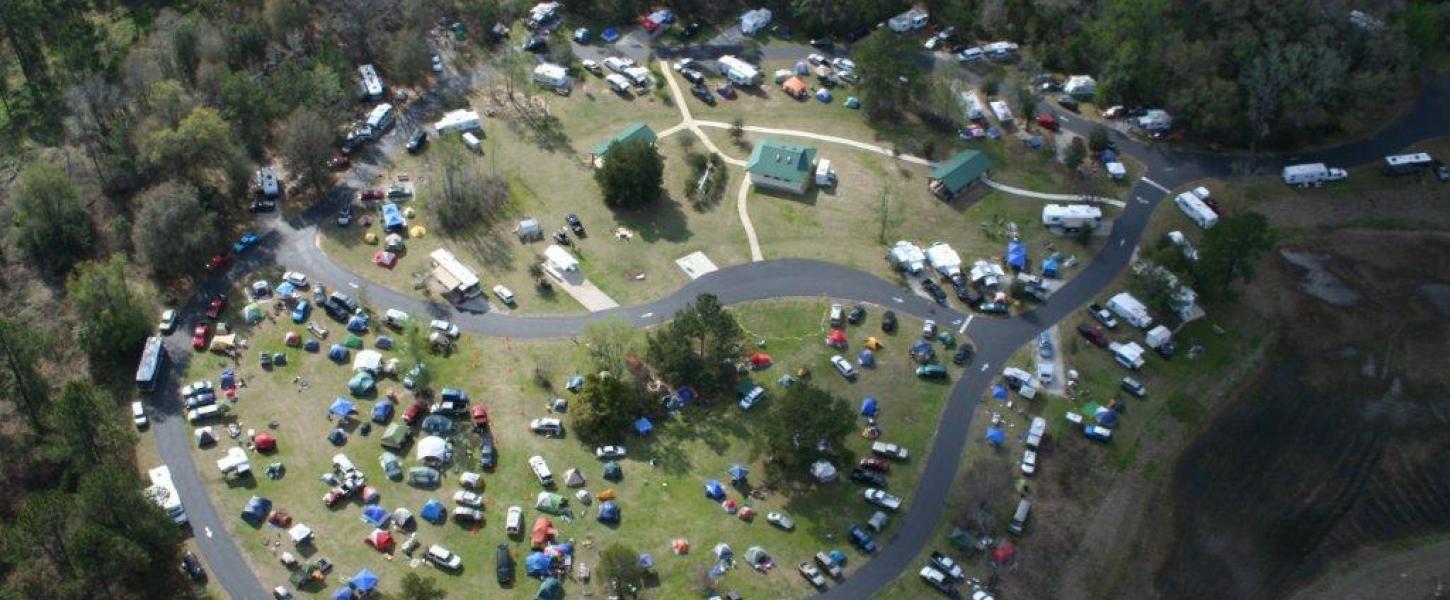 Santos Trailhead & Campground
A Mecca for mountain biking
Hours
8 a.m. until sundown, 365 days a year
Fees
No fees required for day-use.
Location
Contact Info
352-369-2693
Welcome to Santos Trailhead & Campground
Explore some of the best mountain biking in Florida and even internationally.
Santos includes 80-plus miles of single-track diverse bike trails for beginners as well as expert-level trails that will challenge even the most elite riders.
Developed and maintained through a partnership with the volunteer-based Ocala Mountain Bike Association, Santos is perennially rated as one of the best mountain bike facilities in existence. Numerous wooden features and the Vortex Freeride area located in a former limerock quarry provide extreme terrain in the flatlands of Florida.
Annually, in the first weekend in March, OMBA hosts the Santos Fat Tire Festival at the trailhead and campground. It draws all of the top MTB manufacturers for the vendor village, demo rides and over 400 registered participants who enjoy organized trail rides and related events. It sells out every year quickly, so make sure to sign up as soon as it is announced.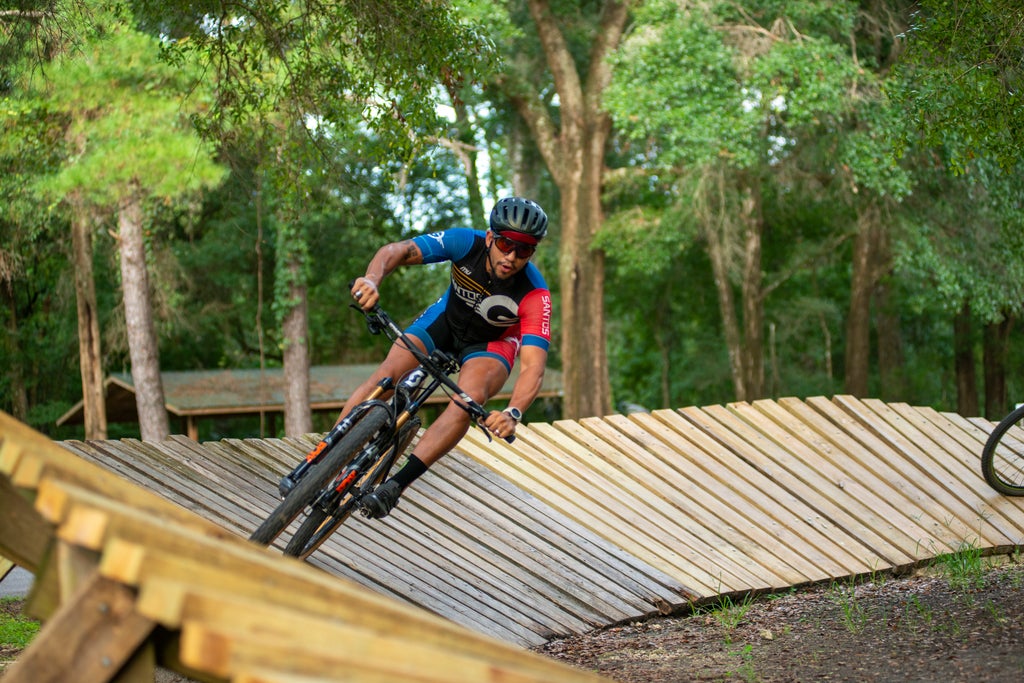 The Santos Trailhead has restrooms, potable water, a bike wash rack, and several picnic pavilions for relaxing and telling stories of "the ride." There are also several bike shops located very close to the trailhead for needed supplies, repairs or refreshments.
The trailhead and campground are located just west off U.S. 441 on Southeast 80th Street between Ocala and Belleview, across from the Marion County Sheriff's Santos Station.
Also available at the Santos Trailhead is access to the Cross Florida Greenway's extensive equestrian trail network, with 60-plus miles of horse trails, including varying levels of difficulty and wagon/carriage opportunities.
The Florida National Scenic Trail hiking trail also traverses through the Santos Trailhead and runs westward to Dunnellon from Santos for approximately 24 miles and eastward 10-plus miles before entering the Ocala National Forest.
As one of only 11 National Scenic Trails nationwide (including the Pacific Crest Trail and Appalachian Trail), this congressionally designated trail crosses approximately 1,300 miles through diverse ecological communities throughout Florida, from the Gulf National Seashore near Pensacola Beach to the Fakahatchee Strand in southwest Florida.
The segment from Santos west to Dunnellon goes through and along several of the historic sea-level Cross Florida Ship Canal project diggings with 40-plus-foot berms running from 0.25 to 2 miles long.
Adjacent to the Santos Trailhead and its diverse trail offerings is the Santos Campground, available year-round for overnight trips. The campground features 23 sites equipped with water and electric hookups and an onsite dump station. For reservations, visit the Florida State Parks reservations website or call 800-326-3521 or TDD 888-433-0287.