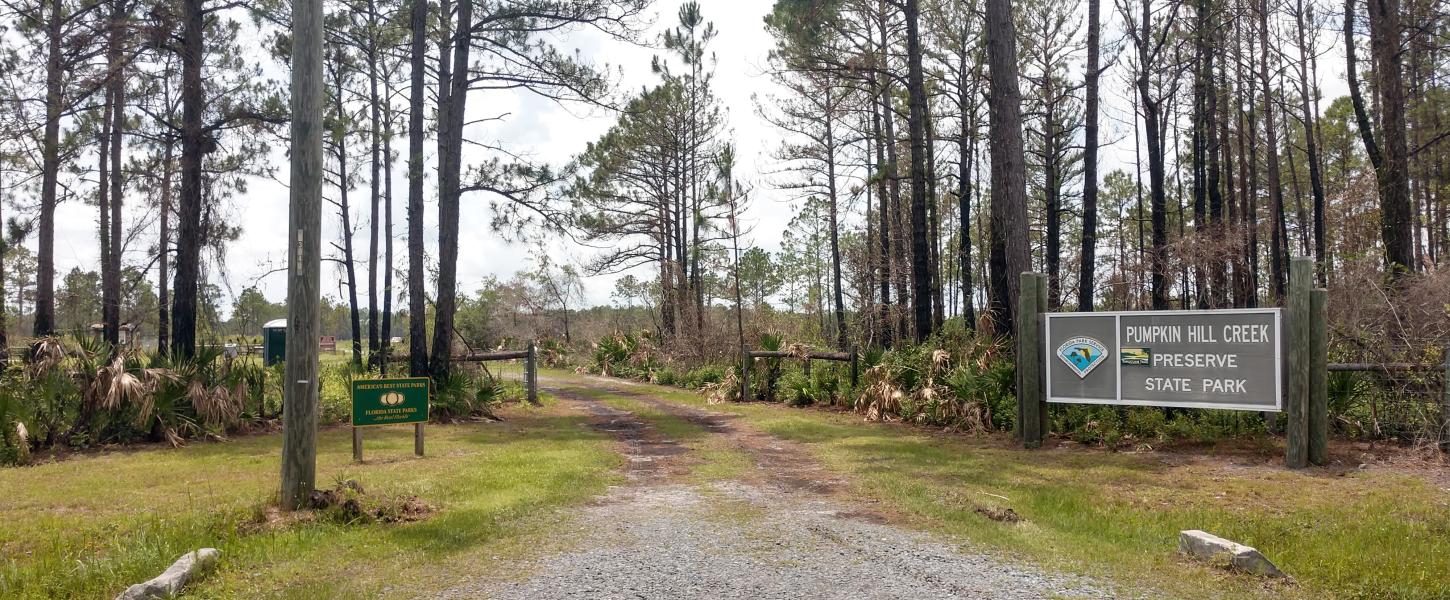 Pumpkin Hill Creek Preserve State Park
The uplands protect the water quality of the Nassau and St. Johns rivers
Hours
8 a.m. until sundown, 365 days a year.
Location
Contact Info
904-696-5980
Welcome to Pumpkin Hill Creek Preserve State Park
East of Jacksonville's skyscrapers and west of the beaches, this state park protects one of the largest contiguous areas of coastal uplands remaining in Duval County.
The uplands protect the water quality of the Nassau and St. Johns rivers, ensuring the survival of aquatic plants and animals, and providing an important refuge for birds. Wildlife is abundant and ranges from the threatened American alligator to the endangered wood stork.
Equestrians, hikers and off-road bicyclists can explore five miles of multi-use trails that wind through the park's many different natural communities. The park has a canoe/kayak launch accessible by a 500-foot portage to the marshes. Located off I-95 or 9A, head east on Heckscher Drive. Turn north on New Berlin Road, then east on Cedar Point Drive. Turn north on Pumpkin Hill Road. Trailhead parking is approximately one mile on the left. Alternatively, if traveling on I-295, watch for the signs to exit north on Alta Drive, then east on New Berlin, then east on Cedar Point Drive and north on Pumpkin Hill Road.
Pumpkin Hill Creek Preserve State Park is now reopened for public access to the main trail networks. Due to ongoing timber management activities, visitors may notice newly mowed, chopped or logged areas within the preserve. These actions are intended to reduce heavy timber and fuel loads to reduce the risk of wildfire and to enable the safe and effective application of prescribed fire, which is critical to restoring the natural ecosystems of the area.
Please take care to follow established trails and avoid closed areas during this period of ongoing fuel management and park improvement.