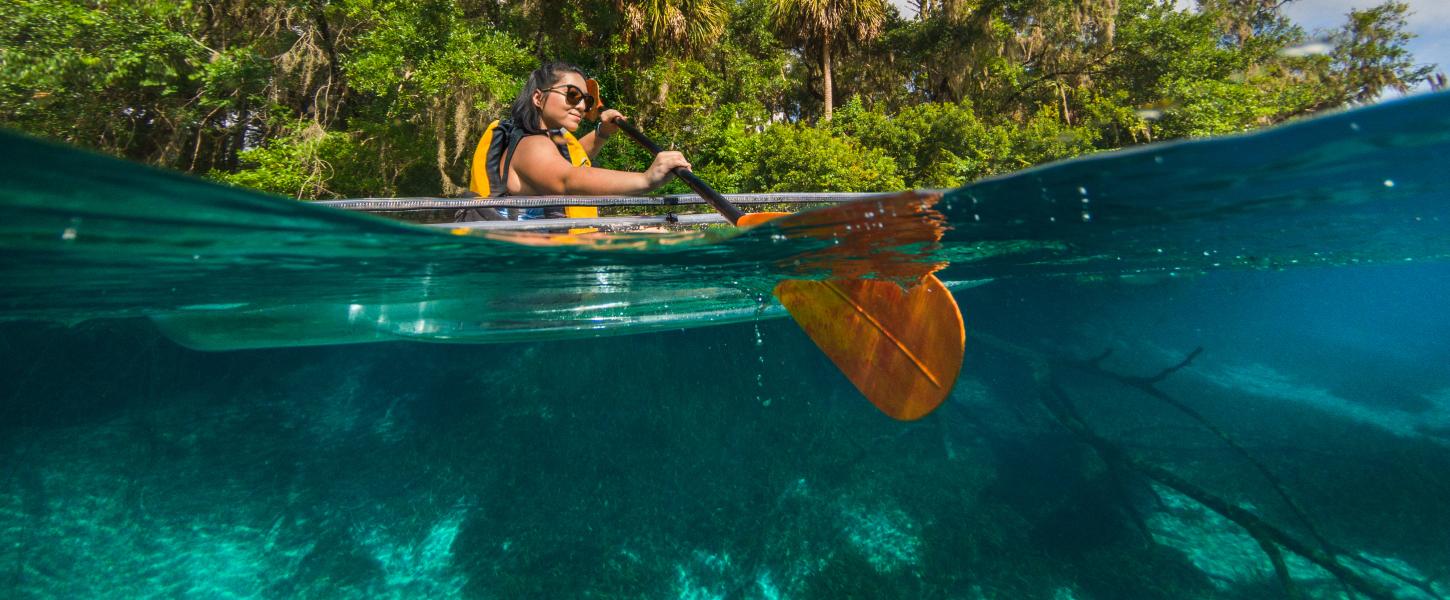 Rainbow Springs State Park
A centuries-old pilgrimage still being made today
Signature Event Cancellation
It is DEP's priority to protect the health and safety of our visitors, staff, volunteers and concessions. To support safe social distancing, the following events have been canceled: Santa Over the Rainbow (December 2020) and Cracker Days (Feb. 27-28, 2021). We appreciate your cooperation and understanding as we continue to review and make additional operational changes deemed necessary for the protection of public health. For additional updates, please visit our Safety Updates Page.
Busy Time for Rainbow Springs
Rainbow Springs has very high visitation on weekends and holidays. The park will close when it reaches capacity, and no vehicles, cyclists or pedestrians will be allowed to enter, including registered campers. If you are renting a pavilion, hosting an event or have been invited to an event, please plan accordingly. Once the park reaches capacity, the park will close for the day. If you leave the park, you will not be allowed to re-enter until the following day. For safety reasons, you will not be allowed to wait in line in the park when we are closed, nor can you park on the roads adjacent to the park. Vehicles left outside the park on the road or private property may be towed at the owner's expense.  
Exact Change Only
In an effort to reduce contact and ensure the safety of our visitors, we ask that all cash transactions be with exact change for our $2 per person entrance fee. We do accept major credit cards as well. 
Habitat Restoration in Progress
The park is in the process of restoring sandhill habitat next to the tubing facility off 180th Avenue Road. The long-term restoration project includes non-native tree removal, prescribed burning, invasive plant control, and replanting of tree species and native ground cover. For details, please review the Frequently Asked Questions. 
Hours
8 a.m. to 5 p.m., 365 days
Location
Contact Info
352-465-8555
Welcome to Rainbow Springs State Park
The history of Rainbow Springs dates back centuries to a time when native peoples regularly visited this lush spring.



Although the modern era has seen the land shaped by both enterprising developers and the loving hands of local volunteers, the draw of the beautifully serene park endures. When swimmers take their first dip in the sapphire-blue waters of Rainbow Springs, they become part of a story that stretches back over 10,000 years, when humans first visited this place.
Ornamental gardens, human-made waterfalls and sloping hills are visible reminders of the springs' more recent past, when the land was home to a mining operation and a privately owned tourist attraction.
Take a walk through lush, mossy hammocks and then cool off in the springs — it's a time-honored tradition.