Know Before You Go
Rainbow Springs State Park has very high visitation on weekends and holidays. When the park reaches capacity at the headsprings entrance, the park will close to all visitors. When the park is closed, vehicles may not wait in line in the park or on adjacent roads. Due to high visitation, Annual Pass sales are restricted to weekdays and non-holidays only. Annual Passes may also be purchased online
The park is in the process of restoring sandhill habitat next to the tubing facility off 180th Avenue Road. The long-term restoration project includes non-native tree removal, prescribed burning, invasive plant control, and replanting of trees and native ground cover. 
Rainbow Springs has served as an important natural resource for humans and animals for many years. At one time, mastodon and mammoth fossils were found in the Rainbow River, along with relics of the American Indians who used the river for transportation and fishing. Much later, in the early 20th century, the surrounding area was mined for phosphate. The new industry brought a boom and the towns of Juliette and Dunnellon were founded. Juliette, once located on what is now park property, no longer exists.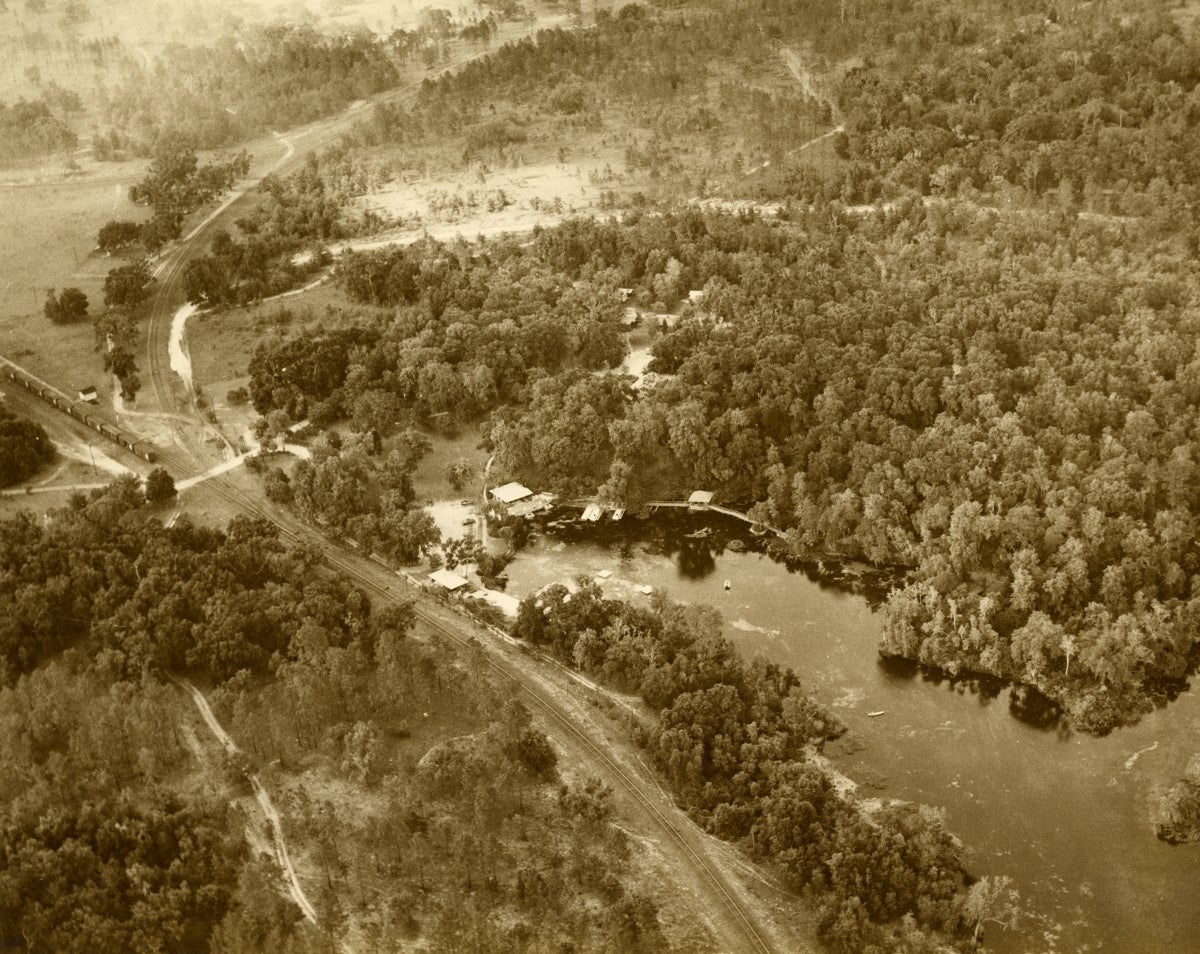 In the 1930s, Rainbow Springs became a privately owned theme park. Most freshwater springs tourist attractions around Florida offered some form of glass bottom boat ride. But at Rainbow Springs the distinctive sub-boats had stairs that went below the waterline and visitors could look out at eye level. Waterfalls were built on piles of phosphate tailings, and a zoo, rodeo, gift shops and a monorail with leaf-shaped gondolas were also added.
The development of the interstate highway system in Florida eventually led to the demise of Rainbow Springs. The interstate passed by the small towns that hosted such attractions, and newer, modern attractions in Orlando drew many away from the older parks. By 1974, Rainbow Springs was closed.
It reopened as a state park in the 1990s. Area residents who supported the acquisition of the park soon formed the Friends of Rainbow Springs, the park's citizen support organization. The group led the way in opening the park by physically clearing paths and bringing life back to the gardens and other features.
Today, the Rainbow River is a designated National Natural Landmark, a Florida aquatic preserve and an Outstanding Florida Water. The park consists of more than 1,470 acres and has three main entrances: the head-springs day use area, the tubing facilities and the campground.
Visitors from around Florida and the world visit Rainbow Springs State Park to swim in the crystal-clear water, tube down the peaceful Rainbow River, and enjoy picnicking with friends and families.