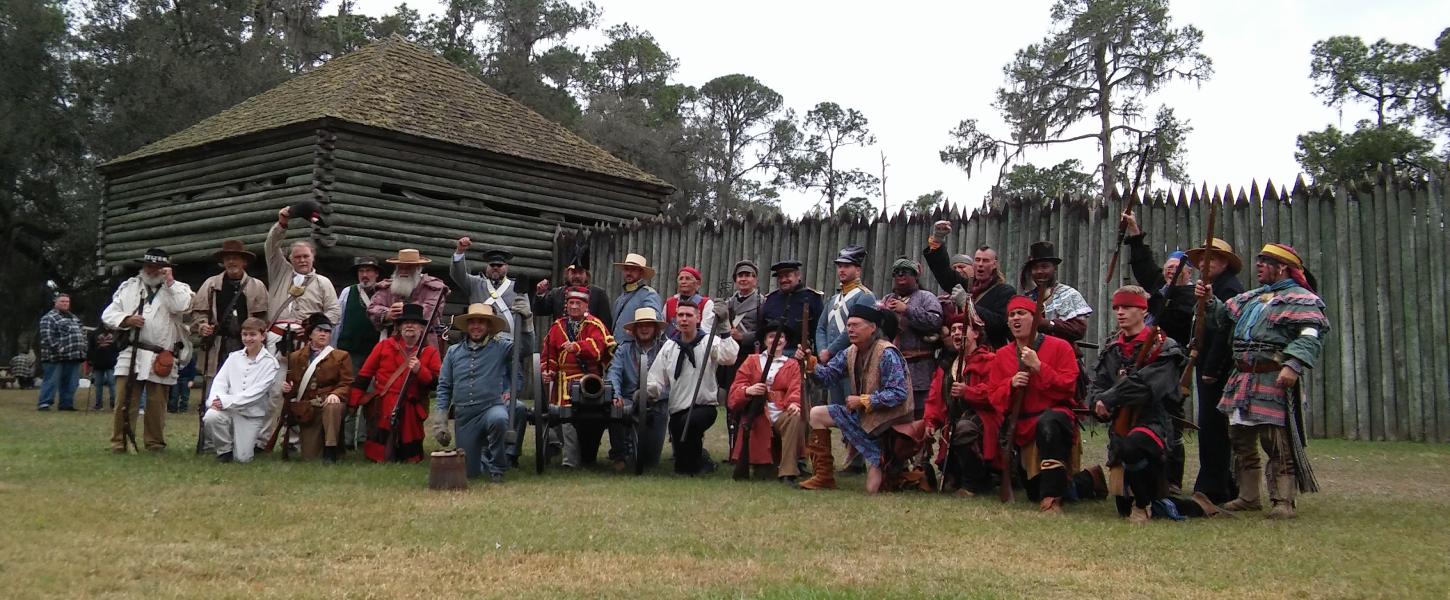 Fort Foster State Historic Site
reproduction of a fort originally built on the same grounds in 1836
Fort Foster State Historic Site Closure
Effective Feb. 23, 2021: Fort Foster State Historic Site is closed until further notice. Tours are not currently being offered and there is no visitor access to the fort.
Hours
Fort Foster is not open for visitation on a daily basis. The fort is opened for guided tours and for special events.
Fees
Location
Contact Info
813-688-9500
Welcome to Fort Foster State Historic Site
Fort Foster State Historic Site is a reproduction of a fort originally built on the same grounds in December 1836 by Col. William S. Foster and his 430 men.
Fort Foster State Historic Site is part of Hillsborough River State Park, located on the east side of U.S. 301 from the park.
During the Second Seminole War, the purpose of Fort Foster was to defend the bridge crossing at the Hillsborough River and act as a resupply point for the soldiers in the field. The fort was garrisoned on and off from December 1836 through April 1838.
Although the fort was attacked on several occasions, the worst attack occurred in February 1836, when a small group of Seminoles attempted to set fire to the bridge. The attempt was thwarted by aggressive musket and cannon fire from the 50 or so U.S. Navy sailors and the 20 artillery men within the fort. 
Today, park staff and re-enactors provide living-history demonstrations of life at Fort Foster. Each year, the site offers two living history events: Fort Foster Rendezvous in January and the Candlelight Experience at Fort Foster in December.
The fort was designed for war and not built to modern safety standards. Rough terrain, uneven floors and blockhouse stairs can be hazardous. Please remain aware of your surroundings as you tour. In particular, pay close attention to small children.
Help preserve the fort by not climbing, sitting, touching, or placing any items on the cannons. The fort and its artifacts may look durable, but they are subject to wear and tear. The Florida Park Service cares for special places so that all may experience our Florida heritage.
Interpretive Center
Accessible from parking lot 1, at Hillsborough River State Park, this center displays over 100 artifacts that were found at the Fort Foster Historic Site. Exhibits offer an understanding of both sides of the conflict between the Seminole nation and the U.S. military. The center is open daily from 9 a.m. to 4 p.m.