Florida State Parks Pet Policy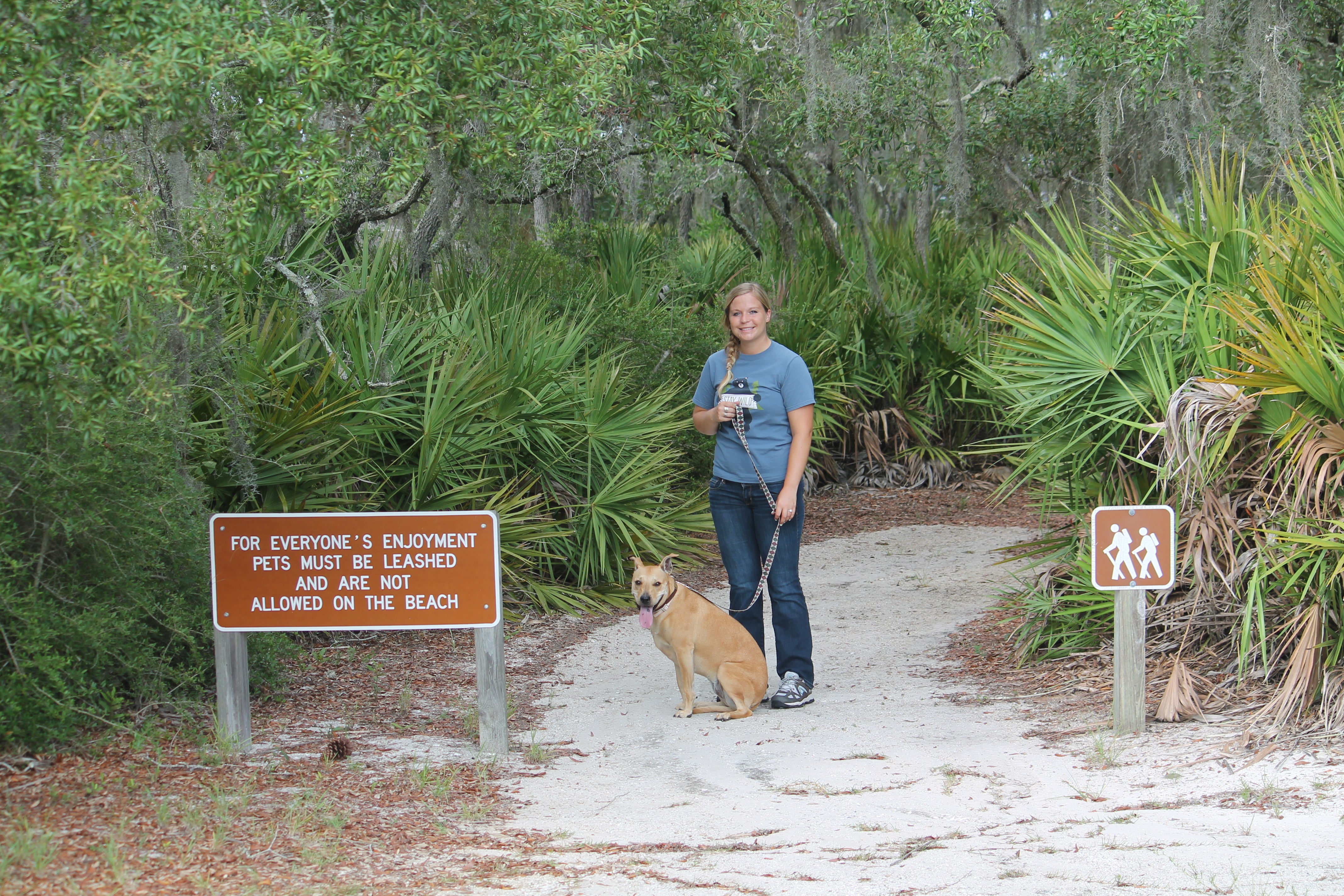 Domestic pets are permitted in designated day-use areas in most Florida State Parks. Exceptions are including, but not limited to, Ellie Schiller Homosassa Springs Wildlife State Park and Weeki Wachee Springs State Park. For the most up-to-date information, please contact the park directly. Pets must be kept on a handheld leash that is six feet or shorter and be well-behaved at all times. Pet owners are required to pick up after their pets and properly dispose of their droppings. Pets are not permitted on beaches or playgrounds, or in bathing areas, cabins, park buildings or concession facilities. Individual parks may have specific areas prohibiting pets.
Park areas will be evaluated, as to the suitability of pets, on a periodic basis as part of the unit management planning process. Areas of the park designated as prohibited for pets shall be determined based on park natural and cultural resources, primary recreational activities, camper and pet health and safety, geographical location and layout of camping areas, and the ability to provide a quality recreational experience for all visitors. 
Service Animal Policy
Florida's state parks welcomes visitors with service animals. Service animals are "dogs that are individually trained to do work or perform tasks for people with disabilities," according to the Revised Americans with Disabilities Act Service Animal Requirements. Our Pet Policy applies to service animals with the following exemptions:
Service animals in a working capacity are allowed in all public areas of the park when accompanied by a visitor with a disability; and,
Service animals should be harnessed, leashed or tethered unless such devices interfere with the service animal's work, or if the visitor's disability prevents the use of these devices. In that case, the visitor must maintain control of the animal through voice, signal or other effective controls.
We understand that service animals may need recreational breaks; therefore, if a service animal is not working (e.g., running around, playing fetch, etc.), it is only permitted at designated pet locations.
Pet Camping Rules
For everyone's enjoyment, including pets, please observe the following pet camping rules. Failure to abide by these rules may result in the camper being asked to board the pet outside the park or check out of the campground. Pets are not allowed in any state park buildings, cabins or cabin areas.
All pets must be confined, leashed, or otherwise under the physical control of a person at all times. Leashes may not exceed six feet in length. This rule does not apply to horses and pack animals brought in for equestrian trail use.
Pets must be well-behaved at all times.
In campgrounds, pets must be confined in the owner's camping unit during designated quiet time hours, 11 p.m. to 7 a.m.
At other times, pets may be left unattended on the owner's campsite for no more than 30 minutes and must be leashed.
Pet owners are required to pick up after their pets and properly dispose of all pet droppings in trash receptacles.
Pets that are noisy, vicious, dangerous, disturbing or intimidating to other persons or pets, or which damage park resources, are considered to be nuisances and will not be permitted to remain in the park.
Non-furbearing pets, such as reptiles, birds or fish, must be confined or under the physical control of the owner. Some animals may be prohibited on park property. Captive wild species, whether native or non-native and barnyard animals, except horses, are prohibited.
The number of pets allowed is variable by park depending on the campsite types and buffer zones available, but shall not exceed four.
Dogs, cats and other pets must be vaccinated as per Chapter 828, F.S. Florida Law. Owners do not need written proof of vaccination when registering to camp.
Equestrians are required, upon request, to provide proof of negative Coggins test (EIA test) for each horse on areas administered by the division in accordance with F.A.C. 5C-18.010, 5C-18.011. This policy also applies to miniature horses that are service animals.
Pets are not allowed at Ellie Schiller Homosassa Springs Wildlife State Park because of the captive wildlife. The park provides complimentary kennels at the main entrance of the park on US 19 for those visitors traveling with pets. They are self-service and free. Service animals are welcome in all areas of the park where visitors are normally allowed.
Pet Safety
Use the tips below for healthier and happier travels with your pets.
Be sure to keep your pet cool. Florida weather varies year-round, but can always include high temperatures, even in the winter.
Be sure to have plenty of water available, especially when leaving the campsite with your pet.
Never leave your pets in a parked car, even if the windows are open or if you are parked in the shade.
It takes only minutes for a pet left in a vehicle on a warm day to succumb to heatstroke and suffocation. Temperatures inside a car easily reach more than 160 degrees if parked in the Florida sun.
Even when the outside air temperature is in the 60s, temperatures inside some vehicles can reach dangerous temperatures on bright, sunny days. So many experts recommend not leaving pets in parked cars even for short periods if the temperature is in the 60s or higher.
Rolling down a window or parking in the shade does not guarantee protection either, since temperatures can still climb. And if the window is rolled down sufficiently, the pet can escape. Plus if a passer-by claims he or she was bitten through the car window, the pet owner may be liable.
Animals are not able to sweat like humans. Dogs cool themselves by panting and by sweating through their paws. If they have only overheated air to breathe, animals can collapse, suffer brain damage and possibly die of heatstroke. Less than 15 minutes can be enough for an animal's body temperature to climb from a normal 102.5 to deadly levels that will damage the nervous and cardiovascular systems, often leaving the animal comatose, dehydrated and at risk of permanent impairment or death.
Know about and prevent heat exhaustion.
If you see signs of heat exhaustion take the dog into the shade, an air conditioned area or to your veterinarian. Do not hesitate to seek medical attention.
Signs of heatstroke include: restlessness, excessive thirst, heavy panting, lethargy, dark tongue, rapid pulse, fever, vomiting, glazed eyes, dizziness or lack of coordination.
To lower body temperature, gradually give the animal water to drink, place a cold towel or ice pack on the head, neck and chest, and/or immerse the dog in cool (not cold) water.