Grant Strengthens Sea Turtle Nest Protection
Nearly every morning in spring and summer, John D. MacArthur Beach State Park rangers Sarah Waddell and Art Carton gear up to go turtle-counting.
At sunrise, the footsteps of beach visitors haven't yet obscured a valuable source of sea turtle data. Marks in the sand called crawls reveal the species, activity and, potentially, the fresh nest of loggerhead, green or leatherback sea turtles.
"Driving up the beach, we stop at every crawl, get out of the UTV and take a look," Waddell said. "We read the track to determine which way the turtle came up from the water, which way back down and then we follow the track up to the apex to figure out if there's a nest."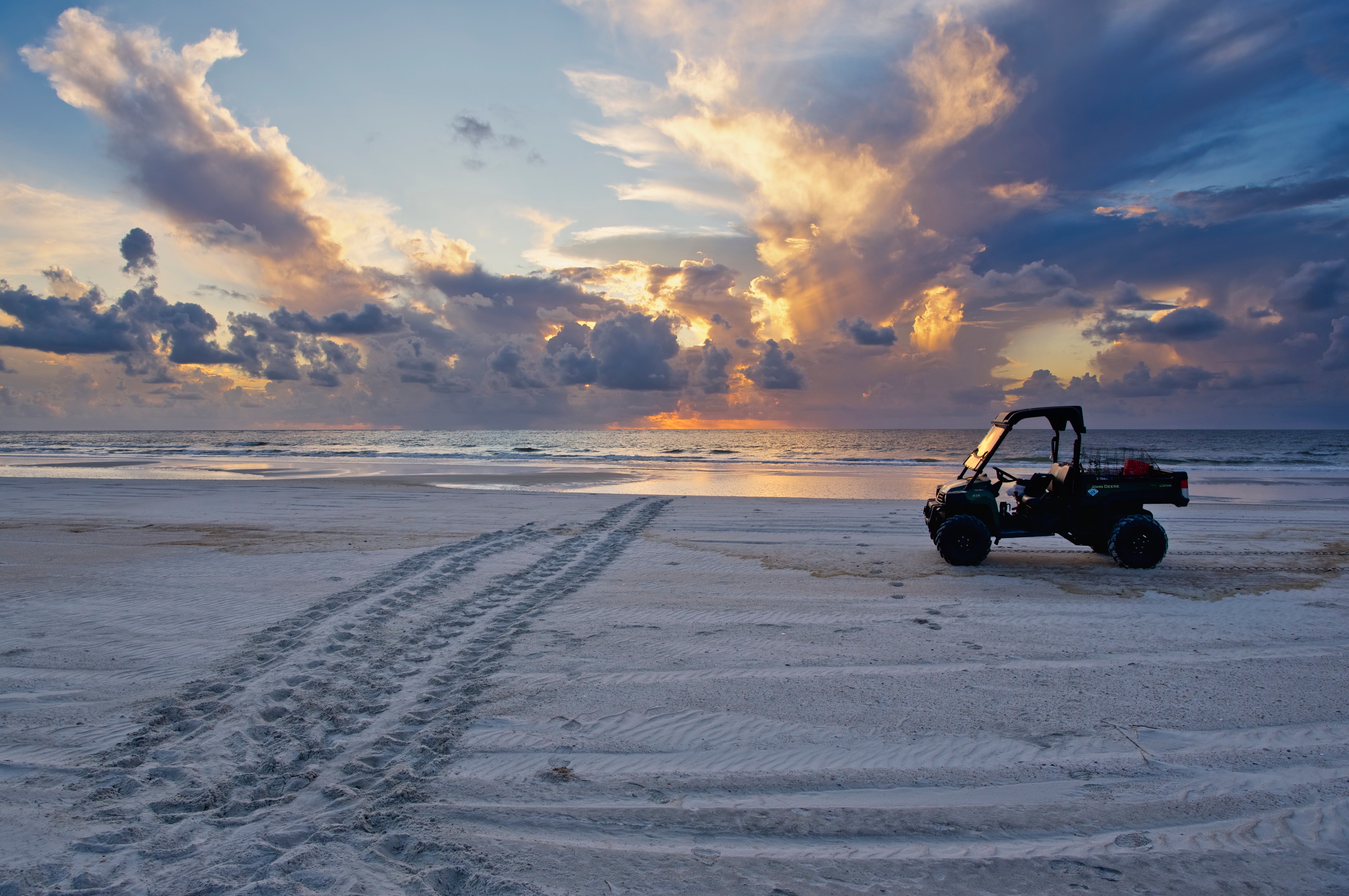 The Florida Park Service created a tool for monitoring sea turtle nests on state park beaches and passing the data to the Florida Fish and Wildlife Conservation Commission (FWC) for analysis. Waddell and Carton worked with biologist Leah Gerlock and geographic information systems technician Andrew Williams to roll out a nest survey app that replaces old-fashioned paper and clipboard surveys.
A major new grant from the Sea Turtle Conservancy will help help improve sea turtle data collection at many of Florida's coastal state parks. The $12,798 grant to the Florida State Parks Foundation was funded by a grant awarded from the Sea Turtle Grants Program. The Sea Turtle Grants Program is funded from proceeds from the sale of the Florida Sea Turtle License Plate. 
The funds will be used to purchase the specialized GPS devices that park staff use to capture data about turtle nesting activity. A mobile app captures better data and can quickly transfer it to a database. That means turtle biologists have a better idea of how nests and turtle populations are faring. Now in its third year, the turtle app went from a limited test at MacArthur Beach State Park to a strong program in use at 40 state park beaches.
The ability to easily enter data also helps staff save time while recording lots of turtle nests!
"In the height of the season, about June early July, we have as many as 50-60 nests a day and 120-130 crawls," Carton said.
"All [the species of sea turtles] are my favorite in their own way," Waddell said. "At the beginning of the season I'm excited to see huge leatherback tracks. To know that this huge animal came up on the beach while we're asleep is so exciting. Greens have so much personality with the track they leave, they explore the beach and meander around."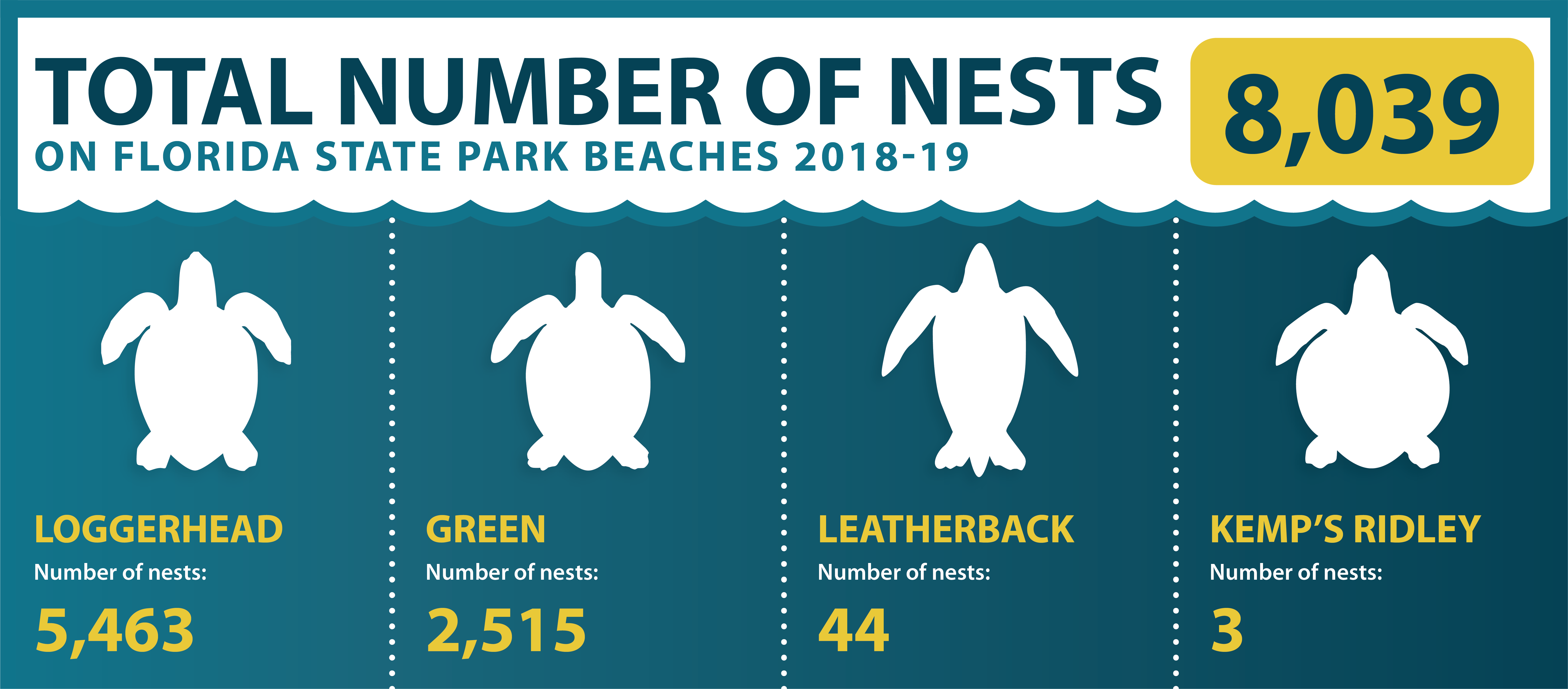 Why do park staff collect information about sea turtle nests?
Simply because many factors work against turtles, including loss of nesting habitat. Hatchlings, which use moonlight to navigate from the nest to the shore, can be misled by artificial lights. Baby turtles are small and vulnerable to predators on land and at sea.
Collecting data about nests helps biologists better understand threats to sea turtles. If you spot a sea turtle that you think needs assistance, for example if it is entangled in debris, tell a park ranger or call FWC's 24-hour Wildlife Alert Number at 1-888-404-FWCC (1-888-404-3922).
You can also help by not littering at the beach, skipping the straw and not leaving obstacles like beach chairs that block turtles' movement. With your help and dedicated staff like Sarah and Art, Florida's sea turtles have a fighting chance.
Read biologist Leah Gerlock's article to learn more about how Florida State Parks protect sea turtle nests