Unmatched coastal cycling opportunities await at Amelia Island State Park. Cyclists can park at this seaside destination, located at the south end of this treasured barrier island, for only $2 per person.
Protecting over 200 acres of maritime hammock, salt marsh and sandy beaches, this area is ideal for cruising through on your favorite bicycle. Begin your adventure with stunning views of the Nassau Sound, the region's prime fishing grounds.
Restrooms, refreshments and bike racks are available at the in-park concessionaire, On The Line Bait and Tackle, via their walk-up service window, open Thursday to Sunday, 7 a.m. to 5 p.m., and Monday, 7 a.m. to 1 p.m.
Once you're ready to start rolling, head either north or south along the paved Timucuan Trail Pathway, part of the 3,000-mile East Coast Greenway that runs along the Atlantic Coast from the Florida Keys up to Maine.
The Timucuan Trail in this area is a paved, mostly off-road pathway that runs north 6 miles to Peters Point Beach Park on Amelia Island, or south crossing the A1A bridge to Big Talbot Island State Park. The southern section brings you across the mouth of the sound to a wooden boardwalk overlooking Spoonbill Pond, one of the premier birding spots in Northeast Florida.
Keep an eye out for the flashy pink plumage of the pond's namesake, the roseate spoonbill, as they search the shallow waters for food with their rounded beaks.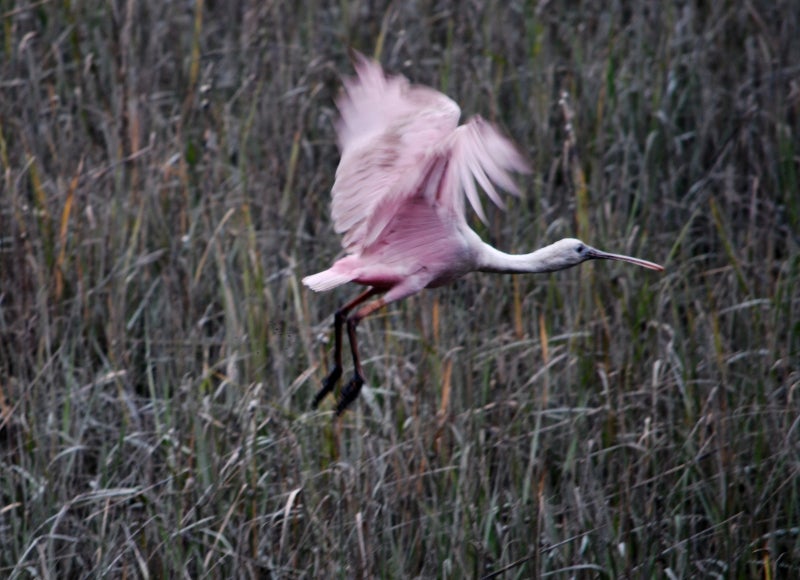 The boardwalk transitions to a smooth paved trail as you enter the maritime hammock forest and travel south through Big Talbot Island, where it meanders for a shady 3.8 miles off-road on the east side of A1A. Stop at the Bluffs Shoreline Trail or Blackrock Trail to access the famous Boneyard Beach, where magnificent giant skeletons of live oak, cedar and pine trees crowd the surreal battered shoreline.
Take the time to explore the Big Pine Trail and its scenic salt-marsh vistas over Simpson's Creek.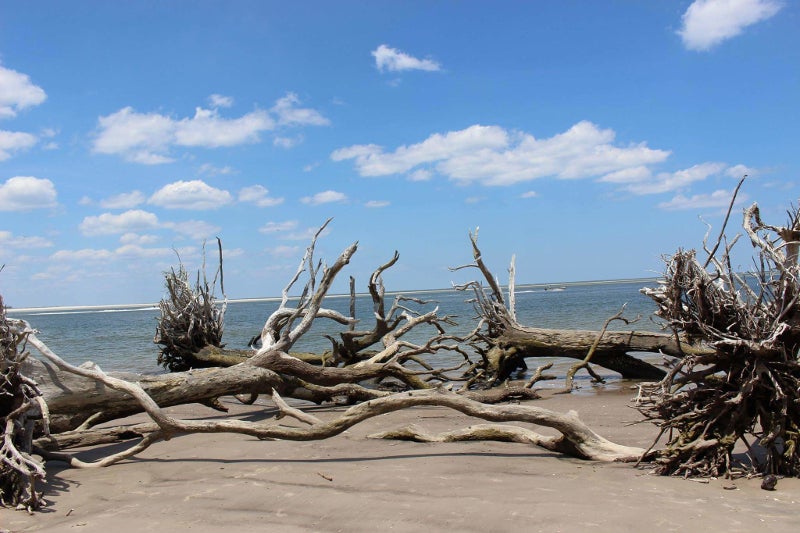 At Big Pine, cross onto Long Island and visit Kayak Amelia outfitters for a paddling trip, or continue into Little Talbot Island State Park where another 3.5 miles of paved bike trail wander through a rustic dunescape to overlook the Fort George River at the south end of the island. Still being built in segments, the Timucuan Trail is unfinished south of the bridge but you can pick it up after crossing Haulover Creek to continue to the St. Johns River Ferry.
This historic nautical element of A1A will take you across the St. Johns River to Mayport, a quaint fishing village and military outpost. Stop at one of the waterfront restaurants for conversation and fresh, local seafood.
Ultimately, the trail will continue from the dock another 6 miles into the city of Jacksonville's Hanna Park, where a variety of fun excursions and events are offered.
This is a scenic cycling adventure that is not to be missed, so start your trip today at Amelia Island State Park.