Experiences
Bicycling
Bicycling can be enjoyed throughout the park, whether you prefer to stay on the paved 2.5-mile Park Drive Timucuan Trail segment, or ride off road through the maritime forest on the Dune Ridge trail or along the hard-packed sand of the beach.
At the south end of the island there is a bike trailhead for the paved multi-use Timucuan Trail, part of the national East Coast Greenway Trail from Maine to Florida, that offers a shaded pavilion with benches, a water fountain, interpretive panels and free air to fill up your tires.
A new segment of this trail now extends south across the Fort George River Inlet heading toward Jacksonville's Huguenot Park.
Bikes are perfect for overnight campers whose sites are an easy half-mile trip from the beach. At low tide, ride 2 miles north to reach a strikingly gorgeous part of the park, the northern sand spit. Search for shells, sand dollars and shark's teeth. and watch the shorebirds foraging in the mud flats.
A limited number of bicycles are available for rent for $2 per hour, $10 per day or $15 per weekend at the ranger station, 904-251-2320.
Helmets are highly recommended for all cyclists and Florida law requires helmets for cyclists age 16 and under.
Birding
Little Talbot Island State Park is the perfect place for bird watching. Whether you prefer seeing shorebirds along the Atlantic coast, wading birds in the marsh or songbirds in the maritime hammock forest, bring your binoculars on your next visit.
From migrating red knots and piping plovers to great horned owls and painted buntings, even the occasional and rare snowy owl, Talbot does not disappoint. Make sure and visit in the late spring and early summer to catch rare glimpses of nesting shorebirds and their young like least terns, Wilson's plovers and black skimmers.
Ask the ranger station for a bird checklist on your way in.
Camping
Camping Full Facility
Little Talbot Island State Park is located near Jacksonville on one of the few remaining undeveloped barrier islands in Florida. The campground is nestled among ancient dunes in a lush maritime hammock of live oaks, American holly and Southern magnolias.
Each of the 36 campsites has 20- and 30-amp electricity, fresh water, fire ring and picnic table. The campground offers a laundry facility and two bathhouses with hot showers. Both restroom facilities are ADA accessible. A dump station is available at the campground exit for RV campers.
Winding tidal creeks border the western edge of the campground where a canoe/kayak launch is available along with a bait cleaning station and short dock into Myrtle Creek. Please note that Myrtle Creek is tidally dependent, and launching may be difficult at low tides when oyster beds are exposed. Bring your own equipment or visit Kayak Amelia, 1/4 mile north of the campground, for daily boat rentals or guided tours.
For children, there is a playground, a campfire circle for group use and the ¾ mile Nature Loop trail that offers self-guided Hike and Seek interpretive programs. Junior Ranger activity booklets are available at the Ranger Station. and kids can earn badges and pins for completing a variety of activities. Kids also can participate in the Park Trash Patrol and help collect a bag of litter in exchange for a prize.
Weekly ranger programs are held every Saturday and offer an educational and engaging experience for all ages. Topics and presenters vary each week and have included Nature Hike, Sharks Teeth, Sea Turtles, Baby Birds by Bike and North Atlantic Right Whales, to name a few. Visit the events page or ask a ranger for an updated schedule and more details at 904-251-2320.
Beyond the camping area, visitors find 5 miles of undeveloped coastal beaches, a 4-mile hiking trail, and a paved path perfect for bicycling and in-line skating. Bicycles can be rented for $2 per hour, $10 per day or $15 per weekend at the ranger station. 
Firewood can be purchased for $7 a bundle, and bagged ice is available for $3. Firewoood and ice are cash only and proceeds benefit our friends group. Bug spray wipes ($2), park stickers ($2), park T-shirts ($17) and friends' memberships also can be purchased with cash. 
Well-behaved, attended and leashed pets are welcome in our campground, on the trails and paved areas. They are not allowed on the boardwalks or beaches.
Maximum RV length = 30 feet.
Hammocks – day use and camping styles – are allowed in designated sites if they are hung using 1 inch (minimum) wide tree-hugger straps from trees 6 inches in diameter or larger. For a list of designated sites, please refer to our hammock camping map.
Reservations can be made up to 11 months in advance through ReserveAmerica. Book online or call 800-326-3521 (8 a.m. to 8 p.m.) or TDD 888-433-0287.
Paddling
Long Island Outfitters is Talbot Islands State Park's canoe and kayak visitor service provider located on AIA between Little Talbot and Big Talbot Islands. The service is operated by Kayak Amelia and offers everything from basic rentals to special focus guided trips.
The facility provides local information including maps, safety information and possible routes. Inside the concession, you'll find a quaint gift shop that offers earth-friendly products including clothing made from organic cotton, hemp and bamboo, DEET free insect repellent, fair trade necklaces, natural handmade soaps, and health conscious snacks and beverages.
Canoe and kayak rentals are available, or if you have your own, there is access to a hand launch ramp for a $1 launch fee. Please check in before leaving.
Kayak Amelia offers guided paddles including birding paddles, tai-chi paddles, stand up paddleboard yoga, sunset and full-moon paddles, and special focus paddles. All guided trips include instruction, snack and interpretation. Additionally, they offer weekly summer camp programs for children.
Fishing
With over five miles of beach, Little Talbot is a surf fishing paradise. The list of species caught from this beach is long. Check with the ranger at the gate or strike up a conversation with one of the regulars; either should know what is biting and where. Pick up a copy of the free local edition of Fishing Connection magazine at the ranger station to get the inside scoop on angling.
The coastal salt marsh on the "back" side of the island offers superb light tackle angling. From tailing redfish to bottom hugging flounder, ambushing trout to hard pulling black drum, you are sure to find something to "stretch your string."
Bait fish like mud minnows and finger mullet may be caught using a cast net in the shallows. Shrimp, fiddler crabs and artificial lures are also popular options. The closest bait stores are White Shell Bait Shop at 7736 Heckscher Drive or Amelia Island Bait & Tackle at 1925 S. 14th St. in Fernandina Beach.
For a real experience, try a guided fly fishing or flounder gigging trip.
Fishing is permitted in accordance with Florida state law. Please go to the Florida Fish and Wildlife Conservation Commission to obtain the most current saltwater fishing regulations and to obtain a fishing license online.
The park does not sell fishing licenses.
All fishing within the park must conform to the regulations concerning size, number, method of capture and season.
Hiking
Little Talbot offers the opportunity of sampling a complete cross-section of a coastal barrier island by foot.
Exposing a variety of the island's wildlife, the Campground Nature Trail is anchored at one corner of the campground by site  No. 39 and provides a comfortable walk of approximately one mile. Beginning next to the salt marshes of Myrtle Creek, it then traverses the gentle hills of ancient dunes through the live oak maritime forest.
Stop to read about the local flora and fauna at interpretive signs. For kids, pick up the Hike and Seek instructions from the ranger station, 904-251-2320, then search for hidden boxes with outdoor-themed treasures to collect. Campground is restricted to registered campers only. No day-visitor use.
The Dune Ridge Trail loop winds four miles through five distinct natural communities, including maritime hammock, beach dune and depression marsh, and finishes its last mile and a half with a breathtaking stroll on the sandy beach. Keep your eye out for colorful painted buntings from late spring to early fall that nest in the scrubby flatwoods here.
If you choose to hike the trails, always check in at the ranger station and remember your water, sunscreen and insect repellent. Sturdy shoes are recommended. Bring binoculars, a camera and a field guide to get the most out of your experience.
Picnicking
Few modes of dining are as enjoyable as eating seaside and al fresco, enjoying the cool breezes off the Atlantic Ocean. Seven large covered beach-side pavilions are available for small groups of less than 12 persons for under three hour durations.
Pavilions 1 to 6 are located at the North Beach Parking area. Pavilions 7 to 10 are located two miles away at the South Beach Parking area.
Several small mini-pavilions are available near the North Beach on a first-come, first-served basis. All pavilions are conveniently located to parking areas, beach boardwalks and restroom facilities.
For more impromptu picnicking, pack a basket and blanket, and walk the trail or the shoreline to get to a perfect secluded picnic spot in paradise. Make sure to pack in and pack out all of your trash. Take only pictures and leave only footprints.
Shelling
Shelling is a favorite pastime of many visitors, and the beaches of Little Talbot Island are a great place to find them. Collectors can find a multitude of species, including clam, scallop, oyster and periwinkle, as well as fossilized shark's teeth.
Plan your shelling around the low phase of the tide, which exposes the most beach area. Look in the "shell line" where the highest waves stop as they come upon the beach and deposit groups of shells.
Please be aware that most everything you find on the beach was, is, or still could be alive and should be returned to the water if an animal is still using it. Pick up a shell and shark's teeth handout at the ranger station to help identify your beach treasures.
Please remember that driftwood is a protected feature of the park and collection is strictly prohibited.
Surfing
The north beach area of Little Talbot offers one of the best surfing beaches in northeast Florida. While there are 5 miles of beach on Little Talbot Island, the northern section of the beach offers the best surf, with plenty of space to catch your own wave.
Please be aware of other swimmers and always use caution while enjoying the ocean. There are no lifeguards on duty.
Swimming
Swimming is permitted in the Atlantic Ocean at Little Talbot Island except in the vicinity of the Fort George River Inlet at the south end of the island. Pay attention to closed-area signs south of boardwalk 3, and enter water only through beach accesses 1, 2 or 3.
There is no further access to entering the water driving south of boardwalk 3.
Boardwalk 4 may currently be used to access dry beach areas only. Ask for a map and more information about restrictions at the ranger station, 904-251-2320.
Please pay close attention to conditions as the ocean always presents some degree of danger. The park displays a colored beach warning flag system at the park entrance that indicates general surf conditions. Swim at your own risk. No lifeguards are on duty.
Restrooms with dressing rooms and outdoor showers are located at both the North and South Beach parking areas.
Tours
Park rangers and volunteers provide a wide variety of programs and activities that are sure to entice the adventurous side of you. Join us for programs that will immerse you in the park.
We welcome school and scouting groups and offer educational programming for your next class outing.
Contact the park for more information on upcoming programs, events, and projects or group tours at 904-251-2320.
Weddings
Preserved as one of the last remaining untouched barrier islands in the area, the natural landscape provides a stunning wedding backdrop of windswept white sand beaches, cascading dunes, sparkling blue water, foraging shorebirds, live oak skeletons and amber seashell beds.
Opened in 1951, Little Talbot's beaches have hosted nuptials for decades.
Wedding permits are $50 plus regular park admission of $5 per vehicle for 2 to 8 people or $4 for single person. A copy of the wedding guidelines details your responsibilities.
Please call the Ranger Station for details and availability, 904-251-2320.
Wildlife Viewing
Because Little Talbot is one of the few remaining undeveloped barrier islands, it provides many different natural habitats. These diverse habitats make for a wealth of wildlife within the park.
Gopher tortoise and snakes can be seen throughout the park. Keep an eye out for raccoons, armadillos, opossums, white-tailed deer, marsh rabbits, and even bobcats, especially at dawn and dusk. The shoreline provides ample opportunity to view shorebirds, and the backside of the island is a haven for wading birds.
Follow the Little Talbot Dune Ridge Hiking Trail over a cross section of ecosystems, and you may be surprised at what you find!
Here are some additional tips to increase your wildlife viewing experience at the park:
Wearing earth tones (khakis, browns, and/or earth greens) is best.
Avoid wearing scented lotions or perfumes.
Bring good binoculars. They are especially helpful for viewing shorebirds and wading birds from a long distance.
Be patient. Wait quietly.
Make sure to stay on the trails. Do not climb the dunes.
Viewing wildlife from a distance is the best way to experience wildlife in their natural habitat and allow them to enjoy the park that they call home.
Please do not feed or harass any wildlife at the park.
Amenities
Beaches
Little Talbot Island State Park offers over five miles of beautiful beaches. With two parking areas and five boardwalks, access to the beach is easy.
Three bathhouses with changing stalls and outdoor showers are provided for your beach enjoyment. Revel in basking, shelling and surfing along undeveloped barrier island coastline. Check out the northern shoreline and its skeleton cedar and palm trees; sand, salt and sun bleached trees that have eroded from the dune bluff.
Take in sweeping views of the Nassau Sound and an old shipwreck at the northern sand spit or watch the chop of the Fort George River inlet as it snakes between the south end of Little Talbot and Huguenot Park.
Wet a line in the breakers for whiting, flounder or pompano. Watch the laughing gulls and royal terns resting on the sand or brown pelicans and osprey dive fishing off the coast.
Remember to pay attention to ocean conditions at all times, as the ocean always presents some degree of danger. The park displays a colored beach warning flag system at the park entrance that indicates general surf conditions. Lifeguards are not on duty and swimming is at your own risk.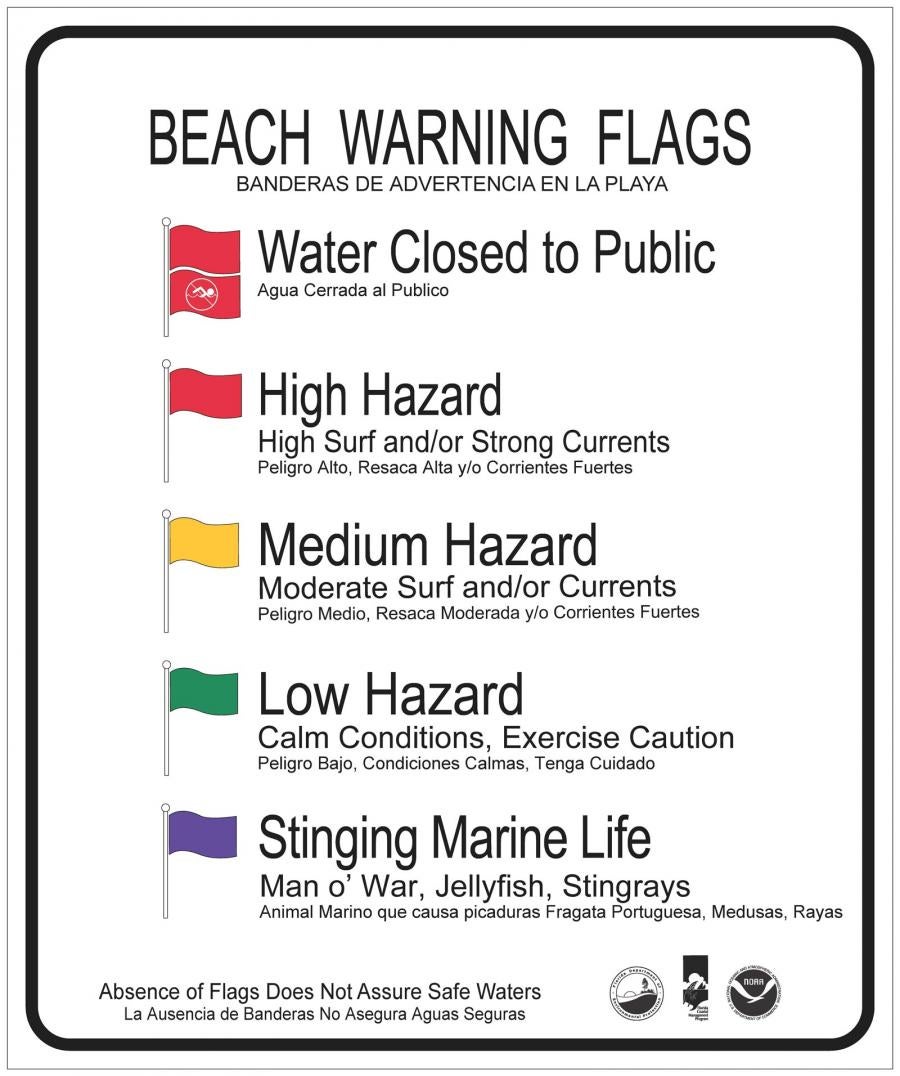 Swimming and wading is not allowed at the south end of the park, south of Boardwalk 4 due to drop-offs and dangerous currents of the Fort George River inlet. Ask at the ranger station at 904-251-2320, for a map and more details of restricted areas.
All beach shoreline within the park is open to bicyclists and pedestrians but not to motorized vehicles. Please walk bicycles on park boardwalks. Metal detecting is permitted south of Boardwalk 1, east of the dune vegetation on the beach.
Collection of driftwood is prohibited.
Pets are not allowed on park beaches.
Visitors to coastal parks are reminded to pay close attention to the Warning Flag Signs posted at welcome stations and on the beaches. These flags indicate the swimming conditions at the beach:
Double red flags mean absolutely no swimming because of high winds and undertow currents
Yellow flag means swim with caution and stay close to shore
Green flag means that the waters are safe
Purple flag means that marine pests are present.
Accessible Amenities
Little Talbot Island State Park is committed to providing a variety of accessible amenities to all of its visitors. Those amenities include:
Two beach wheelchairs.
Ten pavilions near beach with picnic tables and grills.
Beach-side outdoor showers.
Benches, information kiosks and interpretive panels.
A wheelchair-friendly 2.5-mile segment of the paved Timucuan Trail multi-use pathway with covered bike pavilion, benches and interpretive displays.
UTAP Trail information for the Dune Ridge, Campground Nature Loop and Timucuan Trails.
Campground playground. Campground is restricted to registered campers only. No day-visitor use.
Campground fishing dock, bait cleaning station and canoe/kayak launch. Campground is restricted to registered campers only. No day-visitor use.
Park office buildings.
Wheelchair Accessible
Our parks make every effort to accommodate all visitors. We have two ADA beach wheelchairs available for use on the beach.
Please call 904-251-2320 to let staff know when you would like to reserve and use the wheelchair at no cost.
Campfire Circles
Located in our campground next to the tranquil salt marsh, our campfire circle is the perfect spot for your scout troop or youth group to gather. It features several rows of bench seating, fire pit, an elevated stage and white screen for presentations. Electricity is currently unavailable at the site but improvements are underway.
Canoe Kayak Launch
For those bringing their own kayaks or canoes, the fees for using the hand-launch at Long Island Outfitters is $1 per person. Long Island Outfitters is open from 9 a.m. to 5 p.m. throughout the year; however, it is closed on Wednesdays, December through February.
Interpretive Exhibit
The ranger station lobby holds a variety of faunal taxidermy for you to observe. Local critters found within the parks including bobcats, raccoons, red foxes and brown pelicans are on display. Shells, sharks teeth, sea turtle skulls and nature guides are available as well. Chat with the ranger on duty to learn more.
Interpretive ranger programs are offered at the Talbot Islands State Parks every Saturday. The topics and locations of programs vary. Current programs include Nature Hike, Florida Sea Turtles, Astronomy, Nature Photography and What Slithers to name a few.
Please call the ranger station of Little Talbot Island State Park at 904-251-2320 for program information.
A self-guided interpretive program along Campground Nature Loop trail called the Hike and Seek is available for our campers. Please ask a ranger for details.
On-site interpretive programs for groups are available by request. We will do our best to accommodate all requests. Due to staffing constraints, Fridays are typically the best day for us. Please contact the ranger station at 904-251-2320 or a park service specialist at 904-251-2811 for more information and to make a request.
Parking
Once you pass through the ranger station at the main entrance of the park, two large beachside parking lots provide direct access to boardwalks, to the shore and restroom facilities.
The North Beach parking lot is just a quarter-mile south of the ranger station on Park Drive and is our most popular spot. From here you can access the beach and the Dune Ridge hiking trail head.
There is an additional small parking area in front of the mini pavilions. A further two miles south on Park Drive, the South Beach Parking lot provides two additional large lots. Here you can access the south end of the island and the Timucuan Trail bike pavilion.
Please ensure you secure a designated parking spot.
Parking on the grass and vegetation is strictly prohibited.
An additional parking lot is located on the western side of State Road A1A at the southern end of Little Talbot Island at the Fort George Inlet. This lot provides access to the inlet and restroom facilities. The honor entrance fee is $3 per vehicle.
The mission of the Florida Park Service is to provide a delicate balance between high quality recreational experiences for our valued guests, including their pets, as well as the protection of our natural and cultural resources to ensure their preservation for future generations to enjoy. In order to accomplish this, our goal is to allow pets in areas where there are minimal impacts to these natural and cultural resources. 
Little Talbot has several areas that are sensitive to potential pet disturbances, such as the park shoreline and beaches where endangered nesting and resting shorebirds or turtles can easily be disturbed, causing them to vacate. The park works hard to minimize these impacts by providing signage in designated locations where pets are not permitted.
Well-behaved pets are welcome at Little Talbot Island State Park on all nature trails, hiking trails, paved roads, parking lots, campground, pavilions and picnic areas. They must be kept on a 6-foot leash at all times and cannot be left unattended. Pets are not permitted in buildings, boardwalks or on the beach.
Picnic Pavilion
Seven large covered beach side pavilions, 1, 2, 4, 5, 7, 8 and 9, are available in the picnic areas adjacent to the beach parking areas. Three additional large pavilions, 3, 6 and 10, are shared use and non-reservable. Each has eight picnic tables, two grills and can accommodate up to 40 people.
Pavilions 1 to 6 are located at the North Beach Parking area.
Pavilions 7 to 10 are located two miles away at the South Beach Parking area. Several small mini pavilions are available near the North Beach on a first-come, first-served basis.
All pavilions are conveniently located to parking areas, beach boardwalks and restroom facilities. 
Shower Station
Outdoor showers are available at both North and South beach parking areas at boardwalks 1, 2 and 4 to rinse off saltwater and sand after the beach.
Visitor Center
The ranger station at the main entrance of Little Talbot Island State Park serves as an information hub for all seven parks.
The station is open from 8 a.m. until sunset, when rangers are available to answer questions, provide trail maps and brochures, and provide recommendations for local activities. We invite you to stop by and view the interpretive displays of local wildlife, get your park passport stamped, shop for a park souvenir or chat with staff.
Call the ranger station for more details at 904-251-2320.
If you are looking to hold your special event at Little Talbot Island State Park, talk with a ranger at 904-251-2811.