Experiences
Camping
Koreshan State Park offers 60 campsites, all with electricity and water, a picnic table and fire ring. Twelve sites are designated tent camping only and located next to the Estero River. Four paved ADA campsites are available.
Sites have a vegetation buffer between them for privacy. Firewood and ice are available for campers at the ranger station.
The picnic area with a playground is a short walk away. A dump station is available for RV campers. Other amenities include a utility area with a washer, dryer and sinks, and a vending machine. Well-behaved and leashed pets (cats are required to be leashed also) are welcome in the campground.
Maximum RV length = 40 ft.
Hammocks are allowed to be used in campsites number 10, 19, 23, 24, 26, 36, 40 and 60 and must be set up using straps at least two inches wide on trees at least 12 inches in diameter. Ropes are not permitted.
Reservations may be made up to 11 months in advance through ReserveAmerica. Book online or call 800-326-3521 (8 a.m. to 8 p.m.) or TDD 888-433-0287.
Paddling
Canoeing and kayaking on the Estero River is a popular activity at the park. The river is a brackish tidal waterway that leads to the Estero Bay approximately 3 miles west. Canoes and kayaks are available for rent.
Rentals available 8 a.m. until 2 p.m. All equipment must be returned by 5 p.m.
Fishing
There are several spots along the river for fishing. The Estero River is brackish with snook, mullet, redfish and other popular game fish. Freshwater bass can be caught in the summer and fall high-water months. The Estero Bay is located three miles by canoe down the river. It offers abundant saltwater fishing and wildlife viewing opportunities. 
All fishing within the park must conform to regulations concerning size, number, method of capture and season. A fishing license may be required. More information is available at the Florida Wildlife Commission's Fishing in Florida.
Geo-Seeking
Explore the park in a new and challenging way. Experienced Geocachers have requested permission to hide caches containing trinkets, treasures or information in various places around the park. Please check the Geocaching website for the most up-to-date information and clues to locate these caches. 
Hiking 
The park features a hiking trail along the river and a running trail along the park boundary that takes you through a pine flatwoods habitat.
Picnicking
The picnic area is located on the Estero River and is well-shaded by pine trees. Also found there are grills, restrooms and a playground. Consumption of alcoholic beverages is prohibited, except during park-sanctioned events when alcohol is permitted within designated areas.
Weddings
The historic district within the Koreshan State Park offers several locations suitable for wedding parties of up to 75 guests. These areas can be reserved for your event up to a year in advance. We are happy to work directly with you or your wedding planner to see that you have all you need for your special day.
For availability, conditions and fees, please contact the park ranger station at 239-992-0311. 
Wildlife Viewing
Bobcats, gray foxes, river otters and alligators can all be found along the Estero River. During the winter, manatees frequent our waters. Koreshan is great for bird-watching as it is home to over 100 bird species. Among them are swallow-tail kites, bald eagles, bobwhites, belted kingfishers and many wading bird species.
Amenities
Historic Site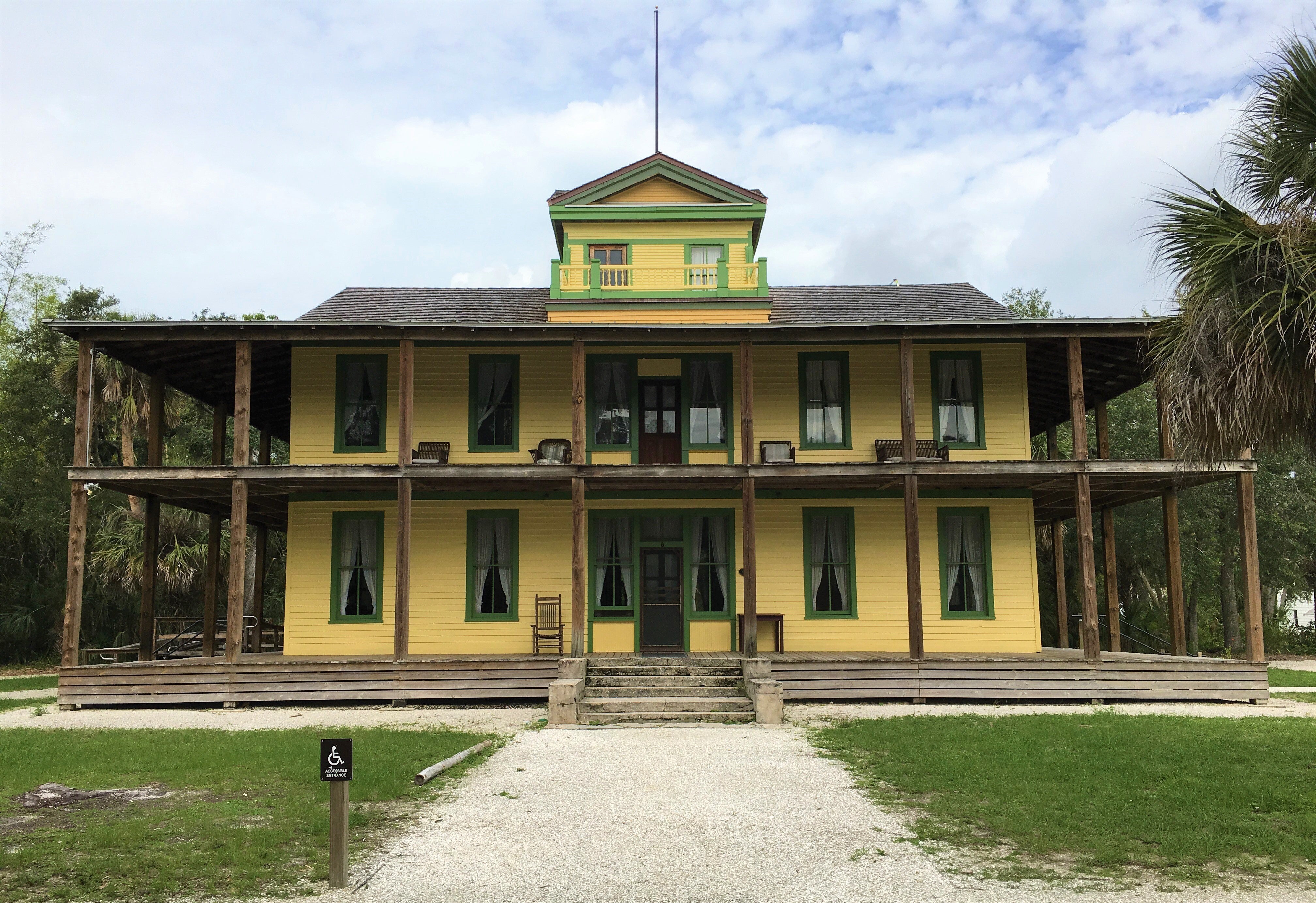 Today the park maintains the heart of Dr. Teed's "New Jerusalem" as it would have appeared more than 100 years ago in the early 20th century.
Eleven buildings on the National Register of Historic Places that date from 1882 to 1920 are located throughout the landscaped grounds that include ornamentally landscaped Victorian gardens.
Visitors can get a glimpse of how the Koreshans lived from the Founders House, Planetary Court, Damkohler, Vesta Newcomb and Members Cottages within the settlement. Their role in commerce and industry is evident in the bakery, new store, large and small machine shops, and the generator building. Their contribution to local culture is evident in the Art Hall.
ADA access is available to the major buildings; however, due to their small size and historical nature, access to the smaller cottages is not possible. Please contact park staff should you require any assistance.
Every Sunday, 8 a.m. to 1 p.m., experience a unique Farmers Market in the historic settlement of the Koreshans. Fresh and local goods including produce, Key lime goodies, seafood, coffee and teas, hot crepes, artisan breads, honey, Classic Cuban, soap, candles, crafts, jewelry and more! Free park admission but $1 per entry environmental impact fee applies.
Interpretive Exhibit
Interpretive exhibits can be found in many of the historic structures in the settlement depicting the life and culture of the Koreshans.
Pets are welcome in the park if they are kept on a six-foot, hand-held leash and are well-behaved and maintained at all times.
Playground
For added enjoyment, the park has a children's playground located in the picnic area.
Boat Ramp
A boat ramp is available. Maximum boat length 24 feet.
Accessible Amenities
Koreshan State Park is committed to providing a variety of amenities accessible to all our visitors.
These amenities include:
Historic buildings: Art Hall restrooms, Art Hall, Founders House, Planetary Court, Large Machine Shop, Generator Building, Cast Iron Café area.
Four campsites with concrete pad, picnic table, ground grill, and nearby restrooms.
Picnic facilities with pavilion, tables and grill.
Restrooms.
Parking.
Service animals are welcome in all areas of Florida State Parks