Grasshopper Sparrow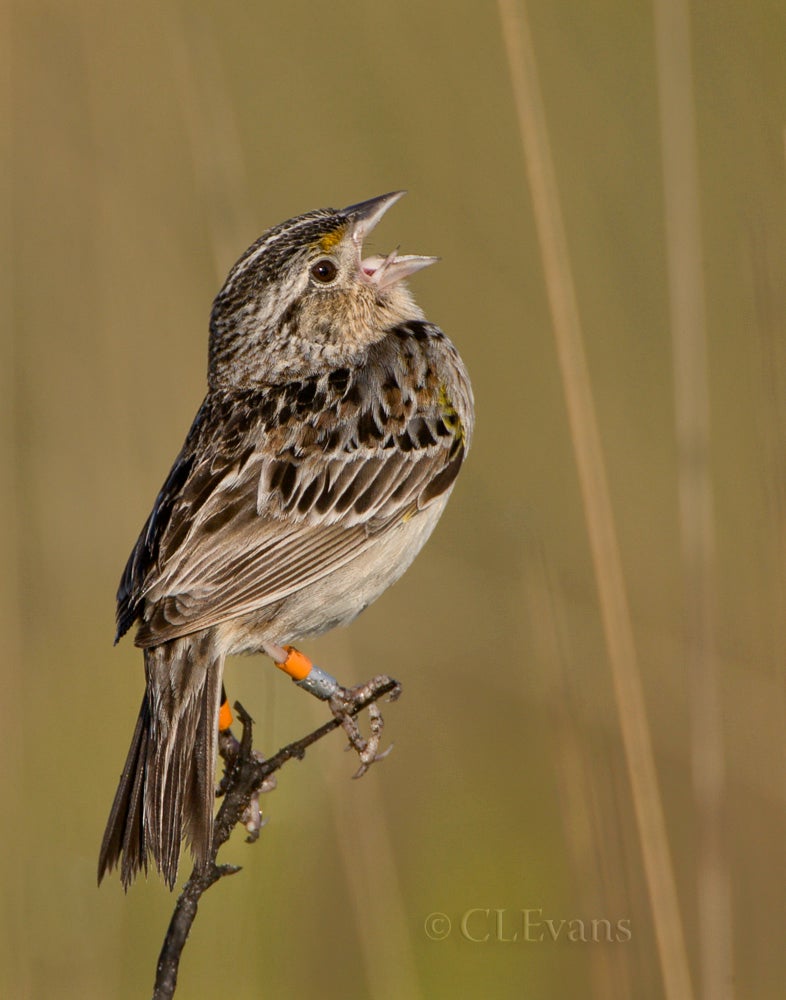 The Florida Grasshopper Sparrow is a federally endangered bird found nowhere else in the world. It is dependent on the Florida dry prairie habitat such as that found in Kissimmee Prairie Preserve—one of the few places where it is making its last stand. Without immediate intervention, the outlook is dire for this diminutive Florida prairie specialist. For questions about the Florida subspecies differs from the northern Grasshopper Sparrow, see Audubon of Florida's blog post Florida Grasshopper Sparrows vs. Grasshopper Sparrows – What's the Difference? 
Here is a short video of a singing Florida Grasshopper Sparrow -- can you hear the buzz at the end of the call? Not everyone can!
Carolina Parakeet
The Carolina Parakeet was the only parrot species native to the southeastern United States and was last observed in the wild in 1920s. The last known nesting location was near Gum Slough within the Preserve. Several factors contributed to their extinction, including feather and egg collection, habitat loss, the pet trade and the parakeet's social behavior. Flocks of 100-1,000 Carolina Parakeets were seen in upland forests, forest edges, wooded floodplains and agricultural lands. It was recorded that as many as 30 birds would share a nesting cavity. These loud, boisterous birds could be detected from miles away. Unfortunately, the parakeets became a nuisance animal when they devoured crops. Protecting their produce, farmers would use the flock's defensive behavior against them. By shooting one or two birds, the farmer would only have to wait for the flock to return and gather around the wounded birds, which then would enable the farmer to eradicate entire flocks. Today, Carolina Parakeets are seen only in paintings or as specimens. Their song and vibrant colors are no longer part of the ecosystem. Florida's dry prairie has many endangered species and it is imperative that they are protected and their habitat is preserved to ensure that they are enjoyed for generations. For more information, please visit the Lost Bird Project.
Restoration
Florida's hydrology has been altered from its original design involving an association between water and fire. The Kissimmee River Valley is no different. The dry prairie ecosystem once stretched from coast to coast and from Kissimmee to Lake Okeechobee. A vast prairie network evolved from ancient seas and more recently by an annual sheet flow of water and frequent fires. With less than 10 percent of this ecosystem left, it is very important to restore the prairie to pre-European influence. More than 70 miles of canals and ditches within Kissimmee Prairie Preserve State Park have been returned to sloughs and swales. With the hydrology restored, water and fire are able to function as strong sculptors. Water is able to perform its role drowning plants that are unable to withstand months-long inundation. Fire is no longer inhibited by deep, wide canals and is able to impact the woody encroachment that has arisen as a result of human activities. Other restoration projects are also planned. The semi-improved pasture (cattle lease) will be restored back to prairie with native grasses and shrubs. Miles of old plow lines from wildfires need to be reconditioned so that they do not continue to restrict fire. Land restoration is a long-term process that requires team work, dedication, expertise and patience. The Florida Park Service has started the process of healing the land for the well being of the various plants and animals that depend on the dry prairie ecosystem.