Updated Facilty Closures
St. George Island State Park reopened on Friday, May 8 2020 to day use visitation. The park will be operating at 75% capacity until further notice. Once the park has reached capacity, arriving visitors will be told to return later when we can accommodate more guests. While visiting the park, please adhere to the current CDC guidelines by maintaining 6 feet apart and keeping gatherings to 50 people or less. 
Due to damage sustained during Hurricane Michael, the following use areas are closed: the East End Special Use Area and the East Slough Overlook Trail. The East Slough Boat Ramp filled in with sand and should be used only by shallow draft vessels during high tide periods. The boat ramp at the group camp area is a viable alternative as well as the boat ramp at the center of St. George Island at the base of the bridge. Thank you for your patience as we continue to recover from Hurricane Michael.
Experiences
Bicycling
The park has four miles of paved road along the main park drive and a five mile stabilized road that leads to the east end of the island.
There are also three and a half miles of nature trails to ride your bicycle on. 
There is a bicycle path outside of the park that leads to the center of the island.
Helmets are highly recommended for all cyclists and Florida law requires helmets for cyclists under the age of 16. Loaner helmets are available for free at the Ranger Station or from one of the campground hosts.
Birding
St. George Island State Park has many different bird watching opportunities. Almost 300 species of birds have been documented here. 
While brown pelicans and gulls are commonly seen on the beach, other species including some that are endangered or threatened may also be seen. Species seen include terns, plovers, herons, black skimmers, sandpipers, red knots and ruddy turnstones.
On the bayside of the park, sightings of osprey, bald eagles, american oystercatchers and egret are frequently seen.
The park is a major area associated with the spring and fall migration of neotropical birds and raptors and include hawks, falcons, tanagers, grossbeaks, warblers and buntings. Popular areas for birding include the main park drive looking over the coastal grasslands and also the youth/group camp area in the maritime hammock.
Boating
Small offshore boats are used around the island for fishing. Keep in mind that the bay can be very shallow and oyster bars and grass flats may pose a hazard.
Camping Full Facility
This 1,962-acre barrier island park has 60 campsites with electricity, water hookups and a dump station that is nearby. Six sites have concrete pads and walkways.
The campground is located behind historic dunes in the pine flatwoods. Although there are no ocean or Gulf views, the campsites are only a quarter mile from the beach and the Gulf. There are two restrooms with hot showers, a playground and a linear nature trail that meanders from the campground through the pine forests and coastal scrub.
Pets are welcome but must be kept on a six foot leash controlled by the pet's owner. Pets are not allowed on the beach or in any facilities. 
There are six concrete campsites with connecting sidewalks to the restroom facilities.
Our hammock camping sites are 1, 2, 3, 4, 5, 6, 7, 8, 9, 14,19, 20, 22, 23, 24, 25, 26, 31, 32, 33, 34, 36, 37, 43, 49, 52, 53, 55, and 57. 
Maximum RV length = 43 ft.
Reservations: Reservations may be made up to 11 months in advance through Reserve America. Book online at ReserveAmerica.com or call 1-800-326-3521 (8 a.m. to 8 p.m.) or TDD 888-433-0287.
Camping Primitive
Primitive "carry in, carry out" camping at Gap Point is accessible only by foot, via the 2.5-mile Gap Point Trail, or by canoe, kayak or other shallow drafting vessel. These two sites accommodate 12 people each.
Campers under 18 must be accompanied by an adult.
There are no restrooms, fresh water, shower or other amenities at the primitive campsites. 
Arrangements to camp in the primitive camp sites must be made in advance through the park office at 850-927-2111. Hammock camping is allowed in the #2 Primitive Campsite. 
The appropriate trees are marked with green paint blazes.
Camping Youth
Youth/Group tent camping is available for organized groups up to 25 or a minimum of six people. Chaperones must remain with the group at all times. Restrooms, cold water showers, picnic tables and a campfire circle are available at the Youth/Group Camp.  
Reservations can be made up to 60 days in advance of arrival for juvenile groups and up to 30 days in advance of arrival for adult groups. Juvenile group requests will not bump a prior adult group reservation made within the 30 day window.
For reservations, please call the park at 850-927-2111. 
A short sidewalk from the parking lot leads you to a raised and flat tent camping surface and a park style grill. There is a grassy field and campfire circle to accommodate up to 25 campers at a time. Hammock camping is allowed in the Youth/Group camping area. 
The appropriate trees are marked with green paint blazes.
Paddling
Canoeing and kayaking are popular activities on the bay. Canoes and kayaks are available for rent at the ranger station.
Fishing
Surf and bay fishing may yield catches of flounder, redfish, sea trout, pompano, whiting or sometimes Spanish mackerel.
All fishing within the park must conform to regulations concerning size, number, method of capture and season. A fishing license may be required. More information is available at the Florida Wildlife Commission's Fishing in Florida.
Geo-Seeking
Geocaches are hidden in the park. Please check Geocaching.com for the most current up to date information.
Hiking 
The 2.5-mile trail to Gap Point begins in the campground and meanders through the pine flatwood forest to the bay. The East Slough Overlook Trail can be accessed half-mile down the trail from the campground or at the East Slough Beach Use Area.
The one-mile long East Slough Overlook Trail features boardwalks, resting benches and information on the resources. Trailhead kiosks contain fliers about the current trail conditions.  The trails were evaluated using the Universal Trail Assessment Program (UTAP).
Picnicking
The park offers six large shelters on the beach, with restrooms and showers nearby. Each shelter has grills for cooking and several picnic tables for visitors. These shelters can also be reserved. Call the park for more information. Consumption of alcohol beverages is prohibited in the pavilions or on the beach.
Shelling
St. George Island State Park's beach can be a great spot to look for shells.
Star Gazing
Come and enjoy the wonderful star gazing opportunities with the darkest skies for miles around. 
The Gulf of Mexico provides 180 degrees of no light pollution and the closest metropolitan areas are over 70 miles away. These conditions allow star gazers to see the Milky Way and some of the fainter constellations.
Swimming
Swimming and sunbathing are popular activities on the white sandy beaches and in the clear Gulf waters. 
Please use caution as lifeguards are not provided.
Amenities
Accessible Amenities
Dr. Julian G. Bruce St. George Island State Park is committed to providing a variety of accessible amenities to all of our visitors. Amenities include:
Three beach wheelchairs
Two Beach Cruiser electric mobility devices (OPDMD)
A floating Mobi-Chair
Two mobility mats at the #1 and #8 beach access points
One mobility mat at the East End Special Use Area
Six (6) accessible campsites
UTAP evaluated nature trails
Beaches
The park offers nine miles of some of the most pristine beaches along the Gulf coast of Florida. Visitors can access four miles of beach along the park's main drive.
The last five miles to the East Pass are accessible only by special permit obtained at the ranger station. There are no charges for bicyclists or hikers.
In 2014, the beach was ranked #3 on the list of Top 10 Beaches in America by Dr. Stephen Leatherman, AKA Dr. Beach.  
Wheelchair accessibility to the water is enhanced by two Mobi-Mats installed at the #1 and #8 pulloffs. Two standard beach wheelchairs and a floating wheelchair are available, please inquire at the Ranger Station about availability.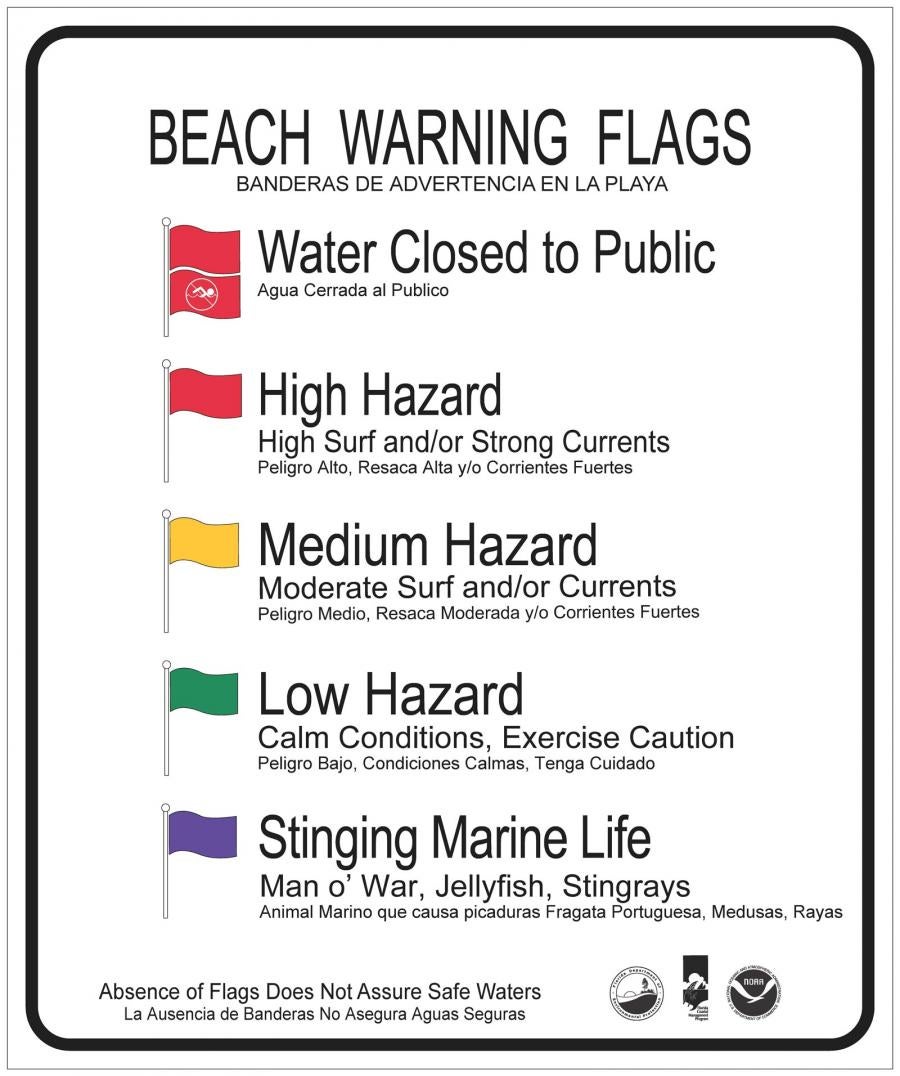 Visitors to coastal parks are reminded to pay close attention to the Warning Flag Signs posted at welcome stations and on the beaches. These flags indicate the swimming conditions at the beach: 
Double red flags mean absolutely no swimming because of high winds and undertow currents
Yellow flag means swim with caution and stay close to shore
Green flag means that the waters are safe
Purple flag means that marine pests are present.
Please use caution, lifeguards are not provided.
Showers for Day Visitors
The park offers cold water showers at the two main beach access areas.
Playground
There is a playground at the family campground, available to all visitors.
Recycling
There are recycling baskets for aluminum cans and plastics at the boat ramps and beach use areas and at each campground bathhouse. There is a large recycling container in the campground to recycle cardboard, paper, glass and plastics.
There is also a recycling basket in the campground to recycle small propane cylinders.
Restroom Facilities
There are two restroom facilities at the beach use areas. Cold water rinse-off showers are provided outside. 
The campground bathhouses provide hot water showers for registered campers only. 
The group camping restrooms provide toilets and sinks only. 
All facilities are fully accessible.
Interpretive Exhibit
In the campground are two interpretive exhibits that include local shells and the history of turpentining on the island and in the park. There are two trailhead kiosks that inform the visitors about local flora and fauna.
Pets
Pets are allowed in St. George Island State Park in designated areas only and must be on a six-foot handheld leash and under the control of the owner.
Pets are allowed in the campground, in the primitive and group campsites, on the paved surfaces and on the nature trails, however they are not allowed in any facility or on the beach.
Picnic Pavilion
There are three covered picnic pavilions at each beach use area. Each pavilion has 10 picnic tables and four pedestal park style grills for charcoal cooking.
Pavilion rentals are available by calling the ranger station. 
Pavilion rentals are not available Memorial Day weekend, July 4th weekend or Labor Day weekend.
Boat Ramp
There are two natural, not paved or maintained, ramps for boat access to Apalachicola Bay. One ramp is located at the Youth/Group Camp area and the other is 2.5 miles from the entrance station at East Slough.
Both ramps are restricted to small craft less than 24 feet in length with shallow draft. Knowledge of local conditions is required for safe boating in the area.
Boat Launch & Entrance Fees
$8 for one person with a boat.
$10 for 2 - 8 people with a boat.