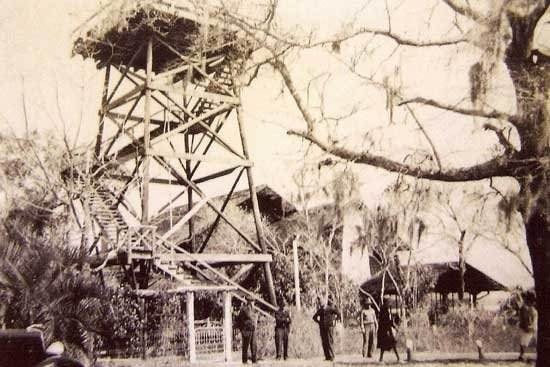 Looking around Camp Helen today, you might not think that people have lived and played here for several thousand years. The first people to make their home here were some of Florida's original inhabitants, known to archaeologists as the Deptford culture dating back to 500 B.C.
Other subsequent indigenous people left behind evidence of their lives at what is now Camp Helen and have been identified through the pottery middens found on the property. According to local legend, there was a passing band of Native Americans in the early 1800s that attacked a stranded schooner under the leadership of a man named Phillips. This tale, handed down by the sole survivor of the attack, earned Phillips Inlet on Lake Powell its name.
Phillips Inlet and Camp Helen saw little other recorded development or use until the early 20th century. It was in the heady days of the 1920s when visitors really were attracted to this lovely, isolated corner of the Florida Gulf Coast.
In the 1920s, McCaskill Investment Co. of DeFuniak Springs, Florida, published a brochure inviting people to visit the Inlet Beach Hotel, located near where Camp Helen stands today. The brochure touted the beautiful scenery, climate, fishing and beach fun that awaited vacationers.
By 1931, the hotel had burned to the ground and McCaskill had formed a company with Robert Hicks who was interested in developing the property as a retirement complex. The untimely death of Mr. Hicks in 1932 brought a halt to the development plan and McCaskill sold their interest in the company to Mr. Hicks' widow, Margaret. The building known as the Lodge was completed in 1932, and Mrs. Hicks, along with her young daughter, also named Margaret, chose to make this their permanent home. They called the property Loch Lomond.
Mrs. Hicks built several of the structures still standing at Camp Helen and operated part of her property as a public vacation spot to supplement her income during the Depression. The Lodge always remained a private space for the family and was the location for family celebrations such as the holidays and young Margaret's marriage in the early 1940s. In 1942, Mrs. Hicks placed her property up for sale and moved to Arizona.
In 1945, Avondale Mills of Alabama purchased the property for use as a vacation camp for their employees.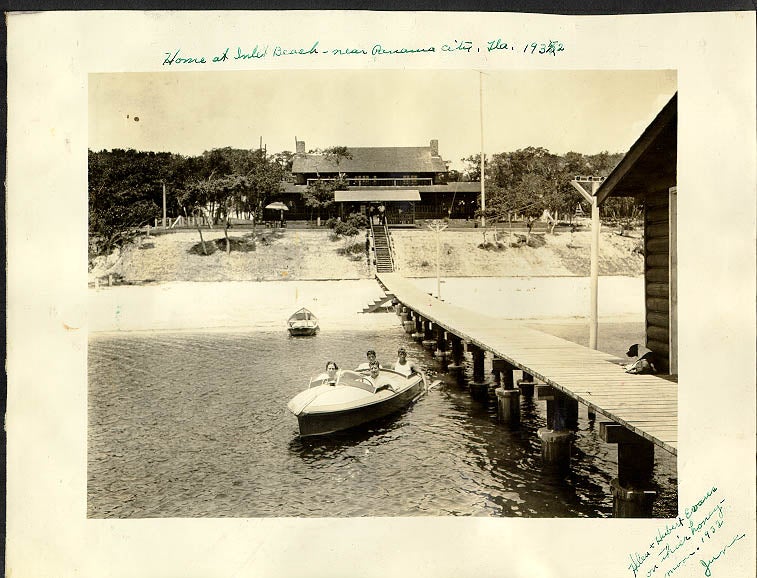 Avondale Mills, a cotton mill and fabric manufacturer, was founded by Braxton Bragg (B.B.) Comer in 1897. Avondale Mills operated plants throughout Alabama and was one of the few companies where employees never unionized. The company provided various benefits to its employees including housing, medical care, schools, community centers and recreation facilities. One of the benefits provided to employees was the use of Camp Helen.
The original Camp Helen was located at Hog Island Sound, in what is now Tyndall Air Force Base. Mr. Comer always named his mills and properties after women in his family, and Camp Helen was named after his son Fletcher's wife, Helen. This camp had been operated in the summers for Avondale employees, but in 1941 was requisitioned and turned over to the U.S. Government in anticipation of World War II.
The "new" Camp Helen opened to employees in 1946, with permanent duplexes, a recreation hall and fishing pier on the Gulf added in the 1950s. Camp Helen provided a week's worth of fun for Avondale Mills employees who could enjoy boating, fishing, sunbathing, shuffleboard, volleyball, basketball and other activities. Meals were served three times a day in the dining hall, and guests could enjoy evening fun in the recreation hall with dancing, bingo and music. Camp Helen was open in the off-season to a variety of Avondale employees, management, business affiliates, and personal friends of the Comer family.
In 1987, Avondale Mills discontinued its use of Camp Helen as a vacation facility. In 1996, the state of Florida purchased Camp Helen and opened it to the public in 1997 as a state park.
Today, visitors to Camp Helen can enjoy the beautiful scenery, good fishing and Gulf beaches that have enchanted visitors for decades.
As you explore the buildings left behind by the Hicks family and Avondale Mills, you can catch a glimpse of vacationing in Florida as it used to be!