Prescribed fire is one of the most important tools the Florida Park Service uses to help preserve and restore our natural environment.
Prescribed fire is the controlled application of fire by a team of fire experts under specified weather conditions. Prescribed fire helps reduce wildfire risk and restore health to ecosystems that depend on fire.
During much of the 20th century, land managers excluded fire from Florida, quickly extinguishing natural fires caused by lightning. The Florida Park Service and partners such as the Florida Forest Service are now working to restore habitat where lack of fire led to overgrowth. When lightning strikes land that is well-managed with prescribed fire, the likelihood of an uncontrollable wildfire is very low.
New technologies, training, partnerships and your support are helping us apply prescribed fire to more land than ever. That's good news for Florida's environment! Wildlife like the Florida scrub jay, Florida black bear and gopher tortoise all benefit from prescribed fire.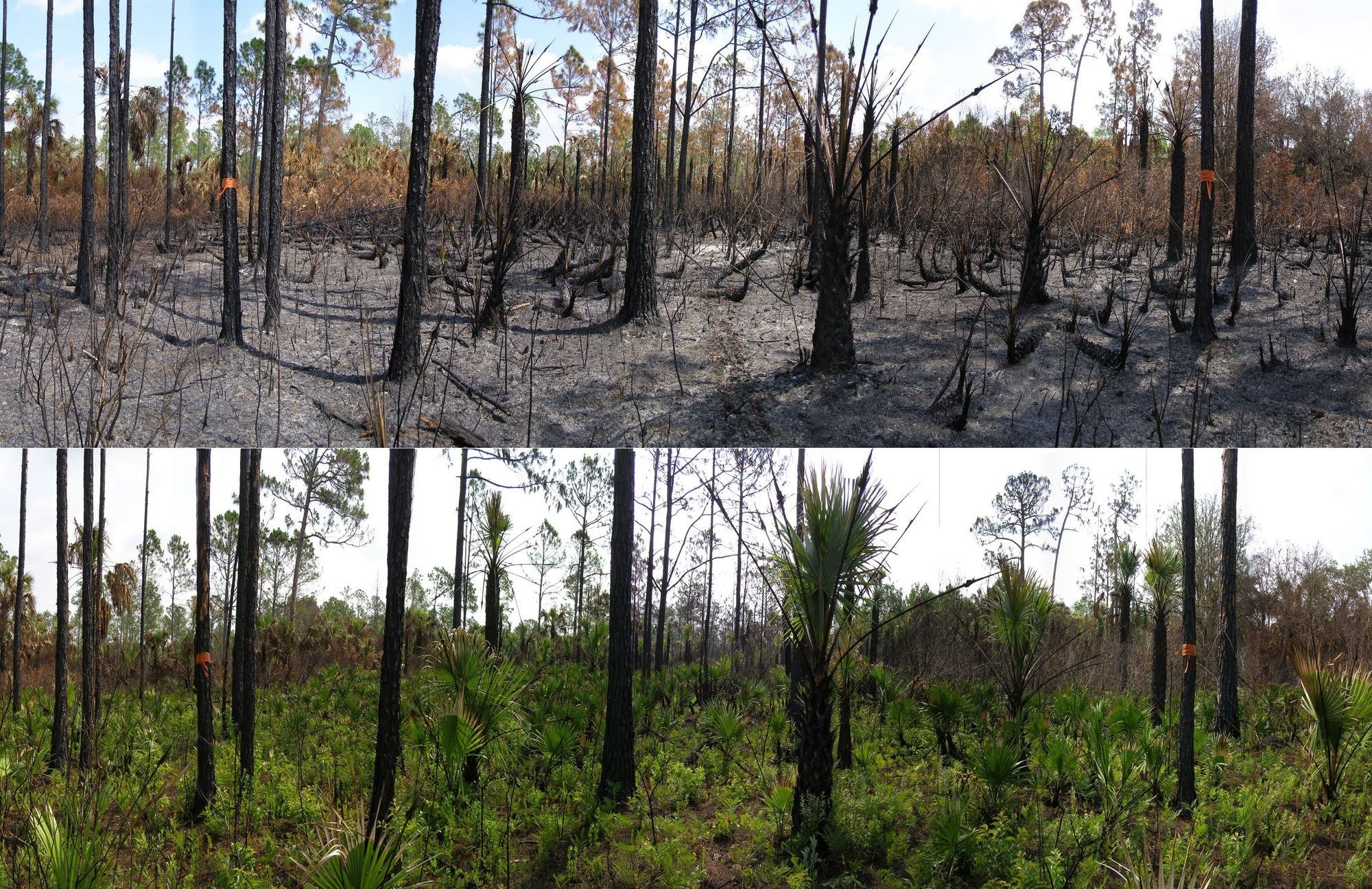 At Torreya State Park, staff are restoring a sandhill ecosystem on former tree farm land. Sandhills are open pine forests that formed on ancient sand dunes. They are one of the most biologically diverse ecosystems in North America, but that diversity is dependent on frequent fires that rejuvenate the forest floor and open areas for new plant growth. At the park, staff recently conducted a 700-acre prescribed burn that will help reestablish distinctive sandhill species like longleaf pine trees and wiregrass. Prescribed fire at Torreya also helps reduce the risk of wildfires. 
Many habitats at Kissimmee Prairie Preserve State Park are also dependent on prescribed fire. Imperiled species like the crested caracara and grasshopper sparrow prefer prairie habitats that are burned regularly. Staff at Kissimmee Prairie recently celebrated a major accomplishment: applied prescribed fire to over 10,000 acres of the vast 54,000-acre park in one day. The burn is a major success for restoration of the park's rare dry prairie ecosystem.
Learn more about how prescribed fire benefits Florida and watch a new video about prescribed fire at Oscar Scherer State Park.