Beginner's Guide to Birding
Bird-watching is a great way to get outdoors and learn about the environment.
Birds can be seen from just about anywhere – your office window, your car or even your front door.
However, state parks and green spaces provide the greatest opportunity. Here are some beginner-friendly tips to help you keep track of your avian encounters.  
Gather Supplies  
Birding can be the perfect low-cost activity to spice up your everyday scenery. All you really need to be successful in your search are a bird guide, binoculars and some patience. Some people might want to include a camera with a zoom lens. 
Bird guides are important to help birders identify species and learn about the birds. Look for bird guides at your local bookstore or online. The National Audubon Society offers recommendations. Binoculars will help you spot birds at a distance. These are available at most sporting goods stores and online retailers.  
To track your sightings, include a bird life list on your list of supplies. This will provide you with a list of species that you can check off as you see them. It will also help you set goals to find birds that might be harder to find. 
Practices to Perfect 
Becoming a skilled bird-watcher doesn't happen overnight. Like any new hobby, it takes time to acquire and refine the skills needed for a lifetime of successful birding. Be patient and find a bird-friendly environment.  
Adaptation  
Successful bird-watching will depend upon the time of year and the time of day. Most birds are more active early in the day when temperatures and wind speeds are lower. Starting in the morning is a good way to attain the most opportunities to see new birds.
Paying attention to migration patterns is also important to consider when bird-watching. Though some year-round inhabitants exist, it is important to make note of what times of year some of the migrating species will be present to take advantage of seeing a variety of birds. Blending into the foliage will help you to avoid scaring off any birds. Watch them come to you as you blend into the surroundings!  
Patience 
Though many birds readily announce their presence with vibrant song, others are more subdued and prefer to blend into their environment. Patience is key when actively bird-watching.  
Bird-Friendly Environment  
An important step in your bird-watching journey is determining where you want to go to look for birds. We have some recommendations.  
Florida Panhandle  
At Three Rivers State Park in Sneads, American bald eagles make their nests and can be seen flying over Lake Seminole. Also watch for egrets, herons, white ibis, hawks and ducks. 
Northeast Florida 
Big Talbot Island State Park in Jacksonville is a birder's paradise. Look for colorful wading and foraging shorebirds along the elevated boardwalk at Spoonbill Pond. Black skimmers, ospreys, piping plovers, wood stork, egrets, herons and osprey are easy to spot. You might even find barred owls, painted buntings and pileated woodpeckers.  
Central Florida 
The scrub habitat at Lake Kissimmee State Park attracts Florida's only endemic bird, the Florida scrub-jay. These popular birds are blue and gray and reside in habitats of low-growth scrub oaks and sandy soils. Also look for turkey, swallow-tailed kites, crested caracara, limpkins and white ibis. 
Southwest Florida
The birdwalk at Myakka River State Park extends over the shallow waters of Upper Myakka Lake. Look for belted kingfishers, herons, egrets, ducks, cormorants, anhingas and roseate spoonbills.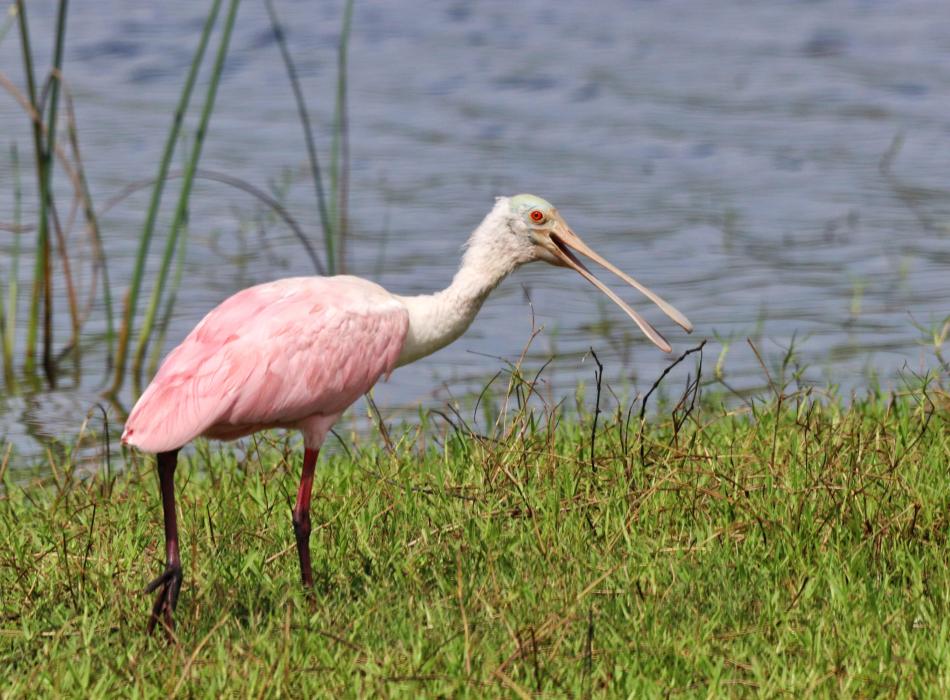 A roseate spoonbill walks along the lakeshore at Myakka River State Park.
South Florida 
The variety of birds seen at Dr. Von D Mizell-Eula Johnson State Park in Hollywood is astounding. Along the Atlantic beach, expect to see herons, egrets, brown pelicans, black skimmers and ruddy turnstones. Along the mangroves-lined Whiskey Creek, looks for osprey, white ibis and other foraging birds.  
Find statewide birding opportunities  online and on the Great Florida Birding and Wildlife Trail. 
---
This article was published in the Real Florida ℠ Connection, the Florida State Parks e-newsletter. Sign-up to get updates and stories from your state parks every month.