Swimming at De Leon Springs
Beat the heat and go for a swim!
Splish, splash and escape the summer heat at De Leon Springs State Park! Swim in our refreshing 72-degree spring water where depths range from 18 inches to 30 feet at the spring boil.
Wade in the shallow spots or submerge into the turquoise waters where the sunlight penetrates the crystal-clear water, beaming downward to the opening of the spring boil. For those seeking to get their heart rate pumping, the swimming area is approximately 500 feet in circumference; swimming nine laps around the pool would be about a mile.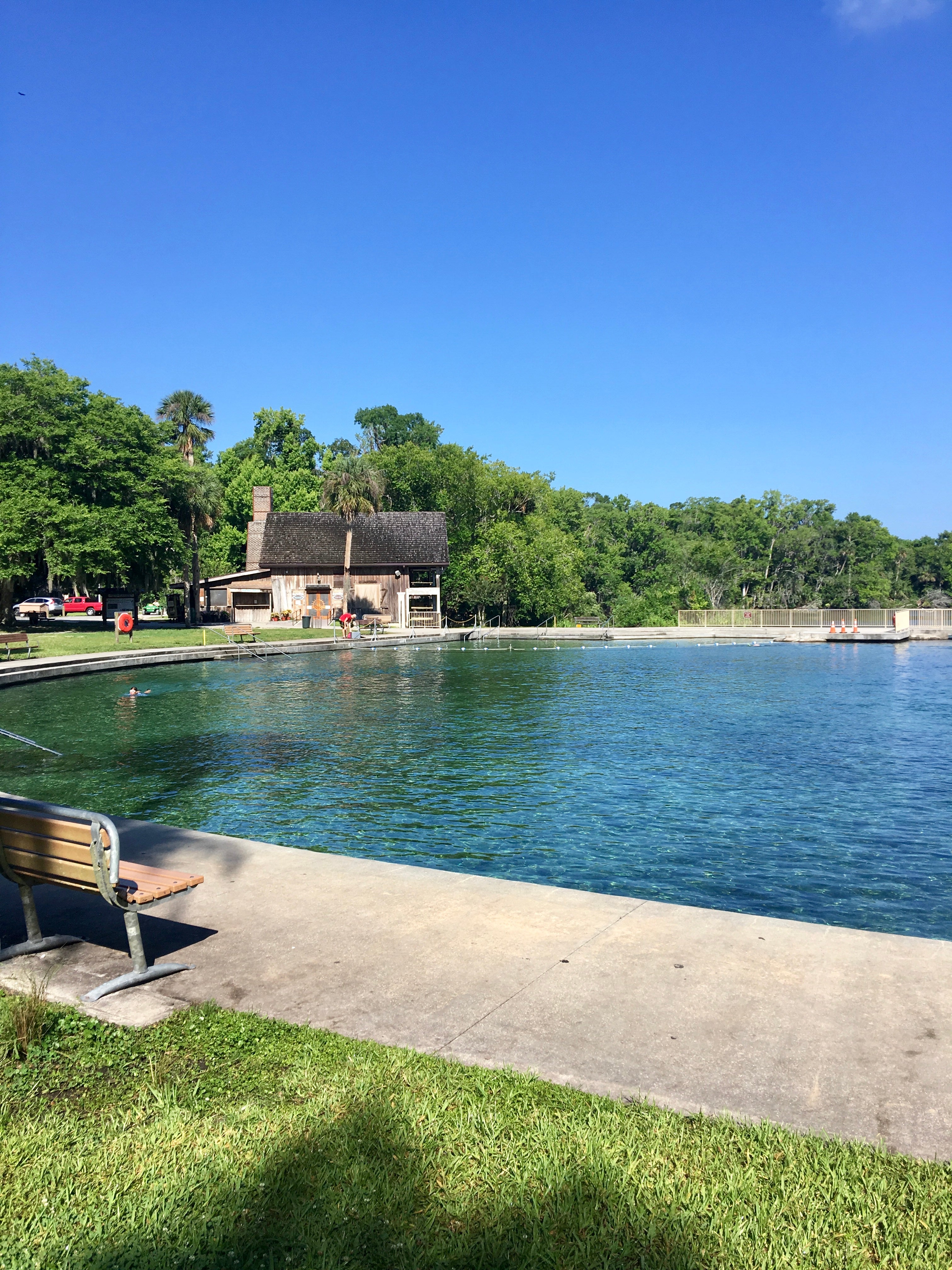 The spring is located in a natural setting perfect for spreading a blanket and having a picnic in the surrounding grassy areas. There are tables and grills available on a first-come, first-served basis, and four picnic pavilions are available for rent, perfect for a family or friend summer outing.
Please be aware that alcoholic beverages are not permitted in any area of the park.
If you are feeling hungry before or after your swim, please visit the famous Sugar Mill Restaurant where your cravings will be satisfied. 
Swimming is allowed from 8 a.m. until a half-hour before sunset (park closing).
There are no lifeguards on duty so please swim with discretion and at your own risk.
Be prepared to carefully monitor your own children and non-swimmers as there is no lifeguard on duty. Children and non-swimmers should be accompanied by an adult swimmer at all times and should remain in the roped-off areas. 
No swimming is permitted in Spring Garden Run.
Pets are not allowed in the sunbathing area.
Summertime is Florida's stormy season, and the swimming area will be closed when lightning is detected within 6 miles.
Our spring is ADA accessible with a swimmer chair lift and stairs with handrails into the swimming area. 
Individual-size flotation devices (floats and rafts) are allowed in the swimming area; however, flotation devices cannot exceed 5 feet by 5 feet for a circle-shaped float or 4 feet by 6 feet for a rectangle-shaped float.
Scuba Diving
Only instructional diving is permitted, taught by a certified and insured instructor with a current Florida State Parks dive permit.
Recreational diving is not allowed. Free-diving into the spring cave is not permitted.  
All artifacts in the spring are protected by state law and must not be disturbed or collected.
The use of metal detectors, magnetometers or other metal-detecting devices is prohibited in the park.
Snorkeling
Snorkeling is permitted in the swimming area only and not in the spring run due to boats and alligators.
Experience another world underwater that is rich with history, but remember, all artifacts in the spring are protected by state law and must not be disturbed or collected.