Staff Spotlight, Florida Grasshopper Sparrow Team
Florida Grasshopper Sparrow Team
---
Jenna Atma - Lead Sparrow Technician
Jenna grew up in southwest Michigan, where she started her biology fieldwork. Since she started working in the field, she has lived in Kansas, Wisconsin and, now, Florida.
Jenna has loved nature from a young age. Her family would often go on hiking and backpacking trips during summer vacations, where she would learn about sustainability and endangered species. Jenna was home-schooled, which meant she was never "out of class," and all summer vacations included ecology, history and cultural lessons packed into wherever her family visited. Jenna credits her parents for these experiences because it helped shape her understanding and appreciation for the outdoors and conservation work from a young age.
It has been a special experience for Jenna to work with Florida grasshopper sparrows. Rarely do people in this field have the opportunity to do hands-on work with an endangered species in need of protection.
Jenna adores the sparrows and how subtly unique each one is. She began seeing their individual personalities from observing them in the field throughout the season.
The most valuable skill Jenna has gained during her time at Kissimmee Prairie Preserve is learning how to participate in prescribed burns as a crew member. She has been a part of five prescribed burns this season at the prairie and has learned something new each time. The ability to read the landscape, assess the weather based on the sky and wind, as well as understand the effects of fire on prairie habitats and species are invaluable skills for Jenna.
---
Emily Card - Sparrow Technician
Emily grew up in southeastern Michigan, where she discovered the conservation field.
When Emily was in the eighth grade, her aunt took her on a Department of National Resources tour in northern Michigan to look for the Kirtland's warbler, a songbird that has recently been taken off the Endangered Species list, thanks to the efforts of biologists. During this experience, she learned how habitat reduction and climate change are causing the decline of bird populations across the globe.
Since then, Emily has made it her mission to help save threatened species and raise awareness about the importance of conservation and maintaining biodiversity.
For Emily, working with the Florida grasshopper sparrow has required patience. She spends a lot of time watching a singing male to see if he has a mate and to find the location of a nest. Despite the long hours spent watching a single bird, Emily says it's rewarding to protect a nest and help nestlings fledge. 
Her favorite part of the job is getting out to the survey sites before dawn and watching the world "wake up" every morning. The park has some of the best sunrises that she has experienced, and it's always a pleasant experience for her to listen to the dawn chorus.
One of her favorite aspects of the park is how expansive and remote it is. Emily loves having the opportunity to explore the backcountry after finishing the surveys for the day and seeing a variety of animals and plants.
---
Bianca Sicich - Sparrow Technician
​Bianca was born in St. Louis, Missouri, but grew up in Austin, Texas. When she was a college sophomore, she went on a study abroad program to Botswana on a bit of a whim, and it was there that she was introduced to fieldwork and conservation.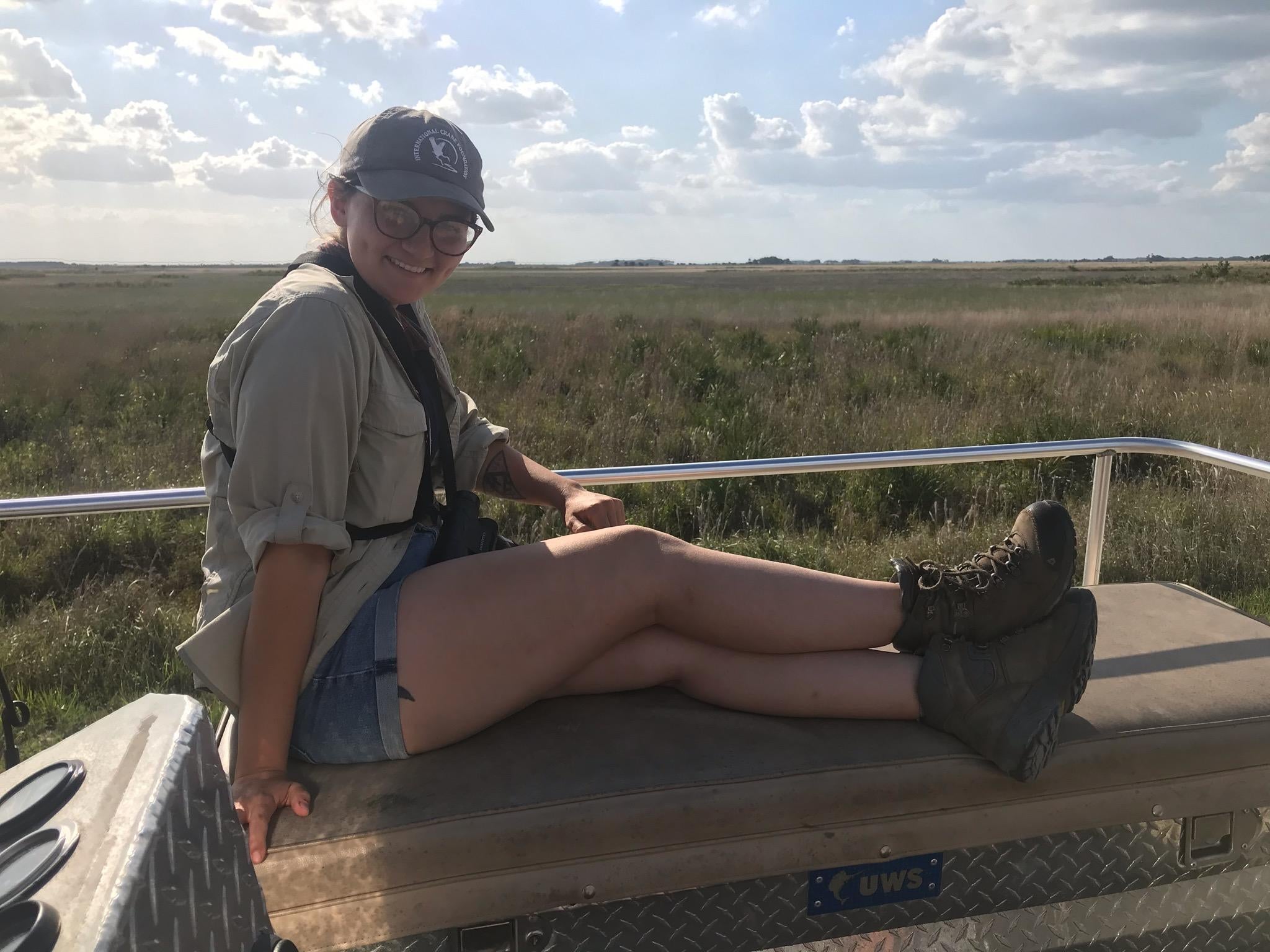 Working with the Florida grasshopper sparrow is both frustrating and rewarding for Bianca. The losses and failures feel much heavier knowing that this species is in peril, but the successes (no matter how small) are always uplifting and worth the effort.
Her favorite thing about this bird is learning about their secretive lives. Florida grasshopper sparrows are masters at hiding in their own little worlds.
Bianca enjoys assisting with banding the sparrow nestlings. When the sparrow nestlings are 5 days old, they are big enough to get the unique bands that allow them to be identified. It's always exciting for Bianca to see the nestlings up close and know that they have the potential to bring the species back from the brink.
Her favorite thing about Kissimmee Prairie Preserve State Park is the alligators at Seven Mile Slough. Before coming to Kissimmee Prairie, Bianca hadn't seen an alligator in the wild, and now she sees them almost every day. She enjoys taking a drive down Seven Mile Slough and watching the alligators bask and swim.
Bianca suggests driving slow and keeping an eye out for turtles and snakes on the roads because you never know what you'll see out in the prairie!