One of Florida's first state parks, Gold Head Branch became part of the Florida state park system in 1935. The initial property was donated by Martin J. "Mike" Roess (pronounced "Race") and developed by the Civilian Conservation Corps (CCC). The CCC was launched in 1933 under President Franklin D. Roosevelt to combat unemployment during the Depression.
In 1935, 25 seasoned craftsmen from Company 2444 were sent to the Gold Head site where they were joined by hundreds of CCC youth and established Camp SP-5. Together they planted trees, cleared areas for campsites, built roads and constructed many of the buildings still in use today at the park.
The state park was officially dedicated on April 15, 1939. For years the park was simply known as Gold Head Branch, until 1966 when the Florida Board of Parks and Historical Monuments changed the name to honor the late Mike Roess. He died in 1952.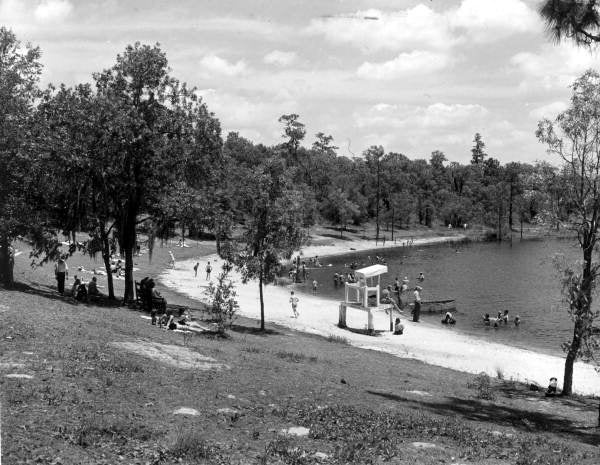 CCC Camp
The CCC was created in 1933 by President Franklin D. Roosevelt to aid young men who were unemployed during the Great Depression.
In Florida, CCC enrollees were instrumental in developing the first eight parks in the Florida Park Service. Gold Head Branch State Park was one of those original eight parks, and many of the CCC buildings are still standing, welcoming visitors more than 70 years later.
Project Plan
Looking around Gold Head Branch State Park, it is easy to spot the rugged buildings constructed by the CCC. These structures have stood the test of time and continue to serve the public today.
Visitors still sleep in the nine rustic cabins facing Lake Johnson and they still prepare for a swim in the old bathhouse. And, more than 70 years later, the ranger station still welcomes folks to visit and spend some time in Florida's natural beauty.
Picnic Pavilion, 1939
The official opening of Gold Head Branch State Park on  April 15, 1939, brought hundreds of curious visitors to the park. With the growing affordability of automobiles during the late 1920s and 1930s and the increasing popularity of Florida as a vacation destination, parks became a desirable amenity for local residents and out-of-town guests.
Bathhouse Terrace
In addition to the building of many impressive structures of the park, the CCC workers built roads and pathways, cleared land and landscaped many areas of the park. This work was back-breaking and sometimes technically difficult, as was the case with constructing the terraces that support several structures in the park.