Wild Places of Gilchrist Blue
Gilchrist Blue Springs State Park protects 1.5 miles of Santa Fe River's shoreline and associated floodplain. Flooding, although challenging to people and infrastructure, significantly benefits the natural communities at Gilchrist Blue. If you look up, way up, you may even see flagging on cypress trees that indicate recent high-water levels – an impressive 15' overhead following Hurricane Irma.
Periodic high water replenishes the floodplain with nutrient-rich soil essential to plants and wildlife. This phenomenon is called ephemeral back flooding and the residents of the alluvial forest, floodplain swamp, basin swamp and bottomland forest are dependent on it.

At Gilchrist Blue, the floodplain swamps are in excellent condition as are the various spring run streams and floodplain sloughs. Bald cypress and swamp tupelo are the dominant trees, both adapted to long-term flooding and often growing flaring buttresses around their trunks to prop themselves up in the mud. Showy swamp color is provided in late fall by the Florida maples with their brilliant red and orange leaves, plus the deep yellow of water hickories.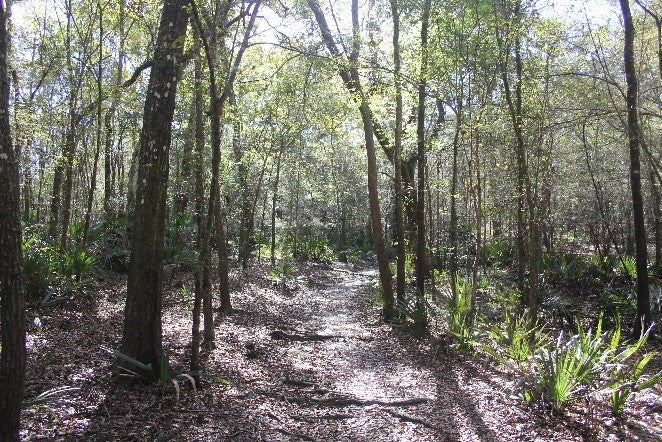 In Florida, if the elevation changes mere inches, the landscape can change dramatically. At Gilchrist Blue, that slight rise means a transition to bottomland forest, yet still in reach of the Santa Fe River's floodwaters. You know you've arrived if dwarf palmetto, wax myrtle and swamp dogwood are observed in the understory. Overhead, various hardwoods such as live oak, swamp chestnut oak and sweetbay create a shady canopy. 
You are invited to explore these wild places by taking a break from swimming and lacing up your walking shoes. The nature trail winds through the floodplain natural communities, and even past "Aric The Giant" – a majestic cypress tree named after the previous owner's son. At times, portions of the trail may be inaccessible but remember, that water is just what the floodplain needs!