In 2019, the National Recreation and Parks Association awarded Florida State Parks its fourth Gold Medal in Excellence.
Winning that award was a result of the hard work of our park staff, partners and volunteers!
To continue this winning tradition, many parks are currently looking for volunteers to fill the essential roles of campground hosts and park resident volunteers.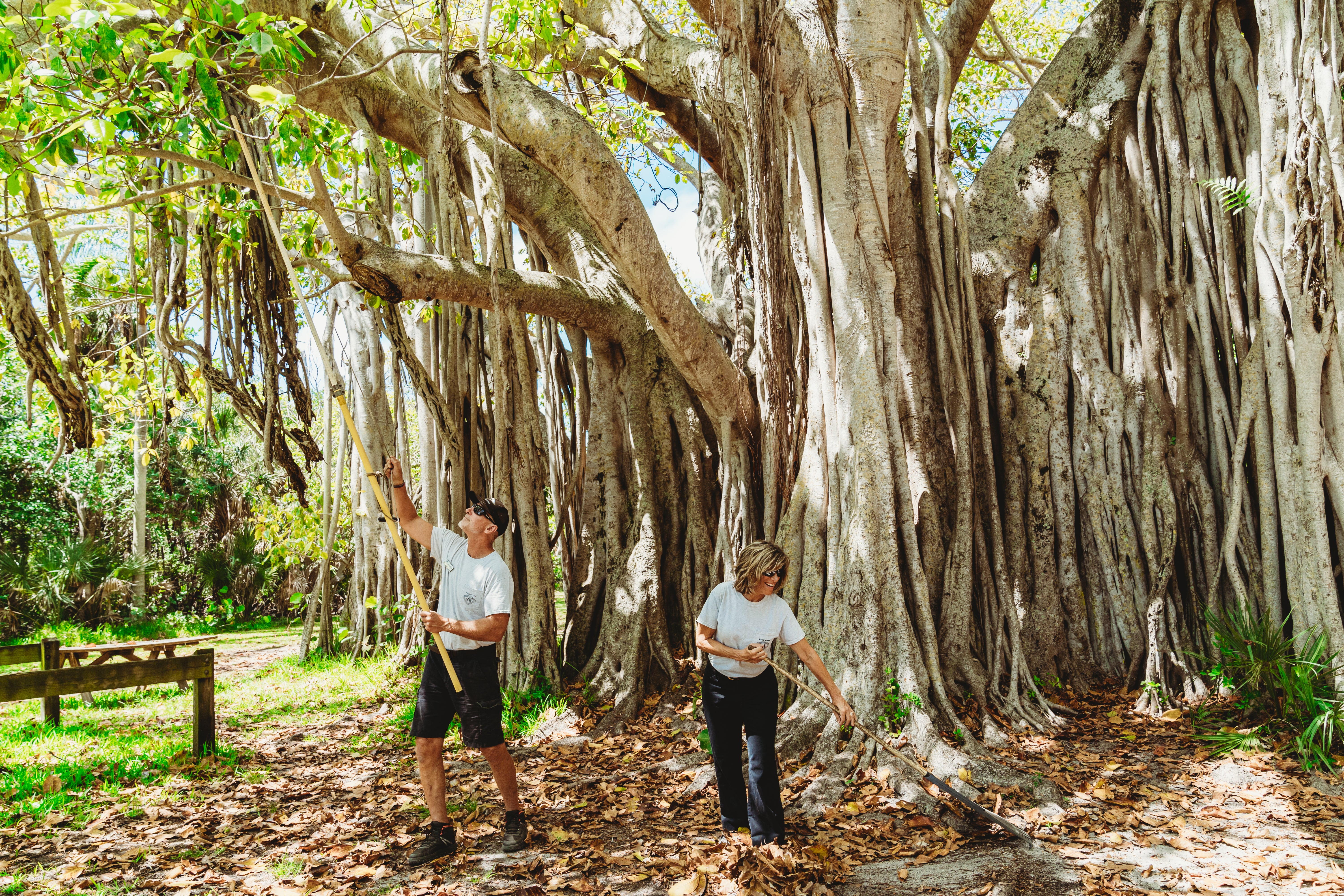 What is a campground host or park resident volunteer?
Volunteers are a vital part of the Florida State Park Service family. Campground hosts and resident volunteers play the important role of supporting park operations while staying on-site in a campsite provided by the parks in exchange for their valued service. 
Campground hosts help visitors make their stays at our campgrounds unforgettable experiences! Hosts assist with greeting campers, answering questions, selling basic campsite necessities, and providing needed maintenance and cleaning for campground amenities.  
Park resident volunteers help provide service to parks without campgrounds or other overnight accommodations. Volunteers welcome visitors at ranger stations, assist with park landscaping and maintenance, treat and remove invasive plants, and work on other special projects as needed.  
Campground hosts and park resident volunteers serve a minimum of 20 hours per week and can stay at their hosting park for up to 16 weeks at a time.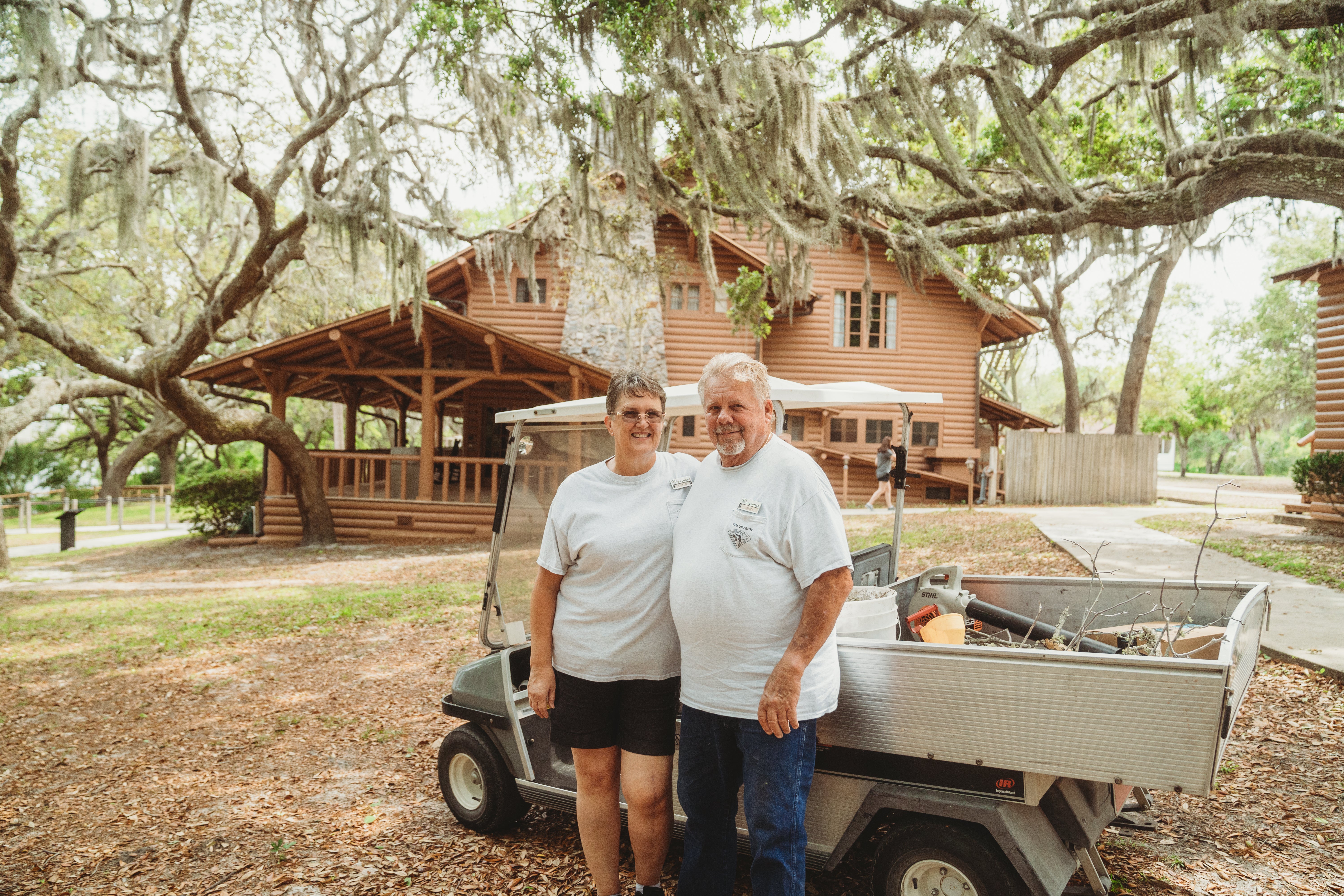 What are the benefits of serving as a campground host or park resident volunteer?
Along with getting a free campsite for up to 16 weeks in exchange for their service, volunteers make a difference in preserving, interpreting and restoring the natural and cultural resources found in Florida State Parks. 
Campground hosts and park resident volunteers also can put their hours of service toward special rewards:
Reaching 50 hours of service grants volunteers with a family pass to the park served and six free entrance passes to other state parks.
Reaching 250 hours of service rewards volunteers with a special volunteer family pass to other state parks! 
Hear from our volunteers
Don't just take our word for it. See what people are saying about their experiences volunteering at Florida State Parks.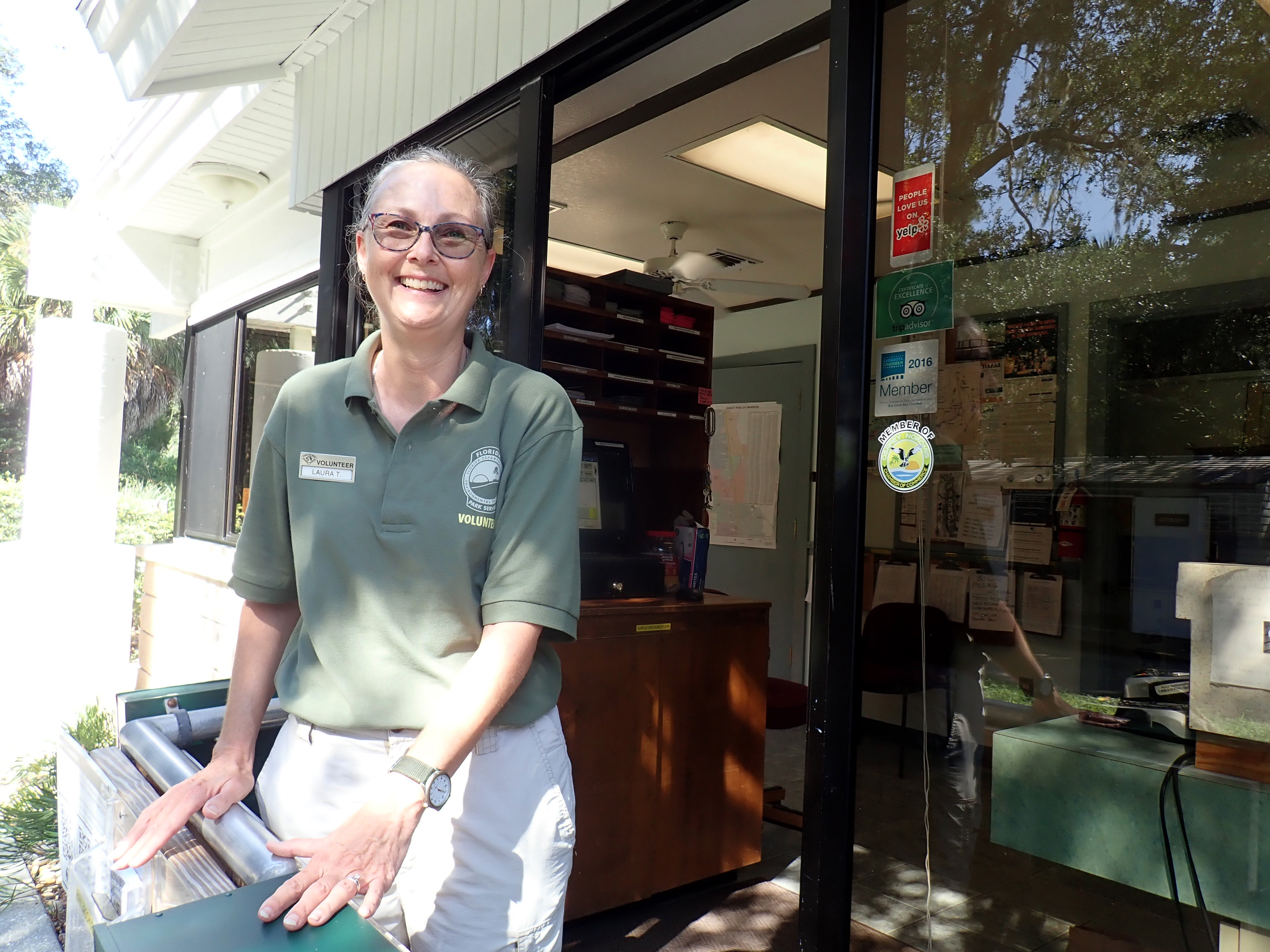 "My husband Steve and I are full-time RVers. We love the flexibility and freedom of this lifestyle as it allows us to spend time with our respective families in different parts of the United States. This was our initial reason for getting into camp hosting or resident volunteer work. Our first opportunity was at Oscar Scherer State Park in Osprey. We immediately felt at home in the park and were made to feel welcome by the staff and other volunteers. We enjoy meeting new people, having a flexible schedule and, most of all, living and working in such a beautiful place. There are a variety of positions available for many different skill sets, so you are sure to find something that suits your interests."
- Laura and Steve Turner, second-year volunteers at Oscar Scherer State Park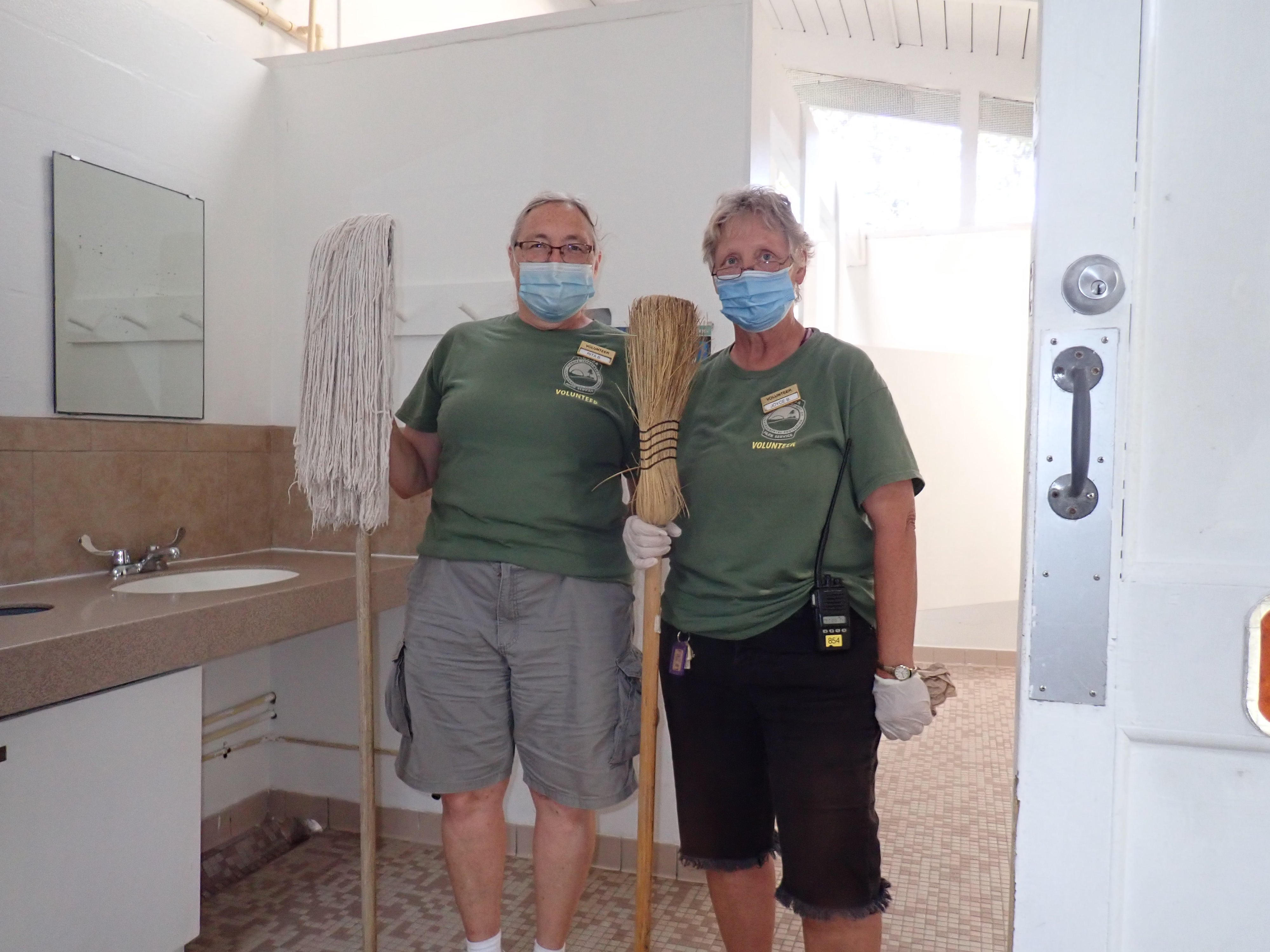 "Volunteering has been an excellent opportunity to explore the park and meet people who respect nature. It has given us a sense of giving back to the community. We have enjoyed discussions with the campers and other volunteers on interesting sights both within the park and in the local area. The staff and other volunteers are very responsive to questions and supply needs. We feel that we are respected and valued for our contributions to the park. The variety of skills and backgrounds makes for an interesting workplace. We have made some good friends during our volunteer time." 
- Joyce Bergman and Rita Budig, sisters and first-time volunteers with Florida State Parks 
How can I sign up?
To become a camp host or park resident volunteer, first create an account and submit an application.  
If you want to see where these types of volunteer positions are offered, check out a list of parks with campground host and park resident volunteer opportunities.
To see park-specific position listings, visit the Volunteer Portal and select "Opportunities" at the top of the page. Search for "Campground Host" or "Park Resident Volunteer" to see available positions. 
Right now, parks are looking to fill positions in 2021 and 2022. Inquire early! These positions fill quickly, so the best position and park for you may require submitting more than one application. 
Interested in staying in a park before signing up to volunteer? Plan your camping trip and make your reservation today! 
Other ways to give back at Florida State Parks 
If you are unable to be a campground host or park resident volunteer but still want to help our parks, don't worry! There are plenty of ways to volunteer at Florida State Parks. Check out this list to see some other ways you can provide valued service and help protect the natural and cultural resources at a state park near you.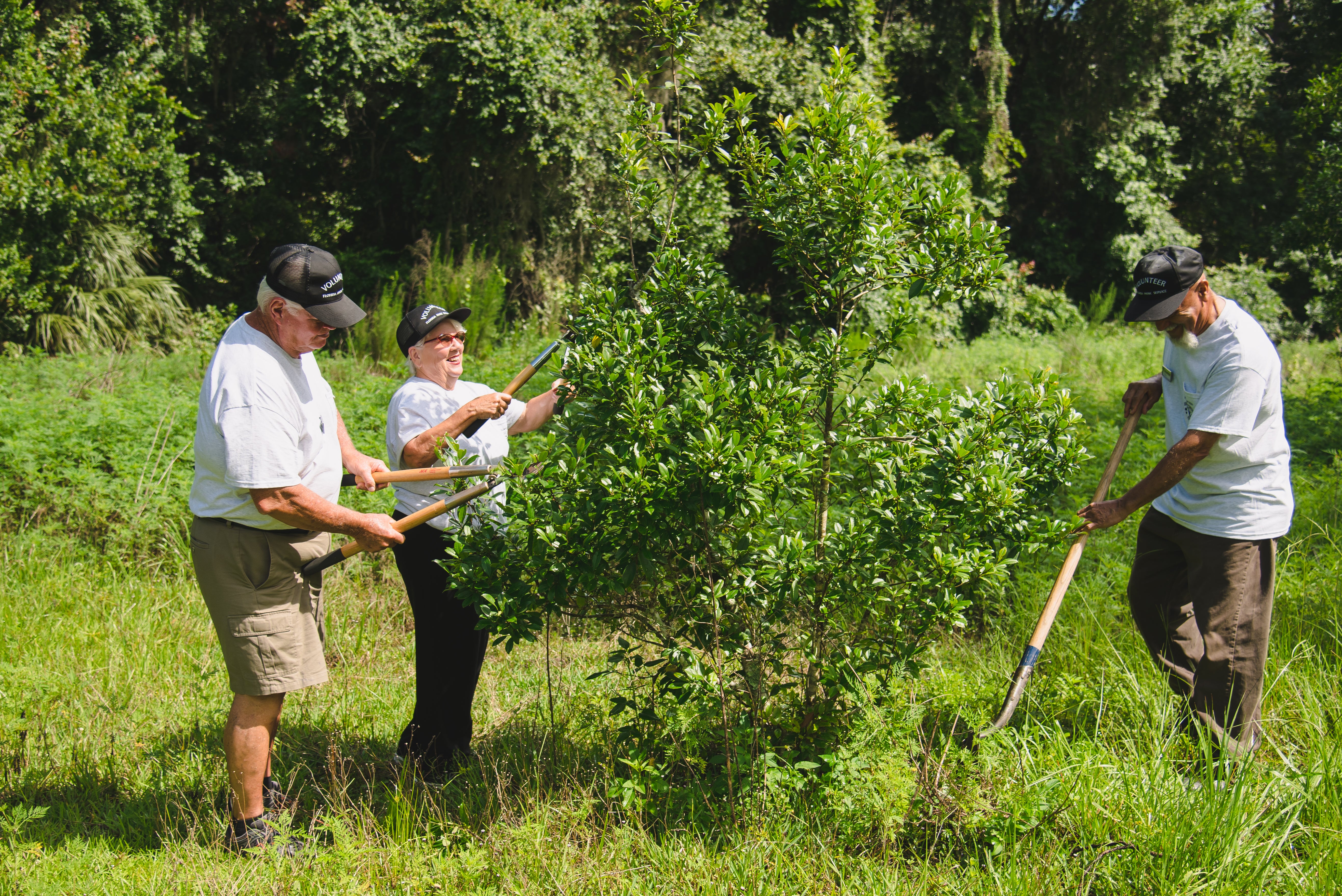 Individual volunteering – The are many exciting and diverse opportunities to volunteer with Florida State Parks as an individual volunteer. You might greet visitors, conduct tours, help with special events, remove exotic plants, and assist with keeping our beaches, waterways and trails clean and beautiful for visitors to enjoy all year long.
Group volunteering – Group volunteering is a great way to encourage team building while improving your local Florida state park through beach cleanups, maintenance projects and other park improvements. All kinds of groups are welcome to get outdoors and make a difference, including families, communities, scouting troops, corporate teams, church groups and more!
Join a friends group – Friends groups, or citizen support organizations, are valued volunteer groups that can be found at many Florida State Parks. Friends groups assist with a wide variety of park operations, including tours, events, visitor education, park improvement projects and habitat restoration. Joining your local friends groups is a great way to interact with your community and meet other volunteers who have a passion for the outdoors and Florida State Parks. Find a friends group near you! 
Make a donation – Volunteering is not the only way you can help Florida State Parks. You can make a monetary donation to the state park of your choosing by donating in person when you visit a park or during the checkout process when you make an online camping reservation. If you would like to help parks statewide, make a donation to the Florida State Parks Foundation, our nonprofit partner that supports all 175 parks in the state park system.
---
This article was published in the Real Florida ℠ Connection, the Florida State Parks e-newsletter. Sign-up to get updates and stories from your state parks the first week of every month.