Volunteer Spotlight, 2021 Volunteer Awards at Myakka River
Nolan and Hadley Hepburn
2021 Youth Volunteer of the Year Award for Visitor Services
Nolan and Hadley Hepburn are Myakka River State Park's extraordinary sibling duo. Since December 2020, each has volunteered over 250 hours to the park.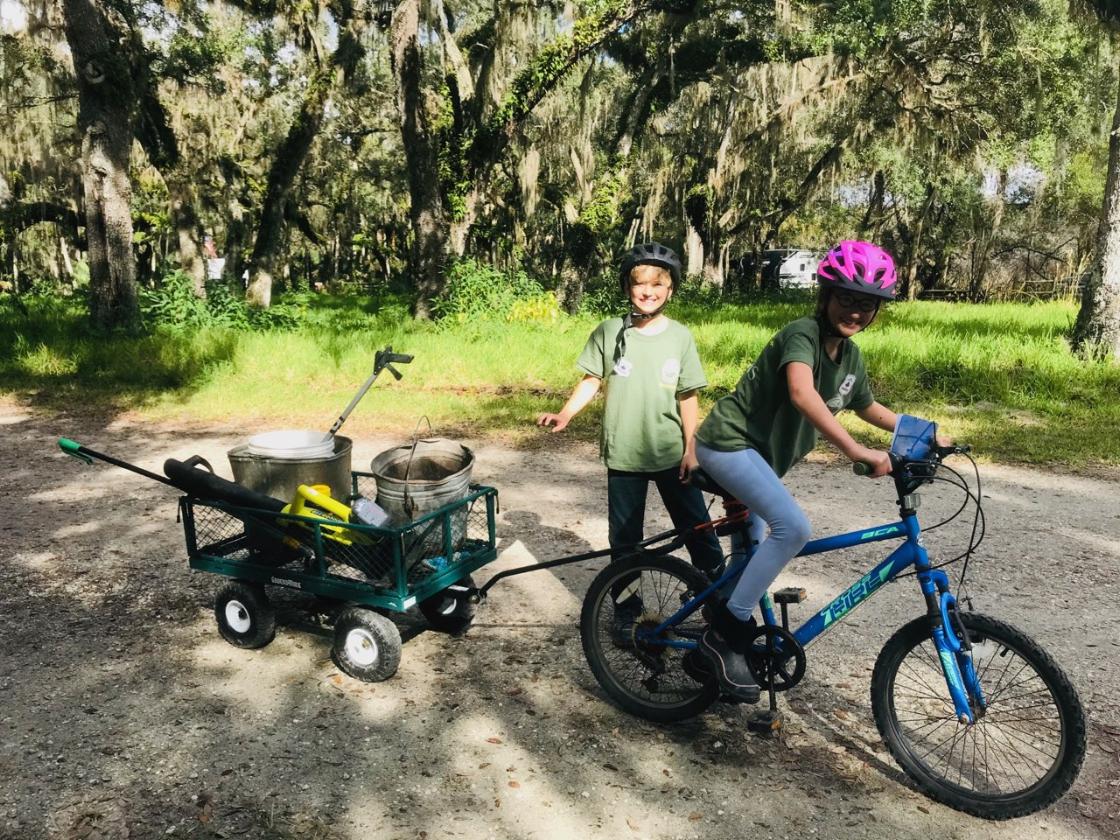 At only 10 and 12 years old, the siblings have dedicated their free time to cleaning up campsites in the park. They ride their bikes to cover more ground, taking their supplies with them in a wagon, to campsites that need attention. Hadley and Nolan are committed to restoring the campsites to Leave No Trace standards. The fire pits are left immaculate and picnic tables are clean after the siblings are done.
They are always up for a challenge, constantly learning to handle more complex maintenance issues like plumbing and electrical. In their free time, the two ride their bikes around the park, stopping to excitedly discuss ideas for park improvement.
Their commitment is obvious as they frequently serve as additional eyes for the rangers, bringing issues to light before they have the chance to become problematic. With guidance from park staff and the knowledge of their parents, who serve as camp hosts, the duo is blazing a new trail for the next generation of volunteers.
Congratulations to Nolan and Hadley on their award. Their volunteer efforts are appreciated.
Friends of Myakka River
Special Event of the Year for Resource-Based Recreation for Bike Myakka! for Biodiversity  
Bike Myakka! for Biodiversity was a unique combination of guided bike ride and service project to remove invasive plants. The event celebrated Adventure Cycling's "Bike Your Park Day" and National Public Lands Day.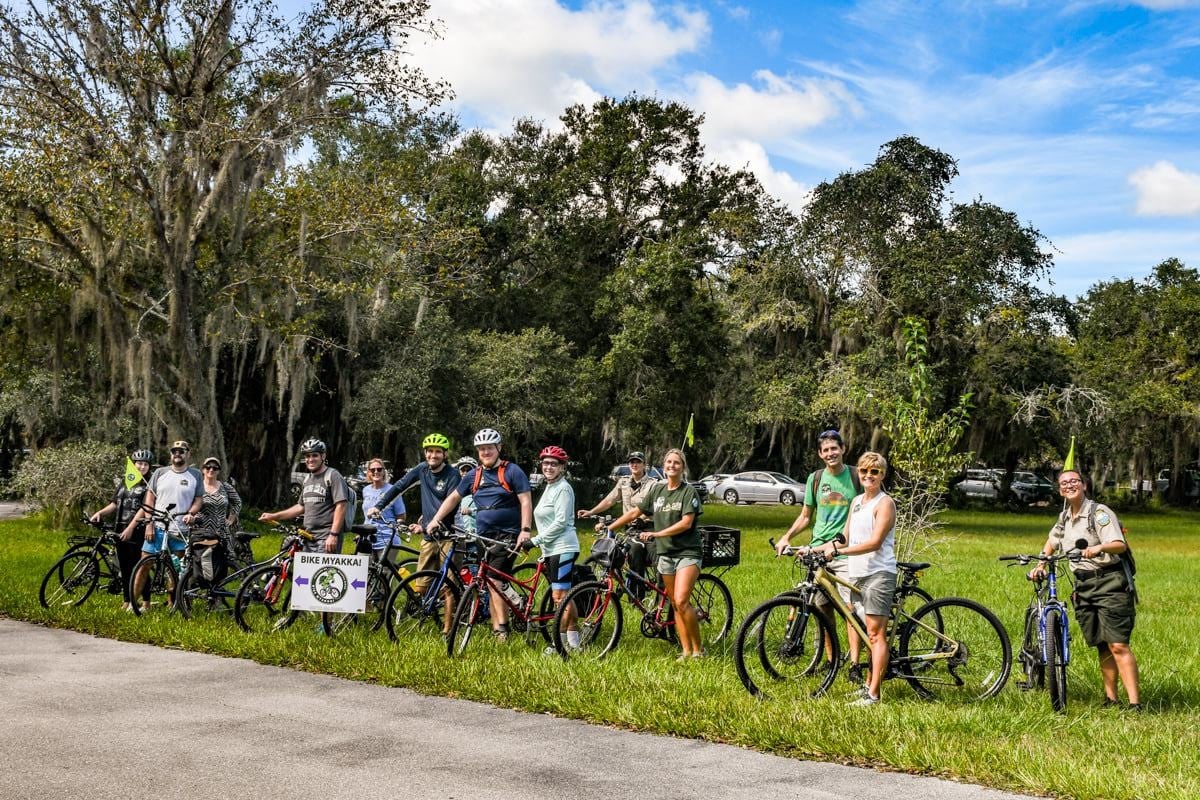 The intent was for visitors to learn about the importance of biodiversity and invasive plant management by way of a bike ride before completing a work project, followed by a discussion about biodiversity.
Participants biked 6 miles on a guided ride from the main entrance of the park to the lake. Along the way, the groups stopped for guided discussions about park plants and animals. They then biked 6 miles back to the park entrance where they helped remove invasive plants. Refreshments and a discussion of how to preserve biodiversity wrapped up the event.
Bike Myakka! for Biodiversity was funded by the Friends of Myakka River, organized and planned by park staff and volunteers, and executed by 10 people - six park staff, two volunteers, one friends board member and one Florida Conservation Corps member.
The Friends of Myakka River contributed $979 for bike "first aid kits" that helped outfit several "shop bikes" donated by volunteers and maintained by park rangers. The shop bikes are communal bikes that any staff or volunteer may use for recreation. The current fleet enabled one park ranger and one volunteer to participate.
Congratulations to Friends of Myakka River on this award. Their dedication to supporting the park, offering resource-based events and contributing to resource management is appreciated.
Friends of Myakka River
2021 Special Event of the Year for Nature-Based Recreation for Bike Myakka! Day  
Bike Myakka! Day was a self-guided interpretive bike ride and scavenger hunt. A 20-item scavenger checklist was distributed featuring snapshots of native plants and animals of the park and familiarizing riders with the wonders that live in their backyard.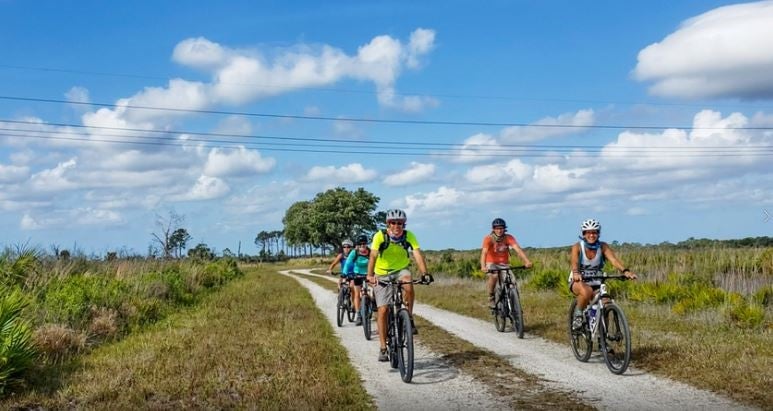 Riders dispersed in waves, while roving park staff and volunteers traversed the routes assisting visitors in locating scavenger hunt items. Park staff and volunteers chose three routes through the park that would accommodate bicyclists with a range of abilities.
Biking themed water bottles, stickers and interpretive brochures were made available through the generous donations from the Friends of Myakka River. The friends also provided grab-and-go breakfasts, which were perfect for keeping a visitor's energy levels up during their exploration.
Congratulations to the Friends of Myakka River on this award. Biking while learning about the park's flora and fauna is a great way to spend time in nature.
Barry and Rosalie Coddington  
Volunteer Team of Two of the Year Award for Protection  
Barry and Rosalie Coddington have been dedicated summer volunteers at Myakka River State Park, contributing more than 3,200 hours each since June 2017.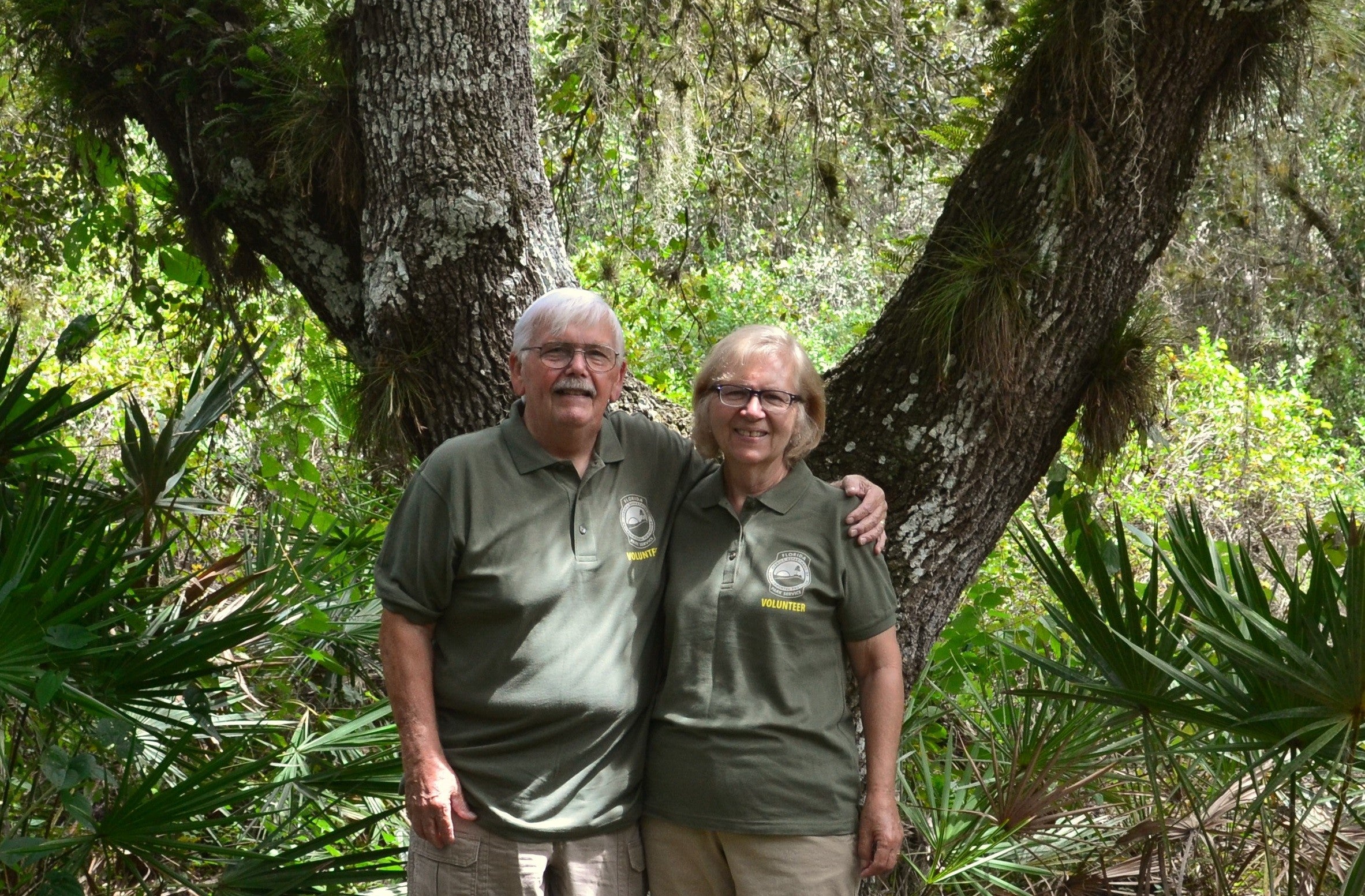 The Coddingtons prioritize protection of the resource while achieving high maintenance standards and providing a positive visitor experience via roving interpretation. The Coddingtons volunteer in the summer, and they expect sweltering heat, pesky insects and drenching rains. But they never seem to slow down in harsh conditions.
Every year, thousands of people visit the park to photograph the blooming coreopsis in the Big Flats Marsh, an area where Barry and Rosalie work to control invasive plants.
They also show their commitment to resource protection by completing fire extinguisher reports and safety inspections, in addition to flagging and coordinating removal of hazard limbs suspended over the park drive.
Barry and Rosalie spent a week scrubbing the 500-foot-long Birdwalk, a pier-like structure extending out over Upper Myakka Lake and a popular spot in the park for bird-watching.
Congratulations to Barry and Rosalie on this award. Their dedication and support are appreciated.