Streams-to-Sinks at San Felasco
The karst topography of San Felasco Hammock Preserve State Park contributes to a diverse system of wetlands, ponds and streams. Three of the blackwater streams - Blues Creek, Cellon Creek,and Turkey Creek - originate outside the preserve in headwater swamps. Each creek ends at a sink within the preserve. This stream-to-sink discharge is characteristic of the area. Moonshine Creek, a fourth blackwater stream, lies entirely within the preserve.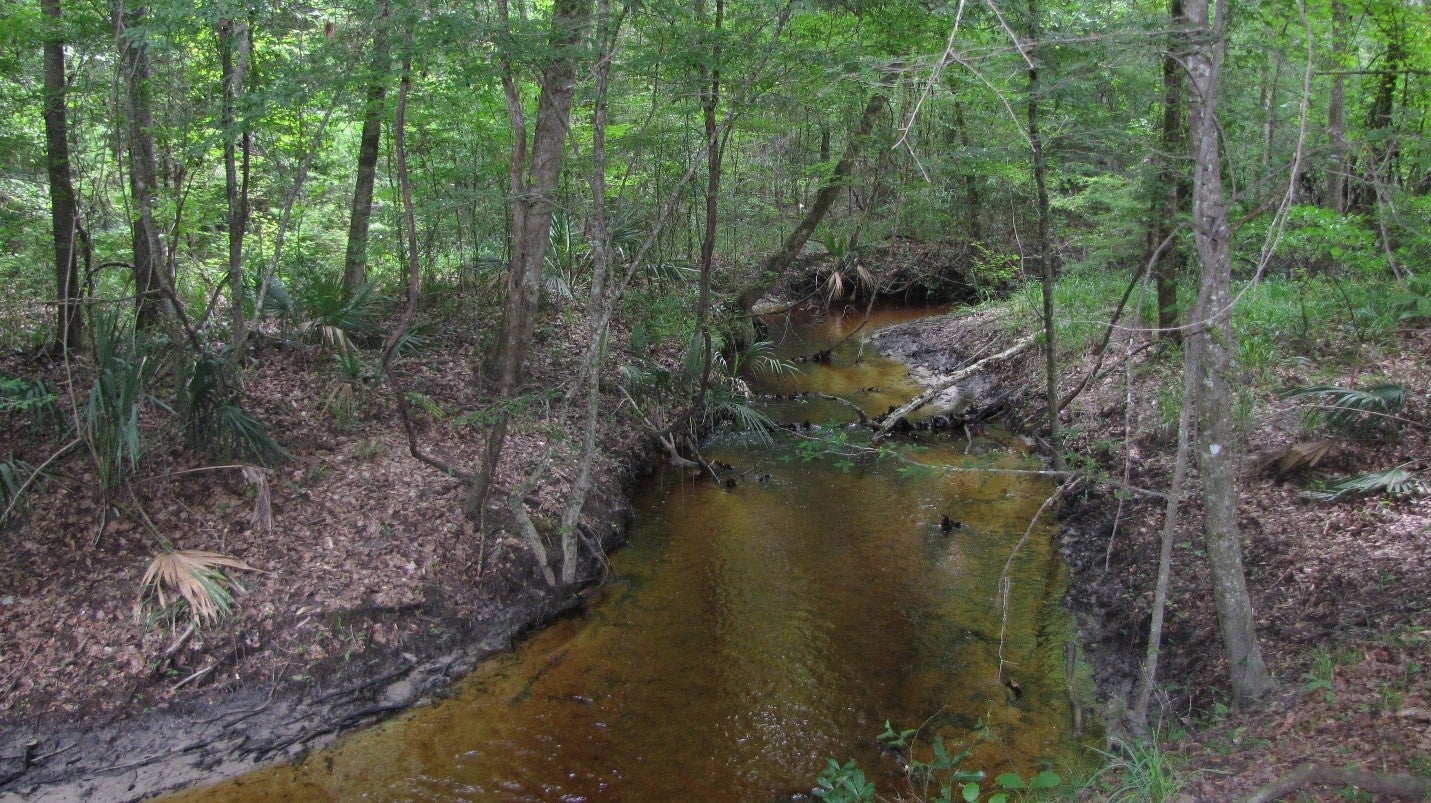 Blues Creek is 3.5 miles in length and originates in a large swamp dominated by cypress, red maple and swamp black gum trees. The creek flows into Chert Swamp before discharging into the Floridan aquifer at Big Otter Ravine.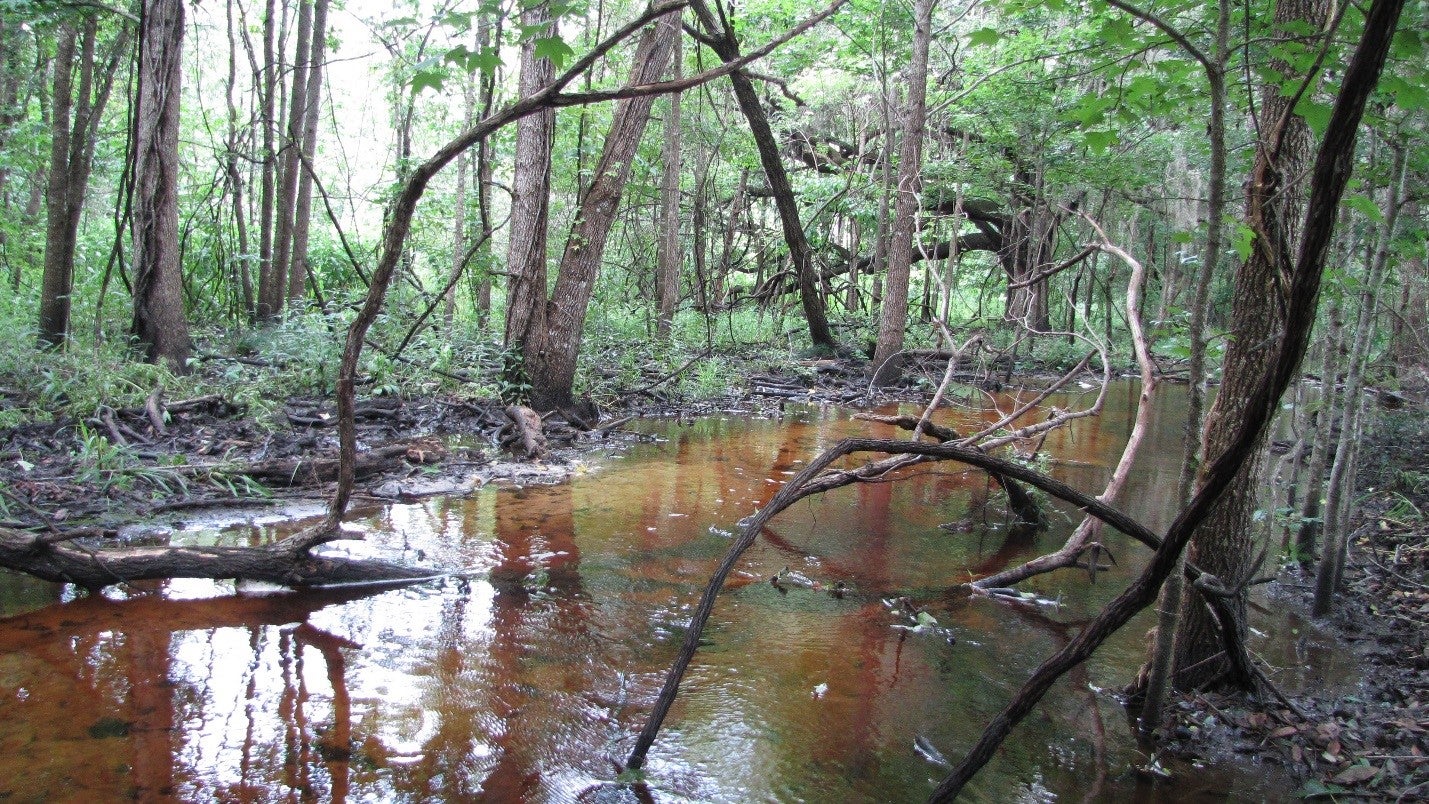 The 4.5-mile-long Cellon Creek originates in three small headwater areas north of the town of Hauge. In the preserve, the creek meanders through pastureland and bottomland before draining into the Floridan aquifer at Lee Sink.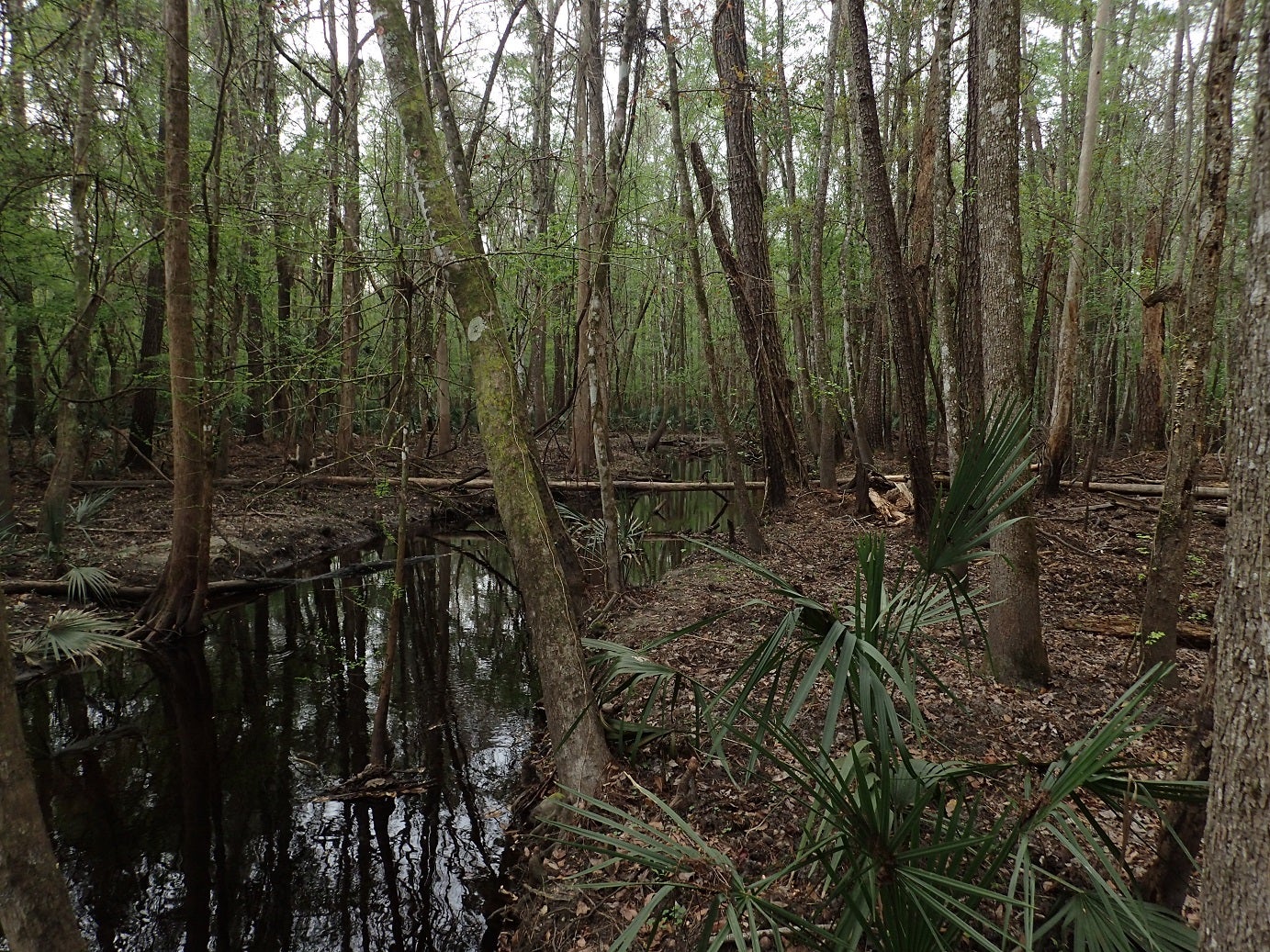 The six-mile-long Turkey Creek originates in extensive hardwood swamps located west of US Hwy 441 between Gainesville and the city of Alachua. The creek meanders through the preserve for almost two miles before flowing to the Floridan aquifer at a sink known as "Split Rock," located on the southern edge of Sanchez Prairie.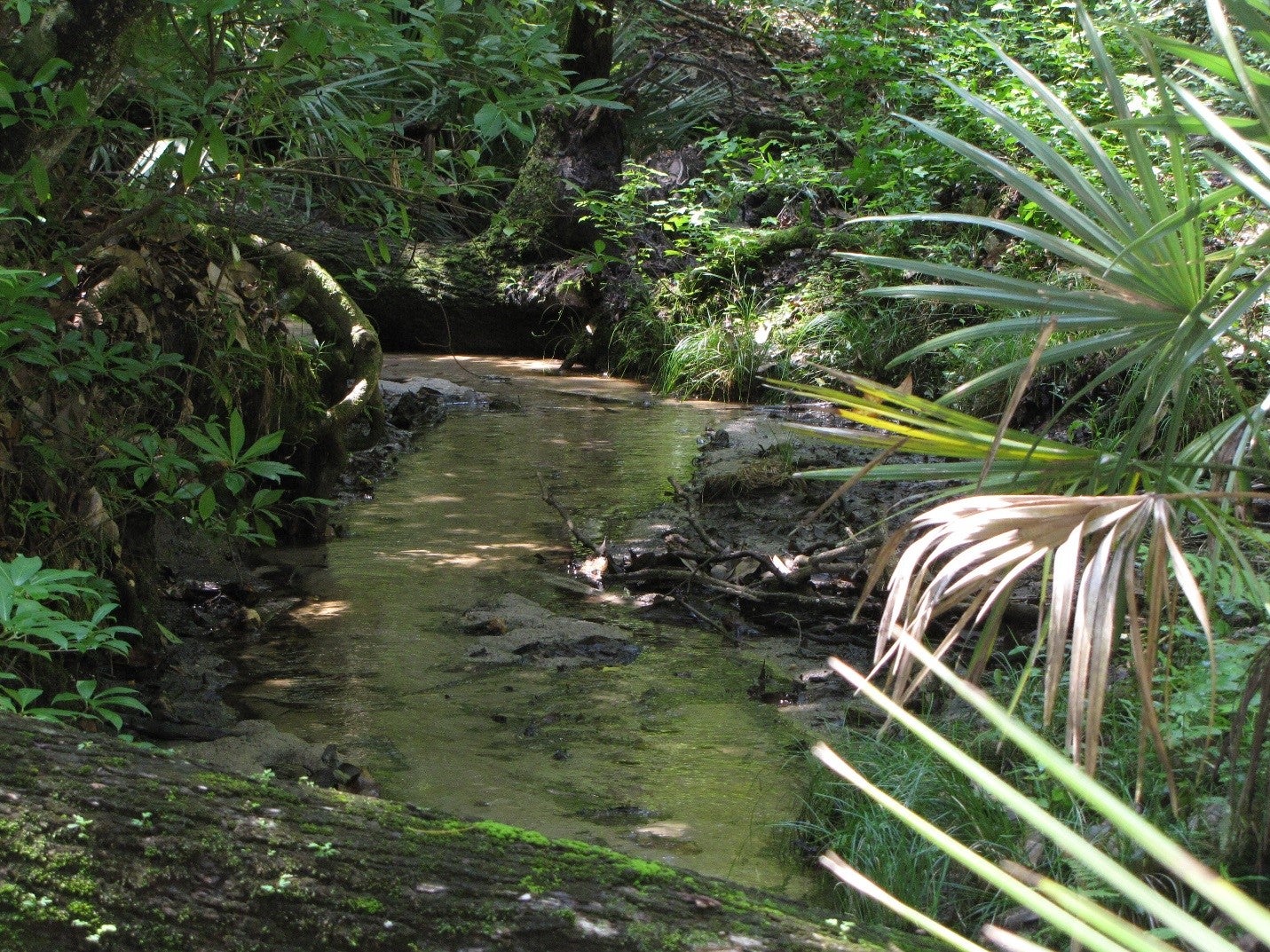 Moonshine Creek originates within the preserve at a baygall located just north of Millhopper Road. It passes beneath the road, eventually discharging into an unnamed sink near the preserve's south boundary.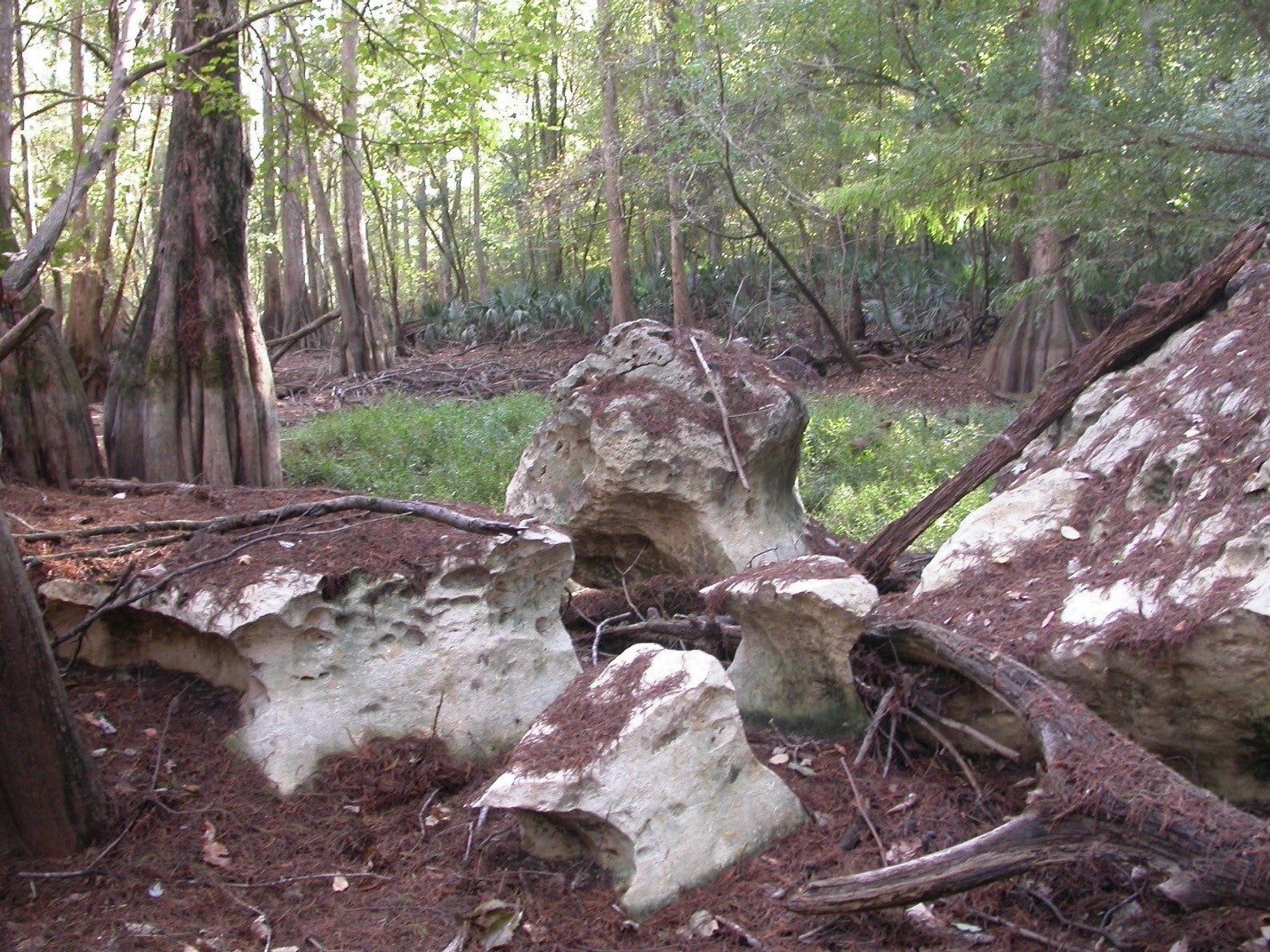 Several other streams are located entirely within the bounds of the preserve. These small, unnamed, permanent or intermittent streams are unique in that they originate as seeps, flow for a short distance on the surface and disappear underground. The heads of the seeps are usually within ravines.
All of this exciting wetland diversity at San Felasco, including the stream-to-sink features, are strongly defined by karst geology, specifically the Cody Escarpment. The highly porous, hydrogeologic significance here cannot be overstated!