Sirens of the Deep Mermaid Camp
Where Your Mermaid Dreams Come True
Two-day weekend camp for adults ages 30 and up - $450
Now's your chance to make a splash and have your dream come true! In our Sirens of the Deep Mermaid Camp, you'll experience what it is like to be an underwater performer at Weeki Wachee Springs. Each day, you'll participate in underwater ballet training sessions where you will learn the basic moves that the Mermaids of Weeki Wachee learn to perform shows. In addition, you'll get an exhilarating behind the scenes look at what it takes to put on an underwater show and the daily responsibilities of being a mermaid. You will learn to become a mermaid from the best in the business. All mermaid camp trainers are previous Weeki Wachee mermaids who volunteer their time.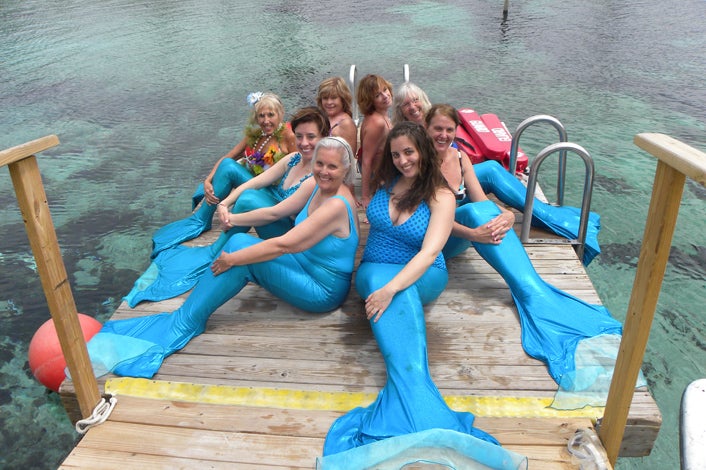 Lunch will be provided daily. Please inform the trainers of any food allergies you may have.
At Sunday's lunch, you will be presented with a Sirens of the Deep Mermaid Camp certificate of completion.
Please note that you will not be instructed to breathe from our air hoses. (This would require scuba certification, first aid, CPR and several months of training.) You will be swimming in a depth of approximately 15 feet of water while in training sessions. A trained underwater performer will be with you at all times when you are in the water.
Camp sessions are filled on a first-come, first-served basis. There is a maximum of eight participants for each camp - no exceptions. Camps dates are usually finalized in mid-January and we will announce official dates on our Facebook, Instagram and Twitter pages. Please note that we don't offer a waitlist for the following year.
2021 Siren Camp Dates
Visit the Friends of Weeki Wachee Springs State Park online for Sirens of the Deep Mermaid Camp dates and registration.
How to Pay
Visit  Friends of Weeki Wachee Springs State Park to register and pay online. Only online registration is available for this camp. Phone calls are not accepted. Due to the high demand, no refunds can be offered. There can also be no carry over to the following year. All money raised for the camp benefits the Friends of Weeki Wachee Springs State Park. If you have any questions regarding the camp, please email weekicamps@gmail.com.