Pebble, Sheeler and Deer Lake are all sinkhole lakes, cone-shaped depressions with steep-sloped sides. They are closely tied to and often reflect the groundwater levels in the water table beneath the park.
Although Pebble Lake's water levels will fluctuate greatly throughout the year, perhaps due to the geology underneath, Sheeler and Deer will change little in comparison.
These bodies of water are notable for their clear water and high mineral content, and are one of the most notable natural features for those visiting Mike Roess Gold Head Branch State Park.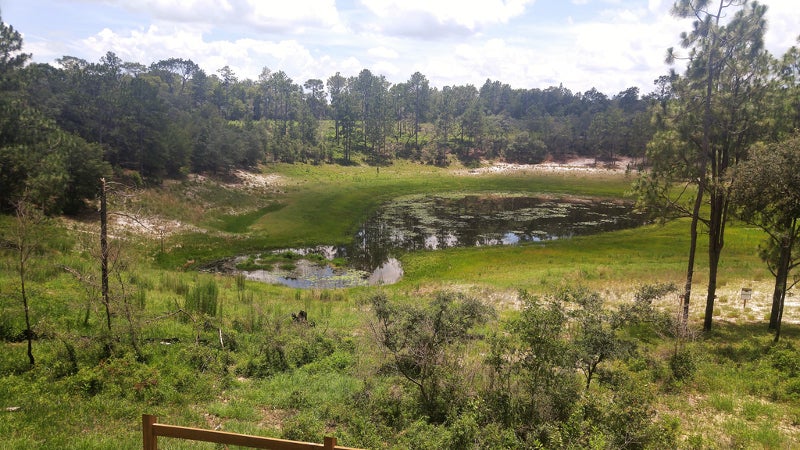 Natural sinkholes can make for awesome places to experience wildlife. Unlike the shaded canopy of the ravine, the lake edges are often directly exposed to sunlight and breezes with ever-changing emergent vegetation and submerged grasses. These edges support water-loving wildlife such as wading birds, turtles and many species of fish.
Raptors often are found between the lakes and sandhill habitat, including Northern harriers, swallow-tailed kites and magnificent bald eagles. The sweeping vista across Deer Lake looks out on a special habitat called scrub, which harbors a wealth of species endemic to Florida, many of which are considered rare. Look for the small but powerful kestrel flying overhead.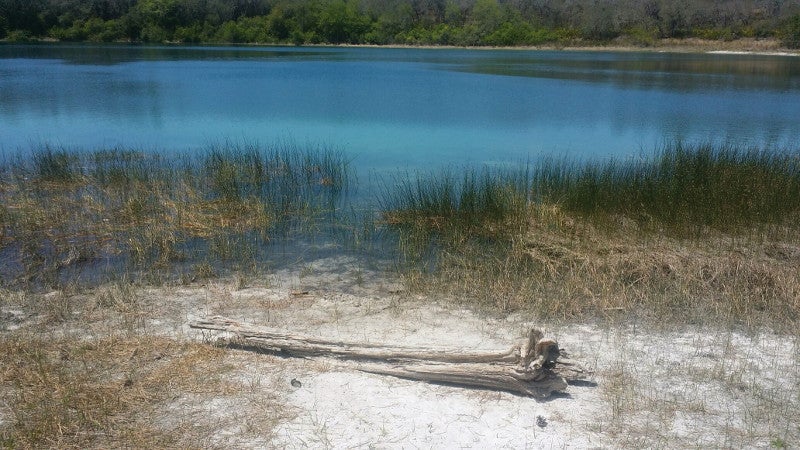 Sheeler Lake is one of the oldest sinkhole lakes in the park at 23,900 years old. Palynologists (scientists who study plant pollen) have carbon dated the pollen found within the sediment of the lake to find the approximate age. Nearby and notable are the old growth pine trees. Large, flat-topped longleaf pines in excess of 250 years in age are found in the park, with the oldest trees sampled exceeding 350 years.
Sheelar was once the site of a popular swimming beach and other recreational activities within the park until years of overuse took their toll and it was closed to public access. A restoration project is currently underway, allowing ground cover to regrow and reducing erosion along the shoreline.
Little Lake Johnson is now the designated spot for swimming, canoeing and other activities, and we ask that you help in the healing process of Sheelar by respecting these rules.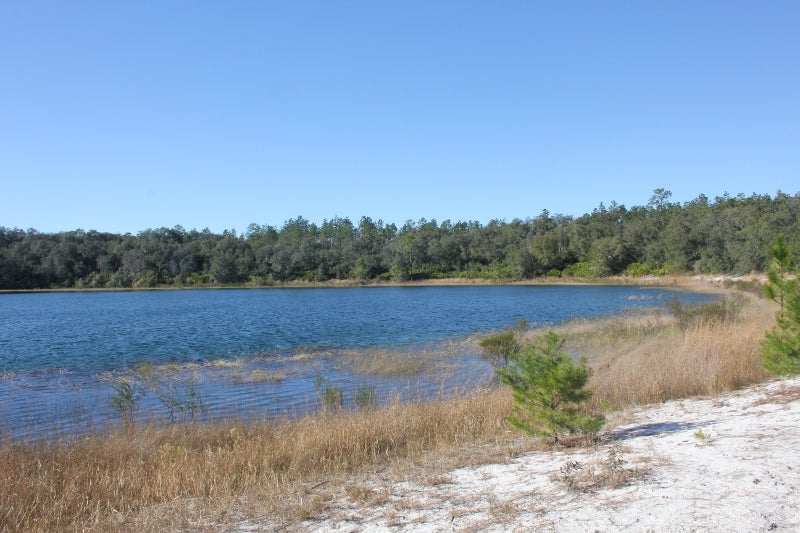 The desire to be close to water is one that is entrenched in the human soul, and nowhere else more than in Florida. Even in the central portion of the state, bodies of water such as these sinkhole lakes exist to provide rest, relaxation, sources of food and fun to the people who visit them, and this is certainly true at Mike Roess Gold Head Branch State Park.